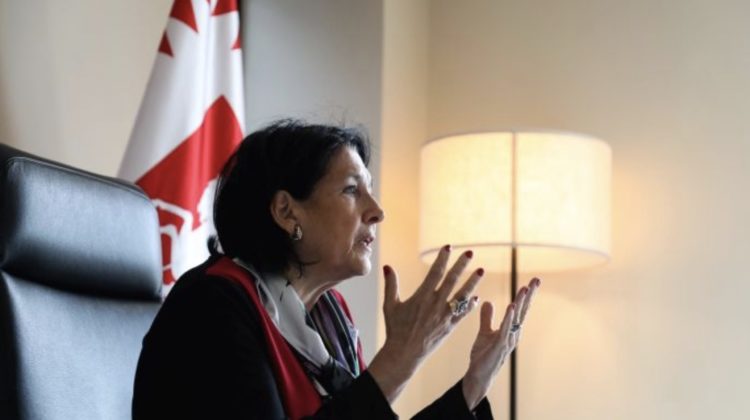 Georgian President Salome Zourabichvili/ Source: Getty Images 
Speaking to Bloomberg, Georgian President Salome Zourabichvili told the future diplomatic resolution of Russia's full-scale war against Ukraine must also address the withdrawal of Russian troops from occupied Georgian territory:
"Russia has to learn where its borders are. The Georgian issues should be on the table because nobody should think that this war can be resolved without Russia retreating from all the occupied territories" in the region, President Zourabichvili said.
The restoration of regional order, according to Zourabichvili, is contingent on Russian President Vladimir Putin's decisive defeat in Ukraine, which she claims is imminent.
"Russia already practically lost the battles if not completely the war," asserted President Zourabichvili.

She added that if the West does not demand the complete withdrawal of Russia's occupying forces, "the western world will make another big mistake — as big as 2008, 2014," said Zourabichvili referring to Russia's annexation of Ukraine's Crimea in 2014.
In August 2008, Russian troops invaded Georgia, occupying one-fifth of its territory and establishing two unrecognized puppet states, South Ossetia and Abkhazia.
On the 14th anniversary of the Russian-Georgian war in August 2022, the Georgian Foreign Ministry urged Russia to "cease its illegal actions," implement the ceasefire agreement signed on 12 August 2008, and withdraw its armed forces from the occupied territories of Georgia.
Read also:
Georgian Legion joined Ukrainian Army in fight against one enemy – Russia
The world ignored Putin's attack on Georgia. And so Ukraine was next
Tags: Russia's war against Georgia, Ukraine peace deal, Ukraine-Georgia relations, withdrawal