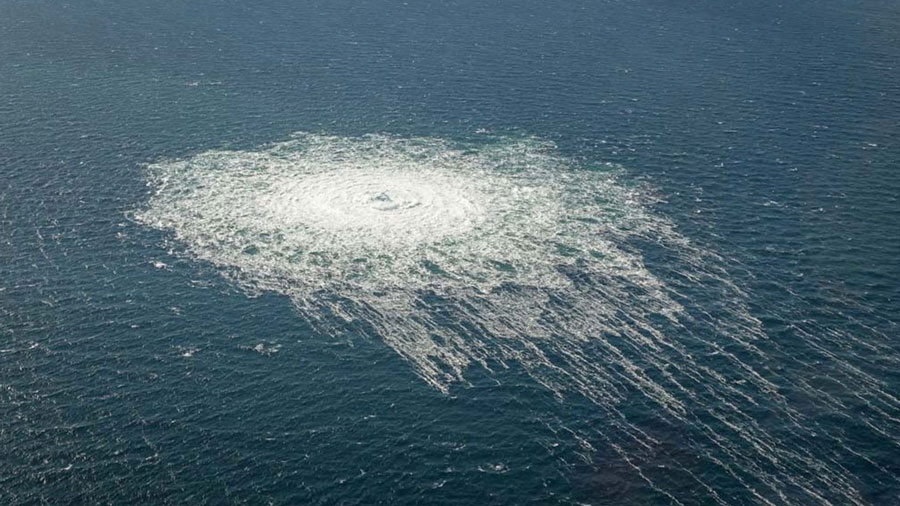 Gas bubbles from the Nord Stream 2 leak reaching surface of the Baltic Sea on 27 September 2022. Photo via news.sky.com
 
The Ukrainian government was not involved in the sabotage last year of the Nord Stream gas pipelines in the Baltic Sea, Ukraine's Defense Minister Oleksii Reznikov told media in Stockholm on 8 March, according to AFP.
"This is not our activity," he said ahead of a meeting with EU defense ministers, in response to a report by the New York Times that claimed that US officials had seen new intelligence indicating a "pro-Ukrainian group" was responsible for the sabotage.
Pro-Ukrainian group may be responsible for attack on Nord Stream – NYT
The Russian-owned Nord Stream gas pipelines in the Baltic Sea were damaged on 26 September 2022 weeks after its owner, Gazprom, cut off gas supplies via the lines 'indefinitely' days after it became known that G7 leaders agreed to impose price caps on Russian oil.
Gazprom turns off Nord Stream gas pipeline hours after G7 countries put a cap on price of Russia's oil
The NYT's report is a new addition to several unproven versions regarding the party behind the damage to the Russian pipelines. Other claims blame Russia itself as the damage to the pipelines was an excuse not to resume gas supplies to the EU. Meanwhile, in February, American journalist Seymour Hersh, who earlier claimed that the Russian government wasn't involved in Skripal's poisoning in the UK, stated using a single anonymous source that US divers allegedly planted the explosives in June during NATO exercises in the Baltic Sea, and the Norwegian Navy detonated them three months later.
Read also:
Tags: Nord Stream