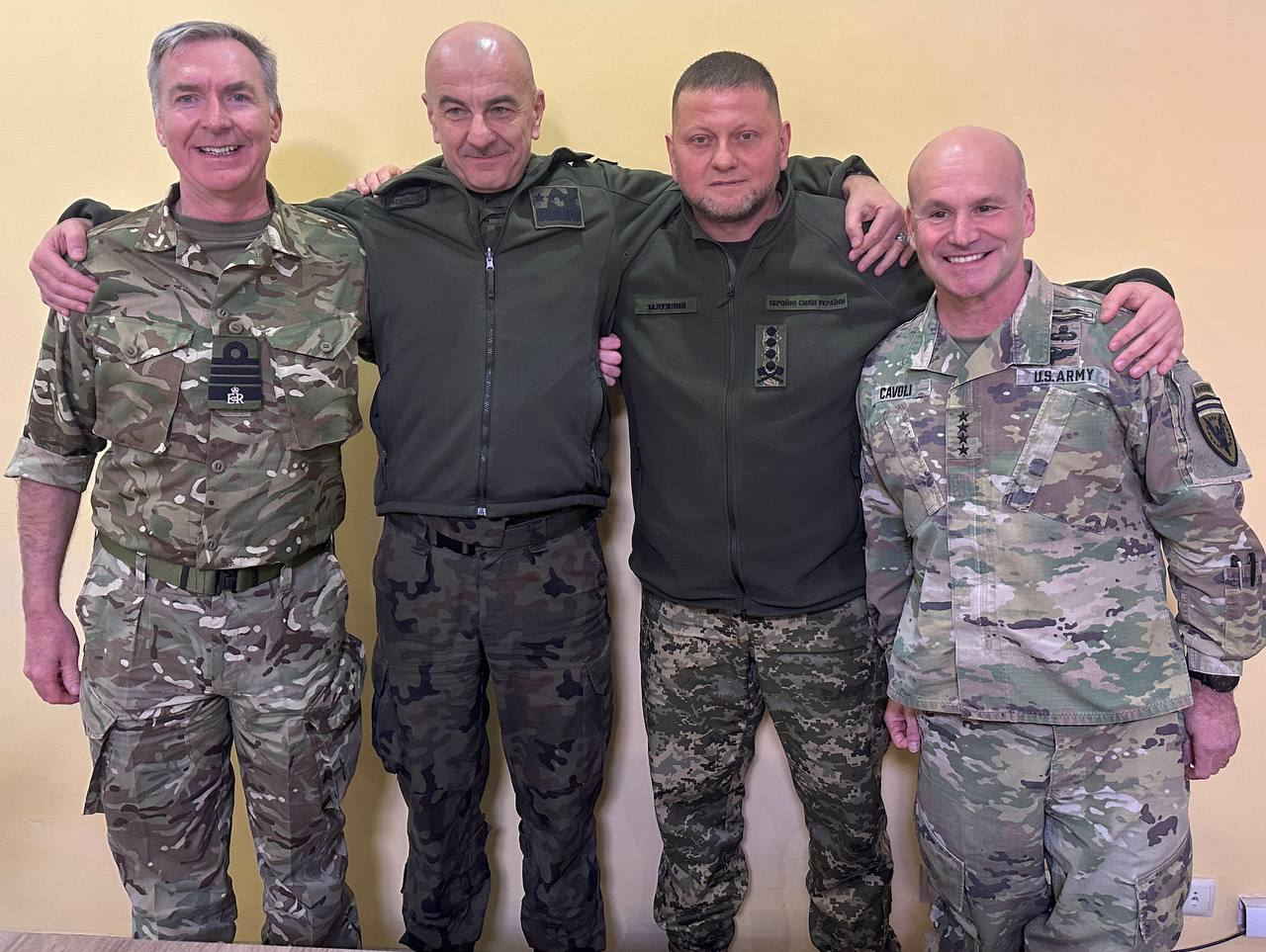 Admiral Sir Antony Radakin (on the left), General Rajmund Andrzejczak (seocnd on the left), General Valerii Zaluzhnyi (third from the left), and General Christopher Cavoli (on the right).
Credit: Valerii Zaluzhnyi/Telegram
On 7 March 2023, the Commander-in-Chief of Ukraine's Armed Forces, General Valerii Zaluzhnyi met with Supreme Allied Commander Europe, US Army General Cristopher Cavoli.
Apart from General Cavoli, Ukraine's Commander-in-Chief met with the head of the British Armed Forces and Chief of the Defence Staff of the UK Admiral Sir Antony Radakin, Chief of the General Staff of the Polish Armed Forces General Rajmund Andrzejczak, and US Army Lieutenant General and Commander of Security Assistance Group–Ukraine Antonio Aguto.
General Zaluzhnyi informed his colleagues about the situation on the battlefield, in particular regarding the developments in and around Bakhmut (Donetsk Oblast, eastern Ukraine), which remains the hottest spot on the map of the Russo-Ukrainian war.
"The supply of military aid, including arms and ammunition, was thoroughly discussed. Strengthening anti-aircraft defense and providing long-range weapons remain extremely important," General Zaluzhnyi noted. "We continued the dialogue regarding the training of the Ukrainian military and agreed to continue working together in these and other important areas. Ukraine needs the victory," Zaluzhnyi added.
Heavy fighting in and around Bakhmut continues. Over the weekend, Ukrainian forces likely stabilized their defensive perimeter following previous Russian advances into the north of the town, according to British Intel.
Ukraine stabilized northern defensive perimeter of Bakhmut- British intelligence
On 6 March, Ukrainian President Volodymyr Zelenskyy held a scheduled meeting of the Staff of the Supreme Commander-in-Chief with army commanders who reported on the situation on the main frontline directions.
Ukraine's top generals in favor of continuing Bakhmut defense – President's Office
According to the statement on the meeting published by President's Office, both the army's top general, Valeriy Zaluzhnyi, and the ground forces commander, Oleksandr Syrskyi, suggested that Ukrainian forces would continue the defense of Bakhmut, the frontline city in Donetsk Oblast, which has been under the looming threat of encirclement by Russian forces.
Russian forces fail to capture the city since August 2022.
Related:
Tags: Bakhmut, Great Britain, military aid to Ukraine, NATO, Poland, Russian invasion of Ukraine, Ukraine, USA