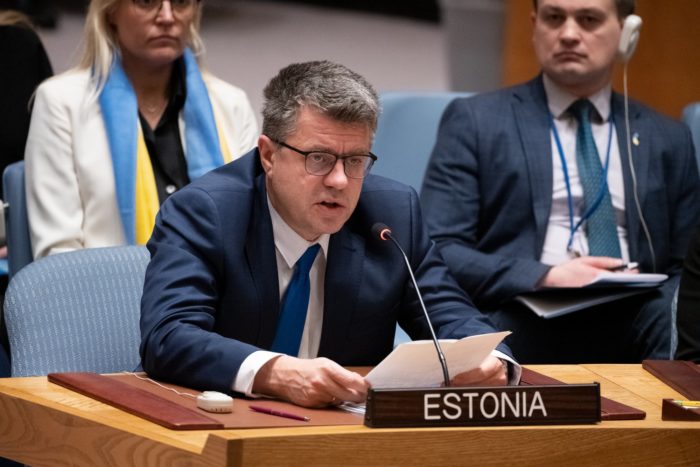 Urmas Reinsalu. Photo from his twitter account 
Estonia's Foreign Minister Urmas Reinsalu believes that Ukraine's membership in NATO is the only way to guarantee its security, apart from the "impossible and undesirable" option of delivering nuclear weapons to Ukraine.
"If we say that we would not in practice see Ukraine as a member of NATO after this war, it would mean that we are afraid—or predict that—Russia will attack again and then NATO countries will be involved in a world war, or at least a war over the European continent. This is already admitting that large-scale war will repeat itself. And this is something that I think is very dangerous from our perspective, that we are already admitting that we have not tamed [the danger], or we don't know the outcome of the current war," Reinsalu said in an interview with Newsweek,
He rejected any alternatives to Ukraine's membership in the Alliance, including a plan for a defense pact with NATO in exchange for Kyiv's greater willingness to negotiate with Russia, which is reportedly being floated by Britain, Germany, and France. The plan reportedly envisions sending advanced NATO weapons to Ukraine but not offering Kyiv protection under NATO's Article Five collective defense clause or deploying NATO troops on Ukrainian soil.
"I don't buy it. We already had this with the famous Budapest Memorandum… You can't copy NATO… What's the point of trying to copy NATO if you are making it clear that it is not NATO? It's like a half-NATO. I would be rather suspicious of that replica. Honestly, the only guarantee except NATO would be to deliver nuclear weapons to Ukraine," Reinsalu said, stressing that such a move is impossible, and undesirable, given the anti-proliferation commitments of NATO's nuclear powers.
According to Rheinsal, leaving Ukraine outside the West's security umbrella would leave Kyiv in limbo and undermine the country's recovery process.
"Imagine we are not giving Article Five-based guarantees to Ukraine after the war. So, we will then encourage Ukraine to establish their self-defense in a 'hedgehog strategy,' like they are in the Wild West, standing in their fort with rifles and waiting for Russia. I think it will create a grey zone in the midst of Europe. It would be a grand negative signal on their aspirations towards the European Union, from the security perspective, about investment assurances, and everything else," he stressed.
NATO Secretary General Jens Stoltenberg has said that Ukraine can only join NATO after the war with Russia is over. In the meantime, NATO members are drawing up security guarantees for Ukraine which are planned to be finished by July.
5 reasons why Russia's war is to conquer Ukraine, not defend itself from NATO