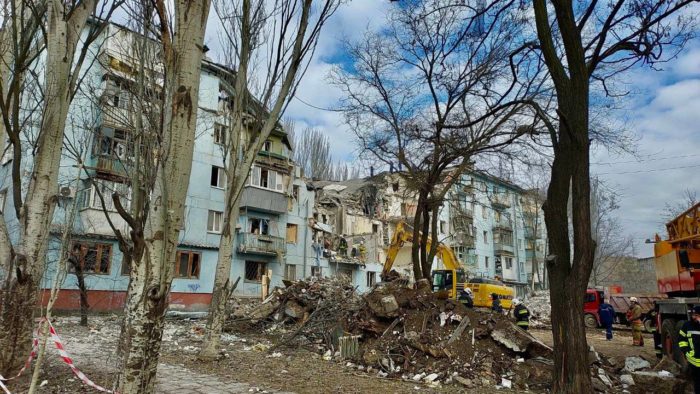 The apartment building destroyed by a Russian S-300 missile overnight into 2 March. Photo: Anatoliy Kurtiev, Secretary of Zaporizhzhia city council 
The number of people killed in a Russian missile attack on a five-story residential building in Zaporizhzhia overnight into March 2 has risen to five, according to city council secretary Anatoliy Kurtiev. 10 people are still missing, and eight are injured,
"At the moment, 10 more people are missing. Eight people were injured," he wrote in a telegram on the morning of March 3.
Emergency rescue operations are ongoing, he added (all photos by Kurtiev).
Russia launched a missile attack on a house in Zaporizhzhia on March 2, partially destroying the building. According to the local prosecutor's office, an S-300 missile was used.
Law enforcement officials have opened a criminal investigation into violating the laws and customs of war combined with premeditated murder.
The Russian military has been shelling Zaporizhzhia for many months. The proximity of the front line allows them to fire at the regional center with S-300 missiles, which have been modified for ground use and cannot be shot down by the Ukrainian military's air defense systems. These missiles, designed to hit air targets, are not very accurate when fired at ground targets.
Russia hit Kyiv with missile type it uses en masse to terrorize eastern Ukraine
Terror from the sky: a guide to Russian missiles used against Ukraine and how to stop them
Tags: Russian missile attack, S-300, Zaporizhzhia