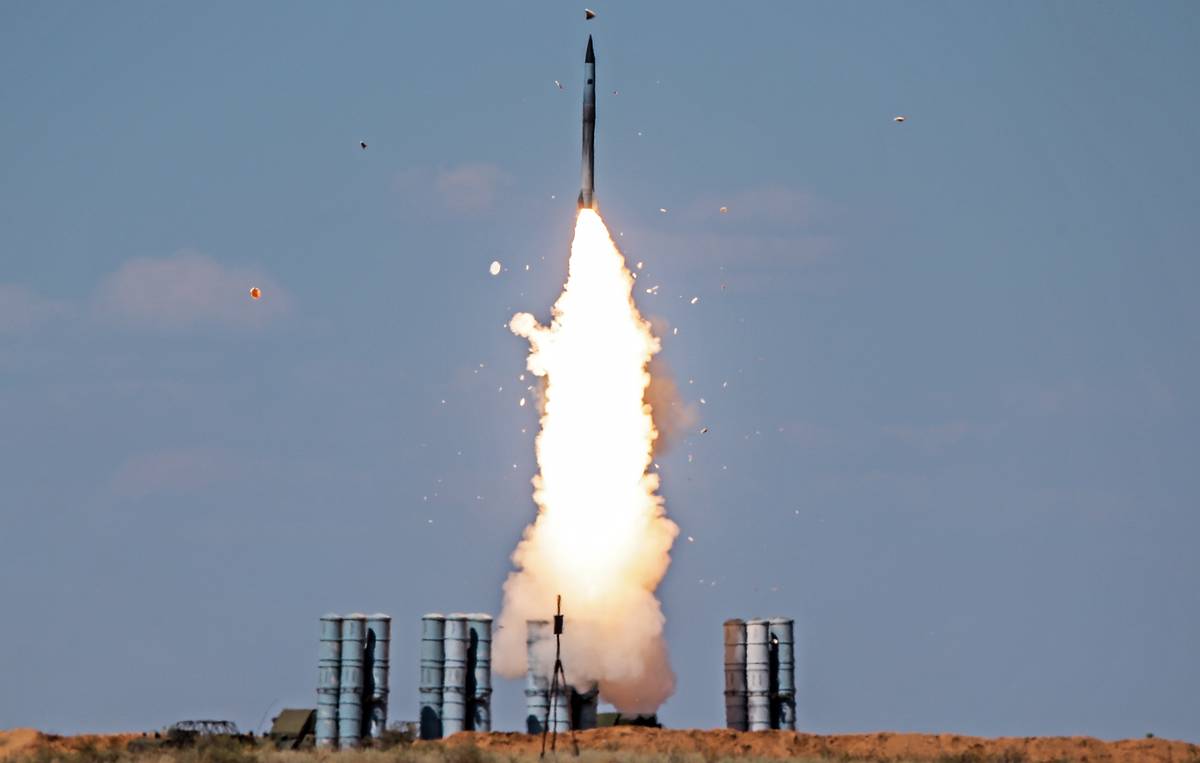 A launch of the 48N6DM missile. Photo: Defense Express 
It is now confirmed that, as suspected, the unusual missiles that hit Kyiv after falling by a ballistic trajectory on 14 January were S-400 48N6DM anti-aircraft missiles, Defense Express reported after getting access to photos of the missile wreckage.
For many months, Russia has been using a similar missile, the 5V55 launched from the S-300, against cities close to the frontline. Now it is using the newer and more powerful 48N6DM launched from a S-400.
Both the S-300 and S-400 are designed for hitting air targets. Russia, however, had repurposed the S-300 to hit land targets.
What distinguishes the S-300s from other Russian missiles is that Russia has a formidable stockpile of them, enough for three years of war. Also, they are inaccurate against land targets, which is why Russia does not use them on the battlefield and rather uses them as a weapon of terror against civilians.
Russia uses these missiles to strike Ukraine's southeastern regions on a regular basis, firing them from occupied Ukrainian territories on cities of Ukraine's Kharkiv, Mykolaiv, Dnipropetrovsk, and Kherson oblasts.
While the S-300 can hit land targets 120 km away and carries a 133 kg payload, its newer and more powerful version S-400 can hit targets 230 km away and it is more destructive, with a payload of 180 kg.
It is most likely that the S-400s on 14 January were launched from the Zubrawka airfield in Belarus, a location from where Russia launched S-300 missiles at Chernihiv, Defense Express writes. However, the 230-km range of S-400 missiles allows for them to be also launched from the Bryansk Oblast in Russia.
According to military expert Serhiy Zhurets, this is actually the second time Russia launched S-400 missiles at Kyiv: wreckage of these missiles was found in Protasiv Yar and a hotel in central Kyiv after Russia's attack on 31 December 2022.
If Russia will keep firing S-400 missiles from Belarusian territory, major Ukrainian cities like Lviv, Rivne, Lutsk, and Zhytomyr are also at risk, apart from Kyiv. They were all out of reach of the 120-km radius of S-300 missiles.
Russia's use of S-400 missiles: consequences for civilians in Kyiv and other cities
Russia's use of these missiles from Belarusian territory brings new risks to Ukrainian civilians.
Major cities in northwestern Ukraine, such as Lutsk, Rivne, Zhytomyr, Kyiv, and Lviv, are now in increased danger, as they are within the striking distance of these missiles.
Ukrainian civilians will have less warning to take cover. While cruise missiles from the Kh family that are regularly used by Russia as a weapon of terror against civilians are launched from jets or ships and fly slower, tactical ballistic missiles fly at great speeds (the S-400 at over 4000 km/h, and the S-300 — at 3000 km/h) and are sent into the air from ground launchers, meaning that their launches are more difficult for air defense to spot. According to Mr. Zhurets, a mere several minutes separate the launch of the missile from impact at a target 200 kilometers away. This means that civilians will often not be given warning before the strike, as it was on 14 January, when the air alarm advising civilians to take shelter sounded after explosions were heard, not before.
These missiles can cause great danger to civilians because of their inaccuracy. The S-400 is an anti-aircraft missile that flies by a ballistic trajectory and needs direct visibility to a radar station for a precision strike. When used against a land target, it loses connection with the radar station at a height of 3 kilometers and simply falls in the approximate target area by an inertial navigation system. They are equipped with a "contact fuse" that reacts when passing near an air target; when launched at a ground target, they can be detonated at a low altitude or during contact with the surface. If it lands in a residential building, it can easily break through the roof or walls and cause extreme destruction. If it explodes above the surface, civilians will be hurt by abundant shrapnel: the warheads of these missiles were designed with maximal fragmentation in mind.
Ukraine currently lacks the capacity to intercept ballistic missiles, which fall at great speeds nearly vertically downward. Even if air defense manages to hit this missile, the payload may still fall to the ground and detonate. To protect against them, Ukraine needs anti-missile systems such as Patriot PAC3 with MSE hit-to-kill interceptors that cause the missile to detonate in mid-air by ramming into it at a great speed. Another complex that can deal with ballistic missiles is the French-Italian Mamba (SAMP/T), promised to arrive in Ukraine over 2023.
Given the complications of defending against ballistic missile threats, Ukraine's best chances to defend its civilians are to destroy the S-300/S-400 launchers on Belarusian or Russian territory using HARM missiles, or other means — before they set off their deadly missiles.
Hints that this will happen were given by spokesman of Ukraine's Air Force Yuriy Ihnat, who stated that Ukraine will "take some measures" towards the "northern direction" from where the S-300/S-400 launches were observed. Until then, Kyiv will face increased danger of being targeted by inaccurate, deadly S-300/S-400 missiles.
Related:
Tags: air defense, ballistic missiles, Kyiv, Russian missile attacks