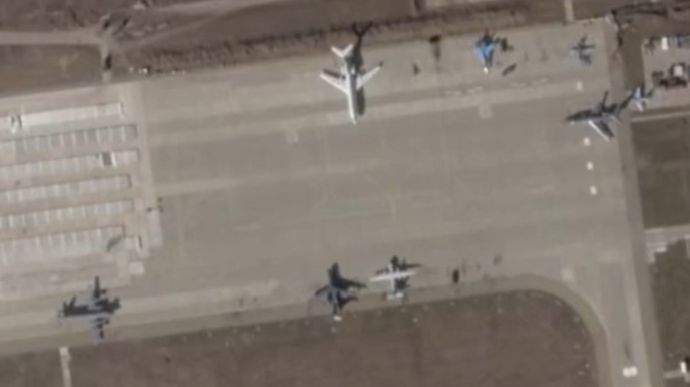 Russian airfield in Yeysk following the Ukrainian drone attack.
Credit: Planet.com 
Six Russian supersonic fighter/bomber strike aircraft Su-34 were relocated from the military airfield in Yeysk, Krasnodar Krai, southwestern Russia, according to Radio Svoboda.
Russian jets left Yeysk after the alleged Ukrainian drone attack on the airfield that caused explosions on 28 February 2023. Six aircraft Su-34 can no longer be seen at the airfield in Yeysk, according to the satellite images of Planet.com that Radio Svoboda published on 3 March 2023.
Early before, journalists of Skhemy project (the Ukrainian service of Radio Liberty) paid attention to scorched earth in recent photos of the area around the airfield in Yeysk. The burnt fields are located on the territory of the 726th Air Defense Training Center of Russia's Air Forces next to the airfield. The fire in that location could have been caused by the crash of a Ukrainian unmanned aerial vehicle, according to Schemy.
Related:
Tags: aircraft, drone attack, Russia, Russian invasion of Ukraine