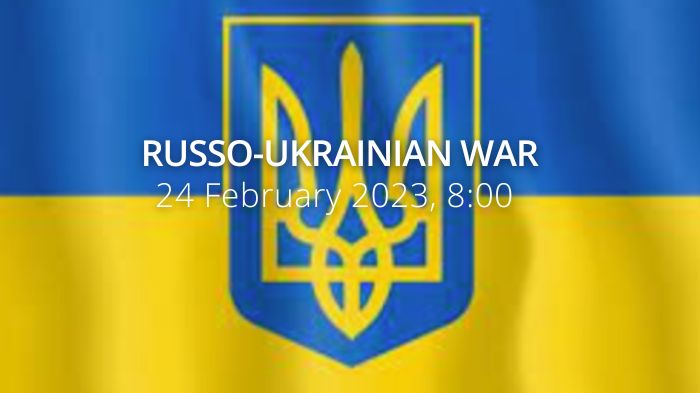 One year since the start of the full-scale Russian invasion of Ukraine. Over 80% of Ukrainians believe in victory over Russia.
One year of Russian all-out war against Ukraine on the map

Russian offensive vs. Ukrainian counteroffensive. pic.twitter.com/sOm8KzyTIU

— Euromaidan Press (@EuromaidanPress) February 24, 2023
Daily overview — Summary report, February 24
The General Staff's operational update regarding the Russian invasion as of 18.00 pm, February 24, 2023 is in the dropdown menu below:
The Russian Federation has been continuing its full-scale armed aggression against Ukraine for a year. Its main efforts are now focused on offensive operations on Kupyansk, Lyman, Bakhmut, Avdiivka, and Shakhtarsk axes.
During the last 24 hours, Ukrainian defenders repelled about 100 enemy attacks.
At the same time, the Russian invaders launched 10 missile and 31 air strikes, and conducted more than 40 MLRS attacks. These criminal actions have resulted in casualties among civilian population and damage to civilian objects in Kharkiv and Kherson oblasts.
Volyn', Polissya, Sivershchyna, and Slobozhanshchyna axes: no signs of the formation of enemy offensive groupings were identified. The vicinities of Senkivka, Yeline, Medvedivka, Leonivka, and Mikhalchyna Sloboda (Chernihiv oblast); Sopych, Korenyok, Hirky, Ryzhivka, Iskryskivshchyna, Volfyne, Oleksiivka, Vodolagi, Zapsillia, and Myropil'lya (Sumy oblast), as well as the vicinities of more than 22 settlements in Kharkiv oblast came under enemy mortar and artillery fire. These include Krasnaya Zora, Veterynarne, Strilecha, Lukyantsi, Vovchans'ki Khutary, Zemlyanyka, Ustinivka, Bologhivka, and Krasne Pershe. Moreover, Russian combat helicopters attacked ground targets near Dvorichna and Ohirtseve.
Kupyansk and Lyman axes: Russian forces carried out unsuccessful offensive actions in the vicinities of Stelmakhivka, Dibrova, Bilohorivka, Fedorivka, and Rozdolivka. The vicinities of more than 20 settlements came under enemy fire, in particular, Hryanykivka, Synkivka, Kup'yans'k, and Tabaivka (Kharkiv oblast); Novoselivka, Stelmakhivka, Makiivka, Yampol', Nevs'ke, Dibrova, and Bilohorivka (Luhansk oblast); and Hryhorivka, Spirne, Berestove, Rozdolivka, and Fedorivka (Donetsk oblast). The adversary conducted an air strike in the vicinities of Hryanykivka, Kotlyarivka, Krokhmal'ne (Kharkiv oblast); Serebryansk Forestry and Bilohorivka (Luhansk oblast). Spirne, Sacco and Vanzetti (Donetsk oblast) were also affected. The occupiers used 6 barrage ammunition of the "Lancet" type.
Bakhmut axis: Russian forces attempted several unsuccessful offensives in the vicinities of Berkhivka, Bakhmut, Zaliznyans'ke, Ivanivs'ke, Chasiv Yar, Diliivka, and Vasylivka settlements. More than 20 settlements, in particular, Zaliznyans'ke, Berkhivka, Bakhmut, Chasiv Yar, Ivanivs'ke, Kurdyumivka, Mayors'k, Severne, Ivanopil'a, and Krasnohorivka (Donetsk oblast) suffered enemy attacks.
Avdiivka and Shakhtarsk axes: Russian occupiers attempted unsuccessful attacks in the vicinities of Vodyane, Nevels'ke, Novomykhailivka, and Prechistivka. About 25 settlements came under enemy artillery fire, including, Novobakhmutivka, Avdiivka, Berdychi, Orlivka, Pervomais'ke, Krasnohorivka, Heorgiivka, Mar'yinka, Novomykhailivka, Vuhledar and Prechistivka.
Zaporizhzhia axis: more than 25 settlements suffered artillery fire. Among them – Vremivka, Novopil (Donetsk oblast); Zelene Pole, Olhivske, Poltavka, Charivne, Novodanilivka, Orihiv, Kam'yans'ke, Lukyanivs'ke, Stepnogris'k, and Pavlivs'ke (Zaporizhzhia oblast); as well as Marganets, Chervonohryhorivka and Nikopol (Dnipropetrovsk oblast).
Kherson axis: The vicinities of more than 30 settlements, including, Mykhailivka, Havrylivka, Beryslav, Vesele, Odradokamyanka, Mykolaivka, Krynky, Novotyaginka, Kherson, and Zimivnyk (Kherson oblast) suffered Russian artillery attacks.
In order to replenish its large-scale casualties, Russia continues covert mobilization. In particular, in the oblasts of the Caucasus, there is an active forced mobilization of men of conscription age with the aim of sending them to participate in hostilities on the territory of Ukraine. All men are subject to mobilization, regardless of their health and willingness to fight. A large number of those mobilized are citizens who have served or are serving sentences in penitentiary institutions. Prisoners are released on condition of voluntary participation in hostilities on the territory of Ukraine.
In some areas of the temporarily occupied territories of the Luhansk Oblast, mobile operators cut off access to the Internet in order to prevent the transmission of data about the actions of the Russian occupation forces and to fight against the patriotic population of Ukraine. The disconnection of the Internet should take place in all temporarily occupied territories of the Luhansk Oblast.
[To reveal the exact position of Ukrainian units and spot for artillery fire, the adversary is actively conducting aerial reconnaissance. As a result, Russian forces is losing equipment: Ukrainian Defence Forces destroyed Russian Merlin and Zala UAVs.]
[The adversary continues to suffer losses. Thus, 6 ambulances with wounded servicemen of the Russian occupation forces arrived at a trauma center in Donetsk on the night of February 21-22.]
[Children from all over the city of Melitopol' (Zaporizhzhia oblast) are supposedly going to take the "voluntary" oath of "Young Army soldiers" in a local school. The above school is also planned as a base to form the so-called "All-Russian Rescue Corps".]
[Having caused a humanitarian crisis in the occupied Mariupol, the occupiers are persuading the local residents to take part in fortification of positions around the city in exchange for food rations. No remuneration for this labor is defined. Most people receive food packages only.]
During the last day, Ukrainian Air Force conducted 17 air strikes on the concentrations of Russian troops, and 4 air strikes on the positions of anti-aircraft missile systems.
Ukrainian missile and artillery troops attacked 3 concentrations of Russian troops, 1 ammunition depot, 1 fuel and lubricant warehouse, and 1 other critical military target."
Military Updates
Russia launched over 5,000 missiles and carried out nearly 3,500 air strikes in Ukraine last year – General Staff, Ukrainska Pravda reports, citing Oleksii Hromov, Deputy Head of General Staff of the Armed Forces of Ukraine. "Overall, since the start of the Russian full-scale armed aggression, the Russian occupation forces have launched almost 5,000 missiles and nearly 3,500 air strikes on the territory of Ukraine. According to Hromov, the occupiers carried out almost 1,100 strikes using UAVs. 
He also added that due to the lack of high precision missiles in their arsenal, Russian forces use Kh-22 anti-ship cruise missiles, the so-called "aircraft carrier killers", to destroy Ukrainian civilian infrastructure."
https://twitter.com/EuromaidanPress/status/1628829315155501059
According to British Defence Intelligence, (last 48 hours): 
Since 2014 Russia's strategic goal in Ukraine has highly likely been consistent: to control its neighbour. Over 2014-2021, it pursued this objective through subversion, by fomenting an undeclared war in the Donbas, and by annexing Crimea.
On 24 February 2022, Russia pivoted to a new approach and launched a full-scale invasion which attempted to seize the whole country and depose its government. By April 2022, Russia realised this had failed, and focused on expanding and formalising its rule over the Donbas and the south. It has made slow and extremely costly progress.
In recent weeks, Russia has likely changed its approach again. Its campaign now likely primarily seeks to degrade the Ukrainian military, rather than being focused on seizing substantial new territory. The Russian leadership is likely pursuing a long-term operation where they bank that Russia's advantages in population and resources will eventually exhaust Ukraine.
Over the last 48 hours, heavy fighting has continued in the Bakhmut sector where Ukrainian forces are keeping resupply routes open to the west despite Russia's creeping encirclement over the last six weeks.
Further south in Donetsk Oblast, the town of Vuhledar has again experienced heavy shelling. There is a realistic possibility that Russia is preparing for another offensive effort in this area despite costly failed attacks in early February and late 2022.
Russia's Eastern Group of Forces likely still has responsibility for the Vuhledar operation. Its commander, Colonel General Rustam Muradov, is likely under intense pressure to improve results following harsh criticism from the Russian nationalist community after previous setbacks. However, it is unlikely that Muradov has a striking force capable of achieving a breakthrough.
Losses of the Russian army 
As of Friday 24 February, the approximate losses of weapons and military equipment of the Russian Armed Forces from the beginning of the invasion to the present day:
Personnel – about 146820 (+970)
Tanks – 3363 (+13)
Armoured combat vehicles – 6600 (+7)
Artillery systems – 2363 (+11)
Multiple rocket launchers –MLRS – 474 (+3)
Air defence means – 247 (+3)
Aircraft – 299 (+0)
Helicopters – 287 (+0)
Automotive technology and fuel tanks – 5224 (+9)
Vessels/boats – 18 (+0)
UAV operational and tactical level – 2033 (+4)
Special equipment – 229 (+1)
Mobile SRBM system – 4 (+0)
Cruise missiles – 873 (+0)
China might supply attack drones to Russia, Ukrainska Pravda reports, citing der Spiegel. "Der Spiegel reported that Beijing and Moscow are said to be negotiating the purchase of 100 strike drones, which could be delivered as soon as April. According to the information obtained by der Spiegel, the Russian military is engaged in negotiations with Chinese drone manufacturer Xi'an Bingo Intelligent Aviation Technology over the mass production of kamikaze drones for Russia.
Bingo has reportedly agreed to manufacture and test 100 ZT-180 prototype drones before delivering them to the Russian Defense Ministry by April 2023. Military experts believe the ZT-180 is capable of carrying a 35 to 50 kilogram warhead. Sources believe that the design of the unmanned aerial vehicle could be similar to that of Iran's Shahed-136 kamikaze drone.
In a further step, Bingo reportedly plans to deliver components and know-how to Russia so that the country can produce around 100 drones a month on its own."
Humanitarian 
https://twitter.com/EuromaidanPress/status/1628856605579018244
Some 1.5M Ukrainian children affected by war – UNICEF, Ukrinform reports, citing APA. "About 3.3 million children in Ukraine require help, and 1.5 million of them have been affected by the war. That's according to the executive chief of the Austrian branch of the UN Children's Fund, UNICEF, Christoph Junger. "3.3 million children in Ukraine need help. According to UNICEF estimates, 1.5 million of them have been affected by war, the official said.
According to UNICEF, 487 children have died as of today amid Russian aggression against Ukraine, and another 954 have been injured. What this does to children is unimaginable. A total of 365 days of war, suffering, tears, sacrifices, loss of normal life, loss of childhood, loss of loved ones, violence, Junger said.
He also pointed out that since the beginning of the full-scale war, 2,400 schools in Ukraine have been destroyed or seriously damaged. According to UNICEF, two out of three Ukrainian children who were forced to flee Ukraine due to the war are currently not integrated or only marginally integrated into the education system of the host countries.
As reported by Ukrinform, Prosecutor General Andriy Kostin said 9,655 civilians were killed throughout the year, including 461 children. At least 16,000 children were forcibly taken to Russia and Belarus. A total of 2,631 war crimes against children have been registered by the Office of the Prosecutor General, more than 16,000 forcibly resettled children have been identified."
During the year of the war, the invaders destroyed and damaged more than 1,200 medical facilities – Ministry of Health, Ukrinform reports, citing a statement by the Ministry of Health. "During the year of the full-scale invasion, the Russians destroyed a total of 174 medical facilities and seriously damaged another 1,106. The medical infrastructure was most affected in the Donetsk, Luhansk, Kharkiv, Kherson and Mykolaiv regions.
These figures are evidence of the deliberate daily terrorism of the Russians, which they perpetrate against our doctors and our medical system. Every bullet or projectile that hits a medical facility is a terror for Ukrainian doctors and patients. Today, a year after the beginning of the full-scale stage of the war, we record more than 1,200 damaged objects. If you divide this number by the number of days of the war, it turns out that Russia strikes at least 3 medical facilities every day, said Health Minister Viktor Lyashko."
Russia's war has displaced two-thirds of Ukrainians in hostilities-affected areas – poll

The war has damaged or destroyed the houses of every tenth Ukrainian, a Rating poll has found.https://t.co/688UqQ8cQB pic.twitter.com/mYl8rnAiMH

— Euromaidan Press (@EuromaidanPress) February 24, 2023
Environmental
Russians cause almost US$51 billion in environmental damage to Ukraine, Ukrainska Pravda reports, citing the press service of Ministry of Ecology and Natural Resources of Ukraine. "During the year of the full-scale Russian-Ukrainian war, the Russians have caused almost UAH 1.9 trillion (US$51 billion) in damage to Ukraine's environment. During the year of full-scale war, the State Ecological Inspectorate and I have already documented more than 2,300 crimes against nature. The amount of damage reaches almost UAH1.9 trillion, [Minister Ruslan Strilets] said.
Almost 500,000 hectares are currently under occupation or in the war zone. 2.4 million hectares of forests have already been liberated and need to be restored. Currently, Strilets said, 10 national parks, eight nature reserves, and two biosphere reserves are under occupation.
About 600 animal species and 750 plant species are under threat of extinction, including the Red List species. About 1,000 dolphin deaths have already been recorded on the coasts of Ukraine, Bulgaria and Türkiye.
In addition, the most industrially developed part of Ukraine is located in the war zone. 132 mineral deposits have been occupied, and the industry's losses for the year reached UAH 7.76 trillion (US$192 billion).
Russia is also contributing to the climate crisis by causing additional direct carbon emissions of about 33 million tonnes. Fires in forests, agricultural and other facilities during the hostilities alone have released more than 23 million tonnes of greenhouse gases into the atmosphere."
Polish police conducts secret operation in Ukraine, clearing mines in Kyiv Oblast for five months, Ukrainska Pravda reports, citing Wirtualna Polska news outlet. "98 Polish policemen participated in a top secret mission in Ukraine for five months, clearing mines on the liberated territories. […] The mission started after Ukrainians addressed ATLAS group members last year; it is a police operative group that unites special counterintelligence units of the European Union. 
The request was to send bomb disposal experts in order to clear mines in Ukraine. Ukrainians referred to the territories where Russian forces were banished from and where it was impossible to go back, as the territories were heavily mined or were otherwise dangerous because of other remnants of combat actions. Wirtualna Polska has stated that the Ukrainian army does not have enough sappers in order to carry out this task quickly.
Military sappers from NATO countries cannot do it as well, as it would have been considered as a provocation by Russia. Therefore, it was possible to send only police bomb disposal experts. Out of all ATLAS group member states, only Poland responded to Ukraine's request."
Legal
https://twitter.com/EuromaidanPress/status/1628845652003246081
More than 87,000 Russian war crimes registered in Ukraine, Ukrinform reports. "As of the beginning of this week, more than 87,000 war crimes were registered in Ukraine. These are only those registered. We understand that the actual number is bigger. Almost 10,000 civilians were killed due to registered war crimes, Denys Maslov, head of the Verkhovna Rada Committee on Legal Policy and Justice, said at a briefing at the Media Center Ukraine.
He noted that 461 children were killed in Ukraine due to Russia's armed aggression and the number was growing every day.
All this would not have happened if the initial crime had not been committed. There would have been no murders, tortures, rapes, abductions of people if it had been no initial crime – the crime of aggression, which the Russian Federation committed not on February 24, 2022, but much earlier, in 2014, and this crime had been planned even before that, the MP emphasized."
Support
https://twitter.com/EuromaidanPress/status/1628945523074899969
US expected to announce $2 billion Ukraine aid package on Friday, CNN reports. "The Biden administration is expected to announce another $2 billion in Ukraine Security Assistance Initiative funds on Friday, the one-year anniversary of the Russian invasion, a US official said Thursday.  
Unlike drawdown packages, which are pulled directly from US weapons stocks and can be shipped quickly to Ukraine, USAI packages are purchased or contracted from the industry. Though the aid can take far longer to arrive in Ukraine, it also signals a longer-term commitment to providing assistance to Kyiv in what the US sees as a protracted conflict against Russia. 
This is new funding for purchases and new contracts for equipment for Ukraine, including: HIMARS rockets,155m artillery ammunition, multiple types of drones (UAVS), counter UAV equipment, mine clearing equipment, secure communications equipment, and funding for training and maintenance."
Sunak will call on the G7 leaders to provide Ukraine with long-range missiles and aircraft, Ukrinform reports, citing the press service of the British Prime Minister's office. "Prime Minister of Great Britain Rishi Sunak plans to call on G7 partners to supply the Armed Forces with long-range missiles and will encourage the provision of aircraft to Ukraine. The Prime Minister will be in favour of supplying them (Ukrainians – ed.) with longer-range weapons, the message states.
In addition, he is expected to reiterate the UK's offer to support countries that can provide Ukraine with aircraft. At the same time, it is noted that such weapons will help to protect critically important civil infrastructure in Ukraine and maintain the line of defence."
Spain can send up to ten Leopard tanks to Ukraine – PM, Ukrinform reports. "Spain will soon decide on the possibility of supplying Ukraine with up to ten Leopard 2 A4 tanks. Spanish Prime Minister Pedro Sanchez said this at a joint press conference with Ukrainian President Volodymyr Zelensky in Kyiv on Thursday, February 23.
As the Minister of Defence said yesterday, we will send six Leopard 2 A4 tanks to Ukraine and in the coming weeks we will see if we can increase this number to ten. Of course, we will help Ukraine's military learn how to use these tanks, Sanchez said."
Australia to send drones to Ukraine, impose new sanctions on Russia, Ukrinform reports, citing The Guardian. "On the first anniversary of Russia's full-scale invasion of Ukraine, the Australian government has announced a new package of military aid to Ukraine and introduced fresh sanctions against Russia.
The AUD 33 million package will include drones. According to Australia's Deputy Prime Minister Richard Marles, the uncrewed aerial systems will "provide a battlefield intelligence, surveillance and reconnaissance capability to the Ukrainian armed forces as they continue to fight against the unwarranted aggression of Russia. The package also envisages travel bans and asset freezes for a further 90 Russian individuals and 40 Russian entities."
G7 to allocate $39B in economic support to Ukraine this year, Ukrinform reports, citing a joint statement from the G7 Finance Ministers and Central Bank Governors. "We, together with the international community, remain strongly committed to addressing Ukraine's urgent short-term financing needs. For 2023, based on the Government of Ukraine's needs, we have increased our commitment of budget and economic support to 39 billion US dollars, the statement said.
It added that these significant commitments and their swift disbursement give Ukraine certainty and enable the authorities to safeguard the functioning of government, continue the delivery of basic services, carry out the most critical repairs of damaged infrastructure and stabilize the economy. This will also support Ukraine in its effort to defend their country. This financial support is in addition to our vital military support and training to Ukrainian forces, humanitarian support, and development cooperation, the statement said."
65% of EU citizens support financing of military aid for Ukraine, Ukrainska Pravda reports, citing the Eurobarometer survey. "EU citizens continue to show their unwavering solidarity with Ukraine, the authors of the study note. A total of 91% of respondents agree with the provision of humanitarian support, and 88% are in favour of accepting people fleeing war to the EU. Providing financial support to Ukraine is approved by 77%, while 74% of respondents support the introduction of economic sanctions against the Russian government, companies, and individuals.
Europeans also continue to mostly support the ban on broadcasting Russian state-owned media (67%) and EU funding for the purchase and supply of military equipment to Ukraine (65%). Only 13% of respondents are categorically against military support for Ukraine.
Overall, the majority of European citizens (56%) are satisfied with the European Union's response to the Russian invasion of Ukraine."
Over 80% of Ukrainians believe in victory over Russia, Ukrinform reports, citing a survey conducted by Gradus Research. "Confidence in Ukraine's victory remains consistently high: 82% of surveyed Ukrainians are absolutely or rather confident in Ukraine's ability to repel Russia's attack. At the same time, Ukrainians equally believe in victory, regardless of age, gender, and place of residence, the study says.
According to the survey, optimism about the future of Ukraine is also quite high – according to 68% of respondents, Ukraine will become stronger in the post-war period. […] Ukrainians consider the liberation of the temporarily occupied territories of Kherson, Kharkiv, and Kyiv regions, as well as financial and military assistance from foreign partners, to be the most joyful and encouraging events of the year."
New Developments
Most of Russian elite oppose war but tell Putin lies – Financial Times

This resulted in a failed blitzkieg. However, Putin is determined to see war through: defeat would mean the end of his life & he thinks Russia more commited to war than west to Ukrainehttps://t.co/z3Si2SLFGL pic.twitter.com/OLpKsEjIuN

— Euromaidan Press (@EuromaidanPress) February 24, 2023
Hans Petter Midttun: : China has not yet criticised Russia for invading Ukraine. If Russia withdraw its forces and stops its attacks, there will be peace. If Ukraine stops fighting – and if the West stops supporting Ukraine's right to defend itself according to the UN Charter – Ukraine will cease to exist.
"Putin's point man" Viktor Medvedchuk convinced Putin that Ukrainians would welcome Russians with open arms. However, most of his network took Russian money & ran, or informed Ukrainian authorities of the plan – FT

Medvdechuk is now in Moscow, swapped in a prisoner exchange pic.twitter.com/GupyigsPvo

— Euromaidan Press (@EuromaidanPress) February 24, 2023
Assessment 
https://www.understandingwar.org/backgrounder/russian-offensive-campaign-assessment-february-23-2023
On the war. 
The Institute for the Study of War has made the following assessment as of  February 23, 2022:
Russian forces conducted limited ground attacks near Svatove on February 23. The Ukrainian General Staff reported that Russian forces conducted unsuccessful offensive operations near Stelmakhivka (15km west of Svatove). Geolocated footage published on February 23 shows Ukrainian forces striking Russian positions north of Novovodiane (15km south of Svatove), indicating a limited Russian advance along the Svatove-Kreminna line.
Russian forces conducted limited ground attacks near Kreminna on February 23. The Ukrainian General Staff reported that Russian forces carried out unsuccessful offensive operations near Kreminna itself, Bilohorivka (10km south of Kreminna), and in the Serebrianske forest area (10km south of Kreminna). Ukrainian Luhansk Oblast Head Serhiy Haidai stated that Russian forces are prioritizing the Kreminna direction and that fighting along the frontline has largely died down due to Russian forces sustaining heavy losses. A Russian milblogger posted footage on February 23 purportedly showing BARS-13 (Combat Army Reserve of the Country) commander "Artist" in Bilohorivka claiming that Russian forces continue to attempt to seize the settlement. The milblogger also claimed that Russian forces made unsuccessful efforts to attack Bilohorivka and advance on Zarichne (17km west of Kreminna) from Dibrova (5km southwest of Kreminna). Geolocated footage published on February 23 reportedly shows a remote-controlled vehicle-borne IED reportedly constructed by the 35th Separate Guard Motorized Rifle Brigade (41st Combined Arms Army, Central Military District) driving toward Ukrainian positions and failing to detonate near Chervonopopivka (6km north of Kreminna).
Russian forces continued ground attacks around Bakhmut and made tactical gains in the area on February 23. The Ukrainian General Staff reported that Russian troops continue to assault Ukrainian positions in Bakhmut itself, northwest of Bakhmut near Orikhovo-Vasylivka (8km northwest), Dubovo-Vasylivka (5km northwest), Berkhivka (2km northwest), Maloiliinivka (on the northern tip of Bakhmut), and Yahidne (directly on the northwestern outskirts of Bakhmut); southwest of Bakhmut near Dylivka (16km southwest); and west of Bakhmut near Ivanviske (5km west). Geolocated footage confirms that Russian forces have made incremental advances in the eastern, southern, and southwestern sectors of Bakhmut. The Russian Ministry of Defense (MoD) noted that "volunteers of assault detachments" (the wording the Russian MoD uses to describe the Wagner Group without naming them explicitly) and elements of the 76th Guards Airborne Division are operating on this sector of the front. ISW has observed reports that elements of the 106th Airborne Division are operating in the Bakhmut area and that elements of both the 106th and the 76th Airborne Divisions are operating near Kreminna in Luhansk Oblast. These reports together indicate that neither division is deployed as an entire formation in either area. Russian milbloggers claimed that Wagner troops are succeeding in pushing Ukrainian forces out of Berkhivka and now control the majority of the settlement, from which they are fighting towards Yahidne and the northwestern outskirts of Bakhmut. A Russian milblogger claimed that Russian troops have also made advances within Bakhmut itself and in the Soledar area northeast of Bakhmut. Milbloggers also remarked that Wagner has partially regained control over lost positions along the T0504 Kostyatynivka-Chasiv Yar-Bakhmut highway, thereby blocking the route and approaching the southeastern outskirts of Ivanivske. Footage posted by Wagner Group financier Yevgeny Prigozhin on February 23 and later geolocated shows him visiting Wagner troops in eastern Bakhmut within 500m of the current frontline, although Prigozhin claimed he was within 400m of the frontline.
Russian forces continued ground attacks in the Avdiivka area north of Donetsk City on February 23. The Ukrainian General Staff reported that Russian forces conducted 43 unsuccessful attacks in this area over the past day, particularly near Avdiivka itself and northeast of Avdiivka near Novobakhmutivka (10km northeast of Avdiivka) and Kamianka (3km northeast). Geolocated footage shows that Russian forces have made marginal advances north of Avdiivka in the Novobakhmutivka area. The spokesperson for the Ukrainian Defense Forces in the Tavriisk direction Colonel Oleksiy Dmytrashkivskyi noted that Russian forces had increased their activity in the Avdiivka and Vuhledar directions. Dmytrashkivskyi remarked that Russian troops are attacking in assault groups of 10 to 15 people and in mechanized units of unspecified echelons likely at or below the battalion level. This likely means that Russian forces are employing roughly squad-sized assault groups supported by company-sized mechanized units. A Russian milblogger posted footage of the Donetsk People's Republic (DNR) 56th Separate SPETSNAZ Battalion striking Ukrainian positions near Avdiivka and claimed that the battalion is moving forward meter by meter.
Russian forces continued ground attacks along the western outskirts of Donetsk City on February 23. The Ukrainian General Staff stated that Russian troops continue attacking Ukrainian positions on the northwestern outskirts of Donetsk City near Nevelske and Vodyane; and on the southwestern outskirts of Donetsk City near Marinka, Pobieda, and Novomykhailivka. Geolocated footage shows that Russian forces have advanced to Pobieda, indicating that Russian troops have likely made additional gains south of Marinka in order to reach the Pobieda area. Russian milbloggers claimed that Russian troops continue attacks along the northwestern outskirts of Donetsk City and that DNR fighters are making territorial gains within Marinka itself.
Russian forces continued ground attacks southwest of Donetsk City in the Vuhledar area on February 23. The Ukrainian General Staff reported that Russian troops attacked Russian positions near Vuhledar (30km southwest of Donetsk City) and Prechystivka (35km southwest of Donetsk City) and that elements of the 155th Naval Infantry Brigade in this area are refusing to fight due to recently failed operations. Dmytrashkivsky noted that Russian forces have recently increased their activity in the Vuhledar area, and the United Kingdom Ministry of Defense (UK MoD) warned that Russian forces in this area may be preparing for yet another offensive on Vuhledar. Russian milbloggers claimed that Russian forces are fighting southeast of Vuhledar between Pavlivka and Mykilske.
The Kremlin appears to be setting conditions for false flag operations on the Chernihiv Oblast international border and in Moldova ahead of the one-year anniversary of Russia's full-scale invasion of Ukraine. Ukrainian Northern Operational Command reported on February 23 that Russian forces are preparing possible false flag operations in the international border areas of Chernihiv Oblast. The Ukrainian Northern Operational Command stated that Ukrainian intelligence has already observed Russian convoys with unmarked military equipment and personnel dressed in uniforms resembling those worn by the Ukrainian military move to areas near the Chernihiv Oblast border. The Ukrainian Northern Operational Command stated that the purpose of these false flag operations would be to accuse Ukrainian forces of violating the territorial integrity of an unspecified country, very likely referring to Belarus. The Kremlin may be preparing false flag attacks to coerce Belarus into the war following Belarusian President Alexander Lukashenko's February 16 statement that Belarus would only enter the war if attacked by Ukraine. The Belarusian Ministry of Defense also notably claimed on February 21 that Belarusian forces observed a buildup of Ukrainian forces at its borders. ISW continues to assess that Belarusian or Russian attack on northern Ukrainian regions is highly unlikely, but Russia seeks to force Lukashenko's hand or blame Ukraine for expanding the war to undermine support for Kyiv. Such a false flag operation could also aim to fix Ukrainian forces at the northern border in an effort to weaken Ukrainian defenses in eastern Ukraine and preparations for counter-offensive operations.
The Kremlin also appears to be setting information conditions to stage a false flag operation in occupied Transnistria, Moldova. The Russian Ministry of Defense (MoD) claimed on February 23 that Ukrainian forces are planning to conduct an armed provocation against Transnistria in the near future. The MoD claimed that Ukrainian forces would dress as Russian military personnel and stage an alleged Russian offensive from positions in Transnistria. The Moldovan government denied the Russian MoD's allegations. The MoD likely sought to foster this false narrative to twist Ukrainian President Volodymyr Zelensky's warning to Moldovan President Maia Sandu that the Kremlin was preparing provocations in Moldova and his offer to help Moldova if Russian forces in Transnistria threaten the territorial integrity of Ukraine. The MoD's dissemination of this false narrative does not indicate that Putin intends to attack Moldova—an undertaking for which he lacks military capability—although it points toward an escalation in his ongoing efforts to undermine the Moldovan state. 
Russian President Vladimir Putin continues to deliver boilerplate rhetoric in public addresses that offered him opportunities he did not take to shape the Russian information space ahead of the one-year anniversary of Russia's invasion of Ukraine. Putin marked Defenders of the Fatherland Day on February 23 with a video address in which he reiterated tired Kremlin talking points arguing that the Russian military is fighting neo-Nazism in Ukraine and protecting "our people in our historical lands." Putin delivered vague remarks that the Russian military is improving the training of its units and continuing to supply advanced equipment to its forces. Putin also asserted that Russian industry is quickly increasing the production of a broad range of conventional weapons and preparing for the mass production of advanced models of military equipment, although ISW assesses that Russia continues to gradually prepare its defense industrial base (DIB) for a protracted war instead of engaging in wider rapid economic mobilization. Putin's speech did not offer specific goals or objectives for the war on Ukraine but instead continued generic rhetorical lines of effort aiming to prepare the Russian public for a protracted war in Ukraine. Putin's refusal to use the public address to issue specific goals or policies ahead of the one-year anniversary of Russia's invasion of Ukraine suggests that Putin remains uncertain of his ability to shape the Russian information space through a dramatic speech that represents a significant inflection in his rhetoric.
Putin likely attempted to downplay recent surges of criticism regarding the integration of the Donetsk and Luhansk People's Republics (DNR/LNR) into the Russian Armed Forces. Putin attended a wreath-laying ceremony to mark Defenders of the Fatherland Day, during which a Russian Airborne Forces (VDV) Lieutenant Colonel Roman Cheremukhin asked him questions concerning the status of DNR and LNR militias and their inability to access state benefits for combat veterans. Putin responded that the Russian government will include DNR and LNR militia personnel who served from 2014 onward to the list of those eligible for combat veteran benefits, in what was likely an orchestrated performance similar to past exchanges between Putin and servicemembers. Deputy Chairman of the Federation Council Andrey Turchak's announcement that DNR and LNR personnel who fought in Ukraine since 2014 would receive the status of combat participant further suggests that the incident was staged. The Kremlin is likely attempting to gain favor with the newly-integrated DNR and LNR militias – who have expressed concern over the Russian Ministry of Defense (MoD) imposing military command changes within their units – by offering them the prospect of having state benefits.
Putin seems more concerned with appealing to ultranationalist pro-war ideologues and tired rhetorical gestures than with presenting any new approach to achieving the Kremlin's objectives in Ukraine. Putin's only specific remark in his public address concerned the operation of the Borei-A nuclear-powered submarine and how it would allow the Russian Navy's strategic nuclear forces to operate at 100 percent capacity. Putin's remarks concerning the Russian Navy's strategic nuclear forces were likely meant to support ongoing Russian information operations aimed at discouraging Western support to Ukraine by fueling hyperbolic concerns about nuclear escalation, as well as to display Russian military might to a domestic audience by highlighting capabilities that are not involved with Russian military failures in Ukraine. Putin also engaged in a likely staged interaction with a representative from the Russian Orthodox Church in which he stated that he would do everything to address the concerns of the Orthodox clergy serving with Russian forces in Ukraine. Putin's appeals to nuclear armaments, DNR and LNR proxy forces, and Orthodoxy indicate that he is continuing to rely on rhetoric that he knows appeals to the Russian ultranationalist pro-war community.
Russian President Vladimir Putin likely continues to suffer from confirmation bias in his belief that Russia's will to fight will outlast the West's will to support Ukraine. The Financial Times (FT) cited unnamed officials close to the Kremlin stating that Putin assesses that "Russia is more committed to the war than the West is to Ukraine and [is] resilient enough to see out the economic pain." Unnamed Kremlin sources also told FT that Putin's demands for loyalty over competence among elites is forcing them to refrain from being honest with him about the progress of the war, and noted that Putin gets information of "poor" quality as a result. Sources also revealed that most of Putin's presidential administration and economic cabinet expressed that they do not support this war but use lies as a survival tactic, with only a small number of officials resigning since the start of the invasion. One longtime insider also observed that Putin is of "sound mind" and is "reasonable," which supports ISW's February 5 assessment that he is a highly calculated actor who places considerable emphasis on eliminating risks. Insiders also revealed that Putin also withheld his plans to launch a full-scale invasion in February 2022 and his plans to occupy Crimea in 2014 from his closest advisors, with his circle of advisors recently tightening even more. The insider information indicates that Putin is prepared for Russia to suffer through a costly and exhausting protracted war under the conviction that the war will tire out Western support. Putin is also likely misinformed about the effectiveness of the Western equipment on the frontlines and its ability to impede his plans for a protracted war of attrition. The combination of Putin's beliefs about Russian staying power and expectations of the collapse of Western will with the shrinking circle of advisors and the apparent unwillingness of insiders to contradict him likely create a strong confirmation bias in Putin's observations of Western statements and outreach.  Putin is likely to prioritize any indications of waning Western support or hesitancy over statements or indications of Western toughness or determination if this hypothesis is correct.  Western leaders would do well to consider the likelihood that confirmation bias of this sort is shaping Putin's perceptions in their own public and private statements and actions.
A Russian source attempted to preempt Western discussions about releasing classified information regarding China's considerations to provide lethal aid to Russia. A prominent Russian milblogger responded to Chinese Foreign Minister Yi Wang's denial that China intends to supply weapons to Russia and stated that China provides Russia the opportunity to purchase various types of ammunition, industrial drones, field medicine, and protective gear on a commercial basis. The Russian milblogger claimed that Chinese-made equipment is abundantly available in Russia and is present throughout the front in Ukraine. The milblogger is likely referring to commercially available dual-use technology from China, which ISW has observed various Russian volunteer groups purchase and send to the Russian military as part of crowdfunding efforts. ISW has not observed any evidence of Russian forces using lethal aid from China in Ukraine. US officials are reportedly considering releasing intelligence that they believe shows that China is weighing whether to supply weapons to support Russia's war in Ukraine. NATO Secretary Jens Stoltenberg stated on February 23 that NATO has seen signs that Chinese officials may be planning to send lethal aid to Russia.
Wagner Group financier Yevgeny Prigozhin announced that the Russian Ministry of Defense (MoD) fulfilled Wagner Group's complete artillery ammunition request on February 23 following immense support for Prigozhin in the Russian information space. Prigozhin thanked many unspecified figures for helping to solve Wagner's ammunition shortage problems, including unspecified individuals in positions of power who "exerted pressure and made decisions" in favor of Wagner, and claimed these individuals helped save hundreds of Wagner personnel from dying in combat operations. Prigozhin likely aimed to further undermine the Russian MoD by thanking individuals rather than the MoD itself for providing Wagner with all its requested ammunition. Prigozhin's February 23 resolution did not generate significant discussion within the information space, unlike Prigozhin's escalation on February 22. Deputy Chief of the Main Operational Department of Ukrainian General Staff, Brigadier General Oleksiy Hromov stated on February 23 that the Russian military command is trying to oust Prigozhin from the information space after his continuous resistance to subordinate to the Russian MoD. Prigozhin's claims about Wagner receiving ammunition, if true, may suggest that the Kremlin fears Prigozhin's influence over the information space and might have attempted to appease him before he exposed more inner workings of the Kremlin and the Russian MoD. The provision of ammunition to Wagner would also indicate that the Russian MoD continues to suffer significant resistance when attempting to subordinate and integrate irregular forces into its structure despite their reliance on the Russian MoD. It is also possible, however, that Prigozhin was pressured by the Kremlin or the MoD to make this statement defusing the informational crisis he had created.
Key Takeaways
The Kremlin appears to be setting conditions for false flag operations in Chernihiv Oblast and Moldova ahead of the one-year anniversary of Russia's full-scale invasion of Ukraine.
Russian President Vladimir Putin continues to deliver boilerplate rhetoric in public events that present him opportunities to shape the Russian information space ahead of the year anniversary of Russia's invasion of Ukraine.
Putin likely attempted to downplay recent surges of criticism regarding the integration of the Donetsk and Luhansk People's Republics (DNR/LNR) into the Russian Armed Forces.
Putin seems more concerned with appealing to ultranationalist pro-war ideologues with meaningless gestures than with presenting any new approach to achieving the Kremlin's objectives in Ukraine.
Putin likely continues to suffer from confirmation bias in his belief that Russia's will to fight will outlast the West's will to support Ukraine.
A Russian source attempted to preempt Western discussions of releasing classified information regarding China's considerations to provide lethal aid to Russia.
Wagner Group financier Yevgeny Prigozhin announced that the Russian Ministry of Defense (MoD) fulfilled Wagner Group's complete artillery ammunition request on February 23 following immense support for Prigozhin in the Russian information space.
Russian forces conducted ground attacks near Svatove and Kreminna.
Russian forces continued ground attacks around Bakhmut, in the Avdiivka-Donetsk City area, and in western Donetsk Oblast.
Russian authorities announced that they completed the repair of the Kerch Strait Bridge road spans ahead of schedule.
Russian officials continue to offer incremental and insufficient benefits to support Russian military personnel and defense manufacturers.
Russian occupation officials continue efforts to militarize Ukrainian children through the installation of military-patriotic educational programs in occupied areas.
Russia already spent 35% of annual defence budget, Ukrinform reports, citing Oleksandr V. Danylyuk, chief of the Center for Defense Reforms (Guildhall). "Over the first two months of 2023, Russia has spent almost half of its annual defence budget so, in order to continue the war against Ukraine, will be forced to cut funding for social programs, which is seen as an undesirable step on the eve of the 2024 elections.
Citing sources in Ukraine's intelligence community, Danylyuk said Moscow is not confident in its own military prospects and is looking for an opportunity, at least temporarily, to freeze the military conflict with Ukraine due to the lack of funds to proceed with the invasion at full-swing."
Consequences and what to do?
China says it wants to prevent Ukraine crisis from getting out of control, Reuters reports. "China wants to prevent the Russia-Ukraine crisis from getting out of control, noting that dialogue and negotiation are the only viable ways to resolve the conflict, a position paper from the foreign ministry released on Friday said. On the one-year anniversary of Russia invading Ukraine on Feb. 24, China called for a comprehensive ceasefire and a gradual de-escalation and easing of the situation.
Conflict and war benefit no one. All parties must stay rational and exercise restraint, avoid fanning the flames and aggravating tensions, and prevent the crisis from deteriorating further or even spiraling out of control, the statement said.
The ambassador of the European Union to China, Jorge Toledo, told reporters at a briefing in Beijing on Friday that China's position paper was not a peace proposal but the EU will study it.[…]
Ukraine called the position paper "a good sign" and said it expects China to be more active in its support of Ukraine. We hope they also urge Russia to stop the war and withdraw its troops, Ukraine's charge d'affaires Zhanna Leshchynska said at the same briefing.
Russian President Vladimir Putin has signalled he will double down on the Ukraine conflict, despite major battlefield defeats in the past year, and has raised the spectre of nuclear weapons, announcing plans to deploy the new Sarmat multi-warhead intercontinental ballistic missiles this year. Nuclear weapons must not be used and nuclear wars must not be fought, China's foreign ministry said. We oppose development, use of biological and chemical weapons by any country under any circumstances.
Putin on Thursday hailed "new frontiers" in ties between Moscow and Beijing and signalled China's leader Xi Jinping would visit. Xi is expected to deliver a "peace speech" on Friday. The United States is concerned by greater alignment between China and Russia. […]
In its position paper, China said unilateral sanctions and maximum pressure cannot solve the issue and that they only create new problems. China opposes unilateral sanctions unauthorised by the U.N. Security Council. Relevant countries should stop abusing unilateral sanctions and long-arm jurisdiction against other countries."
China presents its 12-point "peace plan" regarding Russia's war in Ukraine, Ukrainska Pravda reports, citing the Chinese Foreign Ministry. "The Chinese Foreign Ministry has published a so-called "peace plan" with its ideas for the settlement of Russia's war against Ukraine. China has proposed its so-called "peace plan", publishing "China's Position on the Political Settlement of the Ukraine Crisis" on the anniversary of the Russian invasion of Ukraine.
The published document has 12 points:
Respecting the sovereignty of all countries
Abandoning the Cold War mentality
Ceasing hostilities
Resuming peace talks
Resolving the humanitarian crisis
Protecting civilians and prisoners of war (POWs)
Keeping nuclear power plants safe
Reducing strategic risks
Facilitating grain exports
Stopping unilateral sanctions
Keeping industrial and supply chains stable
Promoting post-conflict reconstruction
All parties should support Russia and Ukraine in working in the same direction and resuming direct dialogue as quickly as possible, so as to gradually deescalate the situation and ultimately reach a comprehensive ceasefire, in particular, the document said. In addition, China believes that "unilateral sanctions [unauthorised by the UN Security Council – ed.] and maximum pressure cannot solve the issue; they only create new problems. The document of the People's Republic of China also states that the "use of nuclear weapons" is unacceptable."
Hans Petter Midttun: The document does not call for a withdrawal of Russian forces. It argues that the security of a country should not be pursued at the expense of others and security of a region should not be achieved by strengthening or expanding military blocs. This supports the Russian claim, denying countries fearful of Russian aggressions the right to seek security arrangements that supports its national interests. In effect, it argues that some countries (China, Russia and the US) are more sovereign than others and argues against Ukrainian accession into NATO and the EU.
It states that "all parties should support Russia and Ukraine in working in the same direction", implying that common ground exists. Russia is waging war to gain control over and integrate Ukraine. Ukraine is defending its right to exist, to remain independent and sovereign, and join the EU and NATO.
When taking the "concerns" of the aggressor into account, China legitimises the Russian attack on Ukraine. This is not a peace plan. This is an attempt to impose a Minsk Agreement version 3,0 on Ukraine. As previously argued, this will ultimately lead to a Ukrainian – and consequently, a European defeat.
Calling for the continued facilitation of grain exports, China does not call for the end of the maritime embargo against Ukraine effectively stopping a greater part of its imports and exports.
The paper asks for joint efforts to mitigate the spill overs of the crisis and prevent it from disrupting international cooperation in energy, finance, food trade and transportation and undermining the global economic recovery. Simultaneously, it has upheld its support of Russia despite its unjustified and unprovoked war. It continues the bilateral trade, fuelling its wartime economy.
This is not a peace plan. It is a diplomatic declaration in support of Russia claims, narratives and disinformation.
Blinken says India, South Africa are on slow trajectory away from alignment with Russia, Reuters reports. "US Secretary of State Antony Blinken said on Thursday countries like India and South Africa, which have not joined the West in denouncing Russia's invasion of Ukraine, were likely on a trajectory away from alignment with Moscow but that process would not happen "in one fell swoop."
There are countries that have long-standing, decades-long relationships with Russia, with the Soviet Union before, that are challenging to break off in one fell swoop. It's not flipping a light switch, it's moving an aircraft carrier, Blinken said in an interview with The Atlantic, marking the one year anniversary of the war."
Russia's war has set Ukraine back 15 years in overcoming poverty, Ukrainska Pravda reports, citing Arup Banerji, World Bank Regional Country Director for Eastern Europe, in an interview with Interfax-Ukraine. "Russia's invasion of Ukraine has pushed eight million Ukrainians below the poverty line; however, these numbers could have been higher if Ukraine had not implemented reforms before the war.
The country is set back 15 years in achieving its poverty reduction goals. At the same time, the remarkable resilience Ukraine and Ukrainians have shown is in large part attributable to the difficult and successful reforms in macroeconomic management and institution-building that the authorities undertook in recent years, prior to the war…"
87% of Ukrainians are not ready to give up their land, Ukrainska Pravda reports, citing survey results, conducted by Kyiv International Institute of Sociology (KIIS) on 14-22 February. "No territorial concessions are acceptable for 87% of respondents. Only 9% believe that some territories can be given up in order to achieve peace and preserve independence."
Sociologists noted that 85% of people considered the concessions unacceptable in December 2022, but the difference with the current indicator is within statistical error; that is, in fact, no changes have occurred. Additionally, in December, the same number of people (8%) supported negotiations with Russia and were ready to give up certain territories for peace. […]
Sociologists emphasised that the general readiness for "difficult compromises" is an important indicator of stability and readiness to continue the struggle. Such survey results show that Ukrainians retain their unity and desire to continue resisting the aggressor at the end of the difficult winter."
Hans Petter Midttun: One year ago today, a low-intensity war turned into a full-scale war. One year ago, the world woke up and mobilised in the face of an unjust and unprovoked Russian invasion of Ukraine. If only that had happened when the war started 9 years earlier, the invasion might never have happened. The first anniversary of the full-scale invasion is, therefore, a testimony to our inability to learn from past mistakes. It is, however, also a stark reminder of the eternal truth that if you want peace, you must prepare for war.
The West has, unfortunately, prepared for peace, and ended up with the most devastating war since the second world war.
The war – or rather the confrontation between Russia and the West being battled in Ukraine – is not any closer to resolution today than it was one year ago. The Russian Federation is employing its complete toolkit to ensure its great power status alongside the USA and China.
It is a status unattainable without controlling and integrating both Ukraine and Belarus into the Russian "Empire". Having started the war, it has turned into a "now or never" moment for the aggressor. It is, consequently, waging a "total war" using both military and non-military means. If it succeeds, a belligerent great power will continue to expand westward at the expense of its neighbours for decades to come. If it fails, it might disintegrate and collapse potentially turning into a new "North Korea" or "Somalia". Russia will, therefore, continue to fight until defeat is inevitable or the basis for its existence is threatened.
Russia will only accept a "peace agreement" that supports its strategic interests.
The USA and Europe should not fear a Russian defeat because the alternative is so much worse. They should instead commit to a Ukrainian victory to ensure Russian forces are evicted from occupied territories. It is up to Kremlin to decide whether to retreat and ensure the survival of the Russian Federation or continue the war until defeated, risking disintegration and collapse.
A Russian disintegration and collapse are not – and have never been – the aim and objectives of the West. It is a risk Russia accepted when it started waging war, and it is a risk that is reduced the moment it stops.
To stop Russian aggression and ensure European security and stability, its great power ambitions must be refused. It must be defeated in Ukraine.
A defeat requires a successful Ukrainian counteroffensive. Ukrainian bravery is, unfortunately, not enough. It also needs the tools – in the quality and quantity needed to evict around 326,000 soldiers supported by 1,500 fixed-wing aircraft and the Black Sea Fleet.
A counteroffensive is not likely to start before all – or most of – the prerequisites are in place.
The ground must allow for Cross Country Mobility. The pledged equipment must be in the theatre. New units built around the western tanks and infantry fighting vehicles must have been established, trained, exercised, and tested. It must have sufficient long-range fire, artillery, main battle tanks, and armoured vehicles to exploit breaches in the frontline while keeping sufficient reserves to handle setbacks. Ukraine must have sufficient mine-clearing capacity to enable a decisive breakthrough across the established minefields. It must have sufficient ammunition to suppress Russian forces during both the initial assault as well as to sustain the ensuing surge. It must have sufficient air defence to both protect the ground forces as well as its cities and critical infrastructure. It must be able to close the sky and provide combat support from the air.
Ukraine must not least, be able to prepare the battlefield, including destroying command and control nodes, logistics, ground lines of communications, and concentrations of manpower and equipment. It needs to deny Russia the ability to retaliate against civilian targets. Today, most of these remain out of reach.
Most of the prerequisites will not be in place before summer. Some – including long-range fire, combat aircraft and sheer numbers – might not be in place this year.
Some of the requirements are still being denied. If – or rather when – they agree to deliver long-range fire and aircraft – Ukraine will need months to qualify the operators and integrate the system into its joint forces. The inflow of weapons is incremental and slow, limiting Ukraine's ability to engage Russian forces. Some like air defence, are awaiting production and will not arrive for years.
Still, Ukraine might attempt a counteroffensive before summer for lack of alternatives as time favours Russia.
There is, however, one alternative to a Ukrainian counteroffensive. Military intervention by a coalition of the willing based on the key NATO members would fundamentally change the military balance in favour of international law, democracy and shared values and principles. No further donations would be needed as the coalition would provide both 5th generation aircraft, pilots, organic air defence, air surveillance, and Forward Air Controllers. It would also provide the hardware needed to ensure victory on the ground and open the Black Sea for freedom of navigation.
Most importantly, a coalition of the willing would give Russia the military dilemma it's not yet facing: Continue an unjust and unprovoked war and face defeat; or withdraw to be able to fight another day.
A military intervention might, therefore, achieve something a Ukrainian counteroffensive cannot: End the war without further losses of lives. Provide Putin with an acceptable off-ramp. Save the Ukrainian economy and, therefore, the viability of the state. End the tsunami of ripple effects affecting the global cost of living and reducing the risk of political instability. It might not least, re-establish NATO credibility, deterring other countries seeking expansion through the use of military force.
Tags: Russian invasion