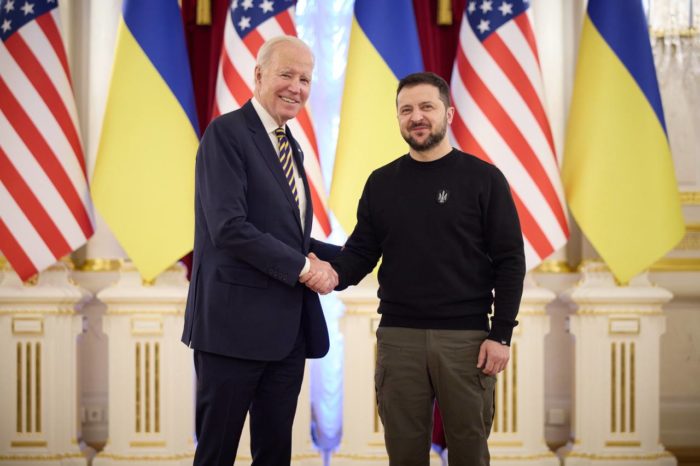 Presidents Joe Biden of the US and Volodymyr Zelenskyy of Ukraine in Kyiv on 20 February 2023. Photo: Telegram/Zelenskiy Official 
On 20 February 2023, US President Joe Biden made a surprise visit to Kyiv. It is his first visit to the Ukrainian capital after the beginning of Russia's all-out war.
About noon, Ukrainian media confirmed that US President Joe Biden had arrived in Kyiv to meet his Ukrainian counterpart Volodymyr Zelenskyy as photos and videos emerged on social media showing the two leaders in the center of the Ukrainian capital.
https://twitter.com/EuromaidanPress/status/1627609066976542720?dsfdsds
Rumors about a high-profile visit to Kyiv circulated in the capital since morning as traffic restrictions were announced:
On the national telethon, Deputy FM Andrii Melnyk announced a visit of "main partners of Ukraine" to Kyiv today.

— Euromaidan Press (@EuromaidanPress) February 20, 2023
So far, no official reports about the visit's goals have been released.
https://twitter.com/EuromaidanPress/status/1627611415937708032?sdfds
Zelenskyy on Telegram:
"Joseph Biden, welcome to Kyiv! Your visit is an extremely important sign of support for all Ukrainians."
Update:
Biden on Twitter:
"As we approach the anniversary of Russia's brutal invasion of Ukraine, I'm in Kyiv today to meet with President Zelenskyy and reaffirm our unwavering commitment to Ukraine's democracy, sovereignty, and territorial integrity. When Putin launched his invasion nearly one year ago, he thought Ukraine was weak and the West was divided.  He thought he could outlast us. But he was dead wrong. Over the last year, the United States has built a coalition of nations from the Atlantic to the Pacific to help defend Ukraine with unprecedented military, economic, and humanitarian support – and that support will endure."
Joe Biden is going to announce an additional package of military aid to Ukraine and new sanctions against Russia:
"I will announce another delivery of critical equipment, including artillery ammunition, anti-armor systems, and air surveillance radars to help protect the Ukrainian people from aerial bombardments. And I will share that later this week, we will announce additional sanctions against elites and companies that are trying to evade or backfill Russia's war machine," the text of Biden's statement in Kyiv reads.
"You know, a year later Kyiv stands and Ukraine stands. Democracy stands. Americans stand with you, and the world stands with you. Kyiv captured a part of my heart, I must say. I came here six times as vice president, once as president," – Biden. pic.twitter.com/szgUF8HoQF

— The New Voice of Ukraine (@NewVoiceUkraine) February 20, 2023
Update:
"The first phone call supporting Ukraine came from the White House. Thank you for your leadership. I also thank you for the bipartisan support, for the support of the Congress," Volodymyr Zelenskyy said to Joe Biden.
Update:
President Biden is next scheduled to head to Warsaw, where he will meet with Polish President Andrzej Duda and leaders of other NATO allies in Eastern Europe, according to The New York Times.
Update:
https://twitter.com/France24_en/status/1627619306753122304?ref_src=twsrc%5Etfw
Zelenskyy also noted:
"Today, we also discussed the issue of long-range weapons and weapons that can still be delivered to Ukraine," President's Office said.
Update:
The Guardian reports that Metropolitan Lavrentiy or Lawrence, a senior priest in the Ukrainian Orthodox Church, said he greeted Biden this morning together with Metropolitan Epifanyi, the leader of the Ukrainian church, at St. Michael's Cathedral in Kyiv:
https://twitter.com/EuromaidanPress/status/1627647545169043457?ref_src=twsrc%5Etfw
Tags: Biden, Volodymyr Zelenskyy (Zelenskyi / Zelensky / Zelenskiy)