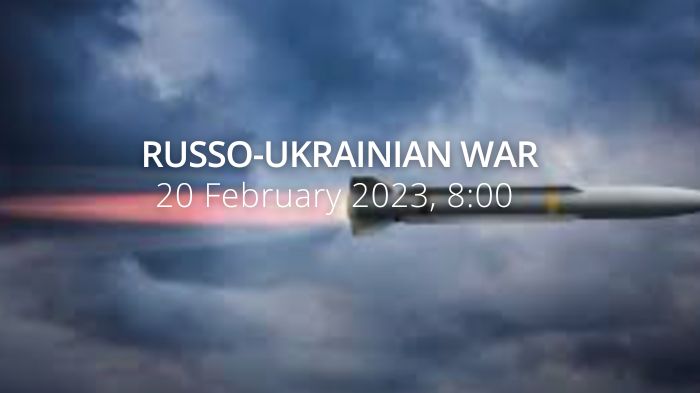 Russia changes tactics for missile strikes. Russian forces expand from 160 to 190 battalions in the Donetsk direction. Russia can use up to a hundred missiles on Febr 22-24 – Ukrainian MP.
Yesterday in Munich, @ABaerbock and I co-chaired a joint meeting of Ukraine's and Germany's top defense industry companies. We organised this important event to directly link our manufacturers. I am confident their cooperation will create new opportunities to strengthen Ukraine. pic.twitter.com/5o4oV87LWt

— Dmytro Kuleba (@DmytroKuleba) February 19, 2023
Daily overview — Summary report, February 20
A map of the approximate situation on the ground in Ukraine as of 00:00 UTC 18/02/23. pic.twitter.com/YbtWj6enTz

— War Mapper (@War_Mapper) February 18, 2023
The General Staff's operational update regarding the Russian invasion as of 18.00 pm, February 20, 2023 is in the dropdown menu below:
The Russian Federation continues to wage full-scale armed aggression against Ukraine. Russian forces do not stop destroying the critical infrastructure of our state, continue to strike, and carry out artillery shelling of civilian objects and houses of the civilian population.
Over the past day, Russian forces launched 10 missiles and 25 air strikes (in Luhansk, Donetsk and Zaporizhzhia regions). Launched 62 MLRS. There are wounded and dead among the civilian population.
The threat of strikes by the Russian Federation remains high throughout the territory of Ukraine.
Russian forces continue to focus their main efforts on conducting offensive actions in the Kupyansk, Lymansk, Bakhmutsk, Avdiivsk and Shakhtarsk directions.
Over the past day, units of the Defense Forces repelled the attacks of the occupiers in the areas of Hryanivikka settlements of the Kharkiv region; Belogorivka, Luhansk Region; Vasyukivka, Dubovo-Vasylivka, Berkhivka, Bakhmut and Ivanivske of the Donetsk region.
No signs of the formation of offensive groups of Russian forces were detected in the Volyn, Polissya, Sivershchyna, and Slobozhanshchyna directions.
Volyn, Polissya, Sivershchyna, and Slobozhanshchyna axes: During the past day, the areas of Karpovychi, Tymonovichi, Yanzhulivka settlements of Chernihiv region were subjected to enemy shelling; Bunyakyne, Atynske, Stukalyvka, Zapsilya and Pokrovka – Sumy, as well as Strelecha, Staritsa, Vovchanski Khutory, Stroivka in Kharkiv region.
Kupyansk and Lyman axes: Russian forces shelled the settlements of Kamianka, Kolodyazne, Dvorichna, Hryanivikka, Kupyansk, Berestov, and Pershotravneve of the Kharkiv region; Novoselivske, Stelmakhivka, Nevske, Dibrova, Bilogorivka in the Luhansk region and Bilogorivka and Rozdolivka in the Donetsk region.
Bakhmut axis: Vasyukivka, Berkhivka, Bakhmut, Ivanovske, Bila Gora, Oleksandro-Shultine,
Kurdyumivka, Ozaryanivka, Mayorsk and New York came under fire. In addition, Russian forces used army aviation to launch a strike in the Bakhmut area.
Avdiivka and Shakhtarske axes: the occupiers shelled the settlements of Novobakhmutivka, Vesele, Avdiivka, Vodyane, Pervomaiske, Krasnohorivka, Georgiivka, Maryinka, Pobyeda, Novomykhailivka, Vugledar, Bogoyavlenka, Shakhtarske, Zolota Niva, Velika Novosilka, Vremivka, and Neskuchne in the Donetsk region.
Zaporizhzhia axis: the areas of the settlements of Novosilka and Novopil of the Donetsk region and Poltavka, Malynivka, Gulyaipole, Charivne, Biloghirya, Novodanilivka, Novoandriivka and Shcherbaki – Zaporizhzhia suffered fire damage.
Kherson axis: Kherson, Burgunka, Tyaginka, Antonivka in the Kherson region, as well as Ochakiv in the Mykolayiv region were affected by fire. Peaceful people suffered.
The Russian occupiers exert pressure on the civilian population in the temporarily occupied territories by all means. In certain settlements of the Kherson region, the invaders set up places in administrative buildings for the illegal detention of Ukrainian citizens who are suspected of cooperation with the Defense Forces and a pro-Ukrainian position.
[The Russian occupiers set up another military hospital in the central hospital of Kalanchak (Kherson oblast). Ukrainian citizens living there are reported to be denied medical care in this institution. The hospital has become a makeshift "hub" for the wounded and dead occupiers. During the day of February 18 alone, more than 50 wounded and killed invaders were brought to the medical facility.]
[In the temporarily occupied settlements of Zaporizhzhia oblast, the Russian occupation administration continues to exert pressure on the local residents, in particular on Ukrainian children. For example, in schools in Tokmak, students are forced to sing the anthem of the aggressor country before the school day starts. Also, schoolchildren are forced to make postcards to mark the anniversary of the large-scale invasion expressing words of support and gratitude to the Russian invaders who encroached upon Ukrainian land.]
The Ukrainian Air Force carried out 20 strikes on the areas of concentration of personnel and military equipment of the occupiers, 7 on anti-aircraft missile systems at firing positions, and 2 more strikes on other important enemy objects.
Our defenders also shot down an enemy Su-25 aircraft, 2 Orlan-10 type unmanned aerial vehicles and 2 Lancet-3 type kamikaze drones.
In the meantime, missile and artillery units hit 1 MLRS battery of Russian forces.
Military Updates
Ukraine's Zelensky: Russia hit by "extraordinarily significant" losses in east, Reuters reports. "Ukraine's military is inflicting extraordinarily significant losses on Russian forces near the town of Vuhledar in the eastern Donbas region, President Volodymyr Zelenskyy said on Sunday. The situation is very complicated. And we are fighting. We are breaking down the invaders and inflicting extraordinarily significant losses on Russia, Zelenskyy said in his nightly video address.
Zelenskyy referred to several towns in Donbas, where fighting has been focused for months, saying the more losses Russia suffers there, in Donbas – in Bakhmut, Vuhledar, Marinka, Kreminna – the faster we will be able to end this war with Ukraine's victory".
Russia changes tactics for missile strikes – Ihnat, Ukrinform reports, citing Yurii Ihnat, spokesperson for the Ukrainian Air Force Command. "This week Russians have changed tactics for missile strikes. Previously, they used to launch massive attacks approximately every two weeks. Now, they fire missiles in small portions over the Dniester and the Southern Bug, making them travel as low to the ground as possible.
Russian forces also began to use night-time strikes. They fire missiles at night, while they used to launch Shahed drones at night and then missile strikes in the morning during massive attacks. Now Russian forces is hiding missiles within the beds of rivers. They are using both the Dniester and the Southern Bug, making missiles travel as low to the ground as possible. This way sometimes they manage to bypass the air defense systems that can potentially destroy them, Ihnat told."
Russian forces expand from 160 to 190 battalions in Donetsk direction, Ukrinform reports, citing Avdiivka Military Civil Administration Head Vitalii Barabash on Espreso TV Channel. "According to the intelligence data, Russians are pulling additional forces to the Donetsk direction (Avdiivka, Bakhmut, Vuhledar, Marinka). Several weeks ago, about 160 battalions were concentrated there, and now there are already 190. Even if their units are under strength, this is a lot of people. We understand that, most likely, they are preparing for something. Most likely, they will launch the offensive on February 24," Barabash told.
In his words, at the moment, Russians are not throwing large forces on assaults but trying to advance in small groups. In my opinion, there will be missile strikes on regional centers on February 24. On the front line, they will launch an attack across all or most directions. For this purpose, they have moved up reserves, Barabash concluded."
Russia can use up to a hundred missiles on Febr 22-24 – Ukrainian MP, Ukrinform reports, citing Fedir Venislavskyi, a Ukrainian lawmaker, member of the Committee on National Security, Defense and Intelligence, and President's envoy to the Verkhovna Rada. "The Russian Federation may resort to missile strikes on Ukraine on February 22-24, that is, timed with the anniversary of a full-scale invasion. […] I think that on February 22, 23, and 24 we should expect strikes involving missiles and UAVs. Perhaps there will be an aggravation on the front line due to the use of enemy aviation, said the legislator.
In this context, Venislavsky informed that, according to various sources, the Russian Federation received several hundred Iranian-made Shahed drones. According to the MP, Russia has already utilized up to a hundred drones for strikes on Ukraine, but there are still a couple of hundred left in stock. In addition, the member of the defence parliamentary committee reported that the Russian Federation has a critically low stockpile of high-precision missiles – from dozens to hundreds of different types. In his opinion, Russian troops can utilize these missiles on February 22 through February 24, but definitely not in hundreds, but in dozens, perhaps up to a hundred."
https://twitter.com/EuromaidanPress/status/1627505570705207302
According to British Defence Intelligence, (last 48 hours): 
Russia continues to pursue several offensive axes in eastern Ukraine: Vuhledar, Kremina, and Bakhmut. Casualties reportedly remain high, particularly in Bakhmut and Vuhledar. Specifically, the 'elite' 155th and 40th Naval Infantry Brigades have sustained very high losses in Vuhledar and are likely combat ineffective.
Russian forces are likely under increasing political pressure as the anniversary of the invasion draws near. It is likely that Russia will claim that Bakhmut has been captured to align with the anniversary, regardless of the reality on the ground.
If Russia's spring offensive fails to achieve anything then tensions within the Russian leadership will likely increase.
On 15 February 2023 Ukrainian armed forces spotted several balloons with radar reflectors suspended beneath them over Kyiv. Ukrainian officials reported that they shot down at least six of these. Earlier, on 12 February 2023, Ukraine's Air Force reported sighting balloons over eastern Dnipropetrovsk.
It is likely that the balloons were Russian. They likely represent a new tactic by Russia to gain information about Ukrainian air defence systems and compel the Ukrainians to expend valuable stocks of surface to air missiles and ammunition.
On 14 February 2023, sighting of a 'balloon shaped' object led to the closure of Moldovan airspace for several hours. There is a realistic possibility that this was a Russian balloon that had drifted from Ukrainian airspace.
Losses of the Russian army 
As of Monday 20 February, the approximate losses of weapons and military equipment of the Russian Armed Forces from the beginning of the invasion to the present day:
Personnel – about 143680 (+820)
Tanks – 3316 (+6)
Armoured combat vehicles – 6553 (+8)
Artillery systems – 2334 (+7)
Multiple rocket launchers –MLRS – 471 (+2)
Air defence means – 243 (+0)
Aircraft – 299 (+1)
Helicopters – 287 (+0)
Automotive technology and fuel tanks – 5209 (+13)
Vessels/boats – 18 (+0)
UAV operational and tactical level – 2018 (+2)
Special equipment – 225 (+1)
Mobile SRBM system – 4 (+0),
Cruise missiles – 873 (+0)
Russia sheltering its warplanes from Ukrainian strikes – intel, Ukrinform reports, citing Andriy Yusov, a spokesman for Ukraine's defense intelligence. "The combat aircraft of the terrorist state are based mainly on Russian territory, at least 200 km from the state border of Ukraine, beyond the range of Ukrainian strike capabilities. […] Yusov said Russians can employ aviation to support Russia's ground forces in eastern Ukraine.
These forces could primarily be used in Donbas. Russia's offensive in the east is underway, and this is the implementation of Putin's plan to capture the territories of Donetsk and Luhansk regions by the end of March, Yusov said. However, the GUR spokesman predicts that Moscow's attempt to conquer the eastern regions of Ukraine will fail – with or without planes."
New voluntary mobilisation in Ukraine has "good results", Ukrainska Pravda reports, citing The Times.  "The Office of the President of Ukraine has said that a new mechanism of voluntary mobilisation in Ukraine has already given good results. Andrii Yermak, Head of the President's Office, has admitted during a conversation with journalists that even though Russians are not very disciplined, it is the quantity of people that is the problem.
In order to resist this, Ukraine has developed a new mechanism of voluntary mobilisation with good results, as per the source from the President's Office. He has added, Many people are ready to go and fight. We also have volunteer soldiers from other countries.
On 2 February 2023, Ihor Klymenko, then Acting Minister of Internal Affairs of Ukraine, said that the Interior Ministry began forming eight assault brigades known as the Offensive Guard to strengthen the Defence Forces and liberate the temporarily occupied territories of Ukraine.. 
All people that will join those Offensive Guard brigades are promised a list of social benefits, such as the possibility to receive housing, medical treatment and education at a university. As of 11 February 2023, it was reported that 20,000 applications had been sent to the Offensive Guard."
Ukrainian soldier killed at front within a month of being drafted. Territorial Recruitment Center conducts inspection, Ukrainska Pravda reports, citing Ternopil Oblast Territorial Centre of Recruitment and Social Support; Olena Velychanska, press secretary of the Centre. "A Ukrainian soldier from the city of Ternopil was killed on the front line less than a month after receiving the summons. The Territorial Recruitment Centre conducts a background check to determine those responsible for preparation and training of personnel.
As the Territorial Centre of Recruitment told UP, the military man received the summons on 18 January, and took the oath on 31 January. On 12 February, the defender was transferred to a new place of service, where he was killed in action on 16 February. […] Information appeared on social media that the soldier allegedly did not undergo any training and did not have proper equipment, and the summons was handed to him "at a public transport stop."
https://twitter.com/EuromaidanPress/status/1627479848049381377
Humanitarian 
Millions of refugees from Ukraine have crossed borders into neighbouring countries, and many more have been forced to move inside the country. The escalation of conflict in Ukraine has caused civilian casualties and destruction of civilian infrastructure, forcing people to flee their homes seeking safety, protection and assistance the UNHCR reports. As of 14 February:
| | |
| --- | --- |
| Individual refugees from Ukraine recorded across Europe: | 8,073,182 |
| Bulgaria, Czech Republic, Hungary, Poland, Republic of Moldova, Romania, Slovakia | 2,466,338 |
| Other European countries | 2,734,214 |
| Russian Federation, Belarus | 2,869,100 |
| Refugees from Ukraine registered for Temporary Protection or similar national protection schemes in Europe: | 4,848,209 |
| Bulgaria, Czech Republic, Hungary, Poland, Republic of Moldova, Romania, Slovakia | 2,460,447 |
| Other European countries | 2,387,762 |
| Border crossings from Ukraine (since 24 February 2022): | 18,589,702 |
| Border crossings to Ukraine (since 28 February 2022): | 10,297,001 |
OHCHR recorded 18,955 civilian casualties in Ukraine as of 13 February. 7,199 were killed (including 438 children) and 11,756 injured (including 854 children).
Environmental
https://twitter.com/EuromaidanPress/status/1627473113406402566
Russian news aggregators are advocating for Russia to carry out strikes against electrical infrastructure supporting Ukrainian nuclear power plants (NPPs) to force Ukraine to conduct emergency shutdowns, ISW reports. "Prominent Russian news aggregator Readovka told its audience of almost 1.7 million subscribers that Russian forces need to prioritize the "decommissioning" of the NPPs' external electrical infrastructure in hopes that doing so would lead to the emergency shutdown of NPPs in Ukraine. 
Readovka did not advocate for Russian forces to directly strike nuclear power plants or attempt to cause radiological events, but rather to target separate substations that would cut off electrical supply essential to the safe operation of the plants thereby forcing Ukrainian officials to shut the plants down in ways that would make it very difficult to restart them. Readovka stated that the destruction of such targets for the three Ukrainian NPPs outside of Russian-occupied areas "will cause damage many times greater than the last few massive missile strikes."
Readovka claimed with low confidence that the February 18 missile strike on Khmelnytskyi City may have targeted one such substation that supports the Khmelnytskyi NPP, though Ukrainian officials stated that Russian forces hit a military facility and civilian infrastructure. Readovka had previously advocated for such strikes noting that Russia's massive missile strikes have not generated the desired effect of prompting the Ukrainian government's capitulation.
ISW has no other evidence that Russia is pursuing or considering such a course of action but observes that the Russian militarization of the Zaporizhzhia NPP, the use of Zaporizhzhia NPP grounds to fire at Ukrainian positions, and the reported Russian strikes on Zaporizhzhia NPP transmission lines all suggest that it is not beyond the realm of the conceivable that the Kremlin might pursue actions with the intent of forcing the emergency shutdowns of Ukrainian nuclear reactors."
Foreign Ministry: Russia blocks rotation of IAEA experts at Zaporizhzhia NPP, Ukrainska Pravda reports, citing the Ministry of Foreign Affairs. "On Sunday, the Ministry of Foreign Affairs of Ukraine accused Russia of blocking the rotation of experts from the International Atomic Energy Agency (IAEA) to the temporarily occupied Zaporizhzhia Nuclear Power Plant.
The ministry notes that Russia continues to actively militarise the Zaporizhzhia NPP and the surrounding area, which grossly violates the norms of international law, undermines the norms of nuclear and radiation safety, and demonstrates complete disregard for the resolutions of the IAEA Board of Governors, which require Russia to immediately withdraw military equipment and Russian personnel from the ZNPP.
If Russia is not stopped, its criminal actions at the Ukrainian nuclear facility could lead to a catastrophe, the scale of which was still unknown to Europe, the Foreign Ministry said in a statement."
https://twitter.com/EuromaidanPress/status/1627405410239143937
Legal 
President Zelenskyy enacted by his decree the @NSDC_ua decision sanctioning 333 Russian individuals linked to Russia's banking system and the Moscow Stock Exchange https://t.co/WwllMjeyak

— Euromaidan Press (@EuromaidanPress) February 20, 2023
Russia should be held accountable for crimes in Ukraine, if it seeks normal relations with West – Estonian PM, Ukrainska Pravda reports, citing AP. "Kaja Kallas, the Estonian Prime Minister, insists that after the end of the war in Ukraine, Russia must be held accountable for war crimes and its decision to invade a neighbouring country if it is to have any chance of developing normal relations with the West.
I don't think there can be any relations as usual with a pariah state that hasn't really given up the imperialistic goals, she said on the sidelines of a major security conference in Munich. If we don't learn this lesson and don't prosecute the crimes of aggression, the war crimes will just continue, Kallas believes."
Prosecutor General Kostin: Russia uses sexual violence as a weapon, Ukrinform reports. "Prosecutor General of Ukraine Andriy Kostin has stated that Russia uses sexual violence as a weapon of war. As the Prosecutor General's Office posted on Telegram, Kostin discussed numerous international crimes committed by the Russian army in Ukraine, including sexual violence, with British MP Alicia Kearns at a meeting in Munich.
Russia uses sexual violence as a weapon of war. We record such cases wherever the Russian military was stationed, Kostin said. It is noted that the parties also discussed ways of bringing criminals to justice and getting compensation for damages at the expense of the aggressor state."
Support
To become a full-fledged member of the European Union, Ukraine has to do its homework, Borrell says.

"Now it is done. Ukraine is a member of the European Union… this has to be institutionalized," Josep Borrell said at Munich Security Conference.https://t.co/uqCtABNxmP

— Euromaidan Press (@EuromaidanPress) February 19, 2023
Britain to become the first country to provide Ukraine with long-range weapons, Mil.in.ua reports. "British Prime Minister Rishi Sunak stated that his country would be the first to provide Ukraine with long-range weapons. According to Sunak, in order to win the war, Ukraine needs more artillery, armoured vehicles and air defence.
Rishi Sunak is also urging allies to "double down" on military support for Ukraine. Sunak asks allies to provide Ukrainians with advanced capabilities by NATO standards that they need for the future. We must demonstrate that we will remain on their side and are able to help them defend their country. When Putin started this war, he believed that our resolve would falter. Even now, he is betting that we will lose our nerves, Sunak said in a speech.
The British Prime Minister believes that what is at stake in this war is even greater than the security and sovereignty of one nation. Russia's invasion, its heinous war crimes, and irresponsible nuclear rhetoric are symptoms of a broader threat to everything we believe in, the report says.
Sunak noted that in order to ensure peace in the future, it was necessary to change the world order. The Cold War-era agreements were incapacitated. We need a new legal framework to preserve peace. Mr. Stoltenberg said that Ukraine will become a member of NATO in the future, but so far this has not happened, we must equip Ukraine with advanced protective equipment. Ukraine needs our assurances of security. And before the summit in Vilnius, we will gather to give such assurances. We will provide guarantees within which we will protect Ukraine from future repression of Russia, Sunak added."
Ukraine presses US Congress members for F-16 jets, Reuters reports. "Ukrainian officials have urged US Congress members to press President Joe Biden's administration to send F-16 jetfighters to Kyiv, saying the aircraft would boost Ukraine's ability to hit Russian missile units with US-made rockets, lawmakers said.
The lobbying came over the weekend on the sidelines of the Munich Security Conference in talks between Ukrainian officials, including Foreign Minister Dmytro Kuleba, and Democrats and Republicans from the Senate and House of Representatives.
They told us that they want (F-16s) to suppress enemy air defenses so they could get their drones beyond Russian front lines, Senator Mark Kelly, a former astronaut who flew US Navy fighters in combat, told Reuters on Saturday evening. Biden last month said "no" when asked if he would approve Ukraine's request for Lockheed-Martin-made F-16s."
Lecornu: AMX-10 RC vehicles are to be sent to Ukraine next week, Ukrinform reports. "The first batch of French AMX-10 RC armoured fighting vehicles will be sent to Ukraine by the end of next week. As French Defense Minister Sébastien Lecornu told Le Parisien in an interview, the first vehicles will cross the French border on their way to Ukraine by the end of next week.
At the same time, the minister did not specify exactly how many vehicles Ukraine would receive in the first batch so as not to reveal strategic information to Russia."
EU supports joint procurement of ammunition for Ukraine, the decision to be made in March, Ukrainska Pravda reports, citing Bloomberg. "Individual members of the European Union supported Estonia's proposal for investments for the joint procurement of ammunition for Ukraine's needs; a relevant decision may be taken at the EU summit next month.
This week, Estonia proposed that European Union countries invest about 4 billion euros to jointly procure the 1 million rounds of ammunition that Ukraine needs this year to repel a Russian invasion. The proposal has received preliminary support from the Netherlands and Romania. EU foreign ministers are expected to discuss the plan when they meet in Brussels on Monday, and a final decision could be taken at a summit in March. […]
The decrease in ammunition stocks causes great concern in the EU, as tens of thousands of them are used up every day on the Ukrainian and Russian sides. Although Ukraine uses ammunition more efficiently, it still consumes it faster than Europe is able to produce. Currently, the USA and the EU are trying to increase production both to supply Ukraine and to replenish their own reserves."
More than 80% of Poles support government policy with helping Ukraine, Ukrainska Pravda reports, citing poll conducted by United Surveys for Wirtualna Polska. "The vast majority of Polish citizens supports actions of the Law and Justice political party and the government's policy of helping Ukraine on the international scene. Respondents have been asked how they would estimate policy and actions of the Law and Justice at the international scene regarding the support for Ukraine and helping it achieve victory in the war with Russia.
As per the results, up to 80.4% of respondents approve such a policy, including 32.5% who see it as extremely good and 47.9%, which is almost half, – as rather good".
New Developments 
US Ambassador to the UN Thomas-Greenfield warns China against aiding Russia in Ukraine

If China considered supporting Russia's war effort in Ukraine with lethal weapons, that would be unacceptable, US Ambassador said.https://t.co/gmbwdqDtOm

— Euromaidan Press (@EuromaidanPress) February 19, 2023
Russia resorts to nuclear blackmail ahead of Joe Biden's visit to Europe, Ukraine's Intel reports

Russia's strategic nuclear forces are ready to hold urgent drills and launch ballistic & cruise missiles, according to Ukraine's Intel.https://t.co/037UM5YUC8

— Euromaidan Press (@EuromaidanPress) February 19, 2023
Assessment 
On the war. 
The Institute for the Study of War has made the following assessment as of  February 19, 2022:
The major phase of Russian offensive operations in Luhansk Oblast is underway, and Russia likely lacks sufficient uncommitted reserves to dramatically increase the scale or intensity of the offensive this winter. Russian conventional ground forces are generally deploying and fighting in normal doctrinal formations and units rather than in battalion tactical groups or other ad hoc structures. The observed absence of several critical tank units suggests that the Russian military continues to struggle to replace equipment, especially tanks, lost during previous failed offensive operations. Russian forces almost certainly still have some reconstituted mechanized units in reserve, but the commitment of these limited reserves to the Luhansk Oblast frontline is unlikely to change the course of the ongoing offensive dramatically. The Russian offensive will very likely continue for some time and may temporarily gain momentum as the final reserves are committed—if they are—but will very likely culminate well short of its objectives and likely short of achieving operationally significant gains.
The current pattern of commitment in Luhansk Oblast indicates that Russian forces in this area are deploying in doctrinal units and formations from the military-district level down to the brigade/regiment level at least, and likely down to the battalion level as well. Russian forces operating in and near the Luhansk Oblast frontline are drawn almost entirely from the Western Military District (WMD) with a few reinforcements from other force groupings. This disposition suggests that the Russian military command has returned to the traditional military district command-and-control structure wherein all units in a discrete geographical area fall under the area of responsibility of a single military district. Two full WMD divisions (the 144th Motorized Rifle Division and the 3rd Motorized Rifle Division) have each deployed their maneuver regiments in line allowing the division commanders to operate as divisions are designed to do. These regiments have been reconstituted with mobilized personnel, indicating that the Russian command is using mobilized soldiers as replacements in doctrinal structures instead of creating ad hoc formations.
Russian forces have deployed throughout this war in various non-standard and non-doctrinal structures, starting with the battalion tactical group but encompassing also volunteer regiments, BARS (National Combat Reserve) units, and militia units belonging to the Donetsk and Luhansk People's Republics (DNR and LNR respectively), to say nothing of the Wagner Private Military Company (PMC) formations of convicts. The return to doctrinal structures represents an inflection in Russian force structure and campaign design. As ISW has previously assessed, the Russian Ministry of Defense (MoD) is currently engaging in a number of reforms meant to formalize and professionalize the Russian Armed Forces and prepare to fight a protracted war in Ukraine as a conventional army. The current array of forces along the Luhansk Oblast frontline likely reflects the ongoing shift in Russian military procedure towards the Russian MoD establishment.
The Russians are receiving less benefit from this return to normal in military operations than they might have hoped because of the badly degraded condition of their forces. They did not leave enough time to train their mobilized reservists to standards sufficient to support large-scale offensive mechanized maneuver warfare, as ISW has repeatedly observed; and they clearly lack the equipment necessary to kit out their reconstituted units. The coherent 3rd and 144th Motorized Rifle Divisions attacking on the Luhansk Oblast axis have thus made relatively few gains since the offensive began.
The Russian military has committed a large majority of the conventional elements belonging to the Western Military District (WMD) to its decisive offensive effort in Luhansk Oblast, leaving relatively few elements either in reserve or unobserved. ISW has observed elements of Russia's WMD, along with some supplemental Central Military District (CMD), Donetsk and Luhansk People's Republic (DNR and LNR) and airborne (VDV) elements, arrayed along the Luhansk Oblast frontline, with a specific concentration of units along the Svatove-Kreminna line. The WMD has fully committed both rifle divisions of the 20th Combined Arms Army (CAA)—the 144th Motor Rifle Division (144th MRD) and 3rd Motor Rifle Division (3rd MRD)—to the Svatove-Kreminna line in Luhansk Oblast. ISW has observed both of the 144th MRD's rifle regiments (the 254th Guards Motor Rifle Regiment and the 488th Guards Motor Rifle Regiment) and its tank regiment (the 59th Guards Tank Regiment) committed along the Svatove-Kreminna line but has only observed the 752nd and 252nd Motorized Rifle Regiments of the 3rd MRD by name. ISW has also observed reports that elements of the 4thTank Division of the 1st Guards Tank Army, of the 26th Tank Regiment of the 47thTank Division of the 1st Guards Tank Army, and of the 27th Separate Tank Brigade of 1stGuards Tank Army are deployed along the line from Svatove north toward Kupyansk. The CMD has additionally committed elements of the 6th Tank Regiment of the 90th Tank Division to the Svatove area, and unspecified elements in the Lyman direction west of Kreminna. DNR units and ad hoc formations are apparently supporting WMD operations along the Svatove-Kreminna line in limited numbers, and LNR units (particularly the 4th Motorized Rifle Regiment) are engaged in the Bilohorivka area south of Kreminna. Limited VDV elements, particularly of the 76th Guards Air Assault Division and of the 98th Airborne Division, appear to be supporting WMD operations in the Kreminna area as well.
ISW has not observed the commitment of the 2nd Motor Rifle Division (2nd MRD) of the 1st Guards Tank Army to combat even though the unit was reported to have deployed to Luhansk Oblast. The Ukrainian Main Intelligence Directorate (GUR) noted on January 25 that the 2nd MRD partially redeployed to Luhansk Oblast from training areas in Belarus. ISW has not yet observed indications that the 2nd MRD or its constituent elements—the 15th Guards Motor Rifle Regiment, 1st Tank Regiment, or 1st Guards Motor Rifle Regiment—appear near the frontline. 2nd MRD elements are therefore likely being held in reserve in the rear of Luhansk Oblast and likely could deploy to the frontline in the future. It is possible that elements of the 2nd MRD have already been committed to the line in some capacity, but that ISW has simply not observed evidence of their commitment. That scenario is unlikely because of the fanfare this unit generally receives when it operates and because of the detail with which Russian and Ukrainian sources have been reporting on the Russian units fighting in Luhansk Oblast. The absence of the 2nd MRD from active engagement suggests that Russian forces are holding most of a division in reserve. With two motorized rifle divisions already likely fully committed along with other reinforcements, however, the addition of the two or possibly three regiments of the 2nd Motorized Rifle Division to the fight are unlikely to generate a nonlinear change in Russian offensive capacity.
The absence of several elite and prominent WMD elements from the Luhansk Oblast line and elsewhere in theater suggests that the Russian military continues to face challenges in reconstituting combat units and specifically tank units. The WMD commands three army-level maneuver formations—the 6th and 20th Combined Arms Armies (CAA) and the 1st Guards Tank Army (GTA). The 20th CAA is heavily committed along the Svatove-Kreminna line, as noted above. ISW has only observed limited mentions of the 6th CAA and partial mentions of 1st GTA formations in Luhansk Oblast, however, and has not observed these elements anywhere else in theater, suggesting that some of these units and formations have likely not been reconstituted yet. A delay in the reconstitution of tank units in particular could result from the fact that several critical (and previously elite) Russian tank units and mechanized formations have suffered devastating defeats over the course of the first year of the war. The 1st GTA, for example, suffered massive losses during its assault in Chernihiv Oblast early in the war and then once again in autumn of 2022 during Ukraine's counteroffensive in Kharkiv Oblast. The 1st GTA's 4th Tank Division, specifically its 12th and 13th Guards Tank Regiments, famously lost nearly 100 tanks (a full regiment's worth) in a few days in September of 2022.
Russian tank losses have been enormous in this war, amounting to the equivalent of around 16 tank regiments worth, which is likely hindering Russia's ability to reconstitute its tank units rapidly. Recent intelligence estimates presented by Dutch open-source investigative organization Oryx and the British research institute International Institute for Strategic Studies (IISS) depict these losses clearly. Oryx verified over 1,000 distinct Russian tank losses and 500 captured tanks on February 9, which likely means that Russia has lost half of its pre-war tank fleet in the first year of the war. IISS similarly noted on February 15 that Russia has lost about 50 percent of its pre-war number of T-72B and T-72B3M main battle tanks. A single tank regiment requires just short of 100 tanks, so rebuilding two tank regiments from scratch (as the 12th and 13th Tank Regiments likely required) would demand 200 tanks, which the Russian armed forces do not appear to have in usable stocks and do not appear able to produce quickly. Widespread tank losses also impact the capacities of motorized rifle formations to function effectively, but motorized rifle units require fewer tanks in each and can make better use of the large amount of relatively untrained manpower the rushed Russian reserve mobilization has generated. The absence of reconstituted tank regiments and brigades, however, deprives the Russian ground forces of the kind of punch required to make and exploit operationally significant breakthroughs—which may explain why the WMD has so far failed to make any.
The pattern of Russian deployments in other parts of the theater strongly suggests that most of the available maneuver elements of the other military districts and the Airborne Forces are already committed and thus do not constitute a large reserve that Moscow could suddenly hurl into the fray in Luhansk Oblast or elsewhere. ISW has previously assessed that various elements of the Southern Military District (SMD) are currently engaging in unsuccessful offensive efforts throughout Donetsk Oblast and holding defensive positions on the east (left) bank of Kherson Oblast. Elements of the Eastern Military District (EMD) and the 40thand 155th Naval Infantry Brigades have been predominantly fighting near Vuhledar in western Donetsk Oblast and have suffered catastrophic losses over the past weeks. DNR troops are heavily committed along the outskirts of Donetsk City and elsewhere throughout Donetsk Oblast. The Central Military District (CMD), which suffered devastating losses during Ukrainian counteroffensive operations near Lyman in fall 2022, appears to mainly be reinforcing WMD elements in the Kreminna area. VDV elements are scattered throughout the theater, gradually supplementing and increasingly supplanting the Wagner Group in its assaults around Bakhmut and maintaining a presence in southern Ukraine as well as a limited presence in Luhansk Oblast. The commitment of Russian forces throughout Ukraine suggests that the 2nd MRD is the only obvious candidate for a theater reserve unless the missing tank regiments/brigades begin to appear. The United Kingdom Ministry of Defense (UK MoD) has previously confirmed this assessment with the suggestion that an absolute majority of the Russian military is already committed in Ukraine.
There may well be more Russian elements online in Luhansk Oblast than ISW has observed at this time. Other research organizations have suggested that additional units of the 6th CAA are operating along the Luhansk Oblast line. ISW cannot verify the sources of these other assessments but has no reason to question them. If elements of the 6th CAA or other formations have indeed been committed, then Russian theater reserves available for commitment to subsequent offensive or defensive operations are even smaller. The offensive will likely continue and may briefly increase in intensity if reserve elements such as the 2nd MRD are committed, but these increases in intensity will likely be brief and unable to make operationally significant gains.
Key inflections in ongoing military operations on February 19:
Member of the Verkhovna Rada of Ukraine's Committee on National Security, Defense, and Intelligence Fedir Venislavskyi stated that Russian forces have already deployed all their combat-ready units to the frontlines in Luhansk and Donetsk oblasts as well as parts of Zaporizhzhia Oblast.
Ukrainian forces will reportedly be able to deploy only 50 Western-provided tanks to frontline areas by April, out of a promised total of 320 tanks.
The Russian Ministry of Defense (MoD) confirmed that the Donetsk People's Republic (DNR) 1st Army Corps and Luhansk People's Republic (LNR) 2nd Army Corps are official formations in the Russian Armed Forces while denying accusations that it dismissed DNR Military Command spokesperson Eduard Basurin or any other LNR/DNR commander. Wagner Group financier Yevgeny Prigozhin seized on the controversy over Basurin's reported dismissal by publicizing a meeting he had with Basurin in which Prigozhin continued several informational lines of attack against the Russian MoD.
Chechen Republic Head Ramzan Kadyrov publicly applauded Prigozhin after likely refusing to join Prigozhin's renewed campaign against the Russian MoD. Kadyrov also indicated that he may be interested in forming a paramilitary company of his own after completing his government service.
The Russian MoD falsely claimed that Ukrainian officials are preparing a radiological false flag attack in order to accuse Russia of violating the Convention on Nuclear Safety ahead of the 11th emergency special session of the United Nations General Assembly.
Russian Investigative Committee Head Alexander Bastrykin claimed that the completed investigation into the October 10, 2022 explosion on the Kerch Strait Bridge in Crimea proves that Ukrainian Special Services planned and conducted a terrorist attack. The attack would have been a legitimate military operation, not a terrorist attack, had Ukraine conducted it.
A Russian milblogger claimed that Russian forces crossed the Russian border into Kharkiv Oblast and occupied unspecified border settlements.
Russian forces continued offensive operations northwest of Svatove and near Kreminna. Russian sources claimed that Ukrainian forces are strengthening frontline positions west and northwest of Kreminna.
Russian forces likely secured marginal gains in the northern suburbs of Bakhmut and in the eastern outskirts of the city. A prominent Russian milblogger claimed that degraded Wagner Group formations are narrowing the scope of their offensives in the Bakhmut area due to a lack of forces.
Russian forces reportedly continued offensive operations along the western outskirts of Donetsk city and around Vuhledar.
Russian milbloggers claimed that Russian forces conducted a localized ground attack near Novodanylivka, Zaporizhzhia Oblast and amplified footage showing Wagner Group fighters arriving in Melitopol, Zaporizhzhia Oblast.
Crimean occupation parliament head Vladimir Konstantinov stated that Crimean occupation officials nationalized tens of billions of rubles (at least 10 million USD) worth of Ukrainian property and plan to use funds from the sale of the property to support Russian forces fighting in Ukraine.
A Russian milblogger claimed that the Commander of Russian 45th Separate Special Purpose Brigade of the Russian Airborne Forces Vadim Pankov was promoted to Major-General.
A Russian Lancet drone manufacturer and Kalashnikov Concern subsidiary is reportedly producing drones in a public sauna following disputes over access to its facilities, prompting another Russian drone manufacturers to call for the mass assembly of drones despite the lack availability of proper facilities.
Ukrainian military officials reported that Russian forces are unable to repair modernized S-300 anti-aircraft missile systems near the frontlines due to logistics problems and have to transfer these systems to manufacturing plants in Russia.[41]
Belarusians to be forced to fight if Lukashenko orders – Ukraine's Intelligence, Ukrainska Pravda reports, citing Andrii Cherniak, representative of the Defence Intelligence of Ukraine. "Defence Intelligence of the Ministry of Defence of Ukraine believes that the Belarusian soldiers will be forced to obey the orders of the self-proclaimed president of Belarus, Alexander Lukashenko, and may be involved in the invasion of Ukraine.
We see that Belarus seems to be supporting Russia, and at the same time is trying to refrain from joining the war by all means possible. We also see how much Russia is pressuring them.
According to Ukrainian military intelligence, the Belarusian military will be forced to obey Lukashenko's orders and may be involved in the invasion of Ukraine. However, in the next two or three weeks, the Russians have neither the strength nor the means to invade [Ukraine – ed.] from the territory of Belarus."
If Lukashenko sends army to Ukraine, the nation will go against him – Polish President, Ukrainska Pravda reports. "Polish President Andrzej Duda is convinced that if Alexander Lukashenko, the self-proclaimed president of Belarus, orders his armed forces to engage in the war against Ukraine, it would mean a "total end" for his regime.
There is no doubt that Lukashenko is trying to avoid Putin forcing the Belarusian army to enter Ukraine, to engage in open combat against Ukraine. Because, firstly, it would mean death for many Belarusians who have no combat experience and suddenly, badly armed, would face Ukrainians who have been fighting for many years and who are very determined to defend their homeland.
Secondly, Belarusians are not a warrior nation. Belarusians do not want to fight, so they would have to be forced to go against their Ukrainian neighbours. Lukashenko knows very well that this will mean his ultimate end. Because, in my opinion, virtually the whole nation will go against him, then. The situation may turn out to be completely unmanageable for him."
Orbán: Hungary will continue to trade with Russia, Europe is drifting into "war between two Slavic countries", Ukrainska Pravda reports, citing European Pravda. "Orbán stressed that 2023 will be, in his opinion, the most dangerous year since the fall of communism due to the threat of war and inflation. He added that the only way for Hungary to guarantee a peaceful life is to stay away from the Russian-Ukrainian war.
We are part of the Western world, members of NATO and the European Union, and everyone there is on the side of war, or at least pretending to be, except us, Orbán said […]. This is their war, not ours," the Hungarian prime minister said, adding that Hungary recognises Ukraine's right to self-defence but that it would be wrong to put Ukraine's interests above Hungary's.
Orban added that humanitarian aid to Ukraine does not mean severing Hungary's ties with Russia. We will maintain our economic relations with Russia […], he said. In his speech, the Hungarian prime minister also focused on the West's reaction to the war in Ukraine. He believes that Europe is heading for war, balancing on a fine line, and is actually already in a state of indirect war with Russia, and that NATO will allegedly soon discuss sending so-called peacekeeping troops to Ukraine.
The Hungarian prime minister believes that the full-scale war in Ukraine happened because the West allowed it. As an example, he cited the 2008 Russian-Georgian war, which was localised" after the occupation of 20% of Georgia's territory, and the events of 2014, when France and Germany chose negotiations over war".
Putin, a czar with no empire, needs a military victory for his own survival, The Washington Post reports. "President Vladimir Putin likes to portray himself as a new czar like Peter the Great or Ivan III, the 15th-century grand prince known as the "gatherer of the Russian lands." But Putin's year-long war in Ukraine has failed so far to secure the lands he aims to seize, and in Russia, there is fear that he is leading his nation into a dark period of strife and stagnation — or worse. Some in the elite also say the Russian leader now desperately needs a military victory to ensure his own survival. In Russia, loyalty does not exist, one Russian billionaire said.
Putin's full-scale invasion of Ukraine began with hubris and a zeal to reshape the world order. But even as he suffered repeated military defeats — diminishing his stature globally and staining him with allegations of atrocities being committed by his troops — Putin has tightened his authoritarian grip at home, using the war to destroy any opposition and to engineer a closed, paranoid society hostile to liberals, hipsters, LGBTQ people, and, especially, Western-style freedom and democracy. […]
But business executives and state officials say Putin's own position at the top could prove precarious as doubts over his tactics grow among the elite. For many of them, Putin's gambit has unwound 30 years of progress made since the collapse of the Soviet Union. Putin's vision of Russia horrifies many oligarchs and state officials, who confide that the war has been a catastrophic error that has failed in every goal. But they remain paralyzed, fearful and publicly silent. […]
Some are sure that Putin can maintain his hold on power without a victory, as long as he keeps the war going and wears down Western resolve and weapons supplies. For anyone in the elite to act, Bondarev said, there needs to be an understanding that Putin is leading the country to total collapse. While Putin is still bombing and attacking, people think the situation is not so bad. There needs to be a full military loss, and only then will people understand they need to do something.
What all camps seem to agree on is that Putin shows no willingness to give up. As Russia's battlefield position deteriorated in recent months, he escalated repeatedly, shuffling his commanders, unleashing brutal airstrikes on civilian infrastructure and threatening to use nuclear weapons.
Now, with his troops reinforced by conscripts and convicts and poised to launch new offensives, the 70-year-old Russian leader needs a win to maintain his own credibility. Putin needs some success to demonstrate to society that he is still very successful, a senior Ukrainian security official said, speaking on the condition of anonymity to discuss politically sensitive issues. […]
Since Putin rose to the presidency in 2000, his legitimacy has been based on his popularity and stature among the elite, buttressed by his ability to instill fear by stripping some of their assets and throwing others into prison. The defeats in Ukraine have dented him. […]
But even if Putin somehow forces Ukraine into capitulating and ceding occupied territory, those in the elite who lean toward a more liberal society stand to lose the most. Punitive Western economic sanctions are likely to remain in place, and some oligarchs undoubtedly would be pressed to pay to rebuild Russia's new lands. Some analysts predict a sweeping purge of oligarchs and others deemed insufficiently patriotic.
Already, there are shocking glimpses of Putin's new Russia: A couple in a Krasnodar restaurant were arrested, handcuffed and forced to the floor after being denounced to the police by an eavesdropper who heard them quietly bemoaning the war. An older woman on a bus was dragged from her seat, thrown to the floor and roughly pushed out the door by passengers because she called Russia an empire that sends men to fight in cheap rubber boots. […]
Increasingly isolated, Putin faces growing resentment from hawkish nationalists who say he should have acted more radically to seize Kyiv and from a liberal-leaning faction that thinks the war is a grave error. He has tightened his inner circle to a few hard-liners and sycophants, ruthlessly eliminated opposition rivals and set up a formidable security apparatus to safeguard against any threat.
Pro-Kremlin analysts see escalation — pumping in more soldiers and ramping up military production — as the path to victory. That appears to fit Putin's character. But no one really knows the current military goal or what Putin might consider a victory. Some say he will settle for seizing all of Ukraine's eastern Donetsk and Luhansk regions, where Russia began fomenting separatist war in 2014. Others say he has not given up his designs on taking Kyiv and toppling the government. […]
As the war casualties pile up, Putin and top propagandists extol a fatalistic cult of death, arguing that it is better to die in Russia's war than in a car accident, from alcoholism or from cancer.
One day we will all leave this world, Putin told a group of carefully selected women portrayed as mothers of mobilized soldiers in November, many of them actually pro-Kremlin activists or relatives of officials. The question is how we lived. With some people, it is unclear whether they live or not. It is unclear why they die, because of vodka or something else. When they are gone, it is hard to say whether they lived or not. Their lives passed without notice. But a man who died in war did not leave his life for nothing, he said. His life was important. […]
As sanctions slowly bite, prices soar and businesses struggle to adapt, economists and business executives predict a long economic decline amid isolation from Western technology, ideas and value chains. "The economy has entered a long period of Argentinization," a second Russian billionaire said. It will be a long slow degradation. There will be less of everything. […]
Through the war, Putin has profoundly changed Russia, clamping down harder on liberties, prompting hundreds of thousands of Russians to emigrate. In the future, pro-democracy liberals will not be tolerated, analysts say."
Consequences and what to do?
Czech president-elect speaks about Ukraine's victory under three conditions, Ukrainska Pravda reports, citing European Pravda. "Petr Pavel, who will become the president of the Czech Republic in March, after his high-profile statement about Ukraine's possible concessions, said that he still considers Ukraine's victory in the war to be achievable. Answering questions about predictions of the war's results, he stated the need to prepare for any outcome, but emphasised the high chance of Ukraine's victory. […]
The Czech politician, who is a retired NATO general, named three conditions for Ukraine's victory that he sees. The first condition is that all states will maintain the same level of arms supply. The second condition is sufficient financial support for Ukraine, which will make it possible to compensate for economic losses, and the third condition is that the EU will be able to maintain the current level of sanctions in order to prevent the recovery of Russia's income. All this may lead to the fact that Russia will not be able to maintain the current level of hostilities, he [said]. […]
[He] has warned against such a victory of Ukraine which would make the Russian Federation collapse."
Ukraine's Foreign Minister respond to Czech leader's hints about Ukraine's concessions in war, Ukrainska Pravda reports. "Dmytro Kuleba, Minister of Foreign Affairs of Ukraine, called on European politicians like the newly elected president of the Czech Republic, Petr Pavel, to believe in Ukraine and not to push Kyiv to make concessions.
As European Pravda reported, earlier Petr Pavel unexpectedly stated that the West should beware of such a victory for Ukraine, which would destroy the Russian Federation, and also suggested that Ukraine, under the pressure of hostilities, would give into Russian demands and agree to concessions that Kyiv is not allowing now. Pavel urged everyone to "be realistic – hope for the best, but prepare for the worst.
Dmytro Kuleba, who also took part in the panel, answered Petr Pavel by quoting his words. There is an intellectual trap that must be avoided. While supporting Ukraine, one must also believe in Ukraine, and not prepare it for the worst, the minister said. Kuleba called the inclination of Ukraine to make concessions unacceptable."
Russia must be defeated but not crushed, Macron says, BBC reports. "Macron urged Western nations to increase military support for Kyiv and said he was prepared for a protracted war. I want Russia to be defeated in Ukraine, and I want Ukraine to be able to defend its position, he said. But he hit out against those who he said wanted to extend the war to Russia itself in a bid to "crush" the nation. […] I do not think, as some people do, that we must aim for a total defeat of Russia, attacking Russia on its own soil, Mr Macron told the paper Le Journal du Dimanche. Those observers want to, above all else, crush Russia. That has never been the position of France and it will never be our position. […]
Macron insisted that now was not the time for dialogue with Moscow. But he did not shy away from mentioning peace talks as a final goal. The president suggested that Ukrainian military efforts, supported by allies, were the only way to bring Russia back to the table and build a lasting peace. He also dismissed the prospect of regime change in Russia, describing similar efforts around the world as a total failure".
Ukraine war expected to cost Germany 160 billion euros by year-end, Reuters reports. "The Ukraine war will have cost the German economy around 160 billion euros ($171 billion), or some 4% of its gross domestic output, in lost value creation by the end of the year, the head of the German Chambers of Industry and Commerce (DIHK) said. […]  Industry makes up a higher share of the economy in Germany than in many other countries, and the sector is for the most part energy-intensive, meaning German companies have been especially hard hit by a surge in energy prices, which last year hit record highs in Europe.
German industry is set to pay about 40% more for energy in 2023 than in 2021, before the crisis triggered by Russia's invasion of Ukraine on Feb. 24 last year, a study by Allianz Trade said last month. The growth outlook for 2023 and 2024 is therefore also lower than in many other countries, Adrian said, adding that was also the case last year.
Germany, which for decades relied on relatively cheap Russian pipeline gas, now has especially high energy prices compared with the United States that has its own natural gas reserves, while France has abundant nuclear power. The gas price is around three-five times higher than in the United States, he said, adding electricity was four times as expensive as in France."
Hans Petter Midttun: Today marks the 9th anniversary of the start of the war. Ukraine has defined 20 February 2014 as the start of the Russian war against Ukraine. Russia launched a military operation of its Armed Forces to seize the Crimean peninsula. The date has been engraved on the Russian Ministry of Defence's medal "For the return of Crimea". The operation was launched while former President Viktor Yanukovych was still in office.
Both Ukraine and Russia define 24 February as the start of the war. The aggressor has, however, chosen to call it something else altogether. Even today, 9 years later and in the middle of a full-scale war in Europe, Russia calls it a "Special Military Operation".
It has constantly reverted to disinformation in an attempt to justify and legitimise its aggressions.
That was both cases of the illegal occupation and annexation of Crimea in 2014, its military operations in Donbas as well as the full-scale invasion of Ukraine in 2022. Russian claims have, however, been refuted by the international community, organisations and courts.
Following the International Criminal Court, Russia instigated an international armed conflict between Ukraine and the Russian Federation in February 2014. The European Court of Human Rights recently published an interim verdict confirming that Russia invaded Donetsk and Luhansk oblasts in April 2014.
"The Court has ruled that Russia bears full responsibility for what happened under its occupation. It decided that the Russian Federation controlled all the territory of the so-called "DPR" and "LPR" since May 11, 2014.
The finding that the Russian Federation had effective control over the relevant parts of Donbas controlled by the subordinate separatist administrations or separatist armed groups means that the acts and omissions of the separatists are attributable to the Russian Federation in the same way as the acts and omissions of any subordinate administration engage the responsibility of the territorial State, the Court explains."
For most analysts or diplomats who have reported on the war since 2014, neither of the rulings came as a surprise. The international diplomatic corps working out from Kyiv during the first years of the war collectively reported it as a Russian-induced war.
The West has always known that the war started in 2014.
When the full-scale invasion started on 24 February 2022, around 15,000 had already been killed. Approximately 33-34,000 had been reported wounded. 1,5 million Ukrainians were already internally displaced. Russia was controlling approximately 19,6% (145 000 km2) of Ukrainian territory and areas under its jurisdiction. This included the Ukraine's Autonomous Republic of Crimea, the city of Sevastopol, the adjacent Maritime Exclusive Economic Zones and certain areas of Donetsk and Luhansk regions. Ukraine had already suffered massive economic losses from an 8-year-long hybrid war.
Four days from now, the media will focus its attention on the first anniversary of the war.
While the milestone is important – acknowledging that a low-intensity war turned into a full-scale war on 24 February 2022 – it is depressing to find that the media still fail to present the full scale and scope of the war. Presenting it as a one-year-old conventional war gives the public a very different insight than if it was described as what it is: A hybrid war that has been ongoing in the US, Europe and Ukraine for 9 years.
It would help build resilience and maintain public support. It would help reduce Russia's ability to undermine Europe. It would enable broader security and defence push deliberations. It would help mobilise society as the "tsunami of ripple effects" from the war in Ukraine takes hold. It would not least, help hold governments accountable for their failure to respond to a war that started in 2014.
Tags: Russian invasion