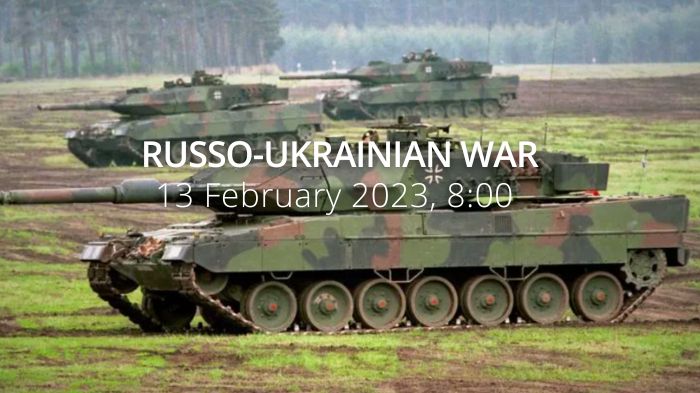 Leaked docs suggest Putin is mobilizing army of spies in UK. Swiss bank Credit Suisse froze Russian assets worth $19 billion. Germany to start the training of Ukrainian tank crews on the Leopard 2 tanks next week.
At this point, it is clear Ukraine will win the war. But if the West provides Ukraine the weapons it needs to block the coming Russian offensive, the war can end sooner, David A. Super @DavidASuper1 writeshttps://t.co/gUcRjwiRc7

— Euromaidan Press (@EuromaidanPress) February 12, 2023
Daily overview — Summary report, February 13
The General Staff's operational update regarding the Russian invasion as of 18.00 pm, February 13, 2023 is in the dropdown menu below:
Day 355 of the full-scale russian military aggression has begun.
The enemy will suffer significant losses, especially in manpower. They concentrate main efforts on conducting offensive operations on the Kup'yansk, Lyman, Bakhmut, Avdiivka and Novopavlivka axes.
Over the past 24 hours, units of the Defense Forces of Ukraine have repelled the attacks of the occupiers in the areas of Hryanikyvka settlements of the Kharkiv Oblast; Kreminna and Bilogorivka in Luhansk Oblast; Viymka, Fedorivka, Vasyukivka, Bakhmut, Ivanivske and Klishchiivka in the Donetsk Oblast and Zaliznychne in Zaporizhzhia.
At the same time, the enemy launched 4x missile strikes and fired 85x shots from MLRS.
The threat of further russian air and missile strikes on the entire territory of Ukraine remains high.
Volyn', Polissya, Sivershchyna, and Slobozhanshchyna axes: there were no significant changes, and no signs of the formation of offensive groups were detected. Areas of 18x settlements were hit by the enemy shelling. Among them are Tovstodubov, Bachivsk, Basivka and Popivka in Sumy Oblast and Krasne, Hlyboke, Vovchansk, Figolivka, Novomlynsk and Dvorichna in Kharkiv Oblast.
Kupyansk and Lyman axes: the enemy carried out mortar and artillery shelling of 22x districts of populated areas. In particular, these are Kislivka, Kotlyarivka, Pishchane and Berestove in the Kharkiv Oblast and Novoselivske, Makiivka, Nevske, Dibrova and Bilogorivka in the Luhansk Oblast.
Bakhmut axis: from tanks, mortars, and artillery were shelled, in particular, Spirne, Vasyukivka, Ivano-Daryivka, Paraskoviivka, Zaliznianske, Chasiv Yar, Bakhmut, Stupochki, and Klishchiivka. In total, there are 16 settlements.
Avdiivka and Novopavlivka axes: areas of 25 settlements, including Tonenky, Avdiivka, Pervomaisky, Zolota Niva, Nevelsky, Krasnohorivka, Marinka, Prechistivka, and Bogoyavlenka of the Donetsk Oblast, were under tank, mortar, and artillery shelling.
Zaporozhzhia axis: Vremivka and Novopil in Donetsk Oblast were affected by fire; Gulyaipole, Stepove, Olhivske, Novodanilivka, Novoandriivka, Mala Tokmachka, Stepnohirsk and Charivne in the Zaporizhzhia Oblast and Nikopol in the Dnipropetrovsk Oblast.
Kherson axis: Kherson was affected by enemy artillery fire, as well as the districts of 20x settlements, in particular, Mylove, Zmiivka, Respublikanets, Novokairy, Vesele, Mykilske, Antonivka, and Dniprovske of the Kherson Oblast.
To strengthen counter-subversive measures in the temporarily occupied territories of the Kherson Oblast, the enemy sent about 200 soldiers of the russian Guard there. They were resettled on the territory of the Chaika recreation center in the village of Lazurne, and for the safety of the occupiers, the movement of local residents in the village is restricted.
Due to the low level of provision of winter uniforms, since January of this year, the number of servicemen of the russian occupation forces with signs of frostbite has increased significantly. Thus, in the medical facilities of Horlivka, Donetsk Oblast, the number of patients with such a diagnosis is up to 30 percent of all wounded.
During the past day, the aviation of the Defense Forces of Ukraine made 8x strikes on areas where the occupiers are concentrated, as well as 3x strikes on the positions of anti-aircraft missile systems. Our missile and artillery units hit 10x manpower concentration areas, 1x anti-aircraft defense position and 3x enemy ammunition depots.
Military Updates
Ukraine downs aerial reconnaissance vehicle, balloons in Dnipropetrovsk Oblast. Ukraine's Air Force Command has reported that the Ukrainian Army downed an aerial reconnaissance vehicle and balloons with corner reflectors launched by Russian troops on 12 February. Before an air alert started to sound in Dnipropetrovsk Oblast, Mykola Lukashuk, head of the Regional Council, said that Russia could begin an attack with Iranian-made Shahed drones.
https://twitter.com/EuromaidanPress/status/1624890856116297730
Russia may open new front in northern Ukraine – New York Times. Russia may try to divert Ukrainian forces from the Donbas region by opening a new front, according to the New York Times. Attacking from a new front would likely mean advancing from Russian territory itself toward the northeastern city of Sumy or the second-largest city of Ukraine Kharkiv, according to the New York Times.
Russia starts using marine kamikaze drones against Ukraine, General Zaluzhnyi says.  On 11 February, the Commander-in-Chief of the Armed Forces of Ukraine, General Valerii Zaluzhnyi had a phone conversation with the Chairman of the United States Joint Chiefs of Staff, General Mark A. Milley. During the phone call, General Zaluzhnyi informed General Milley about the results of the Russian massive missile attack on Ukraine carried out on 10 February, stressed the need to strengthen the air defense of Ukraine, and shared his concern about Russia's use of unmanned maritime surface vehicles, which poses a threat to civilian ships in the Black Sea.
https://twitter.com/EuromaidanPress/status/1624891596381556736
According to British Defence Intelligence, (last 48 hours): 
As of 07 February 2023, open-source imagery indicated Russia had likely further bolstered defensive fortifications in central Zaporizhzhia Oblast, southern Ukraine, particularly near the town of Tarasivka. As of 08 January 2023, Russia had established defensive fortifications between the towns of Vasilyvka and Orikhiv, Zaporizhzhia Oblast.
Despite the current operational focus on central Donbas, Russia remains concerned about guarding the extremities of its extended front line. This is demonstrated by the continued construction of defensive fortifications in Zaporizhzhia and Luhansk oblasts and deployments of personnel. Russia's front line in Ukraine amounts to approximately 1,288 km with the Russian-occupied Zaporizhzhia oblast frontline at 192 km.
A major Ukrainian breakthrough in Zaporizhzhia would seriously challenge the viability of Russia's 'land bridge' linking Russia's Rostov region and Crimea; Ukrainian success in Luhansk would further undermine Russia's professed war aim of 'liberating' the Donbas. Deciding which of these threats to prioritise countering is likely one of the central dilemmas for Russian operational planners.
Losses of the Russian army 
Humanitarian 
https://twitter.com/EuromaidanPress/status/1624809722795761730
The Novovolynsk miracle: how Russia's invasion turned a Ukrainian mining town into an uber-volunteer hub. When Russia's war struck, top managers fleeing westward and a grassroots volunteering movement converged in a small mining town, creating a center that distributed humanitarian aid all over Ukraine in a miracle of a do-it-yourself organization pertinent to Ukrainian society.
1 Ukrainian civilian killed in Russian shelling of Nikopol, a city in Dnipropetrovsk Oblast

The shelling damaged 4 residential buildings, a college, and a water treatment facility, Head of Reg Mil Adm Serhii Lysak said https://t.co/x3K3iblirV pic.twitter.com/7XPSdQOgBl

— Euromaidan Press (@EuromaidanPress) February 12, 2023
From pregnancy fatigues to lip balm: volunteers supply gear for women at war
Legal 
Zelenskyy approves sanctions against 200 individuals affiliated with Russia. Ukrainian President Volodymyr Zelenskyy signed a decree implementing the February 12 decision of the National Security and Defense Council (NSDC) to impose sanctions against 200 persons affiliated with the Russian Federation, UkrInform reports. The relevant decree was published on the President's website, together with the NSDC's decision and its annex.
Support
https://twitter.com/EuromaidanPress/status/1624844315083124738
Swiss bank froze Russian assets worth USD 19 bn. The bank of Switzerland Credit Suisse said it had frozen over $19 billion of Russian assets, including the funds of the Russian Central Bank following the Western sanctions policy, the SonntagsZeitung newspaper reported. Earlier, Bloomberg informed that Swiss Foreign Minister Ignazio Cassis said that the country had frozen $8.2 billion of Russian assets and planned to use them to reconstruct Ukraine.
The German Armed Forces will start the training of Ukrainian tank crews on the Leopard 2 main battle tanks next week, the training will take six to eight weeks, Spiegel reports.https://t.co/bMXFSo5ite

— Euromaidan Press (@EuromaidanPress) February 12, 2023
German Bundeswehr begins training Ukrainian soldiers on the Leopard 2 tanks next week. The German Armed Forces will start the training of Ukrainian tank crews on the Leopard 2 main battle tanks next week, the training will take six to eight weeks, the German magazine Spiegel reports. Spiegel says that according to its sources, the German Air Force has already brought the first groups of Ukrainian soldiers with military vehicles from Poland to Germany in the past few days.
UK may give Ukraine long-range cruise missiles – The Times. The UK considers including anti-ship or air-to-surface missiles in the next military aid for Ukraine, according to the Times. The UK Prime Minister Rishi Sunak promised to send Ukraine more military aid following a visit by Ukraine's President Volodymyr Zelenskyy to Britain this week. Discussions over whether this military aid package should include Harpoon anti-ship missiles and air-to-surface cruise missiles Storm Shadow continue within the UK's government, according to the Times.
New Developments 
https://twitter.com/EuromaidanPress/status/1624855266314399745
Leaked docs suggest Putin is mobilizing army of kamikaze spies in UK – Sun.Russian President Vladimir Putin Putin has ordered Russian intelligence to start the recruitment of "kamikaze" spies in Britain, leaked documents suggest, Sun reports. Former UK intelligence officials said Britain is currently a "major" target due to its support of Ukraine, and Russia would be doing everything it can to "get access to people and turn agents in useful places."
Ukraine security chief Danilov insists Russia must be "decolonized" after Ukraine's victory. The discussion of "dismantling" Russia should start as soon as possible as "decolonization" of the Russian Federation is the only safeguard against its neo-imperial encroachments, Oleksii Danilov, Secretary of Ukraine's Security and Defense Council, argues in his oped titled "Russia's internal decolonization is an inevitable process, which the world must accept," Ukrinform reports. Danilov believes that Russia's disintegration and its disappearance as an integral actor in history and politics can become a safeguard against Russia's imperial and post-imperial encroachments, ensuring the non-repetition of Russia's attempts to resolve the "Ukrainian issue finally."
Nearly year after Ukraine invasion, only 17 of 122 top companies have exited Russia – watchdog. In response to the Ukraine invasion, multinational companies pledged to leave Russia. Nonetheless, only a tiny percentage of Western firms have actually ceased doing business in the aggressor country while showing themselves off as false heroes through "moralwashing" statements.
How Ukraine's helicopter tsar helped arm the enemy. Ukraine's aerospace company Motor Sich, producing mainly engines for helicopters and turbines, became Ukraine's largest nationalization since the country's biggest bank Privatbank was nationalized in 2016. The move put an end to previous Chinese attempts to control the enterprise and its technologies, which worried the Americans. Moreover, the Motor Sich director and former owner Viacheslav Bohuslaiev was arrested and accused of collaboration with the Russians. He was one of the main symbols of the post-Soviet oligarchy in Ukraine, which is now coming to an end. We trace the path of Ukraine's helicopter czar from Soviet "Red director" to being charged with treason.
https://twitter.com/EuromaidanPress/status/1624876496639897600
Assessment 
https://www.understandingwar.org/backgrounder/russian-offensive-campaign-assessment-february-12-2023*
On the war. 
The Institute for the Study of War has made the following assessment as of  February 12, 2022:
ISW is publishing an abbreviated campaign update today, February 12. This report focuses on the impact of Russian information operations on delaying and deterring Western transfers of high-end weapons systems and other military aid to Ukraine. Russia has partially reconstituted its ability to conduct information operations as part of its hybrid warfare campaigns in support of military operations. These information operations will continue to emerge as Russia attempts to set conditions for upcoming operations and mitigate setbacks, and the West must critically evaluate the context of Russian information operations and avoid simply interacting with them on their own terms.
Russia has partially regained the ability to conduct successful information campaigns in support of strategic objectives and even discrete operational aims. Russian hybrid warfare theory has long called for the integration of information campaigns and military operations, with information operations sometimes taking precedence over kinetic activity.[1] Russia skillfully conducted multiple information campaigns over the two decades preceding the re-invasion of Ukraine in February 2022, most notably those that supported the Minsk II Accords in which Germany and France accepted Russia as a mediator rather than a belligerent in Ukraine.[2] The Biden Administration conducted a remarkable and successful counter-information campaign in the months leading up to the February 2022 full-scale invasion, however, disrupting multiple Russian information campaigns intended to induce Ukrainian surrender, separate Ukraine from the West, and create favorable conditions for the re-invasion.[3] The Biden Administration and the West have also cut off and derailed Kremlin-controlled media operations in the United States and Europe since the start of the re-invasion, causing the Kremlin to struggle to conduct successful information operations.[4] Moscow, as a result, has been unable to achieve the objectives that its pre-re-invasion campaigns had been pursuing. Russia has, however, reconstituted the ability to conduct discrete information campaigns in support of specific strategic objectives and to tailor those campaigns to mitigate battlefield setbacks and to set conditions for future planned operations.
Russian information campaigns have supported a continuous strategic objective of deterring or slowing the West's provision of material support to Ukraine. Russian President Vladimir Putin likely bought into his own pre-invasion narrative that the West would not support Ukraine but would instead seek to maintain good relations with Russia, fueling his hopes for a speedy victory in Ukraine.[5] Putin soon realized that the war would protract due to his military's inability to achieve decisive victories and Ukraine's surprising (to him) determination to resist, and because of the West's surprising (to him) willingness to support Ukraine's resistance.[6] Putin thereupon began to focus on feeding the arguments Western leaders were making to themselves about the dangers of providing Ukraine with too much materiel or certain kinds of materiel.[7] These Russian information campaigns have been continuous in their pursuit of the common aim of inhibiting Western support for Ukraine regardless of battlefield conditions. The operational-level information campaigns discussed below nest into this strategic purpose, suitably adjusted for the specific battlefield circumstances of the moment.
Russia's operational-level information campaigns aim either to set conditions for planned Russian operations or to mitigate Russian military failures. Russia shapes the information space in preparation for offensive operations to impede Ukraine's ability to retain the battlefield initiative or prepare for the offensives. Russia also uses information campaigns to deter the West from supporting Ukraine's counteroffensive efforts and exploitation of Russian military setbacks. Some of these Russian information campaigns are also intended to reestablish Russia's geostrategic deterrence by rebuilding the projection of power that had been the focus and hallmark of Russian information campaigns before the 2022 re-invasion.[8]
Russia uses the narrative that Ukraine is incapable of defeating Russia because of inherent power disparities between the two states to mitigate major Russian setbacks or Russian failures to achieve rapid successes in major offensive operations. Russian information campaigns earlier in the invasion relied on amplifying the assumption that Russia possesses the "second largest military in the world" with advanced military capabilities. These information operations aimed to mislead the West and Ukraine into believing that any transfers of military equipment would be irrelevant because Ukraine would not be able to withstand rapidly unfolding offensive operations from different directions and would be vulnerable to Russian attack. The Kremlin, for example, threatened that Russia would view continuing Western military aid shipments to Ukraine as legitimate military targets in early March 2022.[9] The Russians have not shown the dynamic targeting capabilities needed to strike Western materiel moving into and through Ukraine throughout the first year of the war, however, and have instead resorted to wasting their precision weapons on striking fixed civilian energy infrastructure throughout Ukraine.
The Kremlin reframed its information operations to exaggerate the importance of every tactical advance following the Russian withdrawal from Kyiv Oblast and redeployment to Donbas in spring-summer 2022. The narrative adjusted the idea of Russian military might from sweeping offensive operations that were no longer possible to make much of steady and grinding gains on the frontlines.[10] This narrative aimed to demoralize Ukrainians and convince the West of Ukraine's inability to stand against the supposedly overwhelming force enabling Russia's costly advances, which ultimately culminated throughout the theater without achieving decisive strategic effects.[11] The exaggerating of minor victories also allowed the Kremlin to explain away the slow pace of offensives to domestic audiences who were conditioned to expect Russia's rapid success in Ukraine.[12] Both versions of the narrative—the anticipated blitzkrieg at the start of the war and the impression of an unstoppable, if slow, advance during its second phase—were intended in part to deter Western aid provision. They sought to reinforce pre-invasion perceptions of Russian power and to trivialize Ukraine's successful resistance in hopes that the West would give up on supporting Ukraine's efforts to win the war. In this, they failed.
Russia intensified narratives about the risk of nuclear escalation in September-November 2022 to reestablish deterrence and dissuade the West from providing Ukraine the materiel needed to continue its counteroffensives following devastating Russian military failures in Kharkiv Oblast. Putin began making deliberately vague and general references to nuclear use during his annexation speech on September 30 following sweeping Ukrainian counteroffensive operations in Kharkiv Oblast.[13] The spike in nuclear rhetoric also followed Putin's unpopular September 21 mobilization order, which had made Putin vulnerable within both the international and the domestic spheres.[14] Putin and key Kremlin officials intensified nuclear escalation rhetoric throughout October 2022, eventually culminating in early to mid-November likely as a result of growing international dialogue with Russia and pushback against his nuclear threats.[15] Putin has often used thinly-veiled nuclear threats to project the idea that Russia is a great power with which the West should avoid confrontation.[16] The nuclear information operation in fall 2022, however, was likely specifically intended to deter the West from immediately reinforcing Ukraine's sweeping counteroffensives in eastern and southern Ukraine by stoking irrational and unjustified fears that Putin might react to a Ukrainian victory with nuclear escalation. Putin remains a highly calculating and risk-averse actor who will continue to exploit Russia's nuclear capabilities and Western fear of nuclear escalation to project his power in the West and Russia without actually risking a nuclear exchange with NATO.[17] Putin also likely sought with these information operations to reestablish Russia's standing as a great power in the world and to save face domestically following humiliating military setbacks.
It is now clear that the Russian information campaign centering on peace negotiations that intensified in December 2022 was aimed—among other things—at delaying the provision of Western tanks and other advanced equipment essential for the continuation of Ukrainian mechanized counteroffensives in order to set conditions for Russia's own planned offensives. The Kremlin sharply amplified a false negotiations narrative throughout December 2022, with numerous Russian officials giving intentionally misleading signals of Moscow's willingness to engage in serious negotiations with Ukraine.[18] The Kremlin originally introduced this information operation in early September 2022 after Ukraine announced the start of counteroffensive operations (ostensibly in Kherson Oblast) but prior to Ukraine's liberation of much of Kharkiv Oblast, and Putin mentioned the idea of a return to the negotiation table in his September 30 annexation speech.[19] The Kremlin, however, consistently retained its maximalist goals and did not offer any serious bases for negotiations. The intensification of the narrative in winter 2022 coincided with Russian preparations for a major offensive operation planned for early 2023, and the Kremlin sought to capitalize on the Western desire for peace negotiations and thereby discourage the provision of Western tanks to Ukraine before Russia was able to regain the initiative in eastern Ukraine.[20] Russian Foreign Minister Sergey Lavrov notably signaled the end of the information operation, for the time, by announcing that Russia would continue to pursue a military solution in Ukraine on December 27.[21] It was too late, by that point, for the West to send tanks in time to interfere with the Russian offensive operation that began roughly a month later. The Russian peace-talks narrative was not, to be sure, the only or even the main reason for the delay in the Western provision of tanks to Ukraine. The timing of its onset, intensification, and dropping by the Kremlin, however, strongly suggests that it was timed to support the now ongoing Russian offensive.
Russia continues its shaping effort targeting Western provisions of long-range weapons and tanks to Ukraine by spreading the narrative that Ukraine will deliberately threaten Russia with these weapons instead of prioritizing the liberation of its Russian-occupied territories. Putin accused the United States of purposely protracting the war on December 22, 2022, following the US authorization to transfer Patriot air-defense systems to Ukraine on December 21, 2022.[22] Putin absurdly implied that Ukraine would use Patriots (defensive air-defense systems) to strike Russian territory, even as Ukraine begged for these systems to stop Russia's ongoing air and missile campaign on Ukrainian energy infrastructure in the fall of 2022. This information operation was intended, like the negotiations information campaign, to stall Western aid that would disrupt ongoing and planned Russian military operations.
Kremlin officials are continuing to foster the narrative that Western transfers of longer-range precision rocket systems and Leopard tanks pose some new threat to Russian security, even though they pose no greater threat than the provision of Soviet tanks or other precision systems.[23] Ukrainians have not used Western-provided HIMARS systems to strike Russian territory even though those systems already brought important locations within Russia into range. And the idea that Ukraine will mount an invasion of Russia with Germany's Leopards is laughable. The purpose of this Russian information campaign is two-fold: first, to delay the arrival of Western tanks for as long as possible in order to delay the resumption of Ukrainian counter-offensives and buy time for Russia's own offensive operations, and second, to disrupt the formulation of a coherent Western approach to shifting Ukraine fully to Western weapons systems—something the West will have to do eventually as it has run through its stocks of Soviet-era weapons and cannot produce or acquire more of them.
Russia will continue to weaponize information operations to directly support discrete military operations in Ukraine—especially after it has regained the initiative on the frontlines in eastern Ukraine. The Kremlin is resuming a narrative exaggerating Russian frontline victories with the ongoing offensives on Bakhmut and Lyman. The Russian Ministry of Defense (MoD) is proudly parading victories over captured settlements around Bakhmut, but the impact of such information operations is waning—both Ukraine and pro-war Russian nationalists have become less willing to accept claims of inevitable Russian victory at face value because of the year of Russian military incompetence.[24] But these information operations can nevertheless regain traction if Russian forces begin to make significant gains, and Russian information operations that appear to be ineffective now can nevertheless set conditions to become much more potent when circumstances change.
The Kremlin appears to be developing other narratives at the time of this publication as well, with nationalist officials making outlandish nuclear threats as a response to recent Western weapons provisions and transfer pledges.[25] Russian Deputy Foreign Minister Sergey Vershinin also started to resume the canard of Russia's willingness to negotiate with Ukraine "without preconditions" on February 11 but "on the basis of the reality that exists today" and with consideration for Russia's maximalist objectives—conditions, in other words, that still amount to Ukrainian surrender.[26] The Kremlin may also reintroduce the stalemate narrative that it had previously used to discount Ukrainian counteroffensives in Kherson in late August 2022.[27]  Vershinin's statement may be an evolved peace-talks narrative that seeks to pressure the West to force preemptive concessions on Ukraine or preempt the culmination of the Russian operations in Donbas. It may also be a continuation of Russian efforts to delay and disrupt the provision of weapons systems Ukraine needs to take advantage of that culmination. The West should consider that Russian discussions of negotiations may not be about negotiations or conditions for peace at all, but may rather be information campaigns specifically targeted at getting Russia through windows of opportunity or vulnerability on the battlefield.
All these information campaigns will support overarching Kremlin strategic aims of splitting the West from Ukraine, deterring or delaying the provision of Western materiel, and generally undermining Western support for Ukraine and the cohesion of the Western coalition. Many information campaigns will also pursue specific operational objectives setting conditions for planned Russian military undertakings. Western leaders must recognize these operations for what they are within the context of battlefield events and resist the temptation to engage with Russian information operations purely on their own terms. More of these narratives will emerge, and the West must critically consider battlefield realities to undermine the effectiveness of the Russian hybrid-warfare efforts. The West must monitor the emergence and intensification of certain information operations at particular times to properly assess and react to these campaigns, just as the Biden Administration did before the full-scale invasion in February 2022. Russia's ability to conduct skillful information campaigns in support of hybrid warfare efforts was severely damaged by the Biden Administration's skillful counter-information campaign and by Russia's own actions and failures in Ukraine. But Putin is working to restore his capabilities in this area and is achieving limited but important successes, especially when he can shape information campaigns that resonate with discussions and fears that are already salient in the West.
Key inflections in ongoing military operations on February 12:
Ukrainian officials continued to question the Russian military's ability to launch large-scale strategic offensive operations in Ukraine.[28]
The UK Ministry of Defense (MoD) reported that Russian forces have likely suffered the highest rate of casualties in Ukraine since the first weeks of the invasion based on statistics obtained from the Ukrainian General Staff, with an average of 824 casualties per day in the past week.[29] The UK MoD stated that they cannot verify the Ukrainian General Staff's methodology for counting Russian casualties.
A Russian State Duma parliamentarian called for increased censorship legislation to protect Russian military figures from criticism.[30]
The Ukrainian Main Military Intelligence Directorate (GUR) released an intercepted call excerpt of Shahed drone operators in Ukraine speaking in Kurdish and Farsi and stated that Russian forces may be using Kurdish mercenaries to operate Iranian drones in Ukraine.[31]
Russian sources claimed that Russian forces are continuing offensive operations northwest of Svatove.[32] Russian forces continued offensive operations around Kreminna with a reported 23 combat clashes in the area.[33]
Russian forces continued ground attacks around Bakhmut, Avdiivka, and Vuhledar.[34]
Wagner Group financier Yevgeny Prigozhin claimed that Wagner Group forces seized Krasna Hora north of Bakhmut.[35] Prigozhin also falsely claimed that Wagner Group forces are the only Russian forces within a 50km radius of Bakhmut.[36]
Ukrainian officials reported that Russian forces in Kherson Oblast lack the capability to start a full-scale offensive, supporting ISW's prior assessments.[37]
Ukrainian Main Military Intelligence Directorate (GUR) representative Vadym Skibitsky stated that Ukrainian officials believe that Russian officials will postpone a planned second wave of mobilization because of persisting problems associated with the first mobilization wave.[38]
Russian sources claimed that Russia may build a Black Sea Fleet base in occupied Mariupol.[39]
CNN published an interview with two POWs who were Wagner Group prison recruits who claimed that Wagner Group severely misled recruits about the nature of the war and combat missions.[40] The fighters claimed that Wagner forces used prison recruits in human-wave assaults in summer assaults around Lysychansk and sustained high casualties.
Tags: Russian invasion