Photos provided by Illia Berezenko
Editor's Note
Ukrainian journalist Illia Berezenko joined the ranks of the Ukrainian territorial defense units in Kyiv, participated in the defense of Kyiv Oblast, and later fought at one of the most difficult positions near Bakhmut in the Donetsk region. He was wounded in November 2022 while holding a position surrounded on three sides. After two months of treatment he returned to the front.
In his interviews with censor.net and espresso.tv, translated below, he described how the battles in Bakhmut look like. On some days the Russians tried to advance to Ukrainian positions 3-4 times a day. Although their attempts mostly failed with terrible losses, many Ukrainian servicemen were also killed by Russian artillery and mortar fire, he says.
Journalist Illia Berezenko, like most Ukrainians, woke up to explosions on February 24. "At first, I thought that it was our military training, but with the second explosion, somewhere very close, I realized it had begun."
When the war started, Berezenko volunteered to join Kyiv's Territorial Defense. The queue of volunteers was so long that it took two weeks before he actually joined the ranks. Initially, a commander decided to make Berezenko a mortarman, but it turned out that there were no mortars available.
"In the end, they decided to put me as a rifleman in a rifle company. They said: 'You will run with a machine gun, shoot enemies and dig a lot of trenches,' which in fact I have been doing quite often since then," Berezenko recalls.
Near Kyiv, his unit had few direct battles with the enemy, holding the second line of defense. However, they were digging a lot. "When there is shelling, you are digging twice as fast and easily," Berezenko recalls, smiling.
In August, his unit joined the defense of Bakhmut in Ukraine's east. Because of the relatively stable front, they had more time to dig in, building underground "three-room apartments with heating and electricity." However, unlike near Kyiv, they were often holding "zero" positions in Bakhmut, right in front of the enemy, which was much more dangerous.
"It was very difficult there… constant artillery fire, very dense. Projectiles can fall on you for 4-5 hours in a row. And you can't do anything but sit in the trench and hope it doesn't come at you… The hardest thing is the loss of friends. In second place is sitting under constant artillery fire. And the direct shooting battles turned out to be the easiest of all… Russians went to our positions 3-4 times a day as if by schedule, tried to occupy them and we inflicted serious losses on them. I can state that their losses are disproportionately terrible to the ones we suffered. However, unlike our enemies, we lost the best, because people from all ranks of society joined our army and very good people died, including my friends…"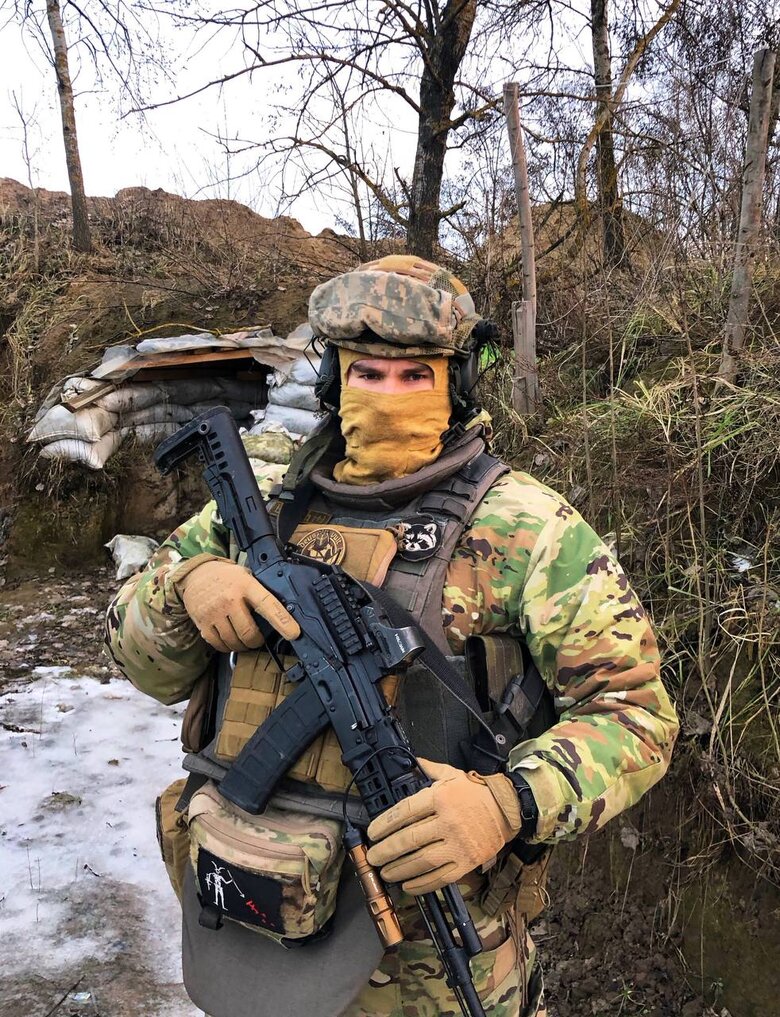 While Berezenko is optimistic about the general situation, it is sometimes very difficult in specific places, he says. The Russians like to shell from artillery for several hours and then attack by infantry, trying to overwhelm the Ukrainian position with numbers.
"The situation was reaching the point of absurdity sometimes… When a [recruited soldier of Russian] Wagner [units] crawls up to a dead comrade, uses him as a shield, pushes and advances towards our positions."
Once such an infantry battle lasted for 26 hours with little in the way of breaks. Mutual help was crucial in such situations. While one is shooting, another brings up ammunition. One takes a short break and the comrade shoots. The guns get jammed, a comrade takes them away for cleaning and brings them back.
"Near Bakhmut, everything is like during the First World War: where there was forest, charred stumps; and as far as the eye can reach, dead enemies lie," Berezenko says. "At first, in the summer they somehow took away their dead comrades. We saw it. And then became negligent."
Berezenko was wounded in November while holding a position named "minus 1." This is a position behind the front line. He defended two such positions, saying that the first of them was surrounded by enemies on two sides, and the second on three sides. Russians were shelling from SPG, a 73-millimeter gun, generally designed to fight tanks.
"But since Russians have an excess of all these goods, they fired at us with SPGs for four hours continuously, covering the sounds of shooting by AGS [grenade launchers]. It was scary and very bad," Berezenko recalls.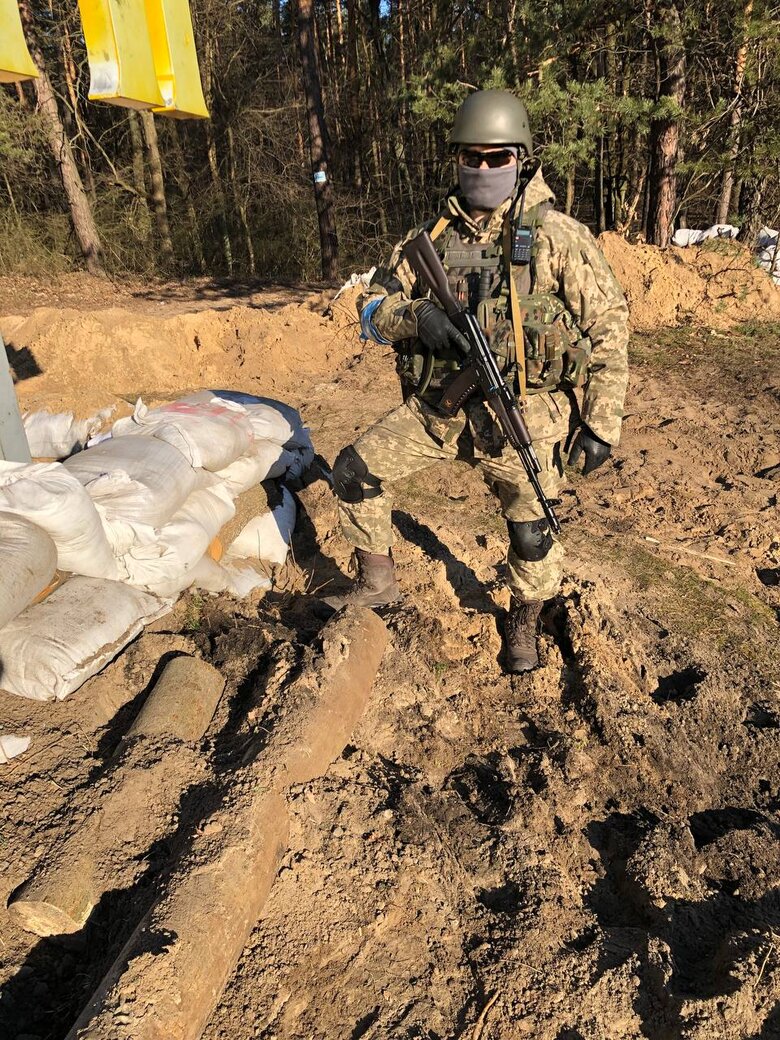 When he was wounded, he had visual contact with the enemy, notified others and an SPG shell exploded right in front of him.
"I thought it was just that second when you don't know you're already dead. Then I realized that I was still alive, and I started running to the trench. My military kit was cut in many places. A kevlar collar saved me. The more armor the better."
His unit lacked walkie-talkies, a walkie-talkie was in the next trench, so he ran to it.
"Grabbed the walkie-talkie, and then a shell fell at me again and three fragments hit my left hand. I didn't throw down the walkie-talkie but rolled down into the trench. A comrade gave me his first-aid kit because mine was left where I had run from. I wrapped my hand, told by radio that I was wounded. Soon, another comrade and I were successfully evacuated thanks to the very coordinated actions of the guys at the positions and our commanders. And the drivers in the war are very heroic people who drive and pick up people right under gunfire. We try to never leave anyone behind. That's why we have a lot of losses during evacuations."
Berezenko was surprised how Russians in captivity were speaking with their relatives.
"I saw it myself when a Russian POW was talking to his mother. She asks him: 'How much is a dollar in Ukraine?' At first I thought it was some kind of FSB cipher. But I look at this prisoner, he is a child born in 2003, and he is just shocked! It wasn't a cipher or he didn't know it. She was told that her son was in captivity, and she replied that it was his problem and disconnected! I assume that there is a certain percentage of normal parents who worry. But many are such that you simply can't understand how this is possible."
He believes in Ukraine's victory but recognizes that initially he had some doubts because of Russian propaganda that was strong and effective, portraying the powerful Russian army with huge quantities of equipment. However, the Russians strategically failed when they started armed aggression against Ukraine in 2014:
"The Russians' main problem, which I saw, was precisely this power strategy. After all, if they had left Ukraine alone back in 2013, it would have been much easier for them to subjugate it to some kind of union with the Russian Federation with the help of diplomatic and cultural influence, which at that time was quite strong. But after the Revolution of Dignity, they decided that everything should be taken by force. And even though Ukrainians are calm people, they really don't like when force is used against them to take something from them."
Although it is a long fight, Ukraine has no choice but to fight until victory, Berezenko concludes:
"We have to finally squeeze them out! Indeed, there are many of them and it cannot be said that they are ending there. But their losses are simply terrible!"
Read also: