LNG is expected to replace Russian gas on the EU market. LNG and oil terminal in Klaipeda port. Credit: depositphotos 
The EU has managed to reduce its dependence on Russian gas, but it is too early to talk about a landmark victory. 2023 may be a turnaround year: either Russia maintains a minimal presence in the EU energy sector through lobbying and blackmail, or it finally drops out of the European energy market with minimal chances of returning. Here is what 2023 has in store for the global energy stage. 
A relatively warm winter and a steady stream of LNG supply (liquefied natural gas) have helped the EU to break free of its energy dependency on Russia, which Russia had cultivated for decades and managed to ensnare Armenia and Belarus in.
Despite the fact that Russian gas imports have more than halved in a year – from 140 billion cubic meters to 60 billion cubic meters in 2022 (with total consumption of about 400 billion cubic meters), the EU has managed not only to accumulate enough gas in storage but has also encouraged consumers to reduce consumption to a maximal degree.
Europe scales up efforts to reduce dependence on Russian gas
Germany announced that it had stopped buying Russian coal, oil, and gas. Italy's Edison reported that as of December 31, the company had stopped buying gas from Russia. The United Kingdom also refused to purchase Russian liquefied natural gas.
On January 2, Gazprom admitted that gas exports in 2022 had declined by almost half – from 185.1 billion cubic meters in 2021 to 100.9 billion cubic meters in 2022.
The EU's decision to reduce the consumption of Russian gas has been consistently implemented – a vivid example of solidarity and mutually beneficial outcome, despite the diversity of its individual countries.
However, it is much too early to talk about a landmark energy victory.
2023 – a challenging year for European consumers
Despite a significant drop in December 2022 – January 2023, high gas prices may persist for quite a long time.
The explanation is quite simple: while implementing the strategy to reduce the EU's reliance on Russian gas, member states will find it difficult to find an alternative on international markets; this will require not only additional funds to find international partners, but also difficult decisions within the EU itself.
According to the International Energy Agency, what will happen if the EU decides to completely cut gas imports from Russia in 2023?
Taking into account certain conditions, the EU needs to supply 57 billion cubic meters to its consumers. 30 billion cubic meters can be found, but 27 billion cubic meters will require additional efforts from all EU consumers: further energy-efficiency improvements, renewable energy use, and electrification of heat.
What does this mean for Ukraine?
In some EU member states, populist politicians will continue to call for further strategic cooperation with Russia and will seek compromise deals in order to receive cheaper energy carriers.
Individual countries and companies will continue to search for workarounds and fixes to resolve the issue of Russian gas imports. Moreover, the EU will find it extremely difficult to completely abandon Russian gas, including liquefied gas.
2023 may be a turnaround year: either Russia maintains a minimal presence in the EU energy sector through lobbying and blackmail, or it finally drops out of the European energy market with minimal chances of returning.
However, even if Russia manages to maintain a minimal share of gas supplies to the EU after 2023, it will not be able to return to the old "divide and rule" formula.
The EU countries have implemented the strategy that was set by Donald Tusk, former President of the European Council, namely joint gas purchases. In December 2022, the European Commission established the European Energy Platform, which brings together European businesses and market participants to coordinate gas purchases through joint negotiations.
The EU energy ministers also agreed on a draft EU Regulation on joint gas procurement. In addition, they agreed on a price cap (price ceiling) on gas; it will be applied if the gas price in Europe is higher than 180 euros per MWh for three consecutive days.
For comparison: in January 2023, wholesale gas prices on the Dutch TTF (Title Transfer Facility) amounted to 70 euros per MWh.
Several energy suppliers have created alliances on the world market. Similarly, the formation of a powerful alliance of energy buyers will certainly make the process of buying and selling gas more complicated, but also more profitable for gas-importing countries.
However, it is highly unlikely that Russia will sit on the sidelines and watch in silence as the EU strengthens its negotiating position.
The Kremlin will definitely continue looking for opportunities to unite EU gas suppliers and transporters and coax them to their side.
Putin's aggression is the last call to end global fossil fuel addiction – opinion
Russian-Turkish LNG hub?
Currently, the Russian and Turkish governments are preparing a "road map" for a gas hub in Türkiye; it is aimed at "depersonalizing" gas "made in Moscow" and selling Russian (and probably Iranian) gas to the EU with other origin parameters.
However, it is too early to take these negotiations seriously. According to the Turkish side, it will take another year to prepare and consolidate the gas hub, so things may change a lot, taking into account the upcoming elections in Türkiye and Ukraine's expected victory in 2023.
In addition, Türkiye does not see itself as a partner working for the interests of Russia. As it increases its own production and opens liquefied natural gas terminals, which will be available to countries dependent on Russian gas, Türkiye stands as a relevant competitor to Russia rather than a like-minded partner.
Apart from Türkiye, other gas-supplying countries may ally with Russia in the gas sphere, in particular, by blocking price caps for the EU.
The energy and communication facilities Russia will attack first in case of a war with NATO
Algeria, one of the largest gas exporters to European consumers, has already declared its disagreement with the EU initiative.
In addition, there is no doubt that Russia will take advantage of the corruption scandal involving the European Parliament and EU lawmakers accused of taking bribes from Qatar. In an official statement, the Qatari mission to the EU stated:
"The decision to impose such a discriminatory restriction that limits dialogue and cooperation on Qatar before the legal process has ended will negatively affect regional and global security cooperation, as well as discussions around global energy."
It is obvious that Russia will do everything in its power to aggravate the conflict between the EU and Qatar, a key emerging supplier of energy to the EU.
2023 will be a transitional year 
2023 will be a transitional year in the global gas market. Not only will new alliances be formed, but also new interaction rules will be established between gas sellers and buyers.
It is quite possible that Russia will agree to the conditions set by its partners (Türkiye, China, and Asian countries) rather than dictate its own policy.
Gas suppliers from Africa and the United States will probably make a bold entrance into the global market.
US-European gas trading will be another major step towards unifying the West and countering Moscow's energy blackmail, which has been repeatedly used by Russia and may be used by other authoritarian countries rich in natural resources.
"European suppliers achieved a herculean feat in 2022 by building up natural gas storage to near capacity ahead of winter. 'Round Two' in 2023 may be more challenging as Europe will have to deal for the first time with a full year's worth of minimal Russian pipeline gas,  and only a small increase in global LNG supply. European gas will need to balance on reduced demand rather than growth in available supply. Additionally, in a global gas system without any slack, European buyers cannot count on a recurrence of weak Asian LNG and mild temperatures," said Michael Stoppard, Global Gas Strategy Lead and Special Advisor, S&P Global Commodity Insights.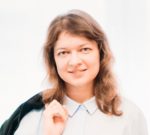 Olena Pavlenko is president of the DiXi group, an energy policy think tank. A Ukrainian version of this article appeared in European Pravda.
Read more: 
Tags: Energy, EU, Russia, Russian gas