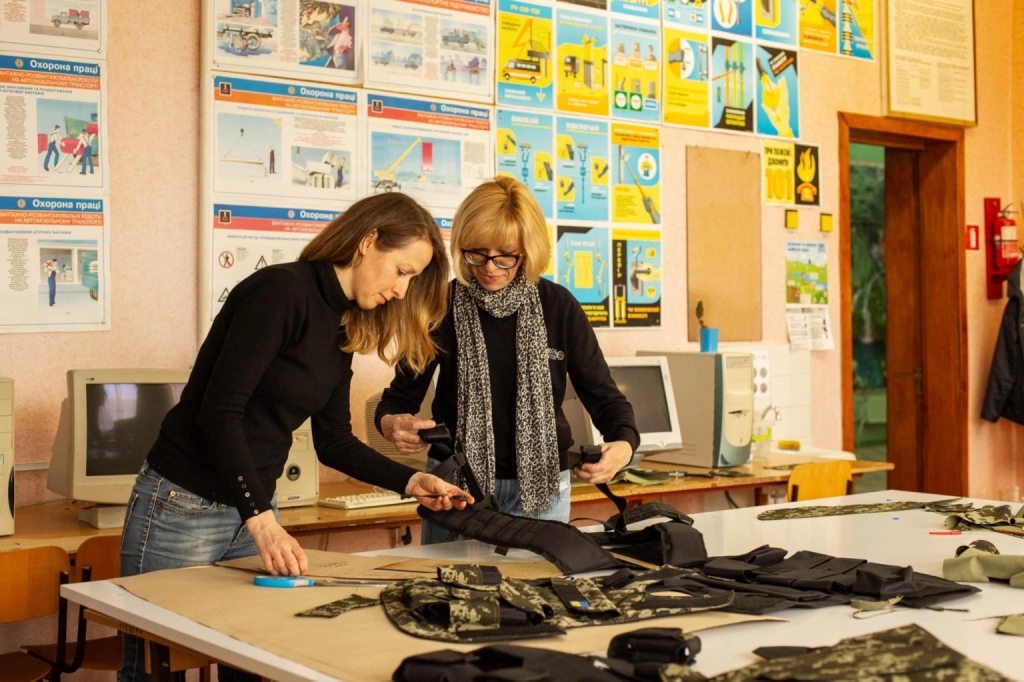 Amrok company currently makes MCUS in classroom in Novovolynsk. Photo by Volyn online 
Editor's Note
Novovolynsk, a small Ukrainian city of 50,000 residents near the Polish border, accepted 10,000 displaced persons and became a massive volunteer hub, making significant contributions to Ukraine's military and civilian resistance. Euromaidan Press interviewed relocated businesses. A military unloading systems factory from the east of Ukraine moved here and now employs Ukrainians from across the country. Entrepreneurs, a family of Kyiv musicians, and a young barista from Odesa opened three new cafes, enriching the social life in Novovolynsk.
Ukraine's nationwide team develops military unloading systems
Vladyslav Budayev, the owner of the Amrok company producing military combat unloading systems and other army accessories, was forced to move from Kharkiv in the east of Ukraine to Novovolynsk at the beginning of the full-scale war.
He next went to the Novovolynsk city council to inquire whether his production could be relocated here. Vladyslav received for free use one of Novovolynsk's educational institution's premises, where tailoring courses were held.
By chance, Nina, an women's clothing designer from Kyiv, and Olena, a children's garment technologist from Russian-bombed Mykolayiv in Ukraine's south, have also moved to Novovolynsk because of the war. They left their jobs behind and sought employment where they could use their design and sewing skills.
"I am actually a women's and children's clothing technologist. But life led me to these strict boundaries," Olena explains when we meet her in the tailoring class where the business is currently operating.
Olena shows us their products: a first aid kit, grenade pouches, dual and single magazine pouches, a dump/empty magazines pouches, and of course a military combat unloading system.
Because the company works directly with Ukrainian soldiers, they constantly receive feedback and improve their products.
"For example, we altered the shape of the belt. It was straight, but now it is more rounded because [the soldiers] could wear the unloading system more comfortably so that it would not move. We have launched new products. After a valuable item was brought from abroad for repair, and we examined its design and made something similar, our version. Sometimes the military come and say: it's comfortable, we want the same thing, but for a machine gun. So we enlarge it, mount it differently, and it works for a machine gun," Olena explains.
According to Olena, their team, which was formed during and because of the war, works partly as volunteers and partly as a business. "Some materials are brought to us by volunteers, and some we buy ourselves," she adds.
There are both displaced persons and locals on the team. Not all team members are professionals.
Halyna from Avdiivka in Donetsk Oblast has been working here since March 2022. The local city council regularly posts vacancies online, which is where she found the ad for this position.
"We want the war to end and to return home. But, unfortunately, there is no place now, because everything [in Donbas] is occupied or bombed. We realize that this will last for some time," she adds.
Halyna describes Novovolynsk as "very similar" to her hometown. Like much of the Donbas, Novovolynsk is a mining city.
"Everything is the same here, except for the fact that the Ukrainian language is spoken everywhere. But for me, Ukrainian is my mother tongue," Halyna adds.
Another employee, Nina, is a Mykolayiv native. She studied to become a seamstress 30 years ago but instead spent years working in a juice factory. "Now this sewing knowledge came in handy," Nina smiles.
Over time, the team's composition has changed because some members returned to their liberated cities in Kyiv and Chernihiv oblasts after hostilities ended there. Every day, four company workers sew eight military unloading systems.
"Nowadays, only the lazy do not produce [such products] in Ukraine. And I have to admit that our [military] cares about their appearance, in terms of the color and design. As one customer put it: it will be elegant for me. Even there [on the frontlines], they strive for elegance," Olena says.
Three new cafés opened by displaced persons enrich Novovolynsk's social life
The Novovolynsk city council received 30 applications from businesses willing to relocate. According to the city mayor, about 20 businesses have already transferred to Novovolynsk. Additionally, persons who moved to Novovolynsk due to the war opened at least three new cafés in the city.
The blue design of Sleep Sugar coffee shop near Novovolynsk park reminds a coastal city. This is not a coincidence, as its owner was making coffee on the Black Sea coast in Odesa, where he worked in a restaurant business.
Vadym, 31, is originally from Novovolynsk but he has been studying and working in Odesa for the past twelve years. After returning to Novovolynsk following Russia's full-scale invasion, he decided it was time to "make coffee ourselves." Together with his Novovolynsk-native friend Vlad, they opened Sleep Sugar Coffee Point.
"We wanted to make an atmospheric place, not one where one buys coffee and immediately forgets about it," Vadym explains. "Here in Novovolynsk, people have fallen in love with our coffee, and many displaced people from Kherson and Mykolayiv also visit us. When we talk to them, they all want to go home. Even though Novovolynsk is a pleasant place to live, people still long to return home."
Another café was relocated from Irpin, a town near Kyiv that was devastated by Russia's 2022 invasion and occupation. A couple, Vitaliy and Valeriya, had run a family business in Irpin for a decade. The war forced the family with a 10-month-old baby to leave their home.
After the first month in Novovolynsk, Vitaliy and Valeriya realized that the town was a good fit for opening a café. They kept the name of their café in Irpin, and the Taddy Coffee signboard was sent directly from there to Novovolynsk. Having found a place near a grass plot, they arranged a summer site with a playground at the entrance. Taddy Coffee contributes 10% of its profits to the Armed Forces of Ukraine.
Another couple, Yuliya and Ihor were working in the music industry in Kyiv; Yuliya arranged concerts for famous Ukrainian musicians, and Ihor made musical arrangements for them. When the family visited Yuliya's hometown of Novovolynsk for Easter they were impressed with how the town had developed in recent years and decided to extend their stay.
Every morning in Kyiv, they had a tradition of enjoying coffee with croissants at one of their favorite cafés. However, in the spring, they could not find one in Novovolynsk. So they decided to create such a place themselves.
"Over the past two years, the city [Novovolynsk] has changed greatly; it has become more beautiful and well-kept, and the locals are friendly. But my husband and I were missing delicious coffee. We are used to 100% Arabica, which couldn't find here. So we decided to simultaneously help the economy and start our own business, where the locals can enjoy delicious coffee. I even studied to become a barista for this," says Yuliya.
Despite the war, it took them only one month to find a location and open Mika café. They even agreed on the delivery of their favorite croissants all the way from Kyiv to Novovolynsk.
Mika is now not only a favorite coffee spot among locals but also a venue for concerts featuring famous Ukrainian artists, with whom the couple work. Just outside the café, charity concerts are frequently held to raise funds for the needs of Ukraine's Armed Forces.
"For us, this is not a business, but something we love; we truly enjoy what we do," Yuliya explains.
Local cafés support both the military, too. For example, a customer in Felicita Novovolynsk can choose a meal from a separate menu, from where 100% of the proceeds are donated to Ukraine's Armed Forces. In particular, the restaurant raised funds for a vehicle for the military. Besides, the café's waiters decided to donate 50% of all tips to the army.
Related:
Tags: Business, dispatch, IDPs, Russia-Ukraine war, Ukrainian businesses