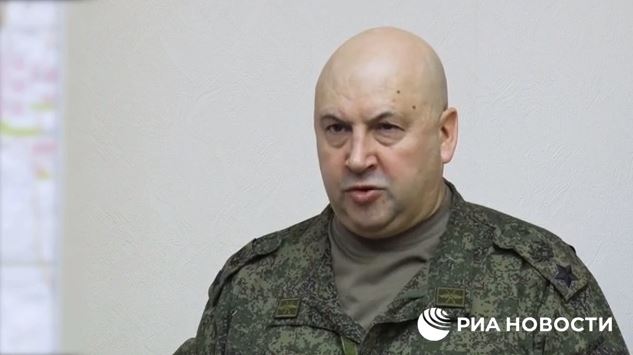 Sergey Surovikin while announcing the Russian troop withdrawal from west-bank Kherson Oblast in November 2022. Screenshot from video by RIA Novosti 
On 11 January, the Russian Defense Ministry (MoD)
removed
Russia's overall commander of the Ukraine invasion force, Army-Gen. Sergei Surovikin, replacing him with Chief of Russia's General Staff Valery Gerasimov. Surovikin has been demoted to Gerasimov's deputy.
Dubbed "General Armageddon" by Russian media for his brutal bombardments in Syria, the Russian Air Force's General of the Army Surovikin was in charge of the Ukraine invasion force for only three months. Shortly after his appointment as Ukraine theater commander last October, Russia started its strategic bombing campaign to destroy Ukraine's energy infrastructure. Multiple massive attacks with missiles and Iranian-made one-way attack drones left millions of Ukrainians without electricity, heating, and running water for hours and days during the winter time.
According to BBC, Russia's defense ministry said the decision to replace Surovikin was aimed at organizing "closer contact between different branches of the armed forces and improving the quality and effectiveness of the management of Russian forces."
"Gerasimov's appointment as theater commander likely advances two Kremlin efforts: an attempt to improve Russian command and control for a decisive military effort in 2023, and a political move to strengthen the Russian MoD against challenges from the Russian millbloggers and siloviki, such as Wagner Group financier Yevgeny Prigozhin, who have criticized the Kremlin's conduct of the war," the US-based thinktank Institute for the Study of War (ISW) says.
ISW's other key points on the Gerasimov-Surovikin reshuffle are as follows:
"Gerasimov's appointment is likely intended to support an intended decisive Russian military effort in 2023, likely resumed Russian offensive operations." 
"The elevation of Gerasimov and the Russian MoD over Surovikin, a favorite of Prigozhin and the siloviki faction, is additionally highly likely to have been in part a political decision to reassert the primacy of the Russian MoD in an internal Russian power struggle."
"Gerasimov is unlikely to rapidly revitalize and reform Russia's conduct of the war in Ukraine to achieve Putin's maximalist objectives. Gerasimov will likely preside over a disorganized command structure plagued by endemic, persistent, and self-reinforcing failures that he largely set into motion in his initial role before the invasion of Ukraine."
Tags: Gerasimov, Russian invasion, Surovikin