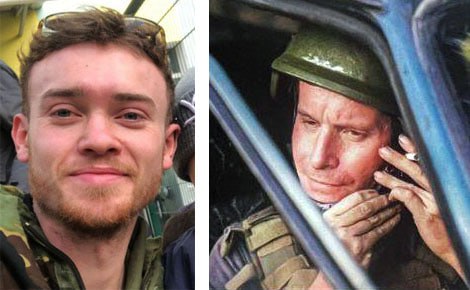 Two British men, Andrew Bagshaw and Christopher Perry, went missing in Donetsk Oblast, eastern Ukraine. Photo by UNIAN/ Telegram 
Two British men Andrew Bagshaw and Christopher Parry, who are volunteers helping with civilian evacuation in Ukraine, are reported missing by Ukraine's National Police.
48-year-old Andrew Bagshaw and 28-year-old  Christopher Perry were last seen leaving Kramatorsk for Soledar in Donetsk Oblast (eastern Ukraine) at 8 am last Friday. Since then contact with the men was lost. The police department in the city of Bakhmut (Donetsk Oblast, eastern Ukraine) received a missing person's report at 17:15 local time on Saturday. Ukraine's police officers in Donetsk Oblast are carrying out investigative and operational measures to establish their location.
Andrew Bagshaw's parents said he was delivering food and medicines and assisting elderly people to move from near the battlefront of the war, according to BBC. Christopher Parry traveled to Ukraine to do humanitarian work and had most recently been helping people evacuate Bakhmut, Donetsk Oblast, eastern Ukraine.
Heavy fighting between Ukrainian forces and Russian invaders currently is underway in Soledar, where both men planned to drive last Friday.
Related:
Tags: Bakhmut, evacuation, international volunteers, Russian invasion of Ukraine, Volunteers