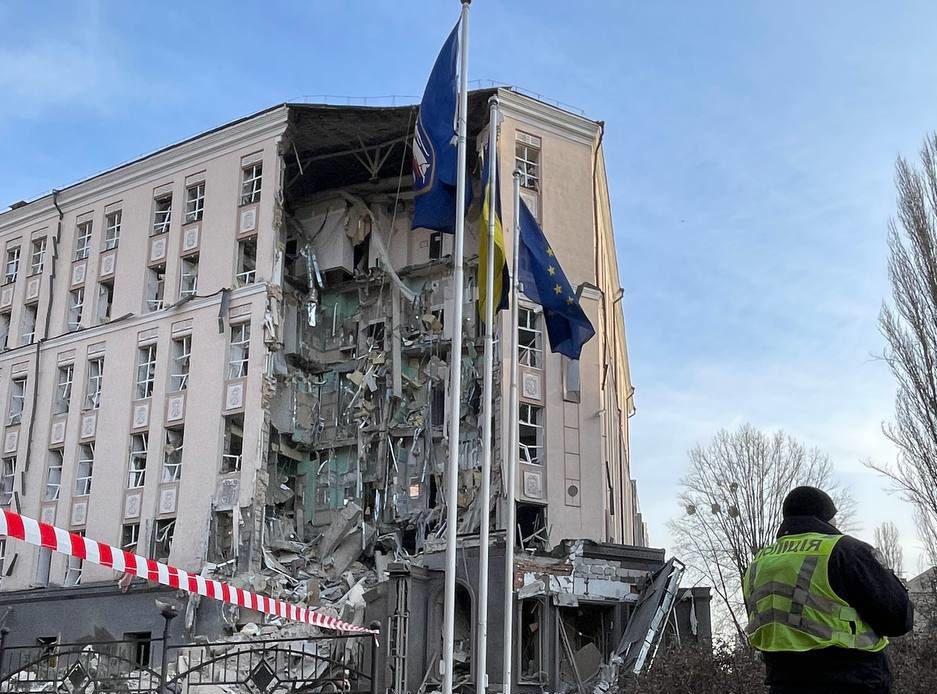 A hotel in the Pechersk district of Kyiv destroyed by a Russian missile on New Year's Eve. Photo: Zelenskyy staffer Kyrylo Tymoshenko / Telegram 
On 31 December, Russia launched another massive missile strike at Ukraine, two days after the last one which targeted power infrastructure.
This article is being updated
Explosions were heard in capital Kyiv, where missile shrapnel fell on private houses and a stadium, and missiles struck two hotels.
One of the hotels stands across from the Palace Ukraina, where windows were knocked out by the explosion.
Kyiv, Palace Ukraina: "Usually, on these days, parents are there with their children on New Year's Eve. Miraculously there were no children today" – President's Administration pic.twitter.com/PhF6axuyve

— Euromaidan Press (@EuromaidanPress) December 31, 2022
According to Kyiv mayor Vitaliy Klitschko, one person was killed and at least 11 more injured, including a Japanese journalist.
https://twitter.com/EuromaidanPress/status/1609181317710626816
As well, Russian missiles struck the west-Ukrainian city of Kmelnytskyi, where seven people were wounded, residential houses and commercial objects were damaged.
The southern city of Mykolaiv was hit as well and a fire erupted as a result, with six people injured. Residential buildings were hit in the city of Zaporizhzhia, where four people were wounded, including a pregnant woman and 14-year-old girl.
The Kyiv, Odesa, and Dnipropetrovsk oblasts, as well as Kyiv, saw preventive emergency blackouts.
Firefighting in Mykolaiv after the Russian missile attack

📷State Emergency Service pic.twitter.com/qeOxfg014z

— Euromaidan Press (@EuromaidanPress) December 31, 2022
According to Ukraine's General Staff, Russia launched 164 strikes on the Ukrainian energy system since the beginning of the full-scale invasion. The last one of these took place on 29 December.
Ukraine's Prime Minister Denys Shmyhal said that Russia prepared it over two weeks in order to leave Ukrainians without power on the New Year. However, it failed thanks to the efficiency of Ukrainian air defense, which shot down 54 out of 69 Russian missiles, he added.
Tags: Russian missile strikes