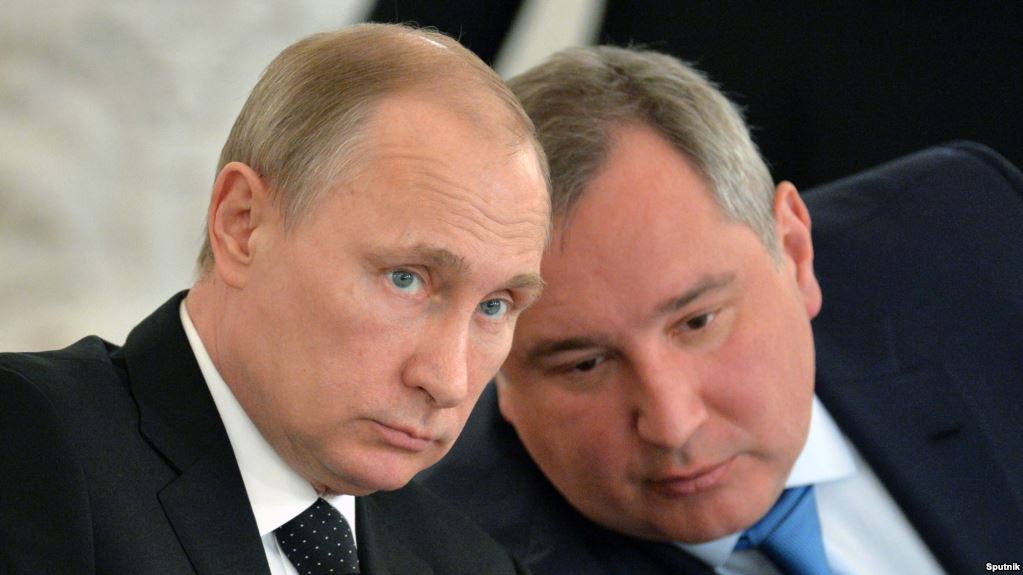 Vladimir Putin (L) with Dmitry Rogozin (R). File photo: Sputnik 
Russia's Former Deputy Prime Minister and ex-head of Roskosmos Dmitry Rogozin was wounded in a shelling attack on a hotel in the Russian-occupied Ukrainian city of Donetsk, his aide said accusing Ukraine of the attack, according to the Russian news agency Interfax.
"On the outskirts of Donetsk, a hotel was shelled, where a group of [Russian] military advisers, including Dmitry Rogozin, had been living in recent months. The strikes were carried out with precision-guided munitions, presumably by a 155-mm Caesar self-propelled artillery mount," the unnamed aide said, Interfax reports. "Dmitry Rogozin was wounded in the back, he was hospitalized. There is no threat to his life. The persons accompanying him also received injuries of varying degrees."
A Russian-run Donetsk-related Telegram channel noted that Rogozin was celebrating his birthday at the Shesh-Besh restaurant that came under fire, and added that the so-called "DNR government head" Vitaly Khotsenko was also injured in the incident "on the left side of his back. He refused hospitalization after receiving first aid."
Meanwhile, the Russian Telegram channel Baza claims that Rogozin "received a shrapnel wound to the soft tissues of his head, a penetrating shrapnel wound to his buttocks, and a penetrating shrapnel wound to the left thigh. According to updated data, in total, 2 people were killed during the shelling of the restaurant, and 5 more were injured."
Aftermath of an alleged shelling attack on the Shesh-Besh restaurant in occupied Donetsk where ex Russian PM Rogozin was injured during celebrations about 18:45 EET on Dec 21

📹Videos RIA Novosti, https://t.co/vyC5TEfzSk pic.twitter.com/40oivTtLYq

— Euromaidan Press (@EuromaidanPress) December 22, 2022
Dmitry Rogozin was Russia's vice prime minister (2011-2018), then the head of the Russian state space corporation Roscosmos (2018-2022) until the summer of 2022. In November 2022 he claimed that he was running a "military adviser group" providing "military-technical support" to Russia's locally formed colonial troops in occupied Luhansk and Donetsk.
Update:
Ukraine's State Border Service hinted that it might be behind the intelligence data about Rogozin's whereabouts:
"The other day, the State Border Service established that a citizen of the Russian Federation, D[mitry] Rogozin, illegally crossed the Ukrainian border, and found his whereabouts in the territory temporarily occupied by Russia in Donetsk Oblast. The border guards were unable to hand over the protocol to the violator personally, so caring comrades 'gave' it to this person during his birthday celebration."
Read also:
Tags: DNR ("Donetsk People's Republic"), Donetsk, Rogozin, Roscosmos