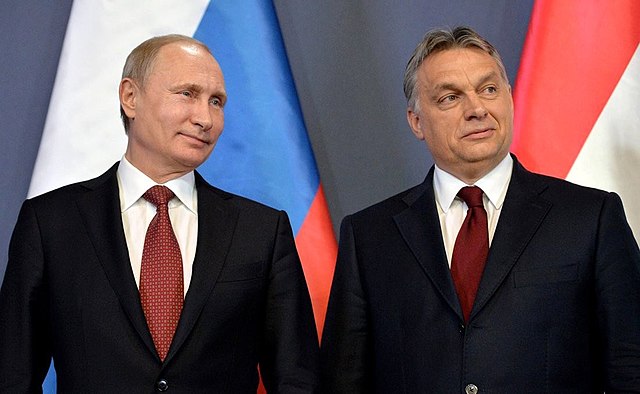 Russian President Vladimir Putin (L), Hungarian PM Viktor Orbán. File photo.  
Senior EU officials have vowed to ensure Ukraine gets €18 billion in financial aid after Hungary vetoed the release of the funds, The Guardian reports.
European Commission vice-president, Valdis Dombrovskis, told reporters that the EU must keep its promises to Ukraine:
"Ukraine is a country at war. It desperately needs our support and we just cannot allow one member state to derail or delay this financial support."
Green MEP Daniel Freund accused Viktor Orbán's government of Hungaria of "holding hostage" funds for Ukrainian hospitals, and Centre-right Romanian MEP Siegfried Mureşan called Hungary's veto "cynical obstructionism" after Hungary confirmed on 6 December that it would block €18bn aid for Ukraine.
Czech finance minister, Zbyněk Stanjura, who chaired the meeting, said Budapest's decision on €18bn for Ukraine would be considered alongside EU member state approval of Hungary's coronavirus recovery plan.
Read also:
Hungary to ratify NATO membership for Finland and Sweden, Hungarian PM Orban says – CNN
Hungary will not support EU EUR 18 bn aid plan to Ukraine, Orban says
Ukrainians consider Poland, Lithuania, UK & US the most friendly nations; Hungary and China joined the list of hostile — poll
Tags: aid for Ukraine, EU, Hungary