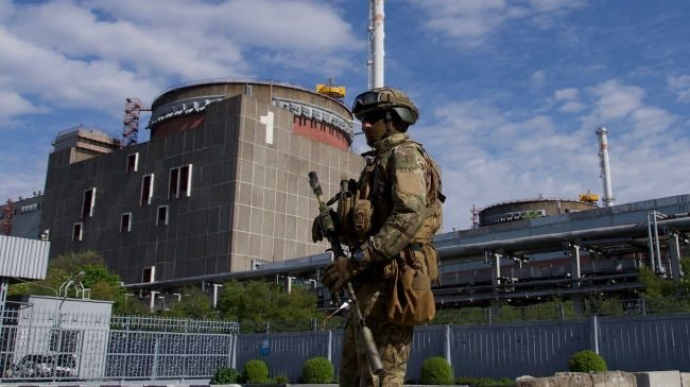 Russian soldier stands near the Zaporizhzhia NPP. Illustrative photo: Energoatom 
Petro Kotin, head of Ukraine's state-run nuclear energy firm Energoatom, said on 27 November that there were signs that Russian forces might be preparing to leave the vast Zaporizhzhia nuclear power plant which they seized in March soon after their invasion, Reuters reported.
"In recent weeks we are effectively receiving information that signs have appeared that they are possibly preparing to leave the [nuclear plant]," Kotin said on national television adding that "Firstly, there are a very large number of reports in Russian media that it would be worth vacating the (plant) and maybe worth handing control (of it) to the (International Atomic Energy Agency – IAEA)," he said, referring to the United Nations nuclear watchdog. "One gets the impression they're packing their bags and stealing everything they can."
Such a move would be a major battlefield change in the partially-occupied southeastern Zaporizhzhia region where the front line has hardly shifted for months. Repeated shelling around the plant has spurred fears of a nuclear catastrophe.
Read also:
Conflation of nuclear accidents at Zaporizhzhia NPP likely part of Russia's op to undermine Western support for Ukraine – ISW
Enerhoatom should urgently conduct analysis of safety Zaporizhzhia NPP operation in case of Kakhovska HPP explosion
Zaporizhzhia NPP was disconnected from the electricity grid due to Russian shelling, diesel generators are working for NPPs own needs
Russia kidnapped deputy head of Zaporizhzhia Nuclear Power Plant – Energoatom
Tags: Zaporizhzhia NPP