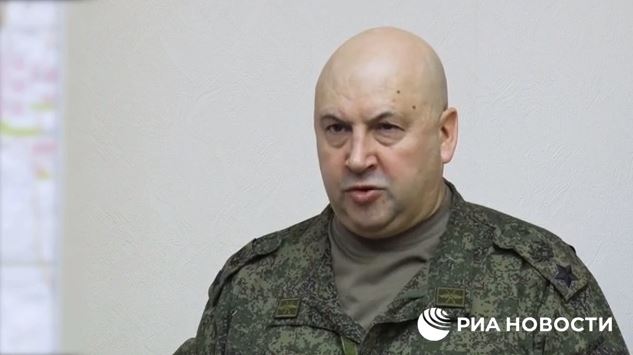 Sergey Surovikin while announcing the Russian troop withdrawal from west-bank Kherson Oblast in November 2022. Screenshot from video by RIA Novosti 
Sergey Surovikin, the new commander of the Russian occupying forces in Ukraine, announced that Russia is transferring Russian troops to the east bank of the Dnipro (Dnieper) river in the Kherson Oblast, the Kremlin-controlled RIA Novosti reported.
This means that Russia is withdrawing from Kherson, the only regional capital that it managed to occupy since its full-blown invasion of Ukraine on 24 February 2022.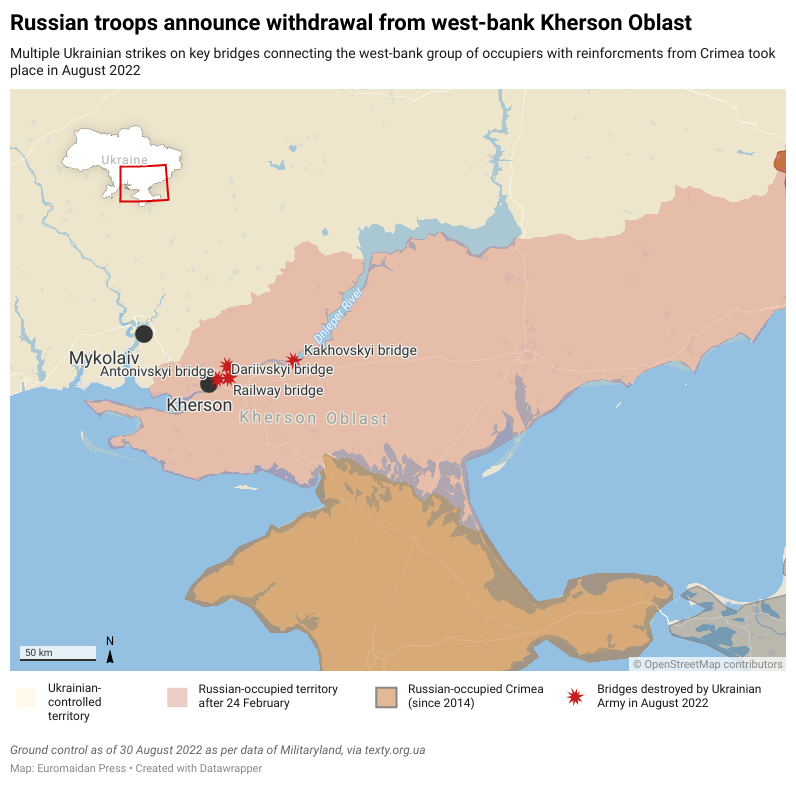 "It is expedient to organize defense along the barrier line of the Dnipro River, along its left bank. The decision to on defending the left bank of the Dnipro did not come easily, but at the same time we will preserve the lives of our soldiers and the combat capability of the troop group," Surovikin said. "The maneuver of the troops will be carried out in the near future, the units will occupy prepared defensive lines on the left bank of the Dnipro."
Russian Defense Minister Sergey Shoigu agreed to the troop withdrawal, according to RIA Novosti.
However, the Ukrainian city authorities of Kherson are cautious about these statements of the Russian military command, the local Kherson media Most reported.
"They will not give up Kherson without a fight. This is a trap to mislead [the Ukrainian] military. Not everything is as smooth as the enemies attempt to show it," head of the Kherson city military administration Halyna Luhova said in a comment to the media center IRS-Pivden.
The official agrees that the Russians have big problems with supplying their troops on the west bank of the Dnipro.
"Probably, they could leave their equipment, because they are in dire straits with the fuel situation," said Luhova.
Earlier in the day, Russia blew up multiple bridges in the occupied western-bank Kherson Oblast.
We reported earlier about satellite images revealing Russia's creation of a tiered defense in the eastern-bank Kherson Oblast, which suggested an impending withdrawal.
The announcement on the troop withdrawal comes after months of Ukraine's attacks on key bridges connecting the west and east banks of the Dnipro in Kherson Oblast, which cut off the western-bank group of Russian troops in Kherson Oblast from their reinforcements in Crimea. The Russians were then spotted trying to get their equipment to the east bank via ferries on satellite images.
Russia is creating a tiered defense in Kherson Oblast and fortifying Mariupol
Russian troops blow up multiple bridges in occupied western-bank Kherson Oblast – media (updated)
Russian military evacuates equipment out of Kherson Oblast, satellite images show
Tags: Kherson Oblast