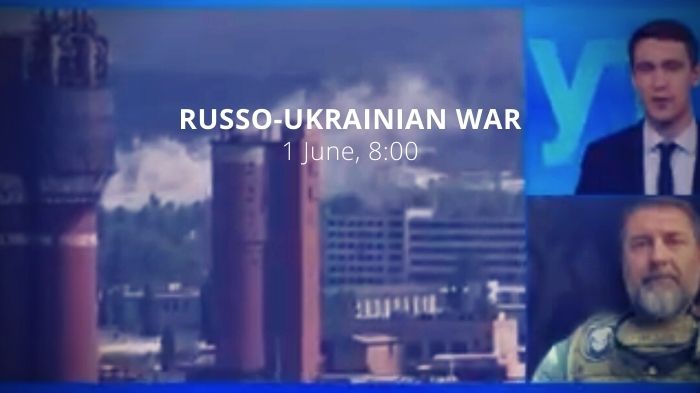 Morning report day 98 – June 01. Situation
Information from the General Staff as of 06.00 01.06.2022, supplemented by its [18:00 assessment], is below.
Enemy controls most of Sievierodonetsk, but the city is not encircled, Ukrinform reports. "Most of Sievierodonetsk is controlled by the Russians. The city is not surrounded, and there are no prerequisites for this. Critical infrastructure in the city is almost 100% destroyed, the housing stock is 90% damaged, and 60% of buildings are seriously damaged, that is they cannot be restored, Serhii Haidai, head of the Luhansk Regional Military Administration, said this on Telegram. Due to the shelling, it is impossible to bring humanitarian goods to Sievierodonetsk, as well as to evacuate people."
Russian strike hits nitric acid tank at chemical plant in Sievierodonetsk

Nitric acid is dangerous if inhaled, swallowed, & in contact with skin. Residents are urged to stay in shelters & prepare protective face masks – RegAdm Head Serhiy Haidai https://t.co/J2YZhXabg2 pic.twitter.com/O9kXI8UYWw

— Euromaidan Press (@EuromaidanPress) May 31, 2022
US Department of State: Russia's objectives of controlling occupied territories of Ukraine fail, Ukrinform reports.
"Russia's initial objectives of controlling large swaths of Ukraine has been nothing short of a complete failure. The Kremlin probably views that forcibly holding Kherson would provide Russia with a land bridge to Crimea, as well as gaining some kind of so-called victory and attempt to justify Russia — to Russia's domestic audiences — [of] the thousands of lives Putin's war of choice has destroyed, US State Department spokesperson Ned Price said Tuesday, CNN reports. He stressed that the Kremlin's proxies could not gain any legitimacy in the occupied territories.

 

Russia is almost certainly failing to gain legitimacy for proxy governments in newly seized territories in Ukraine, as protests persist, and residents refuse to cooperate, Price added. Price noted that the United States remains "concerned about steps Russia is taking to attempt to institutionalize control over sovereign Ukrainian territory, particularly in Ukraine's Kherson region. The Kremlin is probably weighing a few approaches, from recognizing a so-called People's Republic, as Russia forcibly did in Donetsk and Luhansk, to an attempted annexation, just as Russia did in Crimea, the US State Department spokesperson summed up."
As of Wednesday 1 June, the approximate losses of weapons and military equipment of the Russian Armed Forces from the beginning of the war to the present day: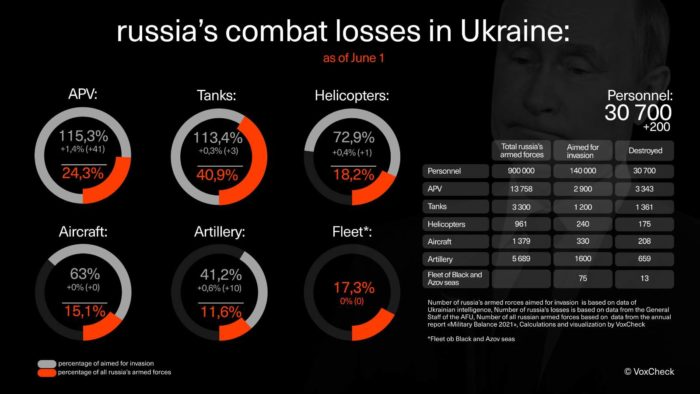 Personnel – more than 30700 (+200),
Tanks – 1361 (+3),
Armoured combat vehicles – 3343 (+41),
Artillery systems – 659 (+10),
Multiple rocket launchers –MLRS – 207 (+0),
Air defence means – 94 (+1),
Aircraft – 208 (+0),
Helicopters – 175 (+1),
Automotive technology and fuel tanks – 2290 (+15),
Vessels/boats – 13 (+0),
UAV operational and tactical level – 519 (+4),
Special equipment – 49 (+1),
Mobile SRBM system – 4 (+0),
Cruise missiles – 120 (+0)
Russian enemy suffered the greatest losses (of the past day) at the Kryvyi Rih and Bakhmut directions.
Humanitarian
The Verkhovna Rada fired Ombudsperson Denisova, Ukrayiska Pravda reports. The Verkhovna Rada fired Liudmyla Denisova, the Parliamentary Commissioner for Human Rights. There was no new appointment at the Parliament's meeting on 31 May.
Ukraine working on an UN-led operation to export food, Ukrinform reports.
"Russia plays hunger games with the world by blocking Ukrainian food exports with one hand and trying to shift the blame on Ukraine with the other. Ukraine is working on an international UN-led operation with navies of partners ensuring a safe trade route with no security risks, Minister of Foreign Affairs of Ukraine Dmytro Kuleba posted on Twitter.

 

Due to the blockade of Ukrainian seaports, 7 million tonnes of wheat, 14 million tonnes of corn grain, 3 million tonnes of sunflower oil, and 3 million tonnes of sunflower meal are unable to reach the global market. This has already led to a record rise in global market prices and will inevitably result in a global food crisis and rising inflation."
With a food crisis looming, Milley says using the military to end the Russian blockade would be 'high risk', Defence News reports.
Hans Petter Midttun: The General should listen to the Admiral. His statement that "You can take the grain out by truck or train, or you can take it out by the sea" is highly inaccurate. Transport over land will only allow for the export of a fraction of what is stored. Additionally, it does not reflect the time issue and storage challenge as this year's harvest is about to arrive before last year's harvest has been moved.
According to UNHCR 6,801,987 refugees have been registered as of May 29 (no update). The UN says that so far Poland has taken in 3,627,178 refugees, Romania 989,357, Russian Federation 971,417, Hungary 682,594, Republic of Moldova 479,513, Slovakia 461,164 and Belarus 30,092. Among those who fled Ukraine are also Ukrainian nationals with dual citizenship. An additional 105,000 people moved to the Russian Federation from the Donetsk and Luhansk regions between 18 and 23 February.
The number of Ukrainians entering Ukraine since February 28 is 2,229,500 as of May 27. This figure reflects cross-border movements, which can be pendular, and does not necessarily indicate sustainable returns.
OHCHR recorded 9,029 civilian casualties in Ukraine as of May 30. 4,113 were killed (including 264 children) and 4,916 injured (including 421 children).
Environmental
U.N. had 'constructive' talks in Moscow on Russian grain, and fertilizer exports, Reuters reports. "A senior U.N. official had "constructive discussions" in Moscow with Russian First Deputy Prime Minister Andrei Belousov on facilitating Russian grain and fertilizer exports to global markets, U.N. spokesman Stephane Dujarric said on Tuesday.
The U.N. official, Rebecca Grynspan, is now in Washington for talks on the same issue "with the key aim of addressing growing global food insecurity," Dujarric said.
US Ambassador to the United Nations Linda Thomas-Greenfield said the United States is prepared to give "comfort letters" to shipping and insurance companies to help facilitate exports of Russian grain and fertilizer.
She noted that Russian grain and fertilizer were not directly sanctioned by the United States but that "companies are a little nervous and we're prepared to give them comfort letters if that will help to encourage them."
U.N. Secretary-General Antonio Guterres, who visited Moscow and Kyiv last month, is trying to broker what he calls a "package deal" to resume both Ukrainian food exports and Russian food and fertilizer exports.
Russia's war in Ukraine has fueled a global food crisis with prices for grains, cooking oils, fuel and fertilizer soaring. Russia and Ukraine account for nearly a third of global wheat supplies, while Russia is also a key fertilizer exporter and Ukraine is a major exporter of corn and sunflower oil."
Legal
Between 200 and 300 war crimes are committed in Ukraine every day – Venediktova, Ukrainska Pravda reports. "Every day, between 200 and 300 war crimes are committed in Ukraine… It is a brutal war. We do not have access to the occupied territories, but I hope that thanks to our international colleagues, we will be able to achieve justice, Venediktova, Office of the Prosecutor General, said according to Ukrinform.
"A joint press conference with the Prosecutor of the International Criminal Court, Karim Khan, and the Prosecutor General of Ukraine, Iryna Venediktova, took place on 31 May in The Hague. The Prosecutor General emphasised that military hostilities are constantly taking place in Ukraine. The Office of the Prosecutor General reported that Estonia, Latvia and Slovakia have joined the Joint Investigation Group to investigate serious international crimes in Ukraine."
Invaders deport children from Mariupol and Volnovakha to Rostov Oblast, Russia: they want to turn them into Russian citizens, Ukrainska Pravda reports. Russian invaders have taken 267 orphans from Mariupol and Volnovakha to Rostov Oblast, Russia.
"The children are being kept at the Romashka sports and recreation complex, which is located in the village of Zolotaya Kosa in the Neklinovsky district [near Taganrog], reported Petro Andriushchenko, adviser to the mayor of Mariupol. According to Andriushchenko, the Russians have deported a total of 540 orphaned children from Donetsk Oblast. The transported children are being prepared to become citizens of the Russian Federation under a simplified procedure which was recently signed into law by Russian dictator Vladimir Putin."
Two Russians were sentenced to 11.5 years for shelling the Kharkiv Oblast, Ukrainska Pravda reports. "A court in Poltava Oblast has sentenced two Russian servicemen, Aleksandr Bobykin and Aleksandr Ivanov, to 11 years and six months in prison for shelling civilian areas of the Kharkiv region."
Russian Soldiers Send Home 58 Tons of Looted Items from Ukraine, The Moscow Times reports. Russian soldiers fighting in Ukraine have sent home at least 58 metric tons of looted goods since the start of the invasion in late February, according to an investigation published by independent news site Mediazona.
"The outlet analyzed packages sent from 46 branches of delivery firm SDEK located close to the Ukrainian border in Russia and Belarus, as well as in the annexed Crimea. Parcels allegedly sent by Russian soldiers were often identified by their weight, with each package usually exceeding the size of an average parcel several times over. Mediazona found that the largest number of parcels were sent between late March and early April — right after the Russian troops left their positions in northern Ukraine and near the capital Kyiv. On 4 April alone, soldiers sent 4 tons of parcels believed to be full of looted goods."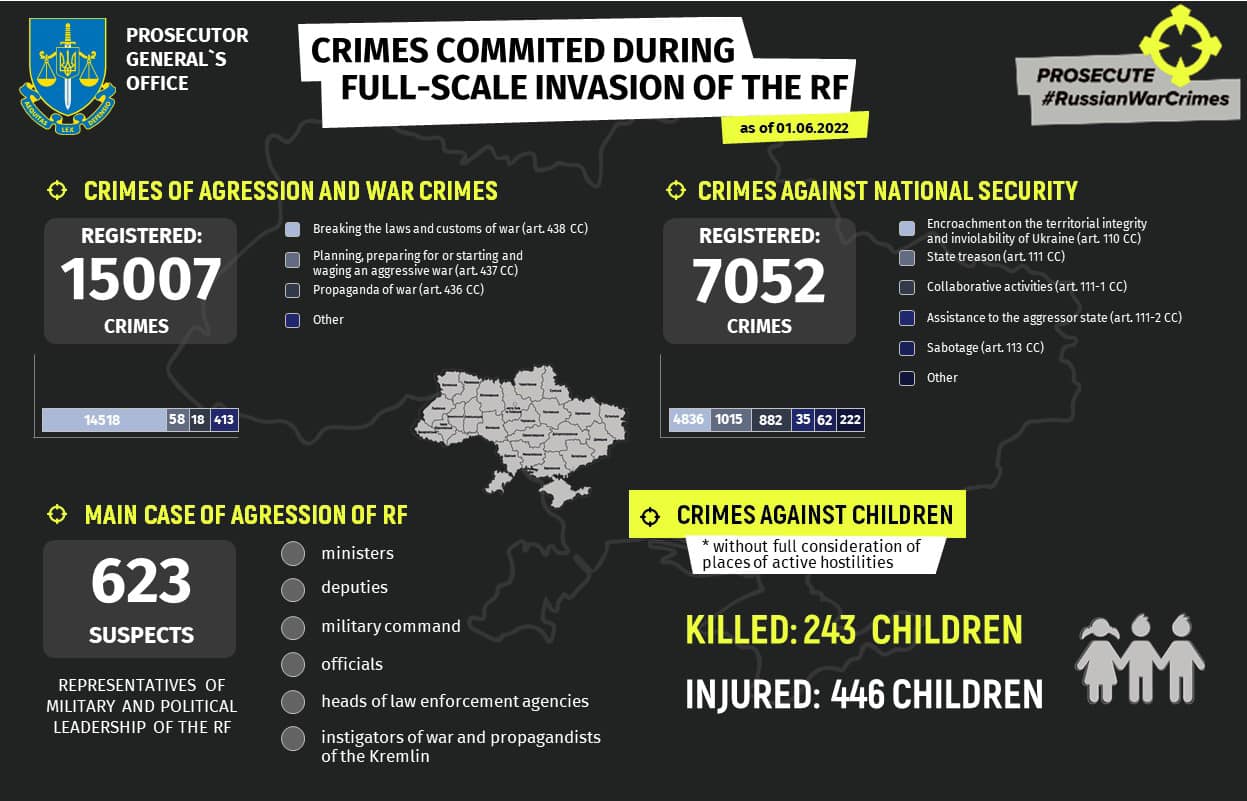 243 children were killed, and 446 children injured, the Office of the Prosecutor General of Ukraine reports as of June 1. 1,937 educational establishments are damaged as a result of shelling and bombings, 181 of them are destroyed fully. 15,007 crimes of aggression and war crimes and 7,052 crimes against national security were registered.
Support
President Biden: What America Will and Will Not Do in Ukraine, as published by The New York Times.
Biden said what America will do in Ukraine. Here is what he forgot to say.
Biden admin will provide Ukraine with longer-range rocket systems, NBC News reports. A senior official said Tuesday that Ukraine had agreed not to use the new longer-range rocket systems, called MLRS, to fire rockets into Russia. President Joe Biden said Tuesday that he would "provide the Ukrainians with more advanced rocket systems and munitions that will enable them to more precisely strike key targets on the battlefield in Ukraine."
The White House National Security Council said Tuesday that the "more advanced rocket systems" were longer-range Multiple Launch Rocket Systems, or MLRS. They are capable of reaching Russia, said officials, but are not intended to fire rockets into Russia or be used outside of Ukraine. A senior administration official said Ukraine has agreed not to use them to launch rockets into Russia. The senior official said the package would be for $700 million and would also include more systems and weapons that the US has already provided Ukraine, including more Javelin missiles.
Berlin to supply arms to Greece, Athens to deliver Soviet weapons to Kyiv -Scholz, Reuters reports. "Germany will deliver infantry fighting vehicles (IFV) to Greece so that the government in Athens can pass on Soviet-style weapons to Ukraine, German Chancellor Olaf Scholz said on Tuesday. Scholz gave no details as to what kind of infantry fighting vehicles Berlin will hand over to Greece – or what kind of weapons Athens will pass on to Kyiv.
According to a defence source, Berlin aims to deliver some 100 old Marder IFVs owned by arms-maker Rheinmetall (RHMG.DE) to Greece. Athens, in return, would supply Soviet-style BMP IFVs to Ukraine, the source told Reuters."
How the War Changed the Way Ukrainians Think About Friends, Enemies, and the Country's Strategic Goals – an opinion poll by Ilko Kucheriv Democratic Initiatives Foundation (DIF). Compared to the first half of February 2022, support for Ukraine's accession to the European Union increased by 16% among the population of the sampled western and central regions of Ukraine. Since the beginning of the war, support for NATO membership as the best option to ensure Ukraine's security increased to 74% (+ 5% compared to February 2022) in the western and central regions of Ukraine.
The war has changed public opinion about the strongest allies of Ukraine. According to February 2021 poll, Ukraine's top 3 allies included the United States (38%), Poland (35%) and Germany (28%). In May, of Ukrainians called Great Britain (66%), Poland (65%), and the United States (63%) as the strongest allies. in 2022. Favourable opinions of Germany as an ally (-14%), Georgia (-13%) and Belarus (-10%) decreased significantly.
The Russian leadership of Russia is held responsible for starting the war by 96% of the respondents. The majority (54%), however, see the Russian people as also responsible for the war. As of May, 78% were against any concessions to Russia.
In May 2022, 94% of citizens from the western and central regions believed in Ukraine's victory. Among the respondents who are confident of Ukraine's victory (78%), 41% define victory as the expulsion of Russian troops from all of Ukraine and a full restoration of control over the state borders. The same number of respondents (41%) believe that victory is the total defeat of the Russian army and assistance to an insurgency inside Russia/disintegration of Russia.
New developments
President Biden: What America Will and Will Not Do in Ukraine. The president has made his aim and objectives for his support for Ukraine public in an article published in The New York Times. Its content is outlined above.
Ukraine doesn't care about Russia's plans for the country's east – Zelensky, Ukrinform reports. "Ukraine does not care about Russia's plans to capture the east of the Ukrainian state, timed with certain dates. All occupied territories will be liberated with the emphasis on preserving the lives of as many Ukrainian defenders as possible. At the same time, the head of state acknowledged that the situation in the east today is the most difficult due to the fact that the largest number of Russian equipment and military formations have been amassed there. In the east, we have a hard time because we lack (the sufficient number of) weapons," Zelensky emphasized".
Ukrainian PM and Slovak president discusses military assistance and EU integration, Ukrinform reports. Ukrainian Prime Minister Denys Shmyhal and Slovak President Zuzana Caputova at a meeting in Kyiv yesterday discussed support for Ukraine and the country's European integration.
Assessment
1. On the War
The Institute for the Study of War has made the following assessment as of Tuesday 31 May:
Only the fight will show whether we can repel a new attack from Belarus – Secretary of the National Security and Defence Council, Ukrainska Pravda reports. "We understand what is happening on the territory of Belarus; we are following the statements made by Lukashenko; we are aware of the threat that may exist from that side. Unfortunately, in addition to this decision (creation of a new southern operational command – ed.), Russian Iskanders [Iskander mobile short-range ballistic missile systems] are already stationed there, and the level of threat from that side is clear to us," the Secretary of the National Security and Defence Council Oleksii Danilov in an interview with Ukrinform.
Russia's army could collapse amid huge losses of more than 30,000 troops in Ukraine, according to a confidential UK report that emerged on Monday, Daily Mail reports.
Tags: Biden, Russian invasion, USA