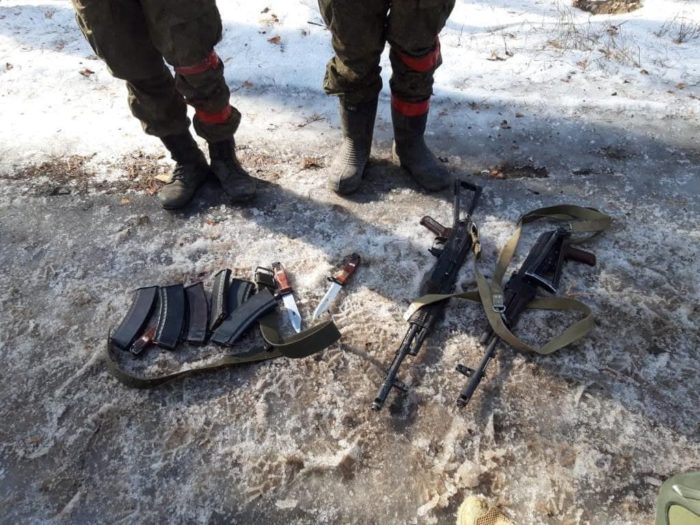 Russian POWs in Ukraine lay down their arms. Photo: Conflict Intelligence Team 
Ukraine is opening a hotline for families of Russian soldiers who were likely captured as POWs as a result of Russia's invasion of Ukraine. As well, it has launched a website with documents and video testimonies of the killed & captured Russian invaders. Ukraine claims it contacted Russia to set up a mission to transfer the corpses, but received no response. Russia continues to deny losses in its war against Ukraine.
Anton Herashchenko, advisor to the Minister of Internal Affairs of Ukraine, announced that the Ministry of Defense of Ukraine recently launched a hotline for families, relatives, and friends of Russian soldiers who have been captured by the Ukrainian military since the beginning of Russia's full-scale war against Ukraine, 24 February 2022.
The hotline will be called 'Come back alive from Ukraine!'
Herashchenko pointed out that the hotline will inform Russian families whether their son, brother, father are still alive, taken prisoner, or if they have been injured.
The families will then be able to decide when and how to pick up/transfer the body to their home in the Russian Federation.
If their son, husband, father… has been captured and is now a prisoner-of-war, the families can leave them a short message.
Website to search for KIA & POW Russian soldiers
As well, the Ministry of Internal Affairs of Ukraine has launched the website 200rf.com where it publishes photos and documents of the dead and captured occupiers so that their relatives can find them, Vadym Denysenko, advisor to Ukraine's Minister of Internal Affairs informed.
Denysenko's direct speech:
"Citizens of Russia, you know that Russia has started a war against Ukraine, and 150,000 Russian servicemen have crossed the borders of our state. Many of them, several thousand, are no longer alive, many are captured. […]

The Ministry of Internal Affairs has launched the website 200rf.com – on this site we post photos and videos of the dead so that you can identify them."
Denisenko added that Ukraine treats prisoners very humanely – no one insults them, they are given medical care.
He also said that the Russian authorities had confiscated their phones before sending the soldiers to the war, so the prisoners could not contact their relatives.
Denysenko also said that Ukraine's Interior Ministry can provide a paid service for Russian citizens for DNA identification of the bodies.
He stated that the site is being launched because Russia was ignoring Ukraine's requests for a mission to transfer the corpses to Russia.
"Ukraine has appealed to the Red Cross to carry out a humanitarian mission to hand over the bodies of your victims. Unfortunately, Russia is not responding, so we are forced to contact you. See this website, see photos. Write to us, so you can pick up the bodies," Denysenko added.
Editor's Note
How it all started
Early morning on February 24, 2022, Kyiv time, Russian President Vladimir Putin declared war and launched a major offensive against Ukraine. He stated that the war was aimed at "the demilitarization and de-nazification of Ukraine".
At 5:00 a.m. (Kyiv time), Russian armed forces attacked Ukraine from the north (including from Belarus), south, and east. They began shelling Ukrainian positions in the Donbas, launched missile and bomb attacks on airfields and other military facilities. They used heavy weapons and ammunition, including Grad multiple rocket launchers.
Ukrainian Foreign Minister Dmytro Kuleba declared that Putin had launched a full-scale war against Ukraine and called on the international community to respond.
Early morning of February 24, President Volodymyr Zelenskyy declared martial law throughout the country. The Verkhovna Rada approved the decision.
On February 25, Kyiv was massively attacked – from the air and on the ground.
On February 26, the Presidential Office reported that everything was under control.
As of 6:00 a.m. February 27, the Armed Forces of Ukraine have destroyed 16 aircraft, 18 helicopters, 102 tanks, 540 IFVs, 1 BUK missile system, 20 military vehicles. Over 3,000 Russian soldiers KIA, 200 POWs (updating) (Source: MofD).
Tags: hotline, KIA, Ministry of Defense of Ukraine, Russian POWs, war