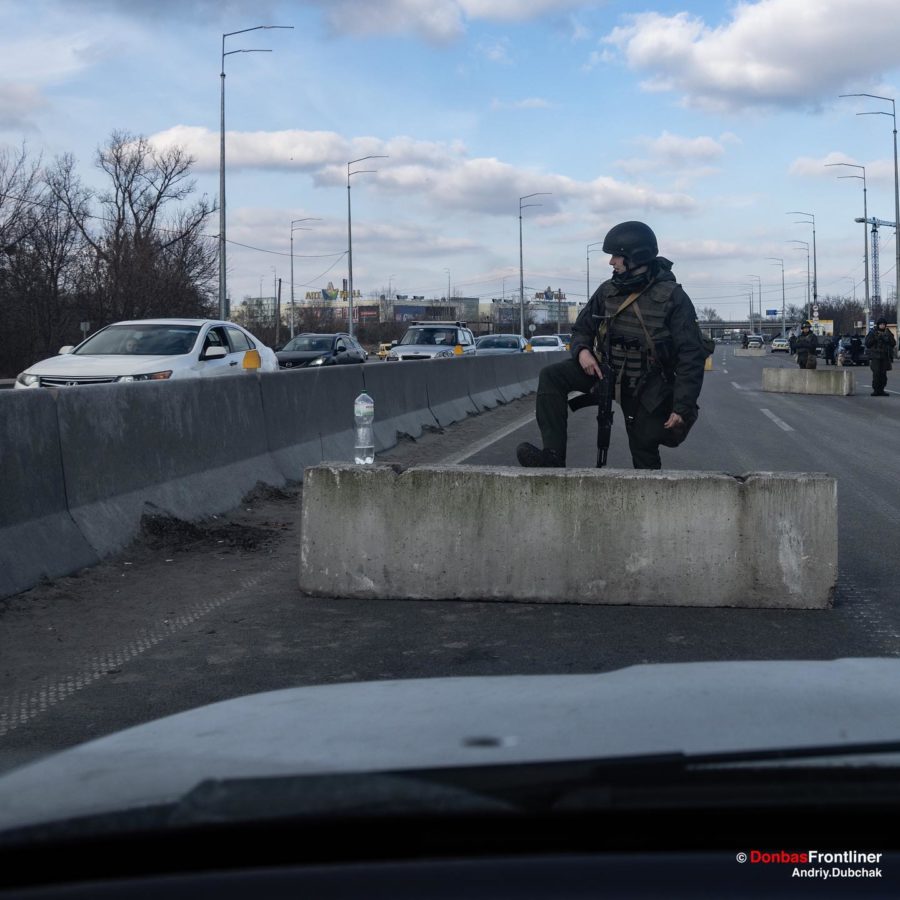 Military control on roads leading to and from Kyiv. Photo: Andriy Dubchak, Donbas Frontliner 
Russia attacked Ukraine! It's time to make things perfectly clear!
Putin and his acolytes have been working on this military operation for years. That is a fact.
According to the Kremlin's plans, the Russian armed forces were ordered to implement the following missions in Ukraine:
Destroy the maximum number of military equipment, bases and airfields by means of targeted missile strikes;
Take control of Ukrainian airspace
Encircle and block all routes to Kyiv and agglomeration
Surrounding or capture Kharkiv immediately
Seize the land route between Transnistria and Crimea, and then between Crimea and the Donbas (between Melitopol, Berdyansk and Mariupol). Two columns were to leave Crimea, one to the west, one to the east. At the same time, Russian forces were to bypass Mariupol and advance towards the eastward-moving column
In addition, Russian forces were ordered to destroy Ukrainian combat-ready units, create panic among the civilian population, disorganize transport and public services and, consequently, persuade the Ukrainian government to surrender and negotiate.
In order to realize this scenario, the Russian army, air force and navy had to strike simultaneously from all possible directions, thus forcing Ukrainian forces to deploy along the long borders with Russia, Belarus and occupied Transnistria.
Acting swiftly and tactically, The Russian armed forces were convinced they'd be able to implement this scenario on the second day of this military operation.
But, it looks like things did not evolve according to plan.
The General Command of the Armed Forces of Ukraine knew about the attack, so 99% of aircraft dislocated to other areas. Russian missiles bombed empty airfields, as well as some military bases and warehouses. Of course, there was not enough time to relocate all the hardware, so there were some material losses.
The Russians didn't gain total control of Ukrainian air space. True, Ukraine's air defence suffered from heavy missile strikes, but it continues to operate. Ukrainian planes and helicopters are in the air and are performing their duties.
Kyiv, the heart of Ukraine, stands strong! Russian forces advanced from the north, but Ukrainian units and artillery managed to stop their advance. The city is not encircled; most routes are open to traffic, although several residential buildings have been hit.
Same in Kharkiv. The Russians are parked near the city and fire aimlessly at residential areas. The city is not surrounded.
Two Russian columns left Crimea – one eastward and one westward, and broke through to the mainland. One column headed west to Transnistria, one east to Mariupol. They halted near Kherson, where they were most successful, taking control of many roads in the southern part of this region, between the Dnipro River and Crimea. They failed to take Mykolayiv. The same scenario in the other direction. They failed to break through near Mariupol and got stuck in Zaporizhzhia There is fighting in Melitopol.
The Russian blitzkrieg failed. Their initial plans went all wrong. At the moment, Russian troops are not advancing. Of course, it's not yet a war of positions, because the Russians have not acknowledged their defeat and have not begun fortifying their positions. But, they can no longer maneuver as easily as before.
There is no panic.
The army controls the front.
Ukrainians have stood up and faced the enemy.
Ukraine will regain its occupied territories.
The enemy will suffer loss and defeat.
Ukraine must and will end this war on its own terms.
Russia delenda est!
Yuriy Hudymenko is a Ukrainian blogger, TV host, and co-founder of the Democratic Axe party.
Tags: Crimea, Donbas, Kyiv, Russian aggression, Ukrainian resistance