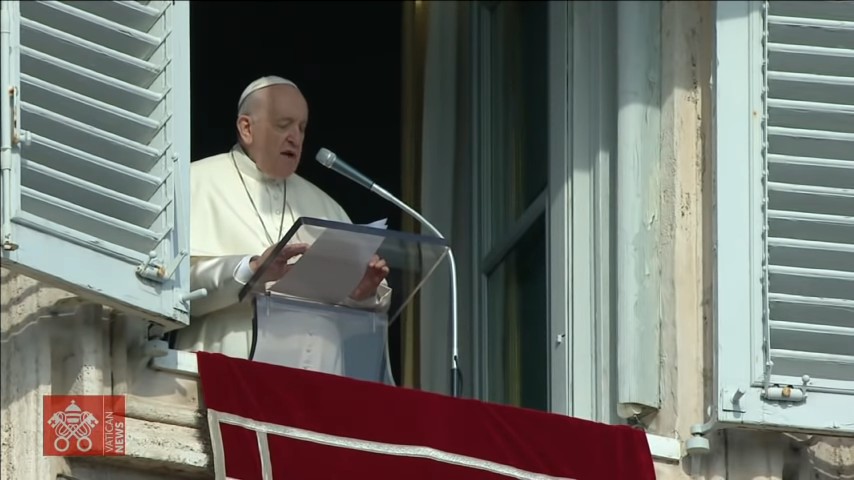 Pope Francis delivering his midday Angelus prayer, in which he announced 26 January 2022 a day of prayer for peace over his concerns over the situation in Ukraine. 23 January, the Vatican. Screenshot: Video by Vatican News. 
At the conclusion of Sunday's midday prayer in the Vatican,
Pope Francis
, leader of the Catholic Church, called for an international day of "prayer for peace" in Ukraine. For such a day the pontiff proposed that next Wednesday, 26 January, according to
Vatican News
.
The pope expressed his concerns "over the increasing tensions that threaten to overturn chances for peace in Ukraine." Given the wider repercussions of any conflict, the pontiff was also concerned about security on the European continent in general.
"I make a heartfelt appeal to all people of goodwill to raise prayers to Almighty God that all political actions and initiatives may be at the service of human brotherhood rather than partisan interests," Pope Francis said according to Vatican News.
The armed conflict in Ukraine's easternmost historical region of the Donbas started in 2014 soon after Russia's invasion and annexation of the Ukrainian Crimean peninsula. Since its beginning, the war claimed more than 13,000 lives and displaced almost 2 million people. The hostilities have been ongoing to this day.
In recent months, Russia massed at least 100,000 Russian troops near Ukraine's borders within the occupied regions of Ukraine.  Washington believes that Russia's building up troops in preparation for an invasion, while Moscow denies such plans.
Read more:
Tags: Pope Francis, Russo-Ukrainian War (2014-present), Vatican