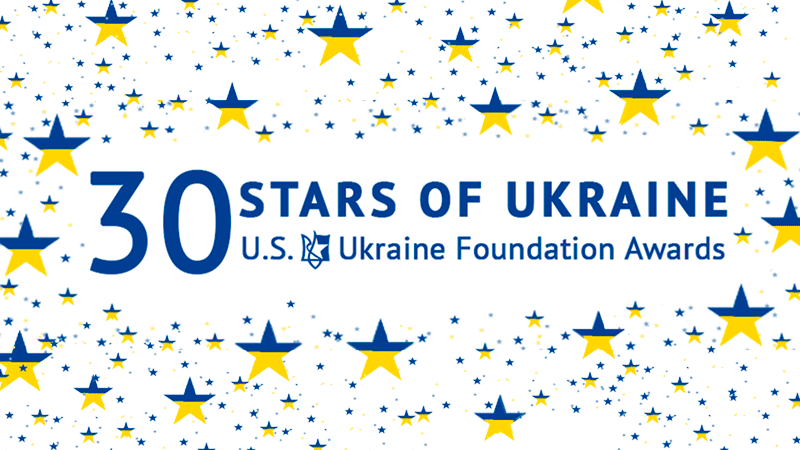 Editor's Note
On 29 December 2021 in Washington, DC, the US-Ukraine Foundation named winners of its 30 Stars of Ukraine award. Among the winners are Ukrainian artists, soldiers, organizations, and startups. Among the Stars are Major General (ret.) Volodymyr Havrylov, director of the Veterans Dozen Foundation and former Defense Attaché of Ukraine in the US; Oksana Lyniv, founder and artistic director of LvivMozArt Festival and first female chief conductor of the Graz Opera and Philharmonic Orchestra; and LiveUAMap, a global news and information site that delivers world news via maps.
To celebrate the 30th anniversary of Ukraine, the US-Ukraine Foundation, a DC-based "do tank" with a permanent presence in Kyiv that describes itself as supporting the development of democracy, a free-market economy, and human rights in Ukraine, as well as bolstering the strategic partnership between the United States and Ukraine. identified "30 Stars of Ukraine" who in the past thirty years have made significant achievements in their field and contributed to promoting Ukraine's image internationally.
The "30 Stars" project is not a contest or a competition, but a way to recognize Ukrainians from many spheres of life. Recipients of the award were selected by a committee organized by the US-Ukraine Foundation. These recipients were recognized on December 29th, 2021 at a special event in Washington.
"For years, Russification has denied Ukrainians their rightful identity. The independence of Ukraine is allowing the country to reclaim its history and that of its people. However, this independence is threatened by Russian hostility toward Ukraine, which has made headlines over the past few weeks as Russia amasses troops at the border of Ukraine for the second time this year. "30 Stars of Ukraine" is just one of the US-Ukraine Foundation's diverse initiatives to support the sovereignty of Ukraine and the US-Ukrainian strategic partnership," the foundation said.
The US-Ukraine Foundation will spotlight three Stars each month throughout 2022.
Recipients of the 30 Stars of Ukraine award:
Major General (ret.) Volodymyr Havrylov: Director of the Veterans Dozen Foundation, Defense Attaché of Ukraine to the US from 2015 to 2018
Liveuamap: Global news and information site
Oksana Lyniv: Conductor, Founder of LvivMozArt Festival and the Youth Symphony Orchestra of Ukraine
Yana Zinkevych: People's Deputy of Ukraine, Founder and Commanding Officer of the Hospitaliery Medical Battalion
Myroslav Marynovych: Vice-Rector of the Ukrainian Catholic University, Founding member of the Ukrainian Helsinki Group
Oleksiy Haran: Professor at the National University of Kyiv-Mohyla Academy, Scientific Director of the Democratic Initiatives Foundation
Serhii Plokhii: Mykhailo Hrushevsky Professor of Ukrainian History, Director of the Harvard Ukrainian Research Institute
Serhiy Zhadan: Poet and writer
Oksana Zabuzhko: Novelist, poet, essayist
Stanislav Aseyev: Novelist, journalist, activist, recipient of the 2021 Taras Shevchenko national prize
Oleg Sentsov: Civil activist and cinematographer
Ada Rogovtseva: Actress and professor at the Kyiv National University of Arts and Culture
Kazka: Pop and electro-folk band
Jamala: Singer, 2016 Eurovision winner
Julia Daviy: 3D-printed sustainable fashion designer
Light Balance: LED dance troupe, Golden Buzzer act on America's Got Talent
Viktor Kee: Cirque du Soleil performer, Founder of Art Vision Production and the Viktor Kee Foundation
Kseniya Simonova: Sand performance, winner of Ukraine's Got Talent and Top 3 Act on America's Got Talent and Britain's Got Talent
Ivan Marchuk: Artist, Honored Citizen of Ternopil and Kyiv, One of the "One Hundred Geniuses of Today" of the Daily Telegraph
Ksenia Schnaider: Sustainable upcycling fashion brand
Vita Kin: Fashion designer, creator of the "Vyshyvanka by Vita Kin" brand
Maryna Vasyleva: Designer and owner of Pollardi Fashion Group
Valerii Sushkevych: President of the National Paralympic Committee of Ukraine
Andriy Shevchenko: Former head of the Ukraine National Football Team
Oleksandr Usyk: Professional boxer, unified cruiserweight world titles and world heavyweight champion
Maksym Krypak: Paralympic swimmer, Hero of Ukraine
Max Polyakov: Entrepreneur, Founder of Firefly Aerospace, Cupid, Renatus, and other companies
Victoria Repa: Founder of BetterMe fitness platform
Reface: Face swap and deepfake technology
Grammarly: Free online writing assistant
To watch a recording of the US-Ukraine Foundation virtual gala – which includes a presentation of the 30 Stars of Ukraine and a concert organized by Oksana Lyniv, see here. 
Further reading:
Tags: award, Ukrainian personalities