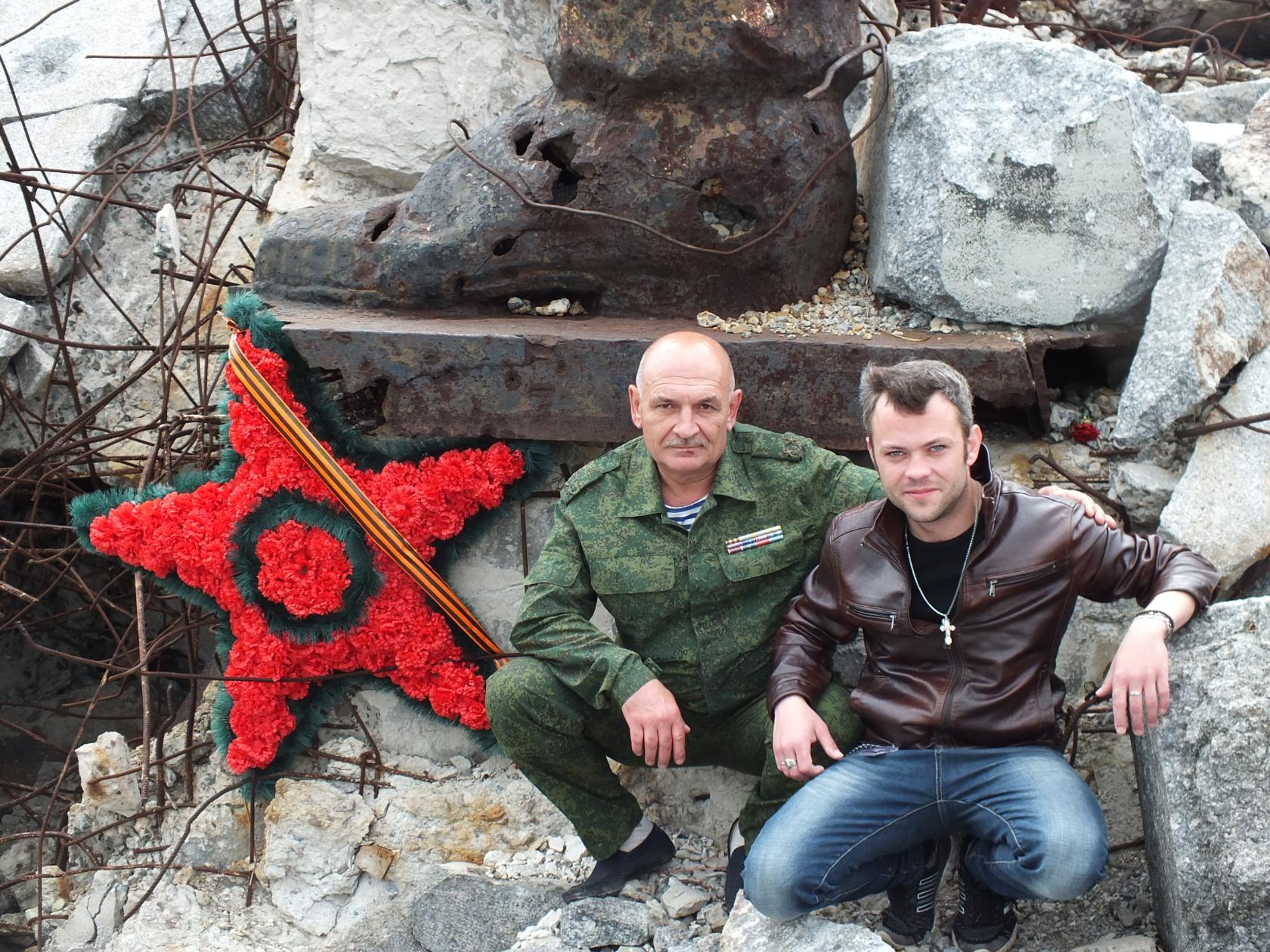 Volodymyr Tsemakh (left). 23 May 2018, Savur-Mohyla Hill, occupied part of Donetsk Oblast. Image: ok.ru/Сергей Кулешов 
A Kyiv court has ruled to release "DNR" warlord Volodymyr Tsemakh, who is believed to be a witness or suspect in the MH17 case, from custody. The ruling changes the pre-trial measure of restraint for Tsemakh from detention to personal recognizance, which means that the only alleged accomplice witness arrested by Ukraine in MH17 case can wait for his trial on terrorism charges outside prison.
In summer 2014, Volodymyr Tsemakh was "air defense commander of Snizhne" of the Russia-run statelet Donetsk People's Republic ("DNR"). On 17 July 2014, the Malaysia Airlines passenger flight MH17 heading from Amsterdam to Kuala Lumpur was blown out of the sky over Ukraine's Donetsk Oblast in the area of the Russia-occupied town of Snizhne. All 283 passengers and 15 crew were killed in the attack.
The Kyiv Court of Appeal has granted the appeal filed by Tsemakh's defense team, changing his pre-trial restrictive measure from detention to personal recognizance by the ruling issued today, September 5. The ruling is final and cannot be appealed.
"To apply to suspect Volodymyr Borysovych Tsemakh a measure of restraint in the form of personal recognizance. To release Volodymyr Borysovych Tsemakh from custody in the courtroom immediately," a court judge said, according to Ukrinform.
The court ordered Tsemakh to appear before the investigator, prosecutor, or court when they demand. He shouldn't leave the locality he dwells in without their permission for 60 days. As well, Tsemakh is obliged to inform the authorities about changes in his place of residence or work.
Ukrainian prosecutors objected to the appeal. Commenting to Hromadske, prosecutor Oleh Peresada told that there is a chance Tsemakh might evade trial and punishment, and even escape to Donbas territory uncontrolled by the Ukrainian government. He clarified that the court ruled that Tsemakh would not be wearing a surveillance bracelet. Moreover, the locality that Tsemakh dwells in is the "DNR."
"Taking into account the fact that his permanent place of residence is territory uncontrolled by Ukraine… I don't know where he will go," Peresada said.
Who is Volodymyr Tsemakh
In the summer and fall of 2014, 59-year-old Soviet-Afghan war veteran Volodymyr Tsemakh oversaw a Russian-led air defense unit in the Russia-occupied town of Snizhne, situated east of Donetsk some 18 kilometers away from the Russian border.
A video interview filmed in 2015 suggests that Tsemakh could be involved in transporting the Buk launcher to Russia.
According to Tsemakh's attorney, Ukrainian special forces detained Volodymyr Tsemakh in his apartment in occupied Snizhne on 27 June 2018 and covertly smuggled him across the line of the contact in the Ukraine-controlled territory.  On the next day, the Shechenkivskyi District Court of Kyiv ruled to arrest him for two months.
Read also: Ukraine arrests head of Snizhne anti-aircraft defense in summer 2014, possible MH17 case witness
Tsemakh has been charged under Part 1 of Article 258-3 of Ukraine's Criminal Code "Creating a terrorist group or a terrorist organization, leading such a group or participating in it." He may face from eight to fifteen years of imprisonment.
Dutch interest
The international investigators of the Joint Investigation Team (JIT) found that a BUK M2 surface-to-air missile downed the Malaysia Airlines Flight MH17, the rocket was fired from a field near Snizhne, the Russian-crewed BUK launcher arrived from an air defense military unit in Russia and returned to Russia after it destroyed MH17.
The JIT has indicted four suspects so far, three Russians and one Ukrainian citizen, though Tsemakh is not among them.
Tsemakh's charges in Ukraine are not related to shooting down MH17. However, as a person in charge of air defense in the area, he should have known about the deployment of the Russian-crewed BUK M1.  Moreover, Tsemakh could secure the BUK during its transportation to its shooting position and back to Russia.
On 2 September, the JIT chief officer, Dutch Chief Prosecutor Fred Westerbeke, sent a letter to the Ukrainian Prosecutor General's Office in which he urges to prevent Volodymyr Tsemakh's transfer to Russia. In the letter, he says that "on the basis of information that has recently become available," the Dutch Public Prosecution Service regards Tsemakh as a "suspect." Mr. Westerbeke said that it is "of paramount importance" that Volodymyr Tsemach "remains available" for "(further) interrogation." In the letter.
Dutch prosecutors want to question Voldymyr Tsemakh, the "person of interest" in Ukrainian custody.
"The Dutch public prosecutor would like to have Mr. Tsemakh in Ukraine so he's available for the investigation and we can ask him further questions," Brechtje van de Moosdijk, a spokeswoman for the JIT commented to AP.
Prisoner swap?
At the end of August, reports surfaced on the successful swap of high-profile prisoners between Ukraine and Russia. Ukrainian officials confirmed that the exchange was "ongoing" however denied that it would happen on that very day.
For years, Ukraine has been trying to return home filmmaker Oleg Sentsov, activists Volodymyr Balukh, Mykola Karpiuk, Pavlo Hryb, and other Ukrainian political prisoners held in Russian prisons, as well as 24 Ukrainian sailors captured by Russian border guards in November 2018.
Volodymyr Tsemakh is rumored to be on the Russian prisoner swap list. The last planned exchange between Ukraine and Russia could have failed about a week ago because Moscow demanded to include him. However, there were no official accounts on Tsemakh's possible inclusion on the swap list and on the reason of the failure.
Meanwhile, Russian President Vladimir Putin said today, September 5, that the prisoner swap talks between Russia and Ukraine are entering the final stage.
The release of Tsemakh may be a sign that the Ukrainian authorities have agreed on his exchange and that the JIT may lose its MH17 witness anytime soon.
Brechtje van de Moosdijk, a spokeswoman JIT, told The Associated Press in a telephone interview on 3 September that Tsemakh was then in a Ukrainian jail, "but if he's being swapped then, well, of course, it's hard to say that we can speak to him when he would be in Russia."
A letter published on 4 September by Dutch MEP Kati Piri calls upon Volodymyr Zelenskyy to not hand Tsemakh over to Russia, in order for those responsible for the downing of MH17 to be brought to justice:
"While we understand the context within which such negotiations are taking place and the diplomatic efforts by the Ukrainian authorities to this end, Mr Tsemakh is a suspect in the criminal investigation related to the downing of flight MH17 and his availability and testimony before the Joint Investigation Team is thus of the utmost importance for an effective prosecution by the countries involved. 

Mr Tsemakh is a Ukrainian citizen and is under Ukrainian custody. UNSC resolution 2166 demands that those directly or indirectly responsible for the downing of MH17 must be held accountable and must be brought to justice," the letter, signed by 40 MEPs, says.
---
Read also:
Tags: Donbas war (2014-present), Kyiv Court of Appeal, Malaysia Airlines flight MH17, MH17, Russo-Ukrainian War (2014-present), Tsemakh