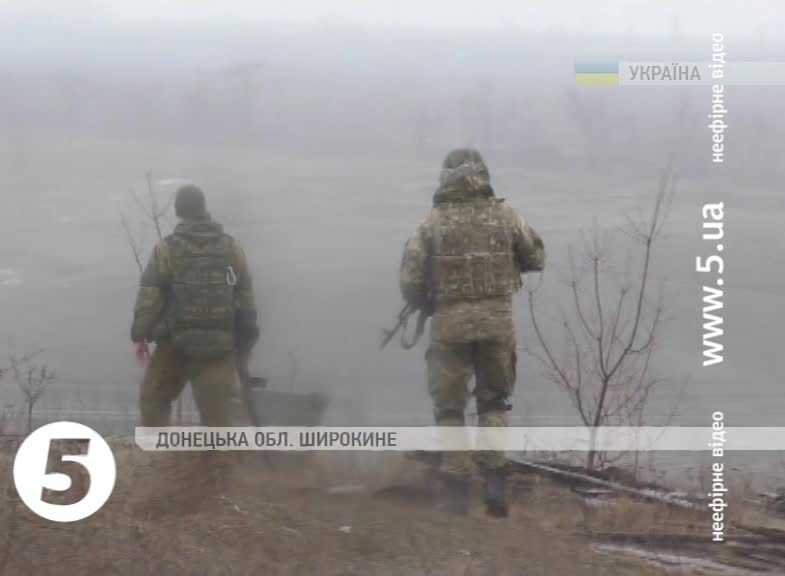 Snapshot of the video of the report on 5.ua 
On 13 April 2015, Channel-5 learned that at approximately 1 a.m. Russian forces and their proxies had renewed their attacks on settlements leading to Mariupol, especially near Shyrokyne. The aggression continued until well after 6 a.m., at which time the pro-Russian fighters themselves called for a ceasefire, according to media spokesperson for Sector "M", Dmytro Horbunov.
He stated that the Russian attackers opened fire on the flank of the Ukrainian military position from one tank, together with a barrage from 120 mm mortars. The Ukrainian defenders returned fire, but only with weapons that have been agreed upon as permissible.
Fighters of the Azov regiment have stated that they were successful in destroying the enemy's available machine gun as well as a sniper. The success of the army's actions resulted in a demand initiated by the pro-Russian fighters at about 7 a.m. for a ceasefire.
The Ukrainian volunteer fighters have their own description of these events on the social media site for their regiment: "At 5:30 a.m. the terrorists, obviously dissatisfied with their results from the previous day's actions, once again opened fire on the Azov positions from tanks and mortars. The aggression of the pro-Russian terrorists has a very simple explanation: we have learned today that it was in retaliation for their losses yesterday, when Azov fighters killed two terrorists, a machine gunner, and a sniper".
Sympathies were not offered, since, as the saying goes, "Why did you come here in the first place?" the fighters stated sarcastically on their website post.
A representative for the staff of sector "M" stated that the situation in the vicinity of Mariupol remains extremely tense, but is completely under the control of the Ukrainian military.
Specifically, on 12 April 2015 from 5 p.m. and following, the enemy violated the terms of the Minsk Memorandum six times: four of those times with contraband heavy weapons, once with a tank, and once using 82 mm and 120 mm mortars.
Further, near 1 a.m. until after 6 a.m. the criminals shelled the positions of our military personnel. Ukrainian soldiers and artillerymen returned fire with 82 mm mortars, a permissible weapon under the Minsk Memorandum. The success of the defensive actions resulted in a call for a ceasefire on the part of the pro-Russian forces and their proxies themselves.
Tags: Donbas, Donbas war (2014-present), Mariupol, Russian invasion