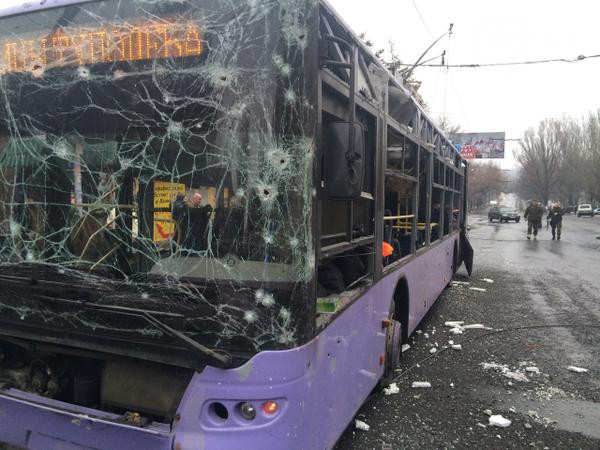 Mortar attack by Russian terrorists in Donetsk, Ukraine 
In the morning of January 22, Russian state agency TASS reported at least 13 civilians killed in the shelling of an electric bus in Donetsk's Leninskyi district, considerably far from the shifting frontline in the northwest.
OSCE observers dispatched to the site confirmed at least 7 civilian deaths in the shelling. Donetsk morgue representatives confirmed 8 deaths, while sources spoke of the number being as high as 18.
Ukraine's National Security Council blamed terrorists for the mortar strike, stating that the closest Ukrainian positions at Pisky were too far from the site of the tragedy to use this type of artillery. DNR officials were quick to blame Ukrainian saboteurs moving through the city in litter trucks and shelling civilian targets. A DNR source even claimed detaining several of the saboteurs some time after the event, yet, despite DNR's norotiety for showing off Ukrainian prisoners to the media, no videos or photos of the alleged suspects have surfaced.
DNR leader Zakharchenko used this event for a humiliating parade of Ukrainian POWs taken at the airport during heavy fighting there in the previous days. The POWs were walked through the city to the site of the tragedy under terrorist guard, with local pro-Russians allowed to insult and even beat them.
DNR rebels parading Ukrainian POWs through #Donetsk to scene of bus attack this morn, allowing ppl to beat them. pic.twitter.com/nTgXCQvf63

— Christopher Miller (@ChristopherJM) 22 января 2015
Despite DNR claims of the bus being shelled from inside the city, Zakharchenko vowed to "push the frontline back" to stop the shelling. This remark came just a day after the Berlin talks where Russia and Ukraine agreed for an artillery pullback according to the Minsk agreement, which also provides for a demarcation line – a provision which Zakharchenko's claim seems to directly violate. Russia's Foreign Minister Sergey Lavrov toed a similar line by blaming Kyiv for "disregard of human lives" in order to undermine the peace process. However, despite putting the blame on Ukraine right away, he still called for an independent investigation. Russia's Investigation committee, meanwhile, launched their own probe into the tragedy, adding to a large list of "genocide" criminal cases of questionable jurisdiction against Ukrainian military and volunteers. One of those cases put the blame on Ukrainian pilot Nadiya Savchenko, long proven innocent by her Russian lawyers and almost 1.5 months on hunger strike in a Moscow jail. While Ukrainian prime minister Yatsenyuk has put the responsibility for the tragedy on Russia, at the time of writing of this article any official reports are yet to come. Independent investigations, however, have yielded some results. Mashable's Christopher Miller took a picture of one of the impact  craters next to his iPhone's compass, which led investigative blogger Eliot Higgins to believe the shell came from North-West.
Impact site of second shell next to trolley line in #Donetsk. cc @EliotHiggins pic.twitter.com/ySiv3Valg3 — Christopher Miller (@ChristopherJM) 22 января 2015
Another blogger, @DajeyPetros, pointed out that this could only be a low-caliber 82-mm mortar shell, as it is considerably smaller than the 124-mm long iPhone 5. This casts doubt on another theory that the bus was hit by a Ukrainian 152-mm howitzer aiming for a terrorist tank repair shop nearby. Reporter Oliver Carroll was denied access to the repair factory to test the theory, yet he also suggested the impacts in the street looked more like mortar shells. The 82-mm mortar is known to have a range of 5 kilometers, which puts Ukrainian positions way beyond mortar reach.
#Map Let's keep it simple. It were again the Russians #LeninskyBusMassacre pic.twitter.com/s2HsXB7J9D

— Conflict Reporter (@Conflict_Report) 22 января 2015
This is probably why terrorists resorted to the theory of "Ukrainian saboteurs" on litter trucks. However, while Ukraine has never been proven to use such tactics, litter-truck mounted mortars were indeed used by DNR Cossacks as early as November, indicated by this video:
If indeed purposefully committed by DNR forces, this attack could be seen as a pretext for a renewed Russian offensive, of which National Security Council's head Oleksandr Turchynov warned later the same day. Anyway, there is little hope of an objective investigation by either DNR or Russia's investigation committee (which failed to open a criminal case on the previous bus massacre at Volnovakha).
Featured image (c) 62.ua
Tags: Donbas, Donbas war (2014-present), Donetsk