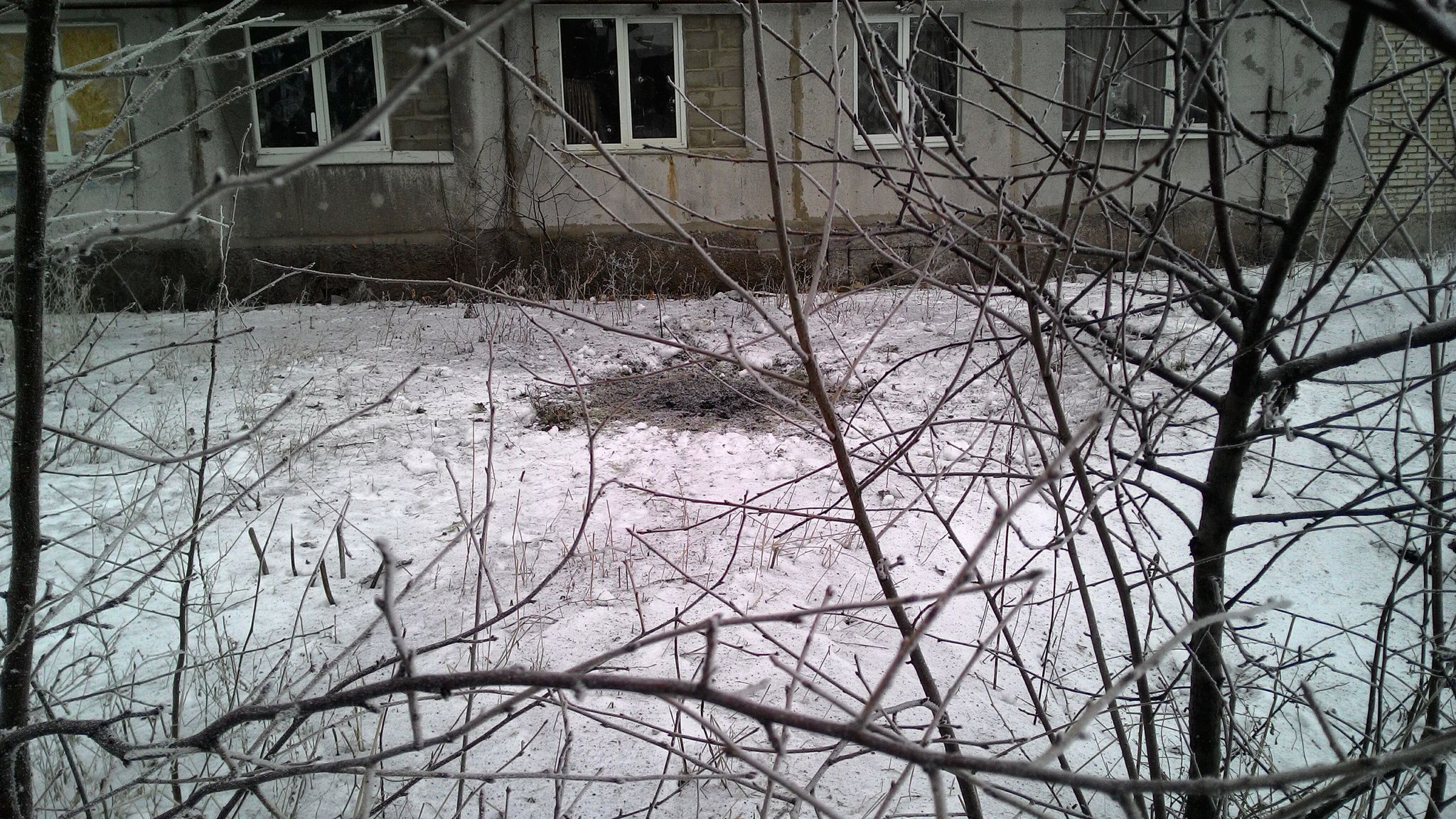 Krasnohorivka on February 11, credit: vk.com/krasvvk  
In this series, we are teaming up with the tireless social media activist who goes by English Luhansk on twitter to produce open source updates about the military situation in Donbas. We analyze reports from Donbas local twitter accounts and translate it into a comprehensive overview of what's going on on the ground.
February 11 was another relatively quiet day in the Donbas after the recent sharp escalation according to reports by residents of the frontline cities.
The morning activity (all time EET, GMT+2):
09:35 Donetsk Vetka settlement: [sounds of war] can be heard
09:35 Makiivka Pastukhovka settlement: it's periodically heard
09:49 Novoazovsk: since morning a cannonade of DNR artillery is heard
Later Mariupol residents heard the sounds of explosions from the east and northeast:
14:44 Mariupol: Hnutove or Talakivka booms, it doesn't cease
15:18 Mariupol: Area of Shyrokyne – kind of armageddon there [incoming artillery fire]
Sporadic afternoon activity:
15:34 Donetsk Kalininskyi district DOB: Some strange single shots a few minutes ago
16:24 Donetsk Circus: One can hear far-off dull booms
16:46 Mariupol: Heard over 1.5hr: 2 Grad batteries [salvos? unconfirmed], 82mm/120mm mortars, 122mm/152mm self-propelled guns, howitzers, heavy machine gun, anti-aircraft gun
17:31 Maryinka: A strong boom, gunfire
17:00 Krasnohorivka: Gunfire
Inactive evening shellings:
18:00 Donetsk: Heavy single outgoing rounds from north Donetsk
18:31 Horlivka: The north makes noise…
19:26 Toretsk: Heavy incoming rounds come from the east [once] every minute, vibration with echo… Probably, Mayorsk area is under fire
21:57 Avdiivka: Somewhere in the southeast it became a bit louder, grenade launchers and gunfire
Luhansk Oblast reported nothing but silence:
22:45 Kadiivka (formerly Stakhanov): It is quiet for the third day. Somehow unusual

Aftermath of shelling in Krasnohorivka
On February 10, Krasnohorivka, west of Donetsk, was reportedly shelled with MLRS BM-21 Grad from Donetsk at 14:35. The press service of the Anti-Terrorist Operation (ATO) Headquarters reported Russian-separatist forces also used tanks, 152 mm artillery and 120 mm mortars to shell the town. Later at 16:46 Krasnohorivka came under fire again.
Sounds of incoming rounds are heard on this video from Krasnohorivka posted yesterday afternoon:
Later that evening about 20:00 another artillery barrage started and lasted for several hours until 1 a.m. February 11.
Outgoing rounds were heard in southwest Donetsk:
00:43 #Donetsk @relictDon Single outgoing rounds from #mine29–#Petrovskyi #forestry direction

— English Lugansk (@loogunda) February 10, 2017
Inhabitants of Krasnohorivka could hear the explosions:
23:41 #Krasnohorivka @hyeva_Marinka [vk] strong booms

— English Lugansk (@loogunda) February 10, 2017
The images of damage in Krasnohorivka have been released on the next day, February 11.
#Krasnohorivka @666_mancer [vk]
#1: #Mayakovkoho St
#2: #9, #Skhidna
#3: #2, #Skhidna
#4: Boiler-house near 9-st bld pic.twitter.com/v6K6p1XYkK

— English Lugansk (@loogunda) February 11, 2017
This image was taken at #6, Skhidna street in Kranohorivka where the roof was hit:
#Krasnohorivka @hyeva_Marinka #9, #Skhidna St[=https://t.co/bUn9PJd0iT]: panes shattered facing 9-storey building [=E] direction pic.twitter.com/Z2qtqRwEP3

— English Lugansk (@loogunda) February 11, 2017
Makeshift plywood sheeting in the frames of broken windows in Krasnohorivka:
#Krasnohorivka @AutobusBuratin pic.twitter.com/1uBnmf9LKX

— English Lugansk (@loogunda) February 11, 2017
The video shows one of the impact sites of the BM-21 rockets:
Trade blockade of Donbas
The trade blockade of the occupied parts of Donbas continues. One more rail section between government-controlled Kostiantynivka and occupied Yasynuvata has been blocked on February 11. Coal trains and tank-wagons are blocked at Fenolna station:
https://www.facebook.com/shtab.blokady/photos/a.1763949103930903.1073741828.1762771987381948/1797033863955760/?type=3&permPage=1
The inhabitants of Novhorodske settlement, 30 km north of Donetsk, confirmed no trains were running in the area of Fenolna station on February 11:
[10:35] #Novhorodske area @subwayriwer "Blockade of #Yasynuvata–#Fenolna works! The snow on rails" pic.twitter.com/GV4By7yO06

— English Lugansk (@loogunda) February 11, 2017
Meanwhile, another train-load of fuels and lubricants has been reported to have arrived in occupied Rovenki from Russia on February 9:
#Rovenki @ZlbRvnk Last Thu, yet another POL train arrived [fr/Russia]. It's being unloaded at the oil base,~7 tank wagons, more wait further

— English Lugansk (@loogunda) February 11, 2017
OSCE SMM reports more ceasefire violations in Donetsk Oblast and fewer in Luhansk
The OSCE Special Monitoring Mission to Ukraine (SMM) releases its report, more ceasefire violations are recorded in Donetsk Oblast and less in Luhansk Oblast on February 10, compared with February 9.
Latest 10/02:
More CFVs in #Donetsk reg. & less CFVs in Luhansk reg. comp. w/ prev. 24hrs. See: https://t.co/VFtCuUpIZf

— OSCE SMM Ukraine (@OSCE_SMM) February 11, 2017
Kremlin still denies delivering tanks to Donbas
On February 10 UNIAN news agency asked the Kremlin spokesman Dmitri Peskov to comment on a report by Rossiya-1 TV channel about 700 tanks in the disposal of Russian-backed forces in the occupied areas of Donetsk Oblast, the triple amount of what the Ukrainian Armed forces possess there according to Rossiya-1.
Read also: Separatists in Donbas have more tanks than Germany, France, and Czech Republic combined
Peskov replied:
It [Donbas] is part of Ukraine, after all; these are the areas uncontrolled by Kyiv but still this is Ukraine. Even though Ukraine is consistently rejecting these regions. That is why, it is, perhaps, necessary to ask Kyiv about why this situation has developed. Naturally, [tanks have arrived for Donbas] not from Russia.
InformNapalm volunteer intelligence community published their comment on Peskov's reply:
Through open source intelligence we identified and confirmed the presence of a number of Russian MBT (main battle tank) modifications in the occupied territories, which could not have been captured from the Ukrainian army, as they are not in service with the armed forces of Ukraine.
The claim is confirmed by the summaries of InformNapalm's 7 investigations into the presence of Russian tanks in the Donbas.
In 2015 Bellingcat published a report Russia's 6th Tank Brigade: The Dead, the Captured, and the Destroyed Tanks, including the discovery of a damaged T-72B3 (exclusively Russian) tank on the battlefield in Ukraine.
In October 2014 Reuters found "the blackened carcasses of what military experts have since identified as two Russian army tanks" near Horbatenko village 20 km south of Donetsk.
Tags: Blockade, Donbas war (2014-present), Grad multiple-launch rocket systems, Krasnohorivka, News, OSCE, Russo-Ukrainian War (2014-present)