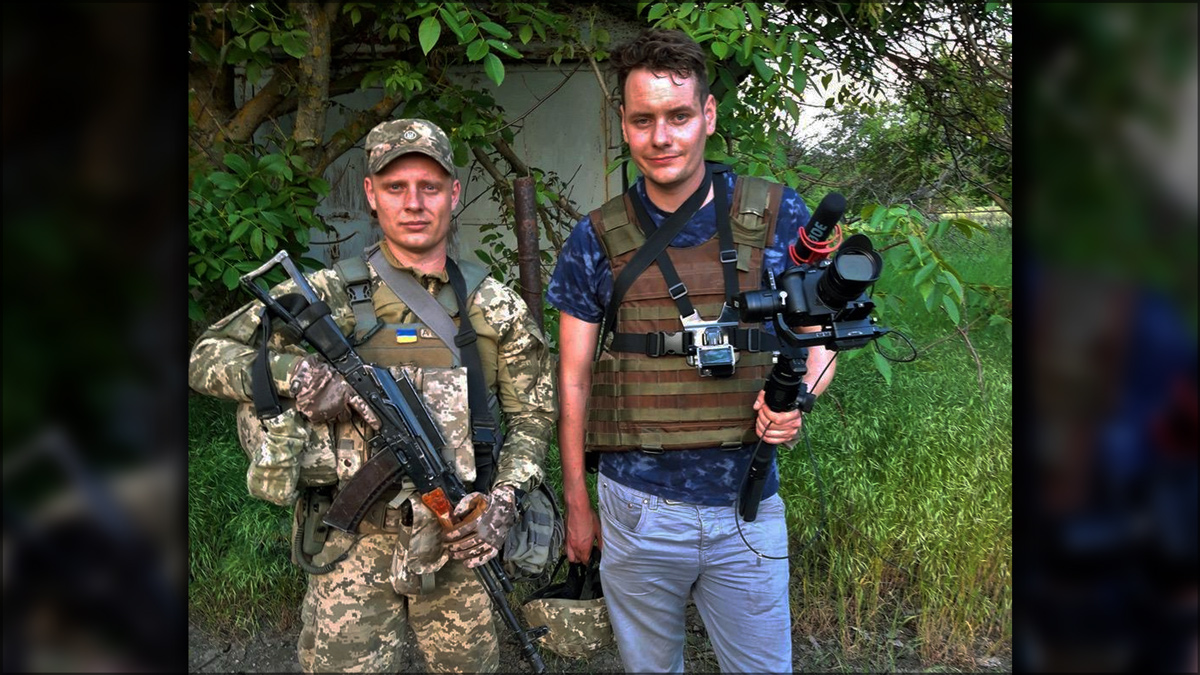 Reece Lynch (R) with a soldier of Ukrainian army (L). 
Reece Lynch is a brave filmmaker from the UK who drove his grandma's Ford Fiesta right across Europe to the Ukrainian Donbas (2,200 miles) to film the ongoing war and tell many stories from the region in his project
First Focus
. Reece Lynch has spent more than £6,000 of his own money to conduct this project during the last nine months and is continuing to film via crowdfunding support. He supplies weekly updates on the situation at the front and films short stories from locals and servicemen. He also filmed two documentaries about ecology in the industrial city of Mariupol and internally displaced people from Shyrokyne village which was destroyed in the war.
Introductory video by Reece Lynch about his work: 
"I want to stay here as much as possible. That's the plan. I want to stay here and keep doing this…" says Reece.
He studied filmmaking at Manchester School of Art and then moved to London to begin a career in commercials and music videos. Yet his interest in military and conflict often kept Ukraine in his mind. Explaining why he decided to devote so much time and money for films about Donbas, Reece says:
It's because of the lack of information that is available in the UK. I spent some time trying to find some English-speaking news source here. And I couldn't do it. I realized that this war is still going on but I didn't know anything about it. It was hard to find anything… I decided to create the news…
The absence of the still-hot Donbas war from the western news agenda bothers Reece:
I just have an interest in the area, because obviously it's part of Europe and massive changes are going here… I looked into a lot of research on previous wars and so many things were swept under the carpet just because no one documented it. I didn't want this to be the same when people are thinking [about Donbas war that] this is just a small event.
On 19 February 2019 he set off in his grandma's car and in 8 days was already in Donbas. The journey of 2,200 miles took 8 days in total, the car had to be fixed due to the bad condition of roads. Yet "Ford Motor Company should know their 1.2 engines can do better than most people think," Reece says. His car was following in the tracks of the military, bombed-out villages, blown-out roads, narrow lanes through mine-fields, muddy off-roading, tank tracks and more. It hasn't always been smooth. Sometimes, Reece says, they took on more than could be handled and needed rescuing by larger vehicles.
He currently lives in Mariupol, a city situated a few kilometers from the frontline. "Since I have been here, I have heard mortars going off, gunfire…" says Reece. He even had to be evacuated from a village where he was filming. But not only the frontline is dangerous:
Obviously, it is dangerous on the frontline. However, it's no less dangerous in Mariupol because a lot of people don't like what we are doing, many pro-Russian people are still there.
At some point in his work, Reece even received a message with threats from pro-Russian militants. The SMS reported that he could be recognized as "an accomplice of war criminals from among the Armed Forces of Ukraine and be prosecuted for the use of prohibited means of warfare and genocide with a punishment of 10 years or more." Reece was later told that Ukrainian soldiers usually receive the same type of messages.
Reece reporting about the message: 
On the other hand, Reece says, it was much easier to work due to friendly locals who welcomed him into their homes, gladly shared their stories and even asked Reece to make a documentary about Mariupol – a city that is suffering from dirty metallurgy enterprises. He finally created the film Mariupol: City of Blue and Grey and it became the most popular of his films, although he didn't plan to do it initially.
"Since I have got here, everyone has been so welcoming and friendly and I just couldn't get out of people's kitchens… People were so open and wanted to talk to me about what is going on."
Funding his project from crowdfunding, Reece doesn't take any salary for himself. "The money is not for me, it is to pay for my driver, my interpreters, even security as I just want to show the world just what is happening here," – explains Reece. As a translator, he recruited Eugen who was born and raised in Mariupol, went on to study logistics in Kharkiv and later returned to Mariupol to work as a project manager in a start-up IT company.
Reece Lynch emphasized that his project is self-funded and has no intention to blame either the Ukrainian or Russian side for the war. Instead, he just wants to show what is going on.
"You hear gunfire and mortars going off at different times and yet you see teenagers going to school, going to college just as people would do in Derby and it is all a backdrop of everything that is taking place."
The First Focus project gained a lot of interest, especially from people in America, Canada, and Australia. They started supporting Reece with money. He hopes this support will allow him to stay in Donbas indefinitely and continue. Recently Reece has also opened a web-page of First Focus, along with a Youtube channel, where it is possible to see all the videos.
I believe Ukraine is a pivotal point in its history as it moves slowly closer to Europe. Ukraine might well be part of the EU or NATO in 20 years, and I don't want the world to look back and forget how hard and turbulent that journey has been for the people in this region. A lot of the people here are powerless in their situation, but we can at least make sure their voices are heard.
How people live in the village of Talakivka that is only a couple of kilometers from the frontline: 
Interview with Ukrainian soldiers: 
---
Read also:
Tags: Donbas war (2014-present), Donbas war veterans, Mariupol, Russia's hybrid war, Ukrainian soldiers