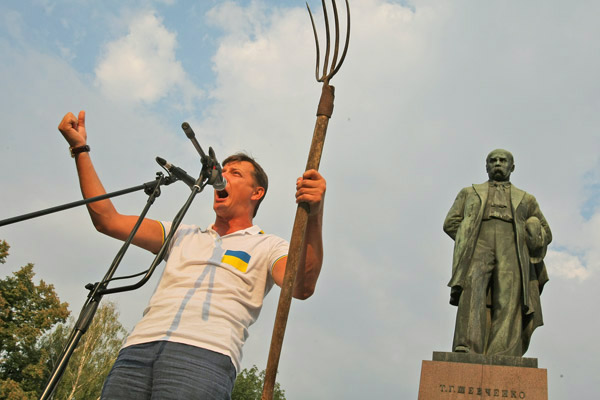 The Radical party led by Oleh Liashko, who made the pitchfork his symbol, did not manage to get reelected to Ukraine's Verkhovna Rada in 2019. Yet, Liashko's party will receive funding from the state budget. Photo: lenta.ru 
Ukraine's snap parliamentary elections have brought changes to the Ukrainian political landscape: the first-ever
mono-coalition
is to be formed in the Verkhovna Rada, a rich variety of new faces emerge in the parliament, and state financial support will be introduced to the parties which won two or more percent of votes.
Not only the five parties that passed the 5% threshold will get annual funding from the state budget in the upcoming five years under the Ukrainian law "On political parties" with anti-corruption amendments. Six more parties which failed to cross the threshold but won at least 2% can be funded too. Such parties can apply for the funding and the National Agency for Prevention of Corruption (NAPC) can approve or deny the submissions.
Although the law on state funding of such parties was adopted as part of the package of laws enabling Ukraine to have a visa-free regime with the EU years ago, now is the first time it will be applied. The law intends to decrease risks of political corruption, rampant in Ukraine's political landscape, where most parties are political projects of oligarchs. Among its other goals is to create conditions for free and free competition, as well as for the creation of new parties, to increase transparency, and establish sanctions for violations in funding and political agitation.
According to calculations of NGO Chesno, the non-parliamentary parties that earned the trust of 2-5% of voters will annually receive:
Strength and Honor (4.0%) – UAH 54 mn ($2.0 mn)
Opposition Bloc (2.4%) – UAH 40 mn ($1.5 mn);
Shariy's Party (2.2%) – UAH 38 mn ($1.4 mn);
Liashko's Radical Party (4%) – UAH 34 mn ($1.3 mn);
Groysman's Ukrainian Strategy (2.4%) – UAH 27 mn ($1.0 mn);
Svoboda (2.2%) – UAH 6 mn ($1.0 mn).
Some of these "rentiers to-be" have a quite obscure past and dubious reputation.
Syla i Chest: a dark horse
The founder and head of Syla i Chest (Strength and Honor) party is Ihor Smeshko, chief of Ukrainian Security Service in the times of the second Ukrainian president, Leonid Kuchma.
Having a quite humble advertising campaign involving no billboard ads, Smeshko managed to get 6% in the presidential elections. Previously, he was a frequent guest on Channel 112 owned by Viktor Medvedchuk's ally Taras Kozak. The candidature of Smeshko got hyped up in Ukrainian media by Dmytro Hordon, a journalist who called Smeshko "Ukrainian general de Gaulle" and advocated him in any way possible.
On 28 March, before the first round of the presidential race, Hordon released a video in which he criticized and crossed out all the candidates but Smeshko off the list.
"I will vote for Ihor Smeshko. all my friends, all my family will vote for him. I'm absolutely convinced that he is the best choice for Ukraine, being both a moral and ethical leader. […] I ask everyone to vote for Ihor Smeshko," said Hordon in this video putting aside journalist ethics.
In response to the criticism and allegations of propaganda, Hordon stated: "I am not only a journalist but, above all, the citizen of Ukraine."
Nonetheless, this aggressive advertisement bore fruit: being a dark horse in Ukrainian politics, Smeshko managed to obtain 6.04 % in the first round.
When hope for presidency faded, Hordon started campaigning for Smeshko's party Strength and Honor for parliamentary elections and even headed its campaign headquarters. Despite the lack of a clear program and the controversial past of the party leader, who was earlier suspected of poisoning ex-President Viktor Yushchenko in 2004, Syla i Chest obtained 3.82% of votes at the parliamentary elections.
Shariy's party: Lords of the red balls or Pennywise is alive
The phenomenon of Shariy's Party is even more incredible and absurd: the party leader, video blogger Anatoliy Shariy resides in the EU and is famous for his anti-Ukrainian sentiment and pro-Russian position. On 2 July, the Central Electoral Commission (CEC) of Ukraine registered Shariy as a parliamentarian candidate but soon canceled his registration amid protests in Kyiv. Shariy did not live in Ukraine for five consecutive years as the election laws demand of the parliamentary candidates.
In his videos, he humiliated the inhabitants of Western Ukraine, and spread pro-Kremlin propagandistic fakes about the war in the Donbas.
"I am Ukrainian and you [people from Western Ukraine] are not. You are not even second-rate, you are just half-breed, half-Poles, half-Hungarians, half-God-knows-who. […] You are not Ukrainians. You are the grandchildren and great-grandchildren of farmhands' helpers," stated Sharii on his Youtube channel in 2014.
The strategy of this party was mostly based on sowing and exploiting hate towards post-Maidan authorities in general and former President Petro Poroshenko in particular. The party members campaigned using the image of Pennywise the Clown, the title character in Stephen King's horror novel It, who was always chasing children with balloons in his hands. Thus, people with red balloons were present at almost every event held by the European Solidarity Party where Poroshenko was present. Despite Shariy's removal from the list, his party still took part in the elections and received support even in Western Ukraine. Ironically, Shariy's sympathizers were chanting: "Shariy is a Ukrainian patriot" during the meetings.
Editor's Note
Other "rentiers to-be"
Four other non-parliamentary parties which will receive millions of dollars from the state budget or at least their leaders are better known than Smeshko and Shariy's political forces.
The pro-Russian party Opposition Bloc was the largest part of Yanukovych's Party of Regions after its collapse in 2014. However, the Opposition Bloc itself split in two before the elections. What later became the Opposition Platform For Life led by Opposition Bloc's former leader Yurii Boiko and Putin's crony Viktor Medvedchuk, has got into the parliament with 13.05% after a large-scale promotion by Russia's top officials. The other fragment of the party which retained the old name, Opposition Bloc, lost with a mere 3.03%.
Editor's Note
Oleh Liashko's
Radical Party
exploits populism and presents itself as a patriotic political force. It had 21 MPs after the 2014 elections, however, failed to cross the threshold this time with its 4.01%.
The newly-created party of the incumbent prime minister, Volodymyr Hroysman, called Hroysman's Ukrainian Strategy ended up with 2.41%. The PM campaigned promising stable development and criticizing former president Poroshenko.
Svoboda (Freedom) presents itself as a patriotic far-right party. It failed to enter the previous parliament with a result of 4.71% in 2014, though it had six MPs elected in the single-member constituencies. This time the party combined forces with other far-right parties – Governmental Initiative of Yarosh, Right Sector, and National Corps – to form a united party list. However, the result was even worse – the party gained only 2.15% and only one "majoritarian" deputy won a single-mandate constituency.
Meanwhile, the Central Electoral Commission has found violations in the financial reports of four parties which took part in the elections and submitted the finds to the NAPC. Among the four only one party is mentioned which gained over 2% at the parliamentary elections – Shariy's Party. This means that the anti-corruption watchdog may accept the CEC's report and reject the state funding for Shariy even if his party has applied for the state funding.
---
Read also: