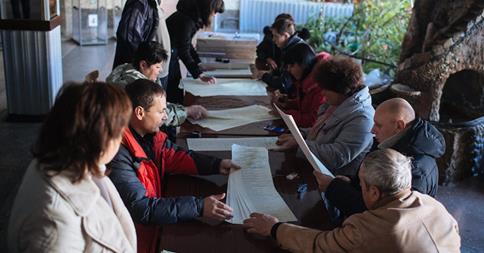 The Canadian Election Observation Mission (CANEOM) today released its preliminary report on Ukraine's early parliamentary elections which were held yesterday.
Head of Mission Senator Raynell Andreychuk stated that, "despite the Russian occupation of Crimea and continuing destabilization in parts of Ukraine, a majority of Ukrainian people have freely exercised their democratic right to vote in Sunday's elections."
The main conclusions of CANEOM's preliminary report are as follows:
The preliminary assessment concludes that the democratic will of the people is reflected in the results of these elections, in accordance with the laws of Ukraine, and international laws and standards.
There were new challenges in these elections, compared with the last parliamentary elections in 2012, such as access to voting in the conflict-affected parts of the country and occupied Crimea, a large number of Internally Displaced Persons, and safety and security concerns.
The authorities generally enforced the law when faced with electoral violations.
"We commend the people of Ukraine and the election administration for successful elections. The Ukrainian people worked hard under difficult circumstances to ensure that the outcome of these elections be a genuine reflection of the will of the Ukrainian people," added Senator Andreychuk.
The mission will be present in Ukraine until official results are announced, and will publish a full and final report in the near future.
CANEOM deployed almost 200 observers to all regions of Ukraine, except Crimea where no elections were taking place. "We thank observers for their diligence, dedication, expertise and hard work under uncertain security conditions," concluded Senator Andreychuk.
The independent CANEOM mission is funded by the Government of Canada.
The preliminary report is available at
www.caneom.ca

For more information:
Denys Volkov, Director of Communications
+38 068 934 9514
[email protected]
Twitter: @CANEOMUkraine and Facebook.com/CANEOM
www.caneom.ca
Tags: Canada, International, Politics, Ukrainian snap parliamentary elections 2019