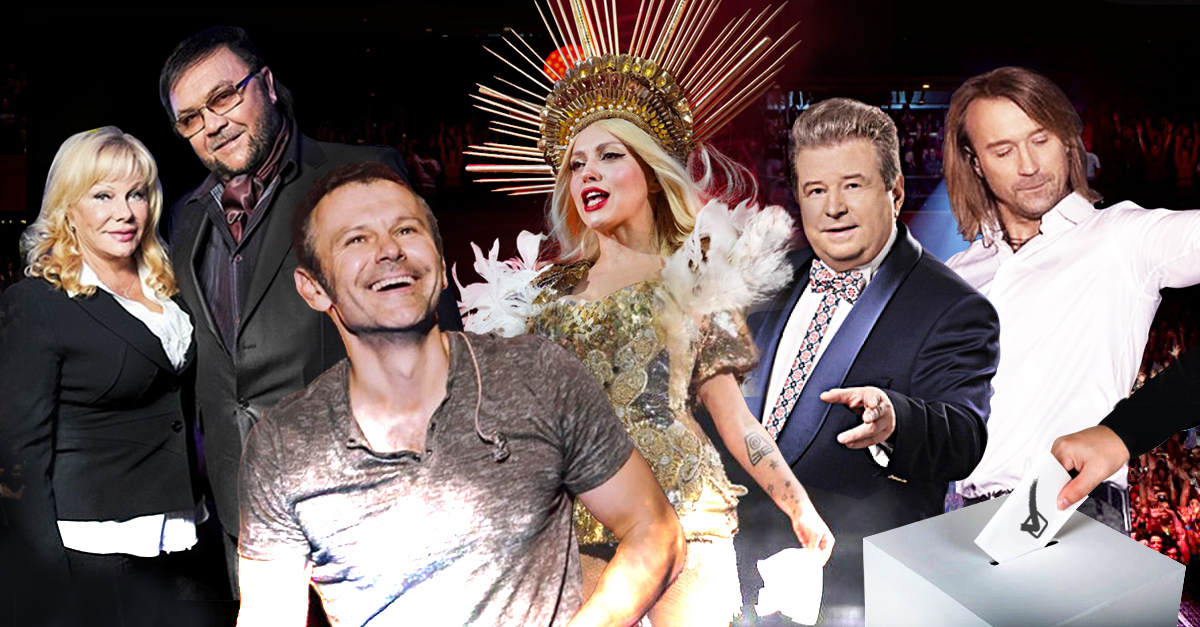 From left to right: Svitlana Bilonozhko and Vitaliy Bilonozhko, Sviatoslav Vakarchuk, Olia Poliakova, Mykhailo Poplavskyi, Oleh Vynnyk - these are some of the celebrities who are trying themselves in politics following the victory of comedian Volodymyr Zelenskyy in Ukraine's presidential elections. Image collage by Euromaidan Press 
Volodymyr Zelenskyy's presidency opened new possibilities for the symbiosis of politics and show business in Ukraine. After the comic actor with zero experience in politics beat his politically savvy opponent and then president Petro Poroshenko a little over two months ago, stand-up comics, actors, and singers are now entering politics, with some running for the parliamentary elections scheduled for 21 July 2019. Most notable of these is Sviatoslav Vakarchuk, the rock-star who announced the launch of his political party The Voice (Holos) after Zelenskyy's victory, which is projected to make it to parliament with a rating hovering around 7%.
The Magnificent Seven
Zelenskyy and Vakarchuk are not the only celebrities opting for a career change: other media personas are trying their luck as political newcomers, too. In Ukraine's media landscape where access to oligarchic media channels equals fame equals potential of political success, some parties are including stars in their lists in hopes of scoring additional points at the elections; they are even using their concerts and shows as a bait for the electorate.
These manipulations transform the idea of political realities, turning it sometimes to the splendors and miseries, sometimes to the fear and loathing, and very seldom — to effective political move. However, the show must go on, so here is a lineup of seven stars which are aiming for parliament.
Olia Poliakova and the first women's party
Olia Poliakova is a Ukrainian actress and pop singer performing songs in Russian. During the Forum of Female Partnership, she announced the creation of her own political party – the first women's party in Ukraine. Despite Poliakova not planning to run for the parliamentary elections, she considers her party to be vital to Ukraine. "I'm very tired of voting for a dude in the posters, about whom I know nothing," said Poliakova. "It is no secret that Ukraine is a matriarchal country," she noted and mentioned some problems that led her to become a politician: gender chauvinism, sexual discrimination, and bad roads.
"I have plenty of concerts, I drive on these broken-down roads and I get to these Houses of Culture, remembering World War II."
"We [Ukrainian women] are not just ready for responsibility: we want it, we take it every day in all spheres of our life. Today our country more than ever needs a woman's perspective, woman's mind, and woman's approach because, above all, we are mothers and we know what the country has to be not only to raise our children but to want to give birth to children!" declared Polyakova.
Yuriy Koriavchenkov
Yuriy Koriavchenkov, an electrical engineer by training and actor, administrative producer, and executive director of the studio Kvartal 95, the same comic squad which brought President Zelenskyy fame – and, eventually, the president's seat, is running for parliament. The future deputy himself did not comment on his career change. Oleksandr Korniyenko, leader of the campaign headquarters of Zelenskyy's party Servant of the People, explained the situation in his interviews to Hromadske.ua and Channel 24 instead.
"Yuri is not only a talented actor but also he has been an administrator for a long time so he has all the necessary qualities." He noticed that Koriavchenkov is one of the most effective leaders of the regional party centers. "He has a political background and his own vision of what he wants to do in Verkhovna Rada; he has a team behind him. Moreover, he is recognizable, and people understand him," Korniyenko commented.
Koryachenkov will stand for election in Kryvyi Rih (hometown of Volodymyr Zelenskyy) as a single-constituency candidate, which fill up provide roughly half of the seats in parliament.
Mykhailo Poplavskyi
Mykhailo Poplavskyi, a Ukrainian pop singer and rector of the Kyiv National University of Culture and Arts, headed the list of the Agrarian Party for the parliamentary elections. Why has the show business star decided to delve into agriculture?
"I was invited [to head the party], and it was a surprise for me. I was invited, since I'm a hillbilly. I'm a farmer. I love the Ukrainian village; I have my own agribusiness. It's a big honor for me to head this list and a big responsibility," insists Poplavskyi.
However, he is not a lone soldier: later Poplavskyi was supported by another legendary pop star, Oleh Vynnyk. The duet started an all-Ukrainian tour to promote the party.
"I support the Agrarian Party because its ideology is close to me. I want our rural youth not to move out to Europe. Conversely, I want our villages to become European," Vynnyk commented on his position.
The party members intend to join a coalition in Verkhovna Rada, to prevent the establishment of a land market, complete the process of decentralization and "make Ukrainian village prestigious." However, the Agrarian Party is not projected to beat the 5% threshold necessary to be represented in parliament.
Svitlana Bilonozhko and Vitaliy Bilonozhko
Ukrainian crooners Svitlana Bilonozhko and Vitaliy Bilonozhko are planning to represent the party Strength and Honour headed by Ihor Smeshko, head of Ukrainian Security Service during the administration of President Leonid Kuchma. During the party congress and in later interviews this celebrity couple stated that the main reason to enter politics was being ashamed of all of the candidates, their electoral programs, and campaigns.
"I know what I'm going to do. I don't want any controversies in the law on intellectual property rights. I want to bring people together, if we find some sympathizers of culture. In addition, I want to initiate the law on patronage to make the artists' lives easier since they were really abandoned by the recent authorities. Undoubtedly, we will stand by Ihor Smeshko if he proposes the things that don't hurt our people," summarized Vitaliy Bilonozhko.
Mr. and Mrs. Bilonozhko claim that they "have sung enough" and contemplate lobbying for the interests of pensioners (they are 61 and 66 years old) and cultural workers:
"If no one takes care of us, we need to do it ourselves."
According to a survey by the Ukrainian Institute for Social Research for June 28 – July 4, the party Strength and Honour was supported by 2.5 % of voters, so, like the Agrarian Party, it is unlikely to receive seats in parliament. Ihor Smeshko himself obtained 6.04 % in the first round of presidential elections which took place on 31 March 2019.
Oleksandr Skichko
This actor, broadcaster, and impersonator will run for election, representing Cherkasy Oblast as a candidate for Zelenskyy's Servant of the People party. An economist by training, Skichko currently works at the TV channel Ukrayina owned by oligarch Rinat Akhmetov. According to the tradition of online politics, created by President Zelenslyy, he announced his intention of running for parliament through his Instagram account:
"I'm becoming a politician because I'm tired. I'm tired of listening to empty promises every 5 years, driving down broken roads and, above all, I'm tired of hearing that my friends want to move to another country to earn money because it is impossible to live in Ukraine. I think that we are losing our country – and I don't want it to happen."
Skichko has already prepared three draft laws: on increasing local budgets, on developing industrial parks, and on agricultural associations. He is still expanding his campaign on Instagram.
Ivo Bobul
Another pop singer and vocal coach, Ivan Bobul (better known as Ivo Bobul), is representing a little known party Patriot. In 2018, Bobul stated he will run for parliamentary elections and even voiced his program: to make Ukraine a world leader, to develop Ukrainian culture (for instance, to prohibit lip-syncing), and to build good roads. However, later the singer clarified that his statement was a joke. In any case, 2019 showed that there is some truth behind every joke, so now Ivo Bobul's plans are slightly modified but still ambitious.
"In recent years, people have grown tired of politicians' faces. It is necessary to tell people the truth that they are being deceived. Politicians can trick them once. Or twice. Or trice. But there will be no fourth time. Clearly, the level of culture in Ukraine needs to be improved. Also, our economy is on the edge," said Bobul.
Overall, Volodymyr Zelenskyy and the presidential party Servant of the People, which includes sportsmen, actors, singers, and comedians triggered a new tendency in Ukraine: politics, pop culture, and show business are becoming closely intertwined. Being sometimes incompetent or not understanding the difference between legislative and executive branches, these people, however, are promoting their parties with their personal credibility, reputation, and popularity, becoming symbols and mascots (if not trademarks), changing the vision of Ukrainian politics and the politics itself.