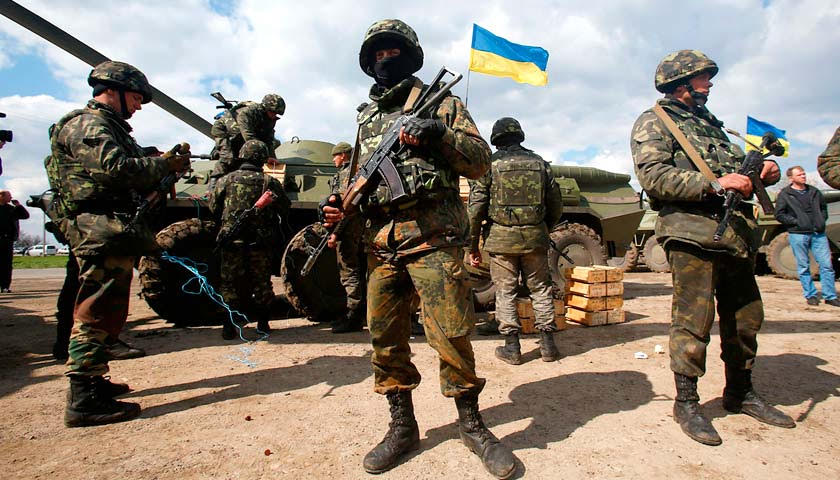 In February-March 2014, the Russian Federation committed an act of armed aggression against Ukraine, occupying and then annexing the Autonomous Republic of Crimea. Then, Russia multiplied its subversive actions in the Ukrainian Donbas, and in August 2014, it openly deployed its regular troops across this Ukrainian region.
Thus began another military-political conflict between Russia and Ukraine, which continues to this very day. From 2014-2018, Ukraine lost almost 45,000 sq. km of land with a population of 6 million people. This is about the size of a European country like Switzerland.
Unfortunately, neither the President of Ukraine nor the Presidential Administration has a concrete plan for liberating the occupied territories. Neither does the Prime Minister of Ukraine nor any member of the Cabinet of Ministers of Ukraine…
Personally, I strongly reject scientific "military doctrines" proposed by Ukraine's new military-political leadership as amateurish and unnecessary. Instead, I propose an absolutely realistic Plan for the Liberation of Donbas. It can be done. However, we must not be afraid, no matter how strongly some faint-hearted persons – in Ukraine and abroad – try to convince us of Russia's great power and "invincibility". No, we are indeed capable of defeating the Russian Federation by ourselves and restoring the territorial integrity of Ukraine. However, a number of problems need to be addressed.
The most important problem is the absence of a good organizational and staff structure of the Ground Forces of the Armed Forces of Ukraine and special combat forces.
Do we have at least one complete mechanized regiment? I refer to a regiment with 2,300 to 2,500 men. No, we don't! Do we have a mechanized brigade with 5,500 to 7,000 men? No, we don't! There are several military units with up to 2,000 men, which are called "brigades", for some reason or other. In fact, these "brigades" are poorly manned and equipped. In addition, the motorized rifle regiments are not well trained and unable to achieve strategic success in offensive operations.
The brigade is a tactical military formation; it is not a unit. It consists of regiments, separate battalions and divisions; it also includes separate tank battalions. (I will not write about divisions, although I underline that this formation may be composed of regiments, brigades and separate units). Therefore, all military units called "brigades" must be immediately manned and equipped with reserve soldiers, who have undergone different specialist training, thus bringing the number of each brigade to 5,500-7,000 soldiers.
Here is a brief description of the structure of a modern brigade:
– a mechanized regiment with 2,500 soldiers;
– an artillery regiment consisting of two howitzer and cannon divisions;
– two separate mechanized battalions numbering 500 soldiers each;
– a separate tank battalion, 51 tanks;
– a separate multiple launch rocket division (MLR);
– a separate anti-aircraft missile division;
– a separate engineer sapper battalion;
– a separate communications company;
– a separate medical company;
– rear detachment support and logistics support system;
Such will be the full-fledged Mechanized Brigade of the Ground Forces of the Armed Forces of Ukraine with 7,000 military personnel. At least five brigades need to be created. There should be seven brigades with 5,500 soldiers. One month should be allocated for coordinating the military operations of each brigade. An artillery brigade must provide support to each combat brigade.
Four army corps should be formed with twelve mechanized brigades. Two will operate in the North, one in the South and one will be in reserve. The latter should be stationed at an equal distance from Donetsk and Kharkiv.
40,000 National Guards and no more than 50% of the troops currently deployed in the war zone – the youngest and the most physically fit – should serve in the four army corps.
The current Minister of Defense and Chief of Staff of the Armed Forces do not wish to recruit more men and rely mainly on enlisted soldiers. This strategy will not help us to liberate Donbas. An army, dependent only on enlisted men, will not bring us victory.
Today, the enemy deploys reconnaissance missions, searching for weaknesses in our defense system. Therefore, the military draft should be preserved and obligatory for all Ukrainians fit for military service. In accordance with the Constitution of Ukraine, "…the protection of the sovereignty and territorial integrity of Ukraine, ensuring its economic and informational security are the most important functions of the State, and are the concern of ALL the Ukrainian nation".
Military parade dedicated to the 27th anniversary of Independence Day of Ukraine, Kyiv, August 24, 2018 (photo gallery)
Accordingly, every spring at least 55,000 persons need to be called up for regular military service; every autumn – the same number, which means every year – not less than 110,000 recruits, in order to organize and train 1.5 million men for our country's defense over a period of ten years. This means that, on the one hand, state authorities must intensify information campaigns and propaganda work among the population, and on the other hand, they should strive to make life easier for their citizens, and reduce taxes, prices for gas, electricity, and utilities. Recruits must know and feel that the State is concerned about them and their families.
It is also necessary to create a real shock force – the First Field Army, which will be the home base for the Eastern Military District.
According to my calculations, there is currently a large number of Russian military personnel in the occupied territories of Donbas: about 1,000 permanently based Russian officers acting as instructors, and about 1,500 Russian soldiers and sergeants – a rotating unit – who are deployed to Donbas for "live" military training, and learn to fight and shoot at human targets. Moreover, I want to underline that about 50,000 Russian soldiers and 200-250 Russian tanks are stationed near our borders. In two years, there will be more – 300,000 Russian soldiers, about 1,000 tanks and the best of the Russian Air Force. What will we do then? How will we free Donbas? And at what price?
In order to liberate our occupied territories, Ukraine must develop a strong propaganda campaign and disseminate more information among the local population. My combat experience has taught me that we must also protect these people. We must offer Donbas miners, tractor drivers and farmers both peace and jobs, salaries and pensions, and we must repair their homes, bridges, roads, schools and hospitals. We must befriend the local directors of mines, factories, small businesses, and above all, ordinary Ukrainian citizens.
After restoring the Russian-Ukrainian border, the mechanized brigade in charge should deploy four battalions for defense purposes to areas not further than five to seven kilometres from the actual border.  After the end of hostilities in Donbas, this mechanized brigade should be garrisoned in the city of Sloviansk.
In the context of Russia's war with Ukraine, army generals, and not law enforcement officers, should be in charge of the Armed Forces of Ukraine. The Joint Operational Headquarters of the Armed Forces of Ukraine are currently not suited to manage operations for the liberation of occupied Donbas. The army commander should appoint his own staff, which must not include members of law enforcement agencies.
The commander must create an Army Military Council, which should also include the leaders of the military administration of Donetsk and Luhansk Oblasts. Military civilian administrations must be liquidated because they are conflictual. The military command should adhere to one single policy – ensuring work in a wartime military district.
All efforts should be directed at liberating Donbas and bringing lasting peace to the region.
Decisions to carry out military missions should be taken by the commander, without the intervention of the Minister of Defense or the Chief of the General Staff. Such decisions are personally approved by the Supreme Commander-in-Chief, without consultation with advisers or other persons. In the course of military operations, no one can interfere with the decisions or orders of the commander of the Armed Forces of Ukraine.
So, what advice do our foreign friends offer Ukraine?
At one time, US Vice President Jo Biden said: "You know very well that nobody can do your job for you." He was speaking about the liberation of Donbas.
US National Security Advisor, John Bolton, said: "The deployment of peacekeepers in Donbas is not in the interest of Ukraine, but more in the interest of Russia, which seeks to freeze the conflict. Does Ukraine need this?"
During one of her visits to Ukraine, German Chancellor Angela Merkel said: "Take the situation into your own hands and resolve the challenges facing you." This was also a statement about the liberation of Donbas.
Only our soldiers and officers, and not peacekeepers, will resolve the issue of establishing peace in Donbas. And, the only path to peace is through the reinstatement of the state border of Ukraine. As soon as the boots of our soldiers step on the line of the state border, which is currently controlled by the enemy – only then will all the so-called Minsk agreements be fulfilled. To this end, there should be no more prohibitions on how or when to use our troops or military equipment.
Combat regulations and instructions must be implemented for combat operations allowing the use of all types of weapons. The commanders of regiments, divisions, units, as well as the Supreme Commander-in-Chief, are equally obliged to comply with the requirements of the Armed Forces Military Regulations regarding the use of weapons in case of enemy attacks, and no one can ignore these requirements. The law is for all. Therefore, laws prohibiting the use of weapons should be rejected, because it is a matter of life and death for thousands of Ukrainians fighting in the front lines. As military theorist Giulio Douhet once stated:
"… It is useless to delude ourselves. All the restrictions, all the international agreements made during peacetime are fated to be swept away like dried leaves on the wind of the war. A man who is fighting a life-and-death fight – as all wars are nowadays – has the right to use any means to keep his life."
In conclusion, I would like to emphasize that no peacekeepers, green berets or blue helmets, OSCE representatives can help us; only we can take back our territories. It is futile to expect that one day Vladimir Putin will order his troops in Donbas to return home quietly and peacefully. That will not happen. They will not go anywhere. It is up to the Ukrainian Army to bury them wherever they may be on our territories!
We must fight to find our place in world history. But, world history is written by the Army and Navy. They are the main instruments for resolving foreign policy issues. It is not in vain that the Constitution of Ukraine states: "The defense of Ukraine, protection of its sovereignty, territorial integrity and inviolability shall be entrusted to the Armed Forces of Ukraine". It is up to them to implement the Plan for the Liberation of the Donbas from the Russian invaders. And they will do it!
Lieutenant General Oleksiy Lavreniuk
Born December 29, 1940 in the village of Lidykhivka, Teofipolsky Raion, Khmelnytsky Oblast. Started career as platoon commander and went on to become deputy commander of Kyiv military district. Graduated from Leningrad Higher Secondary School (1960-1964), M.V. Frunze Military Academy (1969-1972), Academy of the General Staff of the Armed Forces of the USSR (1978-1980). Participated in the war in Afghanistan. Led major operations of the Soviet-Afghan forces. Returned from Afghanistan to Ukraine in May 1985. Took part in the Chornobyl clean-up in 1986. In 1992-1994, Head of the Training and Inspection Administration of the Armed Forces General Staff of Ukraine. From April 1994 to December 1998, Head of the Strategy Department of the Academy of the Armed Forces of Ukraine
Tags: reforms in Ukraine, Ukrainian Armed Forces, Ukrainian border