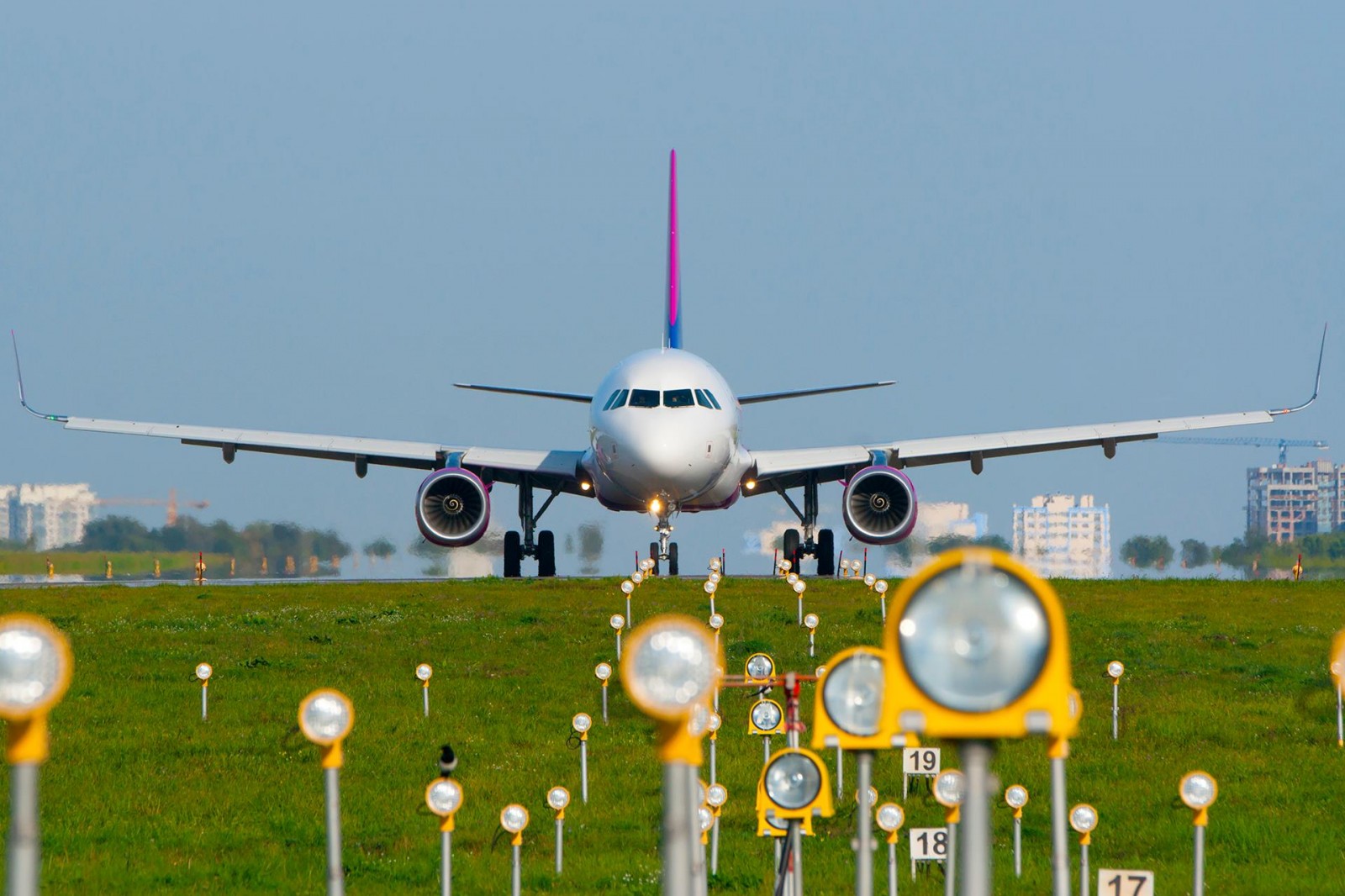 Photo: Facebook/Vitaliy Nesenyuk 
Editor's Note
Boosted by Ukraine's visa-free regime with the EU, Ukraine's low-cost airline boom keeps growing. The Ukrainian Center of Transport Strategies has summarized information on all new flights that low-cost airlines launched in Ukraine in 2018. Here we provide an abridged translation of the
original article
.
2018 can go down in the history of Ukrainian air travel market as a year of low-costers. Together with the long-rumored and highly-expected entry of Ryanair, Wizz Air ramped up its presence at the Ukrainian market. We may not have witnessed a full-fledged low-price battle between two companies, but such proximity of two rivals can't be called bad news. Shadowed by the two giants, smaller companies continued working and have even slightly expanded their networks.
Ukrainian minister of infrastructure Volodymyr Omelian commented on the 2018 results for air travel market in Ukraine, saying,
"Now I personally am happy that I succeeded to break the monopoly at Ukraine's market of air services and to establish absolutely transparent and European rules of the game. We as a state have created conditions for fair competition, and everything else is regulated by the market. As a result, Ryanair, Europe's biggest low-cost carrier, entered Ukraine. Another large airline, Wizz Air, announced the creation of a Ukrainian subsidiary, and this will bring an opportunity to conduct domestic flights. A Ukrainian airline has been established, SkyUp. The carriers who have already been working at the Ukrainian market have to revise their price policies downward," Mr. Omelian said.
Ryanair out of a clear sky
Despite the fact that the entry of the low-cost giant was long expected, the date of the first flight became a surprise. Instead of the announced end-October – early November of 2018, the first flight was scheduled for early September, and on the route initially not mentioned on the list of Ryanair's Ukrainian destinations.
After almost two years of negotiations, scrapped flights planned for 2017, scandals around Boryspil Airport, and the interference of the government, on 3 September the first regular flight of Ryanair Berlin-Kyiv-Berlin landed in Kyiv. Its occupancy rate was about 96%.
From 28 October to 2 November occurred a "large fly-off" of Ryanair from Kyiv and Lviv on 16 routes at once to seven European countries.
The Irish no-frills carrier also has far-reaching plans for Ukraine in 2019. First, in April-May Ryanair launches new flights to Manchester, Athens, Sofia, Pathos, and Dublin. Second, from February Austrian subsidiary of Ryanair, Laudamotion airline, starts flying on the route Kyiv-Vienna.
And as it became clear after the negotiations of David O'Brien, Chief Commercial Officer at Ryanair with Ukrainian Infrastructure Minister Volodymyr Omelian and President Petro Poroshenko, the Irish are not ready to rest. The company explores the possibilities of launching flights to other cities of Ukraine. Kharkiv, Kherson, Odesa are on the short-list.
Wizz Air strengthens positions
The Hungarian low-cost airline celebrated 10 years of operations on the Ukrainian market. The flight Lviv – Frankfurt-Hahn launched on 1 December became the 36th destination the Wizz Air serves from Ukraine. 18 flights out of the 36 were launched in 2018.
Kyiv got four additional routes to Lisbon, Tallinn, Berlin, Vienna. The airline also moved its Frankfurt/Hahn destination to the main Frankfurt Airport.
From Lviv, Wizz Air resumed a flight to Dortmund following a four-year pause and launched flights to Gdańsk, Katowice, London (Luton), Vilnius, Bratislava, and Frankfurt (Hahn).
But the major milestone was the low-cost airline's return to Kharkiv. Low-cost carriers neglected the biggest city of eastern Ukraine for a long time. Only last April, the Hungarian company resumed its operations there with the Kharkiv-Dortmund flight. In the summer, a flight to Katowice was launched, in the fall – to Gdańsk, Wrocław, London (Luton), and Vienna.
Wizz Air says it's not afraid of the competition with Ryanair; quite the opposite, they believe the activities of the low-costers can stimulate Ukrainians to fly more.
On the very next day after Ryanair announced new flights from Kyiv in spring, President Poroshenko and Infrastructure Minister Omelian met with Wizz Air CEO Josef Varadi, who voiced the intentions to resume the operations of Wizz Air's Ukrainian subsidiary, which was suspended in April 2015. Looking ahead, the company intends to base 20 of their planes in different cities of Ukraine. However, the decision isn't final yet, since some minor legal obstacles still persist.
For 2019, Wizz Air has announced new destinations: Riga, Billund, Bremen, Kraków from Kyiv; Copenhagen from Lviv; Kraków from Kharkiv. To achieve this, the company will base one more plane in Kyiv, totaling its fleet in the city to four aircraft.
In addition, the Foreign Ministry of Hungary proposes to establish a flight Budapest-Lviv, served namely by Wizz Air. The company is mentioned as one of possible Uzhhorod Airport operators.
In the shadows of giants
In 2018, Italian-Albanian carrier Ernest Airlines extended its activities in Ukraine, launching its first flights in December 2017 from Lviv to Milan (Bergamo), Naples, and Venice; and from Kyiv to Milan (Bergamo) and Naples.
Last June, Ernest added one more flight from Lviv to Naples (this time to Malpensa Airport) and to Rome; and to Bologna from Kyiv. And October saw the first flights of the airline to Rome and Milan (Malpensa) from Kyiv Airport (Zhuliany).
In 2019, Ernest intends for expanding its geography of flights from Ukraine, particularly, launching the flights from Kyiv to Genoa, and be welcomed by Kharkiv to fly to Rome and Milan (Malpensa) from there.
Thanks to raised mutual quote on flights between Ukraine and Türkiye, Pegasus Airlines launched a new flight from Kyiv (Zhuliany) to Izmir on 9 June. Other flights of the airline are Kyiv-Ankara, Odesa-Ankara, and the flights from Lviv, Kharkiv, and Zaporizhzhia to Istanbul.
Thus, for now, Kyiv's second airport Zhuliany hosts three low-costers at once. And FlyDubai, which also views itself as a low-cost carrier, announced last September a transfer of its daily flights from Kyiv Airport (Zhuliany) to Boryspil. The latter airport will use this fact together with Ryanair flights to make its Terminal F cost-efficient. It is set to be recommissioned in spring 2019.
"Hybrid low-coster"
Igor Sikorsky Kyiv International Airport (Zhuliany) has also become home for a new Ukrainian airline, SkyUp, that positions itself as a "hybrid low-coster." In December 2017, it became clear that the company was an air charter carrier affiliated to a tour operator. The company was going to conduct charter flights to resorts of Türkiye, Egypt, Cyprus, and UAE. And its first flight headed to Sharm el-Sheikh from Kyiv Airport on 21 May 2018.
At the same time, the company didn't drop the idea of cheap domestic flights. At first, SkyUp planned launching travels from Kyiv, Lviv, Kharkiv to Odesa in April-May 2018, then the start of flights was postponed to fall-winter 2018, and finally to spring 2019, moreover, Lviv disappeared from the list. This time, the flights will seemingly be open – the tickets are on sale for the summer season starting from 2 June. And their prices start at about $18, which is comparable to the train tickets.
Besides the domestic flights, SkyUP has launched its first regular international flights. Kyiv-Tbilisi first departed on 27 December, and on the next day, the company opened their route Kyiv-Sofia. Two other destinations, Barcelona and Poprad, will see the SkyUp flights in January.
And in May-June, the airline's flights will connect the Ukrainian capital with Batumi, Larnaca, Rimini, Naples, Sicily (Catania), Alicante, Tenerife, Palma de Mallorca.
What's next?
According to the infrastructure minister, only 5% of Ukrainians are active users of air carrier services. That's why the potential of the market development is huge. Mr. Omelian believes that in 10 years every second Ukrainian can get used to regular air flights. "Our goal is that [the current share] was ten times bigger, 50% by 2030, I believe we can reach this figure," the minister says.
As for the near prospects, the official expresses cautious optimism, stressing that annual 30% market growth can't last forever and after the revolutionary growth the market will gravitate to evolutionary expansion.
"As for the presence of low-cost carriers in regional airports, there are two pre-conditions: a runway and airport policy of being interested in attracting new airlines. The Infrastructure Ministry of Ukraine doesn't interfere with business activities of airports. We create the rules, and the airports should be able to use them. But I, personally, would like to see low-cost airlines in the airports of Dnipro, Mykolaiv, Uzhhorod, and Kherson. The south of Ukraine is important by the fact that our citizens who live in the Russian ghetto of [occupied] Crimea would have the opportunities of convenient air connections with other cities of Ukraine, as well as with European countries. Infrastructure unites, and we remain committed to this motto," assures Mr. Omelian.
Read more:
Meanwhile, two Ukrainian easternmost international airports were destroyed in 2014-2015 battles:
Tags: airlines, low-coster, Ryanair, SkyUp, transport in Ukraine, Wizz Air