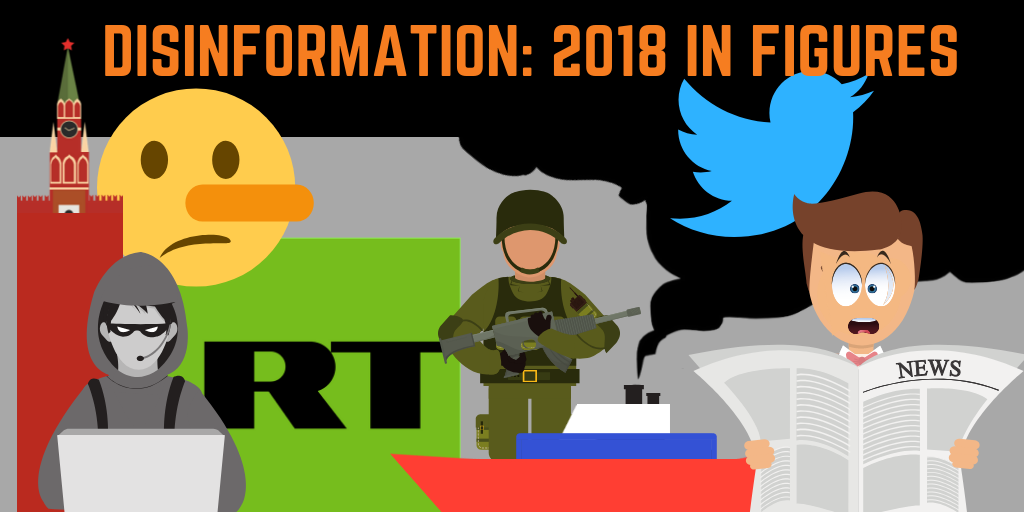 2018 has been a busy year for the pro-Kremlin disinformation campaign, with Russian trolls and media working hard to spread falsehoods on an ever-widening range of issues.
From US elections to Crimea to the Skripal poisoning, here's an overview in figures of how Russian influence operations sought to divide Western societies in 2018 and how a growing number of countries are hitting back.
This year, tech companies came under sustained pressure from Western governments for their role in enabling pro-Kremlin disinformation. The resulting disclosure of data by tech giants has provided new insights into the scale and impact of disinformation on social media.
A Good Year For The Trolls
Russian internet trolls, for example, appear to have thrived in 2018.
Based on information provided by Twitter, US researchers were able to estimate that disinformation travels 6 times faster than the truth on the platform.
No wonder considering that the Internet Research Agency, the troll factory based in St. Petersburg, moved to a sprawling new office of 12,000 square meters this year, up from their previous 4,000-square-meter workspace.
Russian trolls were also shown to receive 9 times more engagement in English than in Russian, reflecting the mounting Russian effort since 2013 to manipulate American voters.
The new data also revealed the magnitude of Russian online campaigns to influence election results in the United States and a number of European countries, although researchers often warned that the findings are likely the "tip of the iceberg."
The US Senate released a 206-page report detailing what it described as the Kremlin's "lethal blend of conventional military assaults, assassinations, disinformation campaigns, cyber attacks" aimed at influencing the presidential election and US politics in general.
Another set of reports produced for the Senate showed that Russian online influence operations began as early as 2013 and have actually intensified since Trump's election.
Disinformation Topics: Something Old, Something New
In terms of narratives, the Russian disinformation campaign continued to focus heavily on eastern Ukraine and Crimea.
Read also: Ukraine-related narratives dominate Russian propaganda – disinformation watchdogs
In Crimea, fake stories included the alleged construction by Ukrainian authorities of a 120-kilometer waterway aimed at isolating the annexed peninsula from mainland Ukraine.
In eastern Ukraine, Russian media falsely claimed that Ukrainian forces killed 10,000 people in areas controlled by pro-Russian separatists and that 14 instructors had been dispatched by the US secret services to help Kyiv poison water supplies in Donbas.
Russian media continued to push the narrative that Ukraine discriminates against Russian speakers, reporting for example that Ukraine doesn't have a single Russian-language school when in fact the capital city, Kyiv, alone has 16.
NATO, MH17, and the alleged dangers of vaccination also remained pet topics for Russian trolls, media, and authorities.
The Russian foreign ministry accused Washington of failing to provide a single satellite image related the downing of flight MH17 over eastern Ukraine in 2014, although the United States had in fact publicly released images just five days after the tragedy.
As in previous years, Russian media actively sought to discredit NATO, falsely reporting for instance that 7 German pilots quit their country's armed force in protest at a "NATO military campaign against Russia."
As for vaccination, a whopping 93% of tweets on the issue come from malicious accounts.
2018 also brought Russian disinformation agents new topics to co-opt for their campaigns.
The poisoning of former Russian spy Sergei Skripal and his daughter on British soil, for example, generated a barrage of false claims and accusations. EUvsDisinfo recorded more than 20 different, at times conflicting narratives related to the attempted murder of the Skripals.
As previously, the impact of disinformation campaigns was difficult to assess, although journalists and pollsters did provide some indications.
Pervasive disinformation in Russian state media certainly appears to be bearing fruit with domestic audiences.
According to the country's independent Levada pollster, only 3% of Russians believe Moscow poisoned the Skripals and 46% of Russians know nothing about the Prague Spring events.
In Britain, even respected media outlets were fooled by pro-Kremlin disinformation.
An investigation by the Guardian showed that British media outlets had republished tweets from Russian trolls more than 100 times since 2017, including BuzzFeed, the Guardian, the Telegraph, the BBC, the Daily Mail, and the Daily Express.
Western Pushback
This year, growing awareness of pro-Kremlin disinformation has prompted a number of Western governments and organizations to fight back.
U.S authorities charged 13 Russian citizens for meddling in the 2016 presidential election, and several investigations into Russian influence operations in the United States are ongoing.
In France, parliament adopted a bill cracking down on the "manipulation of information" during election periods.
Under the draft law, initiated by President Emmanuel Macron, tech platforms that fail to disclose their funding sources for sponsored content will face one year in prison and a fine of 75,000 euros.
French government think tanks also issued 50 recommendations to fight disinformation, and Reporters Without Borders published its own 25 recommendations aimed at tackling online intimidation of journalists.
Also in 2018, Germany passed a tough new law slapping fines of up to 50 million euros on tech companies if they fail to remove within 24 hours posts containing hate speech or disinformation.
In Finland, a court slapped prison sentences and hefty fines on pro-Kremlin trolls for harassing journalist Jessikka Aro, making Finland the first European country to take legal action against Internet trolls.
In addition to providing governments with more data, tech companies also took steps to curb online influence campaigns on their platforms.
Facebook opened a "War Room" with 20 staffers to fight disinformation during election periods worldwide and doubled to 20,000 the number of staff monitoring content for disinformation.
And in May and June 2018 alone, Twitter suspended 70 million suspicious accounts.
So, who said figures never lie?
---
Read also:
Tags: 2018, Disinformation, Hybrid warfare, Russia's hybrid war, Russian disinformation, Russian media, Russian propaganda