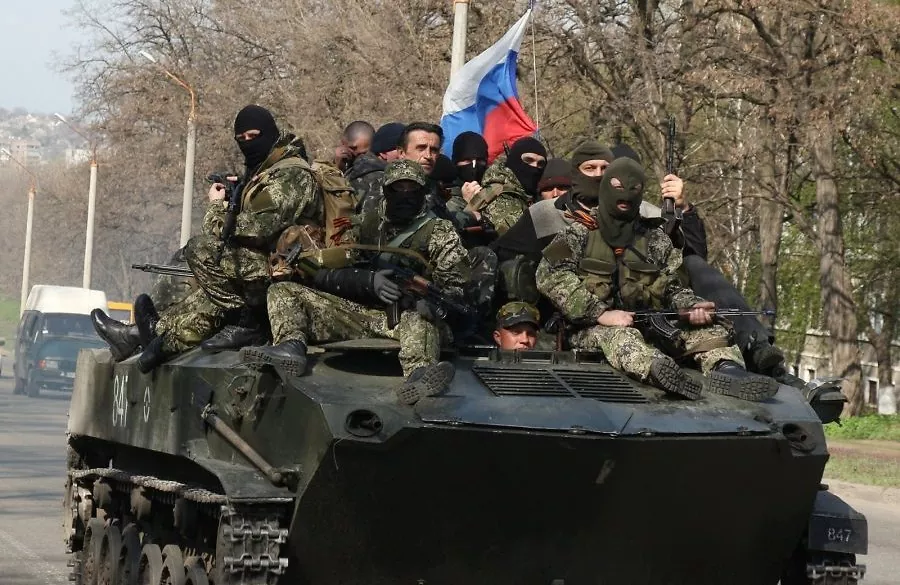 An armed personnel carrier full of mercenaries from Russia in the Donbas, Ukraine (Image: inforesist.org) 
Personnel of Russian private military companies, which are illegal according to Russian law, have appealed to the International Criminal Court in the Hague to launch an investigation into the organizers of the Russian PMCs and to seek legal protection for the PMC employees.
Yevgeny Shabayev, a senior leader of the All-Russian Officers Assembly said that the appeal had been approved by 357 delegates from 52 of the federal subjects of the Russian Federation who represented 18 all-Russian and inter-regional veterans groups.
The appeal specified that Russian mercenaries "are taking part in conflicts in the Donbas [Ukraine], Syria, Libya, the Central African Republic, Gabon, North and South Sudan, Yemen and other countries of Asia and Africa" and that they have taken losses in these conflicts "numbering in the hundreds."
Shabayev pointed out that in July, the PMC employees had appealed to the Presidential Administration, calling on the Kremlin to legalize their status, so that they could gain the protections of other military who are fighting for Russia. The Kremlin turned that over to the defense ministry, which refused to budge, labeling the PMCs "anti-constitutional."
As a result, PMC employees who are fighting in Ukraine, Syria and elsewhere, he says, are at least formally engaging in illegal actions, even though they are doing what the Russian government has contracted them to do.
Today, Putin's spokesman Dmitry Peskov stayed with that position, saying that "in Russia, there are no PMCs de jure" and that as a result, he would not comment on their appeal to the Hague, but could say that "the issue is not on the agenda" of the Kremlin now.
The PMC appeal and the Kremlin's stonewalling is only going to increase attention to this issue and to Vladimir Putin's close involvement with it, especially now that his good friend Yevgeny Prigozhin, known as "the chef," is on an African tour of the countries where his PMCs are involved.
Further Reading:
Tags: Africa, Central African Republic, Central Asia, Donbas, Donbas war (2014-present), Gabon, International, Libya, Military analysis, North Sudan, PMC, PMC Wagner, Russia, Russian mercenaries, Russian private military companies, Russo-Ukrainian War (2014-present), Serbia, South Sudan, Syria, Yemen