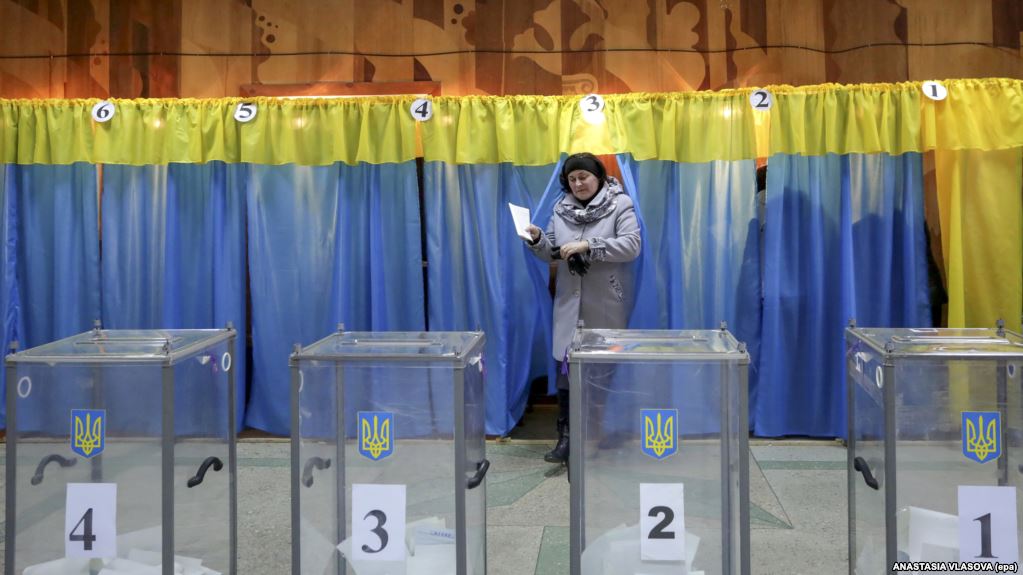 Voting at one of the polling stations in Kurakhove, Donetsk Oblast at Ukraine's parliamentarian election, 26 November 2014. 
Ukraine is less than a half-year away from its presidential election. That's why experts and parliamentarians gathered in the Verkhovna Rada on 6 November for a roundtable discussion in order to asses the risk zones of the Russian influence and prepare to fend it off.
The presidential and parliamentarian elections are coming up. Considering this, Ukraine should be prepared for Russian meddling, stresses Vice Prime Minister for European and Euro-Atlantic Integration of Ukraine Ivanna Klympush-Tsintsadze.
She remarks that Russia's tactics are based on interfering with contradictions and hardships within society and fuelling them. That's why, according to her, the aggressor country supports forces prone to populism, nationalism, and – in many European countries – Euroscepticism.
Read also: How Russia will meddle in Ukraine's 2019 elections
Ms. Klympush-Tsitsnadze is convinced that a number of possible manipulations and hybrid attacks can be reduced by leaving European and Euro-Atlantic Integration outside the political struggle.
"The presidential initiative to reassert Ukraine's strategic goals of EU and NATO membership in the Constitution may be one of the safeguards capable of moving this space of European and Euro-Atlantic integration discussions beyond manipulations. Though it can't be the only measure," says Ms. Klympush-Tsitsnadze.
Risk zones
MP Andrii Levus points out that Russia will seek to assert its influence in the information, economic, and geopolitical spaces.
And this means, he says, that Ukraine should ensure the transparency of media assets in order to determine whether a media outlet is Ukrainian, who funds it, and who is its ultimate owner.
As for the economic influence, as per Mr. Levus, Russia should be forbidden to own natural monopolies like gas and electricity. He stresses that there are many corporations in Ukraine nowadays, whose owners or co-owners are Russian.
The parliamentarian predicts that Russia will endeavor to raise the bar of social repudiation of certain facts and it will use social destabilization to create an even bigger economic crisis.
Russia aims to show that chaos, an uncontrolled situation, neverending crisis, strikes reign in Ukraine, points out Mr. Levus, that's why "it's important for Russia to keep the temperature high."
Read also: The Kremlin's chaos strategy in Ukraine and its helpers
As a consequence, MP states, it will have an impact on the geopolitical sphere too.
Russia's main objective during the 2019 election campaign in Ukraine is to show the dysfunctionality of country's authorities in general, not just to seat a right person as a president, says president of the Center for Global Studies "Strategy XXI" Mykhaylo Honchar.
He warns that Russia will conduct cyber-espionage aimed at acquiring information, counterfeiting data, compromising the Central Election Commission (CVK) with the subsequent intent to call into question the outcome of the election.
The CVK assures they are preparing for Russia's influence attempts, and hold training courses on how to respond to certain situations. However, the CVK admits they have problems with equipment.
Mr. Honchar says that the aggressor country will try to affect the situation in Ukraine via influence groups or organized political groups. Among those are the remnants of the Moscow Patriarchate which will not join the United Orthodox Church under creation by Constantinople, projects by Putin's crony Viktor Medvedchuk, the conventional group of RosUkrEnergo which is related to Tymoshenko, Firtash, and Russia, the coal group of Yanukovych's former ally, oligarch Akhmetov, and the the "Yalta Economic Strategy" group of tycoon Viktor Pinchuk, says Honchar.
Acting director of the Ukrainian Institute of Media and Communication Diana Dutsyk believes that prior to the elections, the Ukrainian Cabinet should expand the powers of the National Council of Television and Radio Broadcasting of Ukraine to react to content, assign a manager for the Ukrainian sector on Facebook, and make efforts to create Ukrainian information products capable of pushing out the Russian ones.
---
Read more:
Tags: 2019 presidential elections in Ukraine, Elections in Ukraine, Russian influence