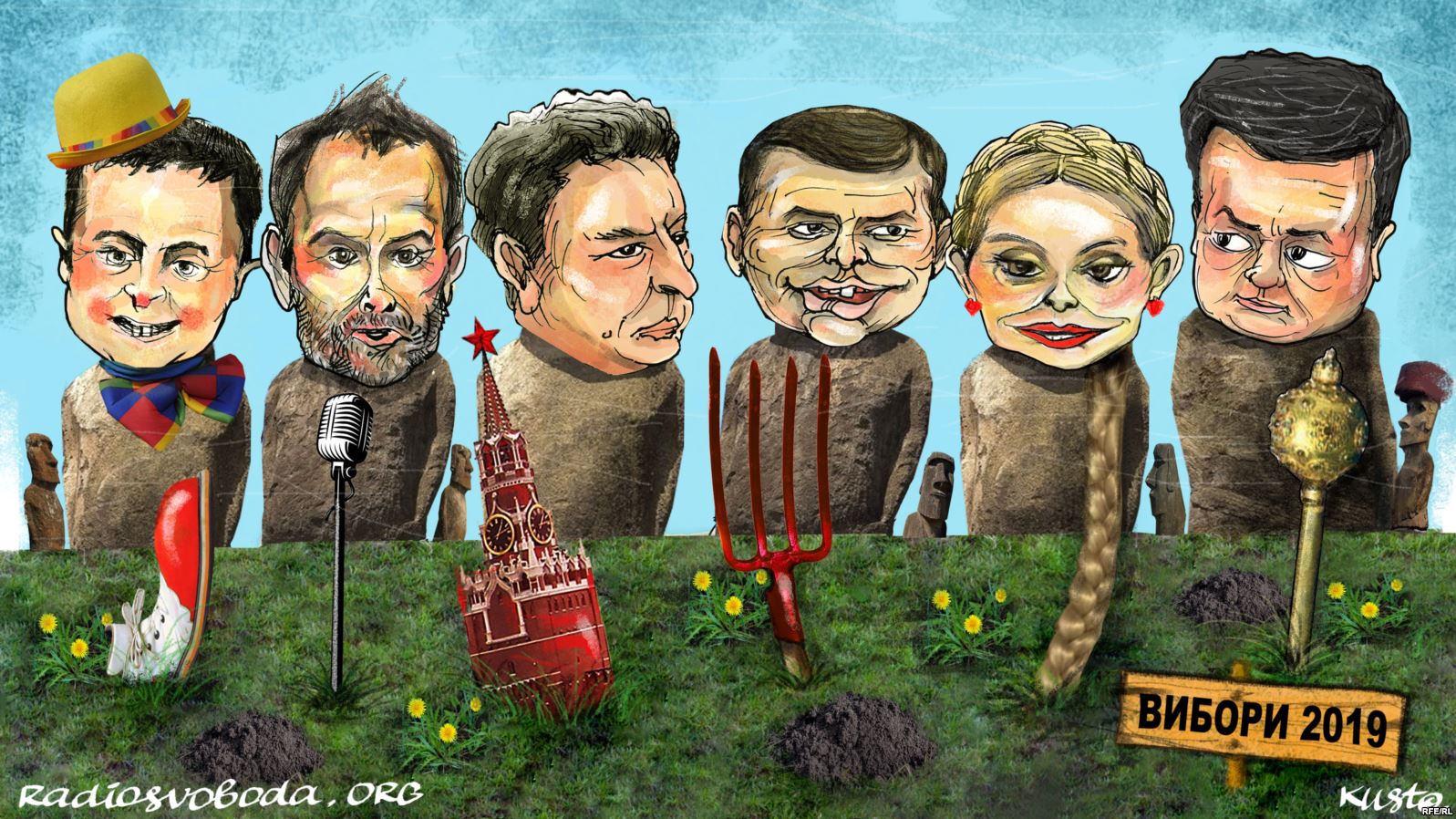 2019 elections (??): (from left to right) Volodymyr Zelensky, Svyatoslav Vakarchuk, Yuriy Boiko, Oleh Lyashko, Yulia Tymoshenko, Petro Poroshenko. Caricature: Oleksiy Kustovsky (Kusto) 
Referring to surveys carried out by the
Democratic Initiatives Fund
, TV channel
112 Ukraine
recently reported that "the ratings of Vadym Rabinovych's party "Za Zhyttia" (For Life) are rising" and that "more and more Ukrainians want peace, and aren't at all against compromise." Democratic Initiatives called this statement, broadcast on a TV channel closely linked to pro-Russian politician Viktor Medvedchuk, a lie and pure manipulation.
How do the media and politicians manipulate sociological studies? How do ratings influence the choice of Ukrainian citizens? What ratings can be trusted? Yevhen Holovakha, Doctor of Philosophy and Deputy Director of the Institute of Sociology of the National Academy of Sciences of Ukraine explains…
– Let's start with the denial published by Iryna Bekeshkina, Director of the Democratic Initiatives Fund: "We didn't mention anything about higher ratings for the "Za Zhyttia" party because they're quite stable. In December 2017 – 6.7%; in August 2018 – 6.1%. In addition, support for Vadym Rabinovych as a potential presidential candidate hasn't increased; it was 5.3% in May. Ms Bekeshkina also maintains that the percentage of Ukrainians who are ready to make concessions for peace is also stable. 20% of Ukrainians believe that peace can be achieved only through military means; 20% believe that concessions must be made; 51% of Ukrainians believe that concessions are possible, but not at any cost. They also categorically oppose the compromises that Russia offers, for example, federalization or the special status of certain Donbas regions.
After this media scandal, TV channel 112 Ukraine respectfully saluted the Fund, and made the following declaration: "According to public opinion polls conducted by the Democratic Initiatives Fund in May 2018, "Za Zhyttia" ratings stood at 6% among all respondents and 8% among respondents who intended to vote in the elections. According to the August poll, these figures "rose" to 6.1% and 8.7%, respectively. Thus, 112 Ukraine records a growth of 0.1%! Would you call this a credible indicator?
– Relations between sociologists (sociology poll/survey centres) and journalists, politicians, target audiences and voters are very complex. In many respects, this is due to constant distortion of data and meaning. After all, what is the Democratic Initiatives Fund? It's not a survey centre, but a fund that comments and does analytical reviews, but it doesn't organize or conduct polls. How can you refer to polls conducted by a fund that doesn't conduct polls?
I've got a question. Why don't journalists ask who's actually carrying out these surveys? Then you could say how serious they really are. Secondly, it's a question of manipulation, of course.
Let's suppose that I trusted the survey centre that conducted the polls for the Democratic Initiatives Fund. Well then, 0.1% refers to a maximum of 10,000 respondents. But, sociologists need more than 5% to actually point to an increase in rating, but in this case we're nowhere close to 5%.
– You asked who conducted the survey. Democratic Initiatives says that the poll was conducted by the fund together with specific partners.
– What does that mean… partners? What if my partners can't be trusted? This is illiterate wording. I see dishonesty both on the part of journalists and on the part of those who provided these data.
– Would you say that manipulation is part of today's "know-how"?
– Not at all. All this began as early as the 19th century, when the first so-called "straw polls" were conducted in the USA. Why "straw"? Because they weren't organized scientifically – i.e. using a selected sample audience – but simply random respondents were selected and questioned on the spot. Today, Ukraine's going through a similar period – akin to those days of "wild capitalism" in the US. Although our surveys can't really be called "straw polls", it's difficult to respect all the rules and nuances in our country today.
I can give many examples of mistakes, because this is our specificity, but there have also been many manipulations, of course. Why do I ask who conducts the polls? Because many sociology centres simply invent the figures and then publish them.
– Which centres are you talking about? We'd like our readers to know who they can believe.
– There are a lot of them; they spread like wildfire, just before the elections. There's a professional website – the Sociology Association of Ukraine – with a list of accredited centres. These are the survey centres that we, as professional sociologists, trust.
– Actually, journalists should check this list…
– Oh, yes! Journalists must do this, because not every citizen will. The website's easy to access and anyone can take a look. You check the list, and if the centre's not listed, then you can start asking yourself whether it's true or not.
– Let's get back to basic questions. Why have surveys? Why should Ukrainians know about the mood prevailing in their country?
– You ask me why?… Well, you look in a mirror when you shave, don't you? And why?… Well, polls are a mirror of society. They're used so that you won't get hurt. Knowledge is power; this is a medieval aphorism. If a person has knowledge, then he's ready to act responsibly before his voters.
– Another question… Why should certain voters know about the rating of a specific political party? So that their votes count?
– This is important for some people who don't want to vote for a nobody, a nonentity. Others follow their candidate and think: "My guy's losing, so we must get out and vote!" That is, voters are mobilized. Ideally, everyone should come out and vote. In some countries, you can be fined or even prosecuted for not voting.
– Some people will look at the ratings and decide not to vote. They think that their candidate will lose anyway…
Yes, that's true… it's their right. Knowledge is an asset.
– Let's get back to the survey by Democratic Initiatives… Should we believe them or not? 23% of Ukrainians don't want to vote in the presidential election, which is 6% more than in May 2015. What's going on?
– It's really sad. It means that many voters don't see any real candidates, so what's the point of voting? This is a big problem for our politicians. If our people are so disenchanted and apathetic, the results may turn out to be inadequate. At first, people are apathetic… I won't go, they say, and then street protests begin. But, the real way to change things is through elections. Street protests represent an extreme way of changing things, perhaps when there are flagrant violations.
Yes, it's sad… but, according to our data and to the accredited centres, the situation hasn't changed very much compared to the summer of 2017. I wouldn't say it's catastrophic, but there are certain pessimistic notes.
– Ukrainians have seen and heard lots of information about presidential candidates from the beginning of this year, but elections are scheduled in the spring of 2019. Is it really necessary to conduct surveys a year and a half before the elections? Do these figures actually correspond to sentiments in our country?
– They're like "tests". People start thinking seriously when the campaign is launched, when political agitation begins. Before this, we're more likely to see protests or general assessments. These data can be trusted insofar as they reflect a certain percentage of public opinion, but it's not worth drawing far-reaching conclusions.
The tragedy of Ukraine is that more than half of our citizens don't see any leaders among the candidates. There were rare cases in the past when many pinned their hopes on Viktor Yushchenko and then on Petro Poroshenko. I think that if elections were held today, the results might be even worse.
– Why?
– Frustration, mainly. Petro Poroshenko found the courage to apologize for not bringing the war to an end – this is the first time in Ukrainian history, and it's a good tactic because if you promise a lot and don't do anything, it will undermine not only your rating, but the whole political system.
– 36% of respondents in the Donbas don't want to take part in the elections…
– Because the Donbas is so close to the combat zone and the war has a direct impact on their daily lives. Our institute conducted a survey on the psychological distress and anxiety among the population. 25% of respondents said they were under a lot of stress, and that's a lot! In the West, it's about 18%, and in the Donbas – it's a third of the population! These people are under intense strain; they'd like to see everything resolved.
– Today, much is being said about the threat of populist politicians, who promise to implement what most experts consider impossible. At the same time, the ratings of such politicians are quite high. So, what will our voters decide? They think that this or that candidate is popular, although experts say the exact opposite.
– In general, populism shouldn't be demonized. Populism is a normal phenomenon in politics. However, when promises are obviously impossible, that's called "malignant populism". Normal populism consists in promising people what they don't have now, but what can be achieved if they are mobilized under this candidate's leadership. All politicians are populists, but voters should distinguish between malignant and normal populism.
– Many sociology centres include candidates that have not yet announced their participation in the elections. For example, everyone's talking about musician Svyatoslav Vakarchuk (of Okean Elzy-Ed.) and showman Volodymyr Zelensky. Do you think this is a good thing?
– Anything goes from the sociological point of view. Sociologists can include anyone they wish. For example, in the 1990s, I included non-existent politicians, who gained 3% of the total vote. I only had to think of a good name.
When the election campaign begins, then they won't have the right to do this. But now? How do we know who will be nominated? There's no official list yet, so everything's still at the experimental stage.
– We have this curious technique on Ukrainian television – live polls during live TV shows. For example, the host asks a specific question: "Can Petro Poroshenko bring this war to an end?" …and he asks the viewers to choose and call either of two numbers. How do you feel about this as a sociologist?
– That's a sensitive issue, a prickly problem for me. They probably have the right to do this, but they should repeat one thing over and over – this is not a representative poll! It reflects only the opinion of this channel's audience, and it's not at all representative of the population. Unfortunately, the host never says anything. It's just a game to make more money. I'd say it's a contemporary type of "straw" poll.
Editor's Note
1.The Ilko Kucheriv Democratic Initiatives Fund was founded in 1992 as a non-profit, private, analytical organization. Founder and president from 1992 to 2010 – Ilko Kucheriv (1955-2010). As of 2010, Iryna Bekeshkina is director, research director – Oleksiy Haran.
The Fund strives to contribute to the democratization and liberalization process in Ukraine by:
ensuring necessary information through independent professional interviews and public opinion analyses in Ukraine;
disseminating objective information and analytical materials on political processes;
encouraging and supporting free media and political studies; raising professionalism and awareness of political leaders, journalists and political scientists in Ukraine;
promoting Eurointegration by providing the West with more information about Ukraine.
2. 112 Ukraine is private Ukrainian TV channel that provides 24-hour news coverage. The nominal owner was Andriy Podshchypkov. On September 27, 2016, Mr. Podshchypkov announced that, due to "extreme political pressure in Ukraine", he was applying for political asylum in Belgium.
In the spring of 2018, it was reported that a Swiss company owned by German citizen Edward Katz had become the beneficiary owner of the channel. According to a journalist's investigation, the pro-Russian oligarch Viktor Medvedchuk, who enjoys a very close relationship with Vladimir Putin, is the unofficial owner. On June 4, 2018, it was reported that the new general producer was 30-year-old Andriy Marchevsky, who used to work at channels "Ukrayina" and "ZIK", as well as at the studio "1 + 1 production".
Tags: 2019 presidential elections in Ukraine, International, manipulation, polls, Ukraine