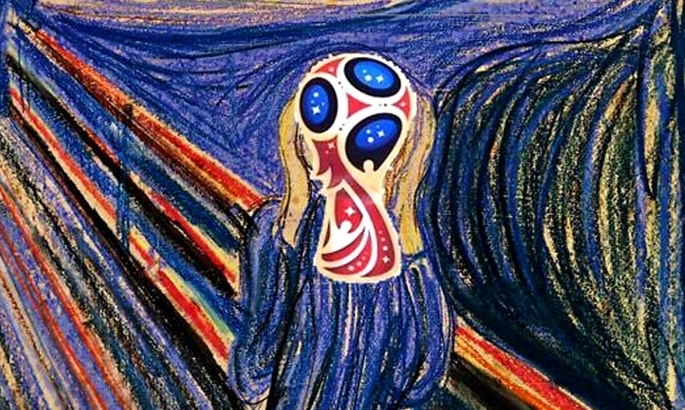 Author unknown 
In a little over a month, Russia will host one of the most popular sporting events in the world – the FIFA World Cup. With nearly 1.7 million tickets sold and teams from 32 countries participating in the most important international men's soccer tournament, it is bound to give just-inaugurated President Vladimir Putin's media image the royal treatment. Quite fitting for a man who entered his fourth presidential term to the accompaniment of chants "not my tsar." 1,600 of the protesters were detained along with the main opposition figure on 5 May.
Calls for a boycott of the World Cup in Russia have been more feeble than expected, given that the host country has occupied territories of two others – Ukraine and Georgia – in the last decade. So far, officials from the United Kingdom, Poland, Iceland, Denmark have announced their intention to hold a "diplomatic boycott" of the event, with no state officials attending the tournaments and ceremonies, while Sweden, Japan, and Australia are reportedly still in doubt. The US soccer team is so far the only sports team which is boycotting FIFA-2018.
Meanwhile, on 20 April 2018, 60 MEPs have called on EU countries to boycott the event. Indeed, the reasons for state officials, or any other person, to abstain from attending the sports event of the year, are numerous. 2,628,948 to be precise. We counted.
23,294 civilians killed in Syria. In September 2015, Russia turned the tide when it joined the Syrian civil war in support of President Bashar al-Assad, who was then losing on all sides. Since then, it has propped up the rule of the Syrian regime which tortures and massacres its population, including by such internationally condemned methods as barrel bombs and chemical attacks. In its death toll statistics, the UK-based Syrian Network for Human Rights (SNHR) often does not discriminate between deaths of civilians from Syrian regime forces and Russian forces. Summed up, the Russian forces and the Syrian regime that Russia is backing have killed 23,294 civilians in between October 2015-April 2018.
1,100,000 Syrian refugees. According to SNHR, in December 2017 there were approximately 5.4 million Syrian refugees in the world. In December 2015, after Russia started helping Assad's regime, that number was 4.3 million. Therefore, the Russian regime has contributed to an additional 1.1 million people fleeing Syria to seek asylum outside the country.
10,303 people killed in eastern Ukraine. After the occupation and annexation of Ukraine's Crimean peninsula in 2014, Russia moved on to start and foment a war in the country's easternmost Donbas region by supporting the local separatist movement. Over the last four years, Russia set up and continues to fund the self-proclaimed Luhansk and Donetsk "People's Republics," has actively participated in fighting Ukrainian government troops on the ground, and currently trains the military formations of the "republics." As a result, the low-scale war continues to drag on, destabilizing Ukraine and continuing to take the lives of servicemen and civilians on a daily basis. According to a UN Human Rights Monitoring Mission report from 12 December 2017, 10,303 people (civilians and armed forces on both sides) have been killed in Donbas. Russia is directly responsible for the existence of this conflict zone and for those killed in it: without Russia's military, financial, and political support for the statelets it created, the bloodshed would have ended back in 2014.
298 people killed in flight MH17. After the Malaysian airliner was shot down above Donbas on 17 July 2014, Russia put up a smokescreen of conspiracy theories designed to conceal the only realistic culprit of the catastrophe. Despite this, investigative journalists from Bellingcat and, eventually, the Joint Investigation Team (JIT) concluded that the plane had been hit by a Russian missile launcher brought in from Russia to Donbas. Moscow continues to deny the conclusions of JIT.
1,490,833 Ukrainian IDPs who fled occupied Crimea and Donbas. That's the number of registered internally displaced persons (IDPs) in Ukraine as of 19 March 2018, according to Ukraine's Ministry of Social Policy. Fueled and directed by Russia, the war in Donbas has caused the largest refugee crisis in Europe – estimates of the numbers of Syrians seeking asylum in Europe hovers at around 1 million. However, the Ukraine refugee crisis remains largely invisible, as most of the displaced Ukrainians stay within the country. Most are in dire straits, having lost all their life possessions, and, often, health and family members.
66 Ukrainian political prisoners. To date, Russia is imprisoning at least 66 Ukrainians on trumped-up charges. Some of these people have been imprisoned for their political views. These include filmmaker Oleg Sentsov, who had protested against the annexation of his native Crimean peninsula, was sentenced to 20 years in a penal colony on the basis of fictitious terrorism charges. Another Crimean who had suffered for his fidelity to Ukraine is Volodymyr Balukh, who had irked the local authorities by flying the Ukrainian flag above his house, and was sentenced to 3 years and 5 months in jail on the basis of ammunition planted in his attic. One of the most appalling cases is that of Pavlo Hryb. The 19-year old teenager went to meet a girl over the border in Belarus, from where he was kidnapped by the Russian FSB and transported a thousand kilometers away to Russia's Krasnodar. He is now being incriminated with terrorism and being held for over 8 months without the vital medication he requires. The Crimean Tatar community, most of whom are Muslims by religion, are being incriminated with terrorism en masse, despite no evidence of any of them ever conceiving violent acts. Yet other Ukrainians simply ended up in the wrong place at the wrong time, having been tortured to extract the confessions necessary for Russian state TV, which ever seeks to vilify Ukraine in order to justify to its own population the aggressive policies it is conducting against the country. The list of political prisoners continues to grow, and there no mechanism to release them has yet been elaborated. Actually, many Russian cities in which football games during FIFA-2018will be held are home to prisons where Ukrainian political prisoners are locked up.
121 Russian political prisoners. Apart from the abovementioned Ukrainians, Russia's authoritative Memorial center has listed 121 people as either political prisoners or people persecuted for their religious views.
2 poisoned in Salisbury. The alleged nerve-gas attack on double agent Sergei Skripal and his daughter in the city of Salisbury have triggered a diplomatic frenzy: an international alliance of countries have expelled 342 Russian diplomats in solidarity with the UK. It is the Skripal poisoning which triggered the UK's diplomatic boycott of the World Cup, which was followed by Iceland's boycott in solidarity.
27 countries. According to an analysis by a surveillance organization, Russia has meddled in the affairs of at least 27 European and North American countries since 2004. The meddling includes measures ranging from cyberattacks to disinformation campaigns. In Ukraine, this interference is an intrinsic part of the hybrid war Russia is waging against the country, with some of the measures including plans to occupy eastern Ukrainian regions on the basis of a subversive campaign known as "Operation Troy."
3,994 pro-Russian disinformation news pieces. On publication date, EU's anti-fake news watchdog EUvsDisinfo registered 3,994 pieces of pro-Russian disinformation. Dedicated to demonizing the collective West among the Russian population and dividing and antagonizing the West, Russia's disinformation campaign was assessed to be "extremely successful" by the EU East Stratcom.
10 Putin critics who wound up dead. Vladimir Putin has been the effective leader of Russia since May 2000, with a brief break for the role of Prime Minister during 2008-2012. However, other candidates don't really have a chance. Putin critics tend to end their life prematurely. Alexander Litvinenko, Anna Politkovskaya, Natalia Estemirova, Stanislav Markelov, Anastasia Baburova, Boris Nemtsov, Boris Berezovsky, Paul Klebnikov, and Sergei Yushenkov are just some of the names of Putin critics who the Russian leader is suspected of assassinating.
As Ukrainian President Poroshenko put it, the FIFA World Cup in Russia is a "pure propaganda instrument to whitewash Russia's black image… It doesn't have anything in common with sports, only geopolitics." He considers that each country should make a decision whether to attend the event.
Teams from Australia, Iran, Japan, Saudi Arabia, South Korea, Egypt, Morocco, Nigeria, Senegal, Tunisia, Costa Rica, Mexico, Panama, Argentina, Brazil, Colombia, Peru, Uruguay, Belgium, Croatia, Denmark, England, France, Germany, Iceland, Poland, Portugal, Serbia, Spain, Sweden, and Switzerland are expected to take part in FIFA-2018, which will be held in Russia during 14 June – 15 July 2018.
If you needed a reason to boycott FIFA-2018 in Russia, we have given you over two and a half million of them. But this list is by no means exhaustive.
A short video illustration of the reasons to boycott the World Cup was created recently based on the posters of Andriy Yermolenko: 
 Read also:
Tags: 2018 FIFA World Cup, FIFA, Op-ed, Russia