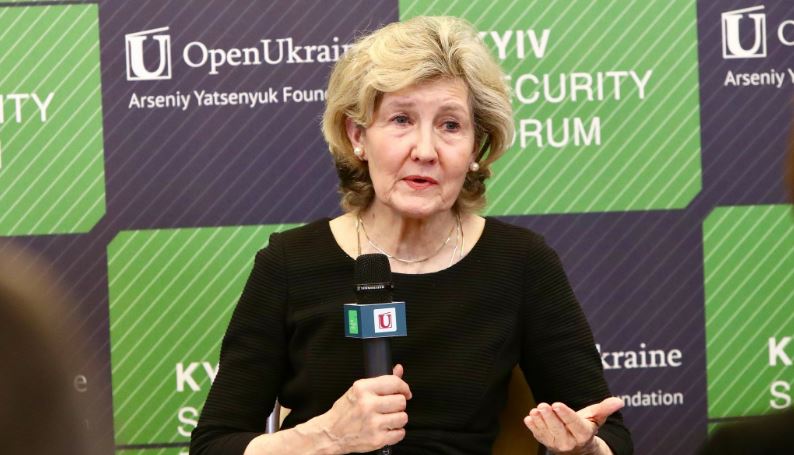 Kay Bailey Hutchison, Ambassador, U.S. Permanent Representative to NATO, speaking at the Kyiv Security Forum 2018. Photo: twitter.com/USAmbNATO 
Kay Bailey Hutchison, the US Permanent Representative to NATO, assured Ukraine that the USA supports the idea of Ukraine's membership in NATO. She said this during a panel discussion during the 11th Security Forum which was organized by the OpenUkraine Fund, a Euromaidan Press correspondent reported.
"We want Ukraine to become a NATO member, I can assure you," she declared.
According to the ambassador, Ukraine is now moving towards NATO membership through fulfilling the annual national plans.
"The road to membership is long for many countries. Nothing takes place immediately. The Annual national plan is a good path towards membership," she said.
Kay Bailey Hutchison stressed that NATO is more than a military alliance, as it is an alliance based on western values.
"To become part of NATO, you need to show a stable democracy, show a rule of law, show a free press, show that you are a government that can stand and defend itself because it has the strength of a true democracy."
In her opinion, Ukraine has not yet reached that point.
"We want those values that the people on Maidan stood for, to turn out in Ukraine. Ukraine is not there yet. And they cannot be satisfied yet. And that's where we want to help you, to help you help yourself so you will be the democracy of Ukraine, not the democracy of the US. […] Only the fight against corruption, the establishment of democratic institutions, including an independent judiciary and anti-corruption courts will establish the long-term principles for combating the external interference and development of Ukraine as a modern European state," the US Representative believes.
Hutchison expressed hope that Ukraine would adopt the Law on National Security, which would introduce civilian and democratic control over the military, which would be a further step on Ukraine's path to NATO.
The USA representative at NATO also stressed that NATO has changed its strategic outlook on Russian aggression and that the USA has helped Ukraine defend itself by providing $850 mn in security assistance since 2014 and working with Ukraine's military.
Read also: