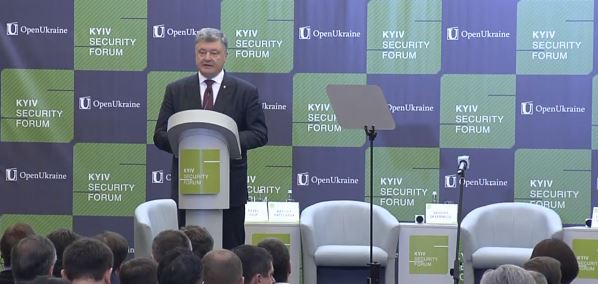 Ukrainian President Poroshenko at the 2018 Kyiv Security Forum. Photo: snapshot from video  
Soon, Ukraine will adopt a new package of sanctions against the Russian Federation, taking into account the USA sanctions over Russia's interference in US elections.
US President Petro Poroshenko said this in his speech during the 2018 Kyiv Security Forum, which will be held in the Ukrainian capital on 12-13 April 2018, a Euromaidan Press correspondent reported.
The Ukrainian President supported the economic limitations and decisions to freeze assets of Putin's entourage, recently adopted by Washington. He stressed that Ukraine plans to adopt similar measures and that he asked the relevant institutions in Ukraine to prepare their proposal, and that the National Security and Defense Council (NSDC) to prepare a necessary package of limiting measures against Russia.
The President noted that Russia's attempts to change the results of elections were not successful. "Despite Russia's attempts to interfere in elections, the example of The Netherlands, France, Germany shows that voters support European values," he stated.
The sanctions Ukraine adopted against Russia adopted by the decision of the NSDC expires at the end of April. It's possible that the enhanced sanctions will be added to the decision to renew the sanctions.
Read also:
Tags: KSF2018, News, Petro Poroshenko, Russia, Sanctions