Nadiya Savchenko, once hailed as a Ukrainian hero standing up to Putin himself, has been arrested on accusations of a coup and terrorist act. Could the fall have been any deeper? And how could this happen?
Nadiya Savchenko, the once-legendary Ukrainian pilot heroically resisting a show trial in Russian jail who was propelled into the Ukrainian political scene after being released in 2016, managed to turn herself into an outcast, and, possibly, criminal. On 23 March 2018, less than two years after she was freed from Russian captivity after immense Ukrainian and international efforts, she was detained in Ukraine on accusations of preparing a coup and planning to blow up the parliament – and the accusations look pretty convincing.
Read more: Ex-Kremlin prisoner Savchenko detained on accusation of coup and terror plot: the evidence
Now the people who two years ago rallied all over the world to free her ask each other how they could be so foolish, what political forces created the Savchenko project, and decry the media who manipulated them into becoming Savchenko activists. Was it all an intricately elaborated scam to bring a Trojan horse into Ukrainian politics? Conversely, a small proportion of Savchenko supporters say Nadiya was framed by the Ukrainian authorities and her new trial is a political repression. Yet others allege she is merely an ill-tempered, not particularly wise woman who imagined herself as a messiah.
Euromaidan Press is one of the outlets which contributed to Savchenko's popularity from the beginning. It would be only fair if today we reflected on the Savchenko phenomenon which we helped create.
The rise to glory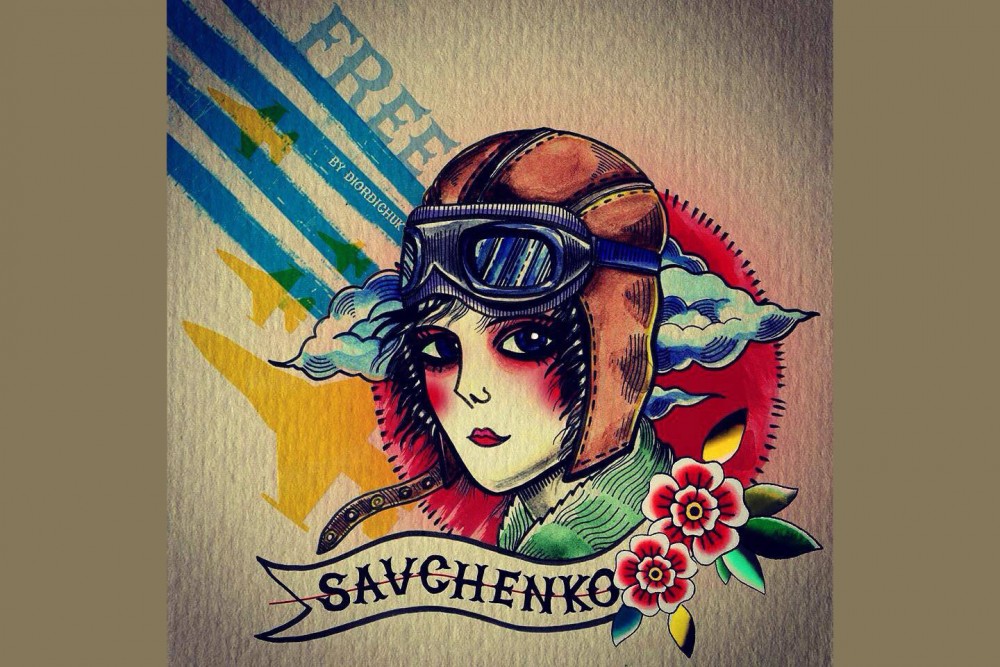 It was the summer of 2014 and I was meeting a diplomatic friend to discuss what could bring world attention to Ukraine and the Russian aggression plaguing it. The Euromaidan revolution had won but there had been no time to celebrate: immediately after disgraced President Yanukovych fled Kyiv, Russia started its takeover of Crimea and spurred up pro-Russian uprisings in southeastern Ukraine, followed by outright war with the help of separatist forces in Donbas. Most countries did not recognize the annexation of Crimea, but few extended their support beyond that. The start of the war in Donbas drew the attention of international media, but protracted conflicts tend to bore audiences with their repetitiveness sooner or later. What could be done to remind global readers that Russia is still waging a war in Ukraine?
The figure of Nadiya Savchenko seemed to fit the role perfectly. A woman who defied odds and rules to become a military pilot in Ukraine. A patriot who volunteered to fight in a volunteer battalion against Russian hybrid forces in Donbas, who was kidnapped to Russia on 24 June 2014, falsely accused of crimes and was challenging Vladimir Putin himself with her bold behavior in captivity. Isn't that the true Ukrainian spirit of self-reliance, courage, and resistance? If only she could be more known internationally.
In August 2014, the Ukrainian MFA launched a video project about the woman. She was already popular enough in Ukraine in October 2014, having been made a headliner of the Batkivshchyna party, apparently to gain votes in the early parliamentary elections that month. Her media-savvy lawyer Mark Feygin, who earlier represented the interests of political prisoners from the punk band Pussy Riot, suggested that as part of the strategy of her release, Savchenko is made a delegate to PACE from Ukraine.
But the idea of Nadiya Savchenko as a Ukrainian heroine was also taking shape far away from Ukraine in the #FreeSavchenko tweets of @GlasnostGone, a British writer whose name is Alex King. Starting from November 2014, King started a relentless campaign in English to free the woman, despite not being Ukrainian and never being to Ukraine. 
"I Follow World affairs, so naturally the situation in Crimea caught my eye; I found myself continually checking the BBC website for updates, and was stunned that the comments page was wall to wall Russian Trolls/Propaganda. I started fighting for Ukraine on the comments page, and the desire to help Ukraine grew. I continued on twitter," Alex explained his motivation for the campaign to me. Ukrainian translators helped expand his campaign into Ukrainian media.
Savchenko went on a hunger strike on 13 December 2014, drawing additional publicity. Alex King and supporters on twitter held the first #FreeSavchenko twitter storm on 5 January 2015. It resulted in over 80,000 mentions of the hashtag and was supported by politicians, including then US Ambassador to Ukraine Geoffrey Pyatt. This for the first time drew the attention of western journalists, who asked US Department spokeswoman Jen Psaki a question about Savchenko.
Read more: The #FreeSavchenko campaign: from hashtag to PACE resolution;
Why the world calls to #FreeSavchenko
King's twitter efforts continued, as did Savchenko's hunger strike. Articles in western media started to appear one by one. Another twitter storm was held on 26 January 2015, when Savchenko was accepted as a PACE member with the corresponding immunity, and a resolution was adopted calling upon Russia to release all political prisoners and prisoners of war, including Savchenko.
Nadiya "if God needs me to end my life in Russia under torture, then such is his will." #FreeSavchenko @mark_feygin pic.twitter.com/4B4eZYYhWv

— Glasnost Gone (@GlasnostGone) March 1, 2015
That day, 56 rallies were held around the world in support of the pilot. Alex pushed for one million #FreeSavchenko tweets – a task which was eventually overaccomplished – by appealing to "people power," by creating emotive and creative pictures which would make any PR manager turn green with envy.
Savchenko held her hunger strike, the tension grew. On 1 March 2015, the 79th day of her hunger strike, another twitter storm and day of global support was held. And on 11 May, yet another one. On 15 December 2015, Savchenko went on a hunger strike again, and more days for support were held: on 9 March 2016 (with 130 rallies worldwide) and 21-22 March 2016.
The amount of grassroots support was overwhelming. The pictures, rallies, videos from those days give the impression that the whole world came together to rally for a Ukrainian woman in Russian jail – see for yourself in the links to the twitter storms.
Leaflets were translated and handed out in different countries. #FreeSavchenko lanterns were sent to the sky near the Russian embassy in Tbilisi and mobile wifi hotspots in New York displayed #FreeSavchenko signs. MEPs launched hunger strikes in solidarity with her and sent letters to Putin, and diplomats – birthday cards. Diplomatic missions all over the world tweeted #FreeSavchenko. The opposition-minded Russians joined in the #FreeSavchenko action too. Many of them ended up in police departments.
Savchenko became a symbol of the Good struggling against the Evil. Her effective hunger strikes, enfamished appearance, patriotic apparel, stubborn defiance in Russian courts, which included showing judges the middle finger, and her very name Nadiya, which translates to Ukrainian as hope, made her a national icon of hope. Hope that Putin's regime will crumble, that the war will end, that Ukraine would be reborn.
For me personally, it was hope that the release of other Ukrainian political prisoners from Russian jails would follow Savchenko's. But never did I have the impression that a dark hand was guiding our Free Savchenko efforts. Alex's twitter creativity, the permanent interest of journalists, on-the-ground support of Ukrainian diaspora all over the world, the lawyers' strategy of publicity, the efforts of Ukrainian officials, and Savchenko's at times heroic behavior all came together. The #FreeSavchenko campaign had great success.
A falling star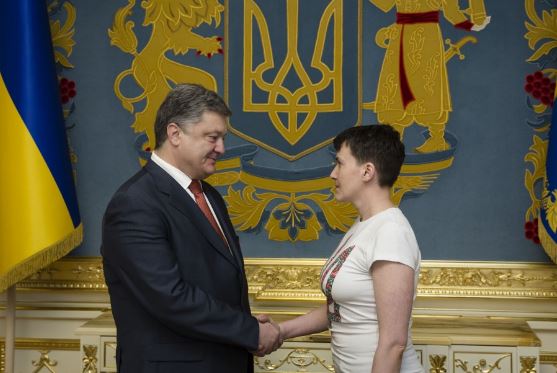 When she was swapped for two Russian officers captured at war in eastern Ukraine in May 2016, the joy was overwhelming. So was her political capital. She was the #1 MP in Ukraine's Batkivshchyna party, a permanent member of Ukraine's PACE delegation, was awarded Hero of Ukraine, and became a Chevalier of the Order "For Courage" of the second degree. In June 2016, Savchenko was the most popular politician in Ukraine, enjoying the trust of 35% of Ukrainians, while only 16% trusted President Poroshenko. 12% were ready to vote for her as president if the case of snap elections; only 6.4% would have chosen Poroshenko.
Those ratings fell rapidly. In February 2018, 9.9% of Ukrainians
trusted 
her while 65.6% didn't. Her
presidential rating
is now around 1%. Why did the national icon shed her national trust?
Upon her release, Savchenko announced she would initiate the creation of an international committee to free Ukrainian political prisoners in Russia. However, after only a few months, Savchenko reneged on that promise, claiming that she was already doing similar work by communicating with diplomats from other countries and telling them about her own vision of the problem.
Soon, she became mired in controversies. Her October 2016 surprise visit to Moscow in order to be present at the announcement of the verdict for Mykola Karpiuk and Stanislav Klykh, two Ukrainian political prisoners accused of fighting in Chechnya 20 years ago, was seen as rash by many, including her former lawyer Mark Feygin.
Savchenko's public statements reinforcing Russian propaganda narratives, such as "Ukrainians will have to apologize [before the militias of the 'LNR' and 'DNR' – Ed] for the killed sons, husbands, fathers in Donbas," as well as relentless criticism of the authorities, earned her the fame of a scandalous MP in Ukraine, but made her a Russian media star. She even made international headlines after making some unsavory antisemitic remarks on the air of a TV show. The public criticism didn't dissuade her from launching her own political project in November 2016, in which she compared herself to a legendary Ukrainian dissident figure of the 1980's, Viacheslav Chornovil: "May I become the fire which will burn out likewise, but will give Ukraine a future. I am ready for this."
This was one of the many messianic statements emanating from Savchenko, in which she compared herself with great historical, and even biblical figures. "When Jesus came, many said they didn't know Him" was the biblical allusion with which she chose to answer criticism in one TV show. The pathological desire to die for an idea peer out of many of her declarations. But while statements like "I was at two wars and am ready to die in the name of justice" sounded heroic during her hunger strike in Russian prison, in her role as a Ukrainian MP they hinted more of megalomania – and inadequacy. "It's never scary to fight, live and die for the truth," Savchenko once again told about her readiness to die when on 15 March 2018 she was accused of preparing a terrorist act within the walls of parliament.
Psychologists began evaluating Savchenko's appearances right after her liberation, explaining her untypical behavior by the stress of being in a prison, the "specific psycho-type" of a truth fighter, by "sincerity and over-familiarity." But new diagnoses appeared after each of her new escapades.
"A small-minded person can imagine herself as great. And it's easy to manipulate her because of her great desire to stand out and be significant. You can place a cook in the pilot's seat, but how will it end? A politician needs to have endurance, trickery, and intelligence," the director of the Kyiv Center of neurolinguistic programming German Del told Mariana Karapinka of Ukrayiska Pravda.
Her calls to directly negotiate with the leaders of the self-proclaimed Luhansk and Donetsk "People's Republics" ("LNR," "DNR") in June 2016 shocked many Ukrainians: after all, it was from the hands of "LNR" leader Ihor Plotnitskyi that she became a political prisoner in Russia. Moreover, Ukraine had refused to directly negotiate with representatives of the quasi-entities in Donbas in the Minsk peace process, regarding them not as independent actors but Russian puppets. The very Minsk agreements were concluded between Russia and Ukraine, not the "republics."
So when in December 2016 Savchenko clandestinely traveled to Minsk to negotiate with Plotnitskyi and his "DNR" counterpart Zakharchenko, without informing the Ukrainian delegation, she was directly accused of playing into Russian interests. According to the sources of the Ukrainian outlet Liga.net, the meeting was held in the presence of the Russian FSB and was dedicated to ways of pressuring Ukrainian officials to deal with the "republics" directly.
Savchenko had many more meetings with representatives of Russia's proxy republics in Donbas. Under the pretext of searching for Ukrainian hostages who were not included in the official exchange lists, she traveled to occupied Donbas many times, and eventually publicized her own list of hostages. Ukrainian Security Service advisor Yuriy Tandit called the list inaccurate, the move counterproductive, and claimed that it could harm the hostages' families who now became a target for scammers aiming to make money from human suffering.
However, despite her frequent visits to the occupied territories, Nadiya Savchenko did not manage to release a single hostage. All the exchanges of Donbas war prisoners took place thanks to the efforts of official negotiators through the Minsk process.
The ex-political prisoner was so well-disposed toward her ex-military enemies that she was apparently ready to open a "DNR embassy" in Kyiv, in the style that they were popping up in EU countries to the protests of Ukrainian diplomats: propaganda focal points for the Russian proxy entities masquerading as "culture centers." At least, that is what a journalistic experiment conducted by the Ukrainian TV channel TSN suggested. Then she, after receiving the first call from an unknown person who introduced himself as "a person of Zakharchenko," without consulting anybody, rushed to a meeting to discuss opening up an "embassy" for the "DNR" and "LNR" in Kyiv, with the aim of legitimizing the "republics" inside Ukraine.
It was during those trips to the occupied Donbas that Savchenko and her partner Volodymyr Ruban apparently conspired to bring down the Ukrainian government with the help of weapons from the "DNR." At least, that's what the Ukrainian prosecutors say.
As of March 2018, Savchenko was excluded from the Batkivshchyna party which made her its headliner, even above the party leader Yuliya Tymoshenko, from Ukraine's PACE delegation, from the Parliamentary committee on national security, and was stripped of parliamentary immunity on 23 March 2018, which allowed her to be arrested under accusation of plotting a coup and terror act.
"The phenomenon of Savchenko is that she became an outcast for the majority of the political powers," believes political analyst Volodymyr Fesenko. According to him, even the radically minded electorate won't support Savchenko.
"She still has some fans but lost the absolute majority of them with her foolish actions and deeds. The majority of nationalists and militant patriots are very critical of her, first of all, because she established direct contact with the separatists, called for peace with the separatist republics. Not even with Russia, but with the separatists. And this is viewed negatively. There is even a popular opinion that she was recruited by Russian special services," Fesenko summed up.
Bitterness and confusion
Nadiya Savchenko is now in a pre-trial detention center in Kyiv and is using the tactic she learned so well while in Russian prison – a hunger strike. She claims her statements about planning to blow up the Ukrainian parliament, which the prosecutor's office had recorded on video, were a "political provocation" and that her arrest constitutes political persecution.
The myriads of those who rallied for her release two years ago are now bitter and confused. Especially those who made special efforts for her release.
"It's a state of devastation. When you gave so much strength, nerves, to get her out, took this time away from your family and small children. And this devastation will be with me for a long time, and I don't know if I will now have the strength to continue to give a part of myself to the victory of good when there is so much hatred today…" wrote Iryna Herashchenko, Ukraine's special representative for the peaceful regulation of the conflict in Donbas.
Herashchenko was on the plane which took Savchenko home from Russian prison in 2016.
Mark Feygin, Savchenko's ex-lawyer, told Ukrinform he is sorry to observe such an ending to the story and had privately warned Savchenko before that her actions undermine the release of other Ukrainian political prisoners, of which there are at least 66 to date.
"I call upon the Ukrainian investigators and judicial authorities to take into account everything that happened with Savchenko since 2014 when choosing a preventive measure: the prison, release, dizziness from attention, and human stupidity," he said.
The Russian MFA is, however, happy, and does not miss a chance to take a jab at Savchenko supporters, reminding them where their heroine ended up.
US/West media and officials lauding Savchenko as political prisoner almost 2 years ago, calling to #FreeSavchenko, dismissing charges as politically motivated, are now tight-lipped. Hypocrisy and double standards as usual. pic.twitter.com/wQMHvCcVhC

— Russia in Canada (@RussianEmbassyC) March 23, 2018
The Savchenko story indeed undermines the release of Ukrainian political prisoners. It is unlikely that people would be willing to rally again for the release of the Kremlin's 66 hostages in the way they did for Savchenko. Ukraine's international partners are likely also left bewildered by the thoughtlessness with which Ukrainians choose their heroes.
What are the conclusions one must make from this story? References to the Second Commandment are popular when answering this question in Ukraine. Yet others say that creating heroes is inevitable, and even necessary, at a time of war. And that it's even possible for the same person to have been a hero in prison and become a traitor two year later. Life is not black and white. We can't see into the future.
Should we have rallied for the release of Nadiya Savchenko? Most say yes: she was a Ukrainian citizen illegally imprisoned by Russia and a political prisoner. What she did after her release is on her conscience. And the release of every Ukrainian held hostage by Russia should be fought for.
Was this all an elaborate plot to bring a Trojan horse into Ukrainian politics? I personally think that the chances of somebody like Nadiya Savchenko pulling off such an operation are too small, so uncontrolled, defiant, and reckless is she. As for planning to blow up the parliament, there, unfortunately, exists the populist belief that destroying the existing political order will fix Ukraine's problems. As a "candidate of the people," and a messianic one at that, who is to say this wasn't her genuine, twisted plan to make the world a better place?
Perhaps the most important aspect of this story is that a woman with no experience, calling, or knowledge was skyrocketed into the echelons of the political elite without walking the necessary path. All because a political party hoped to harness the wave of Savchenko's popularity. And from this angle, Savchenko's painful fall from the clouds was inevitable.