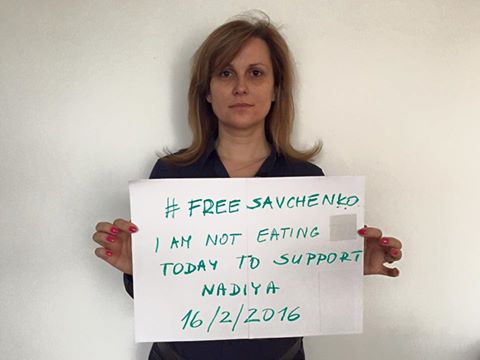 Czech MP from ALDE (PACE) Kristýna Zelienková initiated a pan-European hunger strike in solidarity with Nadiya Savchenko. Courtesy image 
On 15 February 2016, a chain hunger strike in support of Nadiya Savchenko launched in the Czech republic. Planned to take place until 29 February, the solidarity action was announced to take place during the Parliamentary Assembly of the Council of Europe (PACE) session in Strasbourg by Kristyna Zelienkova, a MP of the Czech party Alliance of Liberals and Democrats for Europe (ALDE). The event is planned as a pan-European action; according to the organizers, MPs from different Council of Europe member states, from Iceland to Georgia, will hold a hunger strike during one day in order to draw attention to the situation of the imprisonment of Ukrainian political prisoners and to remind that hostages are not forgotten and must return to their country.
Noting that Ms.Savchenko enjoys immunity as Ukraine's PACE representative, the draft resolution which MPs participating in the campaign can urge their parliamentary committees to adopt calls on the authorities of the Russian Federation to immediately release Ms Nadiia Savchenko and other illegally detained Ukrainian citizens or to transfer them to Ukraine and refrain from turning Ms Savchenko and other illegally detained Ukrainian citizens into hostages, from endangering their lives and from violating their fundamental rights.  More information is available in the fb event of the campaign. 
At the time of publication, two MEPs had signed up to support the campaign –  Kristýna Zelienková and Gabriela Pecková.
A chain hunger strike in support of Nadiya Savchenko started being held by a group of Czech activists headed by poet and translator Pavel Schreiber, who together with colleagues organized on facebook to spread support for the political prisoner: 
Nadiya Savchenko, a Ukrainian military pilot held on trial in Russia on charges of allegedly killing civilians in Ukraine's war-torn Donbas, was into her 60th day of hunger strike on 15 February. It is her second hunger strike, in which she is protesting against her trial. Savchenko denies all charges against her and states that she was kidnapped into Russia. She is one of the 21 Ukrainians illegally held in Russia on politically motivated charges (13 in Russia and 8 in occupied Crimea), according to the #LetMyPeopleGo campaign activists.
Read also: Czech deputies urge Kremlin to release 13 Ukrainians illegally detained in Russia
About LetMyPeopleGo:
The campaign LetMyPeopleGo was initiated by Euromaidan SOS to protect all those Ukrainians who have been imprisoned for political reasons, including Ukrainian citizens in Russia and in occupied Crimea.  The campaign's objectives are the liberation of all people on the LetMyPeopleGo list, as well as monitoring compliance with the fundamental human rights of these political hostages, including freedom from torture, the right to free access to legal services, medical care, etc.  The campaign is supported by a number of organizations in Ukraine and abroad, including the Center of Civil Liberties, People in Need, the foundation 'Open Dialogue,' Euromaidan Press, Êvromajdan-Warsaw, the Ukrainian Helsinki Human Rights Union, and the Kharkiv human rights protection group, as well as the Human Rights Division of the Ministry of Foreign Affairs of Ukraine.  Currently, the campaign is most concerned with the fate of these 13 prisoners in Russian territory and eight prisoners in occupied Crimea.  Follow the course of the campaign on its Facebook page.
Tags: #FormulaOfAction, #FreeSavchenko, Czech, hunger strike, News, Savchenko