The story of the political activity of Georgian ex-President Mikheil Saakashvili in Ukraine is diverse and ambivalent. Some psychologists say that there are 3 personalities in each of us: how we perceive ourselves, how others perceive us, and who we really are. With Saakashvili in Ukraine, it is even more complicated. His image depends on the media outlet, the commentator, on the political context, and a host of other factors. Without adhering to any one of these versions, Euromaidan Press presents three main concepts which exist in the Ukrainian informational field about Saakashvili.
Saakashvili is a project of the President's Adminstration?
When Saakashvili came to work in Ukraine in 2015, there was no cognitive dissonance when talking about his cooperation with President Petro Poroshenko. Back then, it was Poroshenko who invited the Georgian ex-president to Ukraine and appointed him as governor of Odesa Oblast in order to implement reforms.
Almost year and a half later, however, Saakashvili quit, citing a lack of progress of reforms.
"In this situation, I decided to resign and to start a new stage of the fight," said ex-governor and added that they (meaning the current government) will not be able to get rid of him.

"I am that soldier which goes as long as he can and then as long as it is needed for the full victory to relieve Ukraine from this scum, from this corruption rubbish which capitalizes on the blood of our soldiers, on the Maidan victims, which betrayed the idea of the Ukrainian revolution and which has the only motivation of its existence – to stuff their pockets, to strengthen their clan and finally to fleece Ukraine," concluded Saakashvili in his emotional speech.
Since then, his image changed as well as the tone of his statements towards the government and the president. In the end of 2016, he started to form his own political force called Rukh Novyh Syl and launched a series of protests and trips to different regions of Ukraine. Then, he and his team complained non-stop that Ukraine's mainstream media ignored their activities. Nevertheless, even then media peddled the version that Saakashvili and Poroshenko are on the same team and that the ex-Georgian president is still playing his role within the system.
After the last wave of protests in Kyiv which started in November 2017 with the active participation of Saakashvili, the explanations of those who suspected him of consciously or unconsciously supporting the policy of the President's Administration became more clear. Media commentators stated that Saakashvili's role is to discredit real protest movements in Ukraine. This is done by associating every protest with the person of Saakashvili whose behavior is often questionable — like his attempt to seize a culture palace in Kyiv or the way Saakashvili stormed through the Ukrainian border after being stripped of his citizenship.
The closer the elections, the tougher the political battles. While according to the current ratings, Ruh Novyh Syl even will not pass the election threshold in case of early parliamentary elections, there is one political force which benefit if the elections take place in near future. Compared to 2014, the ratings of Poroshenko and his Petro Poroshenko Bloc have dropped, but the political force of Yuliya Tymoshenko, Batkivshchyna, leads the polls. According to some data, Tymoshenko, a critic of the president and the current government, outruns Poroshenko if early presidential elections take place.
So it is Tymoshenko who poses the real threat to Poroshenko.
Tymoshenko supported Saakashvili when he attempted to re-enter Ukraine after Poroshenko stripped him of his citizenship. She supported him during the protests and she even was among those MPs who was bail him out in case he would have been arrested.
Earlier, the Batkivshchyna leader was criticized for supporting movements which advocated for snap elections or the president's impeachment. After the last series of protests some political experts say that supporting Saakashvili is a trap for Tymoshenko.
"One of the aims of Bankova's project of the 'Saakashvili revolutionary' is to relate Tymoshenko to all inadequate and illegal actions of Saakashvili. To show society and electorate that she is no different from the provocateur. So far Bankova is overplaying the 'political strategists' of Tymoshenko, who are simply framing her up," said Dmytro Korniychuk, President of the Center of Innovative Consulting.
One of those who claimed that Saakashvili is a project of the President's Administration was Yehor Soboliev, a Samopomich MP who was recently dismissed from the position of the head of the Anti-Corruption Committee of the Verkhovna Rada (Parliament). It is noteworthy that Soboliev himself was one of the leaders of the powerful protest movement which had started in Kyiv in November 2017.
Read also:  Despite criticism, Ukrainian Parliament dismisses head of Anti-Corruption Committee Soboliev
"I have nothing to do with Mikheil Saakashvili. Neither I, nor anybody from our people, came to the building of Parliament [to protest -Ed] either for Saakashvili, or for any politician. We came out and stood near Verkhovna Rada for important anti-corruption laws be adopted. The most important out of them is the creation of the Anti-Corruption Court which will send the inner circle of Poroshenko and Poroshenko himself to jail, after his fault will be proven in the proper constitutional way," Soboliev told Channel 5.
After these words Soboliev continued be one of the leaders of the protest movement which shared the stage with Saakashvili's supporters at the same place and time. It seems that the attempts to distance anti-corruption protests which Soboliev was talking about from the protests of Saakashvili supporters were not successful.
Still, those who don't believe Saakashvili is a Bankova project also present convincing arguments:
"The statements that the movement of Saakashvili is Bankova's project is turning Ukrainian politics into total surrealism according to George Orwell. Let's remember how Saakashvili's allies were caught, kidnapped and sent to Georgia while their children and wives were left here. That those who support Saakashvili, members of his team were raided, their wives were threatened and searches were conducted at night at their homes," said Svitlana Zalishchukб an MP from Petro Poroshenko's Bloc. She stressed that these were real examples of a fight against Saakashvili's supporters.
Saakashvili is a Kremlin agent?
This version came up in the beginning of December 2017 when law enforcement came to search Saakashvili's apartment in Kyiv and tried to detain him.
The same day Prosecutor General Yuriy Lutsenko spoke to journalists and then to MPs, showing a video which allegedly proves Saakashvili and his allies had cooperated with Serhiy Kurchenko, a pro-Russian runaway oligarch from the entourage of ousted president Viktor Yanukovych. In particular, he released the video of the conversation between Saakashvili and Kurchenko.
Lutsenko stated that Security Forces of Ukraine prevented Saakashvili's implementation of the project "Russian winter" in Kyiv, which was planned by the Federal Security Service of the Russian Federation (FSB).
This version seemed unlikely even to those who are not among do not belong to Saakashvili's fans.
"Of course I do not consider Saakashvili as a 'Kremlin's agent.' I am not a child to believe in such ridiculous labels given by his enemies. Ukrainian oligarchs are more obvious 'Kremlin agents' for that matter. But I think that Saakashvili made a big political mistake. Indirectly, he recognized it on the air of ZIK TV channel, saying that he is a man who can make mistakes and succumb to provocations. Probably, to arrange them, too. Willingly or unwittingly," wrote the journalist Ajder Muzhdabaiev.
Many have questioned whether the video provided by Lutsenko really contained the voices of Saakashvili and Kurchenko and whether there are really connections between a member of Saakashvili's team and the runaway oligarch Kurchenko
Moreover, by providing the video accusing Saakashvili, Ukrainian security services themselves were suspected of cooperating with the Kremlin. Otherwise, where did Ukraine's Prosecutor General's Office (GPO) get such a scandalous video?
The journalist Serhiy Rakhmaninov explains in his analysis why the collaboration between the Kremlin and Ukrainian security services is possible in this regard:
"Even if to assume the improbable – that Kurchenko really suggested his help to Saakasvili and Saakashvili took it – the materials which allegedly prove it could not have get to Kyiv bypassing the FSB. It is naive to believe that Russian security services do not implement technical control of negotiations of Kurchenko."
The journalist concludes that whether the materials provided by GPO are real or fake, Ukrainian law enforcers got them either via a secret agreement of Moscow, or directly from the FSB:
"The Kremlin slipped the bait to Kyiv. And, it seems, our government has swallowed this bait. Putin can only watch how his two enemies are desperately trying to push each other off the roof, corroded by corruption."
A real revolutionary?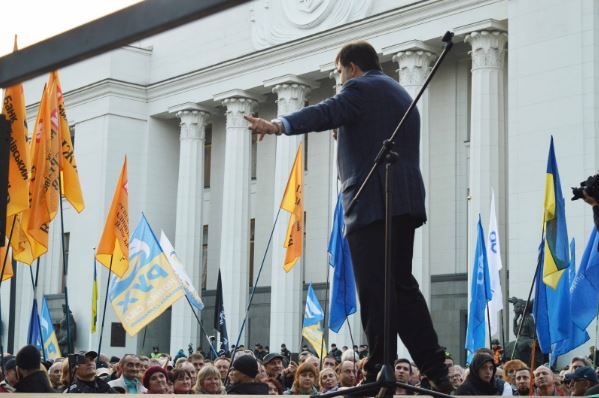 Divisions exist even among those who believe Saakashvili's is a revolutionary.
One part believes he is able to implement changes, arguing that Saakashvili draws attention to problems in Ukraine caused by the corrupt oligarchic system. Among those problems are corruption schemes of arms trade between Ukraine and Moldova, the illegal extraction and trade of amber in western Ukraine and others.
Another part admits that he seeks changes in Ukraine, but believes the Georgian ex-president is unlikely to implement them. They argue that his political force across Ukraine lacks structure, that the current oligarchic elites will resist strongly, and also that it's in Saakashvili's nature to break the system, but not to build anything new.
This nature is best described by political analyst Vitaliy Portnikov who compared Saakashvili to a Marxist revolutionary, theorist, and Soviet politician Leon Trotsky:
"Trotsky suggested to his supporters not peace and land […], but a 'permanent revolution.' To make it simple, he suggested the same 'revolutionary success' which Saakashvili adores [as Saakashvili himself said in one interview – Ed]. This revolutionary success never ends, it's about a global revolution. Actually the Bolshevik party of Lenin and Trotsky's times was a party of a global revolution. It became the party of the Soviet nomenclature only during the times of Stalin. Trotsky and his supporters lived in an atmosphere of this constant escalation of a revolutionary confrontation, which gradually took them away from reality. And this is the explanation of the fail of Trotsky in the fight for power."
Portnikov also refers to the times of the Revolution of Roses, when Saakashvili became the president of Georgia:
"Moscow was ready to support the change of power in Georgia and was betting on Nino Burdzhanadze as on the future president of the country and guarantor of its closeness to Moscow, and Zurab Zhvania as a head of her government. Saakashvili came to the echelons of power only in the last months before the Revolution of Roses and no one could stop him. But why? Because at the time of the Revolution of Roses a large part of the Georgian population, was devastated by the loss of territories, the civil war of opponents and allies of former President Zviad Gamsakhurdia and the slowness of the new power of President Eduard Shevardnadze, and was close to lumpenization. Saakashvili spoke to this boisterous beggar flow in a language they understood, it was not important what he was saying, but how he was doing it. He was a Trotsky – bright, furious, complacent."
The analyst also notes that Poroshenko and his inner circle see Saakashvili as a politician of the system, the same as themselves, which aims for for power and money. However, Saakashvili is not like that:
"For Saakashvili, power, money and comfort is just a result of revolutionary success, the constant state of the fight," says Portnikov concluding that if there is no progress with reforms, there is a threat that the idol of the lumpen, maddened by hopelessness, will come to power.
Whether any of the three above mentioned versions are true, or all of them are false, each of them contains an element of truth:
Before the presidential and parliamentary elections, the political battles in Ukraine becomes tenser. However, politicians are much more focused on discrediting their competitors than on implementing changes themselves.
Poroshenko and the government indeed invented a new instrument to fight their opponents – to label them as Kremlin's agents.
So far, only populists in Ukraine get attention.
Read also: