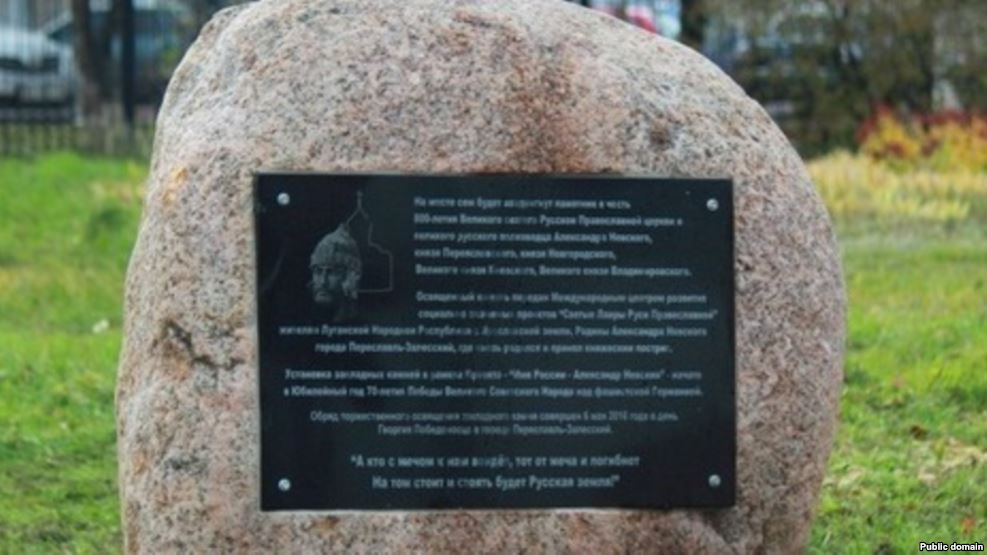 The foundation stone of the monument to Alexander Nevsky (1221-1263) was laid and consecrated in occupied Luhansk. According to Ihor Plotnytsky, "leader" of the "Luhansk People's Republic", the inhabitants of the region are now one step closer to the "Russian world". Local historians believe that such monuments are simple propaganda. Bloggers are convinced that this is just another manipulation and re-writing of history by the Kremlin.
Alexander Nevsky, Grand Prince of Novgorod and Vladimir never set foot in Luhansk Oblast. However, this "hero" was not a random choice, says the "leader" of the terrorist "LNR", Ihor Plotnytsky:
"This monument will give us wisdom and strength. Everyone remembers what Alexander Nevsky said: "Who comes with the sword, shall perish by the sword!"
That's a phrase that Prince Alexander Nevsky never uttered, says historian Valeriy Snehirev. It's a quote from Sergei Eisenstein's film "Alexander Nevsky", which contributed to creating many Russian historical myths.
"First, it's a biblical saying that appears in the Gospel of Matthew, chapter 26, verse 52. And Jesus said: "Return your sword to its place, for all who will take up the sword, will die by the sword!"  But, in fact, it can be traced back to Aeschylus's Agamemnon, line 1558, "By the sword you did your work, and by the sword you die." These words cannot and should not be attributed to Nevsky."
The historian claims that Alexander Nevsky's personality also raises several questions. This prince defended Orthodoxy against Catholic expansion, but he also allied with the Mongol hordes to burn Tver, the rival city of Moscow. It seems that the "LNR" gang has once again made a historical mistake by consecrating a new "hero". Valeriy Snehirev has another version for Luhansk's choice of Nevsky:
 "In 2016, Moscow Patriarch Kirill named Alexander Nevsky patron saint of the Ground Forces of the Russian Federation. The church is conveniently located near the Volodymyr Dahl Luhansk National University. It will probably become the "church of the Army Regiments".
The historian states that the inhabitants of occupied Luhansk have got used to seeing "fake heroes" on every corner of the street. 40 monuments have been erected since the terrorist "LNR" seized power in Luhansk.
"It's called monumental propaganda. First, they put up a visible statue and then start certain rituals, like laying flowers, organizing solemn events, etc. The most idiotic monument can be seen near the "Government House" – a two-headed eagle with an imperial crown pictured against the USSR coat of arms. They are really trying hard to shove it down our throats…. They've united the eagle and the system that wanted to destroy it." says Snehirev.
Blogger Alexei Falin claims that the LNR" is playing another game – the more Lenin statues are demolished in Ukraine, the more preposterous monuments they will erect in Luhansk.
"It can be either a grilled two-headed rooster in an occupied "State Administration" or a monument to the occupying forces – it really doesn't matter."

"They put up monuments, and later we'll have to take them down and use them for scrap."
The blogger pointed out that while the "LNR authorities" continue unveiling new monuments that are not needed by anyone but themselves, Luhansk residents struggle to survive without salaries, water, power, and heating.
Tags: Donbas war (2014-present), History, Ihor Plotnytsky, International, News, occupied territories, Russia, Ukraine