95-year-old Halyna Lavrentiyivna Rykh is an honourary resident of the town of Berezan, Kyiv Oblast, an Honoured Worker of Culture of Ukraine, and the founder and director of the local historical museum. She has devoted most of her life – 49 years – to her creation, and today, she is happy to organize guided tours and talk about her town and region. Halyna takes us through her museum.
The Holodomor cannot be forgotten
Halyna remembers her childhood with great sadness. She was born in an ordinary peasant family of three children in Berezan on March 16, 1922. Her mother worked at the collective farm; her father was disabled. She remembers going to school during the Holodomor years.
"It was a terrifying time…70% of the children in our village died during and after the Holodomor, and only 30% were able to attend school. I kept silent about the famine for a long time, but I remember it every day. There were 123 cases of cannibalism in the 16 raions (districts) of Kyiv Oblast. I remember how one man gave up his home and everything he had for a piece of bread. My mother travelled to Kyiv where she exchanged my earrings for flour. But, that flour wasn't even enough to bake a loaf of bread! I remember very well when this fat official came from Kyiv and destroyed our millstones. We cried all day… Papa had no legs, but he wasn't afraid and shouted loudly at this man: "What are you doing?" The man looked at papa scornfully and said: "Why don't you just lie down and die!"
Despite all the hardships, Halyna loved school. She decided to become a teacher. She graduated from the Pedagogical Vocational College in Pereyaslav, but war came before she could start work. She also remembers the years of Nazi occupation, when the Germans allocated five hectares of land to her family.
"It was a very hard time for us. I did everything – I mowed hay, took the cattle out to graze in the nearby pastures, and worked in the fields. I weighed only 30 kg. After the war, I finally began teaching at the Berezan School, and then enrolled at the Faculty of History at the Kyiv Pedagogical University. Bread was worth about 90 rubles then, and I had a scholarship of only 30 rubles."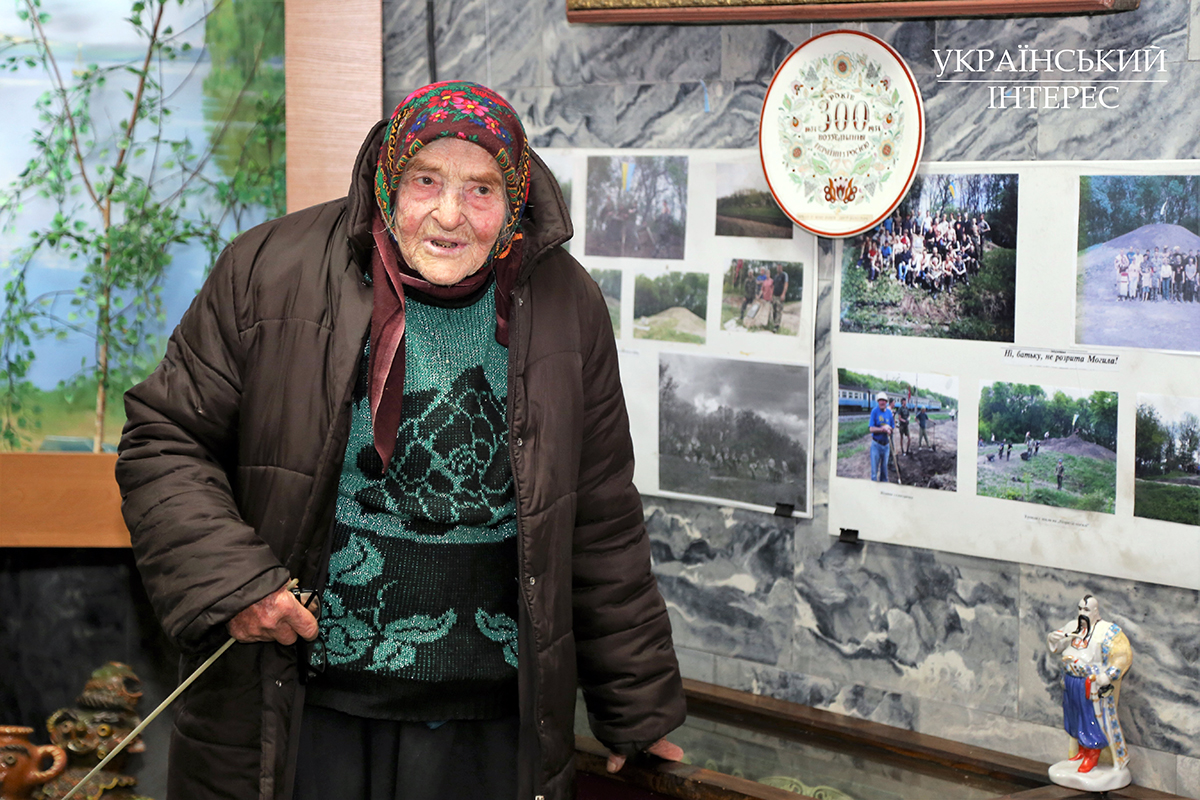 The museum is my whole life! I created it for my people, for Ukraine.
It was when Halyna started working as a teacher that she thought of creating a museum. She gathered a group of students and together they started working on an initiative under the name of "Know Thy Country". They collected various artefacts from local residents – old photographs, spinning wheels, ancient tools, dishes, traditional clothes, and rushnyky. She herself donated her mother's embroidered shirt, which is over 100 years old, to the museum. The museum now has a separate room for authentic clothes and costumes.
At first, Halyna kept all the objects at home, and later, the school principal gave her a small room in the school for the museum.
"Our museum was officially inaugurated in 1975 during the 30th anniversary of Victory Day. I worked there as a volunteer until 1991. My goal was to create a beautiful and interesting place, and so I worked with great enthusiasm and with the help of the locals. It was hard work. Many people looked at me strangely and wondered why I worked for free."
Today, the museum houses more than 6,000 exhibits. Students from all over the region come regularly to visit the museum. There are also guests from abroad. When Halyna begins the tour, her eyes glow with happiness. She recounts the history of her town and region, recalling interesting historical facts. When we enter the Taras Shevchenko Room, she begins to recite his poems by heart. She tells us that the great Ukrainian poet visited Berezan twice. It was here that he wrote his great poem "Розрита могила" (The Excavated Mound) in 1843. The museum also has books by Shevchenko, rushnyky embroidered with lines from his poems, and portraits made mostly by folk craftsmen.
Halyna leads us into the Natural Science Room with displays from archaeological digs, including some remnants of a mammoth. Regional flora and fauna have been reproduced so realistically that we feel we're in the middle of a beautiful forest.
"Mammoth bones were found near Zarichchya during trench excavation work. Other remnants were brought here by Professor Telehin, who was in charge of excavations at the Vibli grave-mound in the nearby village of Lelyaky, and part of what they found was donated to our museum. The boar was sent to me from Bilovezhska Pushcha (Forest). That animal gave me a very hard time! They brought him to the station, the municipality sent a vehicle, but the boar couldn't fit into it. I had to look for another means of transport."
Daily life of local residents in the 19th century is illustrated in a separate room that has been turned into a Ukrainian interior – a ceramic stove, a cradle, several old icons decorated with embroidered towels. During the soviet years, Halyna found them in ditches and hid them in her home.
When we approach the corner dedicated to the Holodomor, Halyna's voice begins to shake. Her eyes fill with tears. She lights the candles near the icon and asks us to pray for the dead and the survivors. She shows us the Book of Sorrow, where the names of Berezan's victims of the Holodomor have been recorded.
"This is our tragedy, but it needs to be repeatedly told so that future generations may remember."
Halyna then talks emotionally about the Second World War and the heroes who defended their native land. She then speaks of the Maidan and the Revolution of Dignity, and shows us a corner of the museum dedicated to the Heavenly Hundred.
Halyna picks up the Visitor's Book and proudly shows us some reviews. There are almost twelve volumes that she has gathered over the years. Visitors are delighted with her memorable and spirited excursions. Locals call her the "Protectress of History". Halyna is proud and happy to convey her message of love for her town and region to future generations.
"We need to develop and preserve such museums. They remind us of our past… days of joy and days of sorrow pass before our eyes like in a distant dream."

Berezan historical museum

Halyna Lavrentiyivna Rykh

historical museum

Berezan historical museum

Halyna Lavrentiyivna Rykh

Halyna Lavrentiyivna Rykh

Halyna Lavrentiyivna Rykh

Halyna Lavrentiyivna Rykh

Berezan historical museum

Berezan historical museum

historical museum

historical museum

Berezan historical museum

Berezan historical museum

historical museum

historical museum

historical museum