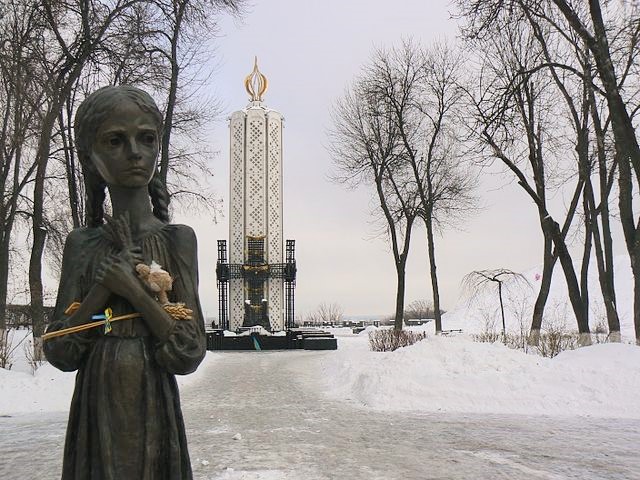 Memorial to Holodomor victims in Kyiv, Ukraine. Photo: Wikimedia Commons 
During a debate held on 7 November, MPs from the House of Commons in Britain (lower chamber of Parliament) have called for the Government to recognize the Holodomor of 1932-1933 in Ukraine as a genocide of the Ukrainian people, UNIAN reported.
The debates, held in the Westminster Hall of the British Parliament, were initiated by Pauline Latham, a member of the ruling Conservative Party in the House of Commons. Lathem mentioned this is not the first time she is taking part in debates on the topic and constantly calls on the British goverhment to recognize the Holodomor as genocide.
"I stand here today to remind colleagues of this atrocity which occurred in Ukraine from 1932 to 1933, and ask again that the government recognize this politicized act of evil as genocide," Latham said.
She recalled that the Holodomor literally means "death by starvation" and that it was purposefully organized by Joseph Stalin to destroy a large part of the Ukrainian population. According to Latham, Stalin's closure of the eastern border of Ukraine to block the movement of Ukrainian peasants in search of food is a sign that his policy was driven by hostility to the identity, traditions, and culture of Ukrainians, and can be qualified as ethnic cleansing,  that the Holodomor is an example of a crime caused by political ideology, and "fueled by prejudice."
Latham is convinced it is necessary to learn lessons from the Holodomor and ensure that "the world is never again blind to such a wide-scale atrocity." She was supported by Labour Party member Stephen Pound, who said the Holodomor was a man-made famine and genocide "by any definition".
However, the British Cabinet maintains a more restrained position. A representative of the UK Government attending the debate said that the government remains convinced that the recognition of this decision should be based on a trustworthy judicial process.
At present, 19 countries, including Ukraine, recognize the Holodomor as genocide, the latest being Portugal in March 2017.
It is estimated that at least 4 million people died in the man-made famine of 193-1934.
Read also:
Tags: Crimes of the Soviet communist regime, Genocide, Holodomor, International, News, Soviet history, UK, Ukraine, Ukraine history