Serbians have descended into the groups of the "LNR" and "DNR." The Security Service of Ukraine (SBU) has stated that 300 "soldiers of fortune" from Serbia have fought or continue to fight in Donbas. The SBU has publicized these militants' surnames and is now awaiting the reaction of its colleagues in the Balkans. Are Serbian law-enforcement agencies gathering a dossier on their own citizens? And how do the Serbs get into the warzone in eastern Ukraine? A recent
RFE/RL article
, which we have translated investigated.
They give their greetings without relinquishing their weapons: "To the Prime Minister and government of Serbia. From your Russian Brothers."
"A big hello to the Prime Minister of Serbia, thank you for all these many fighters, who battle on the side of 'Novorossiia'," the militants say as they pose for the camera.
Dejan Beric, a Serbian fighter in the "DNR," is practically a reality star of Russian television. More than one propaganda film has been shot about the aid this sniper has given to the children of Donbas. Beric even managed to get his own book published in Donetsk.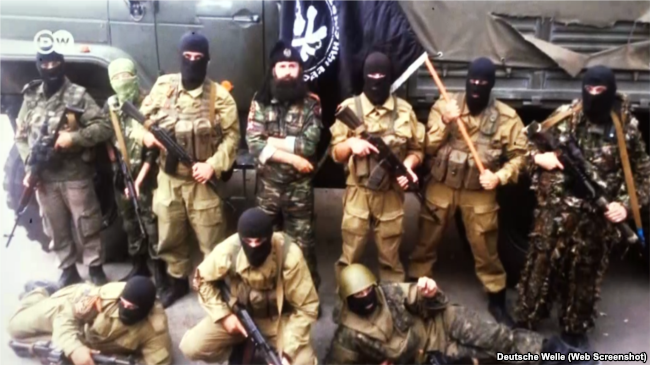 Today hundreds of Serbians have enlisted in the militant ranks. The SBU has presented the Serbian government with lists of Serbian citizens who are fighting in Donbas.
"We first informed [the Serbian government] in the summer of 2014. Again, most recently, in 2017. Unfortunately, we have not received a single official response," explained Ihor Huskov, an officer of the Central Apparatus of the SBU.
According to official data, over 300 Serbians are fighting against Ukraine.
From its sources, RFE/RL knows how one of the groups of Serbians came to arrive in the occupied territories. They paid to fly from Belgrade to Moscow, and then to go by bus to Rostov-on-Don. There the Serbians received their military orders and then went on to Donetsk. They were recruited by the civic organization called "The Kosovo Front," a Russian organization which operates in the Balkans.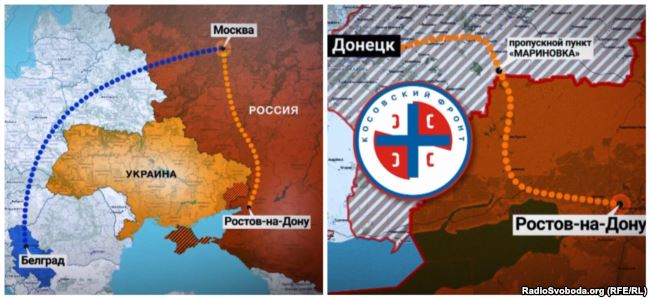 As one Serbian political scientist explains, Pro-Kremlin forces are clearly visible in Serbia.
"Truly, these activities are very powerful. We have literally hundreds of such organizations, movements, and leaders. It seems to me that the government of Serbia, sadly, allows them to operate, because there are so many of them," the Serbian political scientist Vencislav Bujic explained.
What motivates Serbians to take part in a foreign war?
"If it weren't for Russia, Serbia would not have arisen as a state. One blood, one faith, one family," answers Radomir, a Serbian militant who fights in Donbas. Radomir – better known as "Grizzly" – is part of the group called "Serbian Hussars". The Serbians who fight in Donbas all retell each other one legend, that they are fighting for "their own land."
"Here is the White Serbian state – Slovianoserbia. Its capital city is Slovianoserbsk," Grizzly relates.
Slovianoserbsk, in reality, is a small town in Luhansk Oblast.
"Serbs and other Slavs settled here. That's where Slovianoserbsk comes from," a local woman reported.

"And when did they settle here?" we asked.

"Sometime in the 1700s," she answered.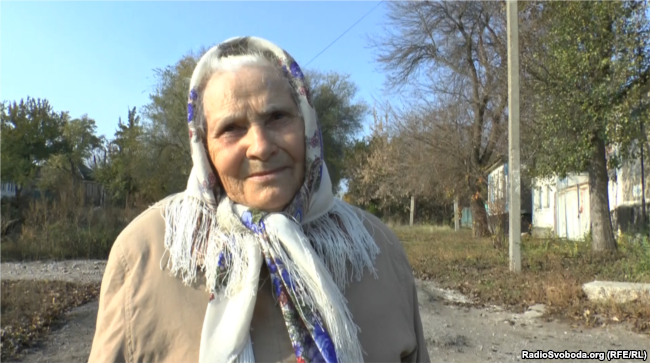 But the locals no longer distinctly remember any Serbs.
"Everyone who knew them has already passed away. Maybe their descendants are still around, maybe not. The old people passed away, and we don't know these things any longer," said an elderly woman from Slovianoserbsk.
Experts who study the Balkan countries have their own explanations for why so many Serbians go to fight in occupied Donbas. It all comes down to propaganda.
"While officially avoiding sending money to the Serbian government, Russia nonetheless finances its own agents of influence in Serbia – pro-Russian organizations, cultural centers, all sorts of religious organizations. Among their numbers are paramilitary organizations which are not controlled by the Serbian government," Olena Snihyr, an expert at the Institute of Socio-Economic Studies, explained.
Experts do not exclude the recruitment of mercenaries within Serbia itself.
"This is itself a Russian initiative and these are Russian instructors. I'm not convinced that you can speak about this as being Serbia's initiative, Serbia's desire to levy mercenaries. This is Russia, this is Russia's desire to establish its influence in the Balkan Peninsula and to recruit new mercenaries," Maria Kurchenko, an analyst at the Center for the Study of Civil Problems, explained.
Serbian authorities have, to date, given no official response to the SBU's inquiries. The Ukrainian Embassy in Serbia is not expecting any answers.
"According to the Embassy's information, for the last three years only one Serbian citizen has been sentenced for fighting on the side of militants in the War in Donbas, and even in this situation the sentence was conditional, and so he still remains at liberty," noted Oleksandr Aleksandrovych, the Ukrainian Ambassador to Serbia.
Despite passage by the Serbian government, the "Ukrainian Law" – which enforces criminal arraignment for those who "join up" with the militants – has not yet worked in practice. Thus during all this time, the ranks of "separatists" in eastern Ukraine continue to fill.
"First, in Serbia itself, there is unemployment and people have no work to do. They cannot employ themselves. They want jobs. Second, there is money, you see, however much they pay there," Vencislav Bujic, a Serbian political scientist, has stated.
And the mercenaries receive considerable wages. It is known that "Wagner", a Russian private military company, pays its fighters nearly 5,000 dollars.
Read also: